Prep/College
Sports roundup: State tournaments set to begin this week
WWU women's soccer gears up for GNAC Championships
November 8, 2023 at 2:31 p.m.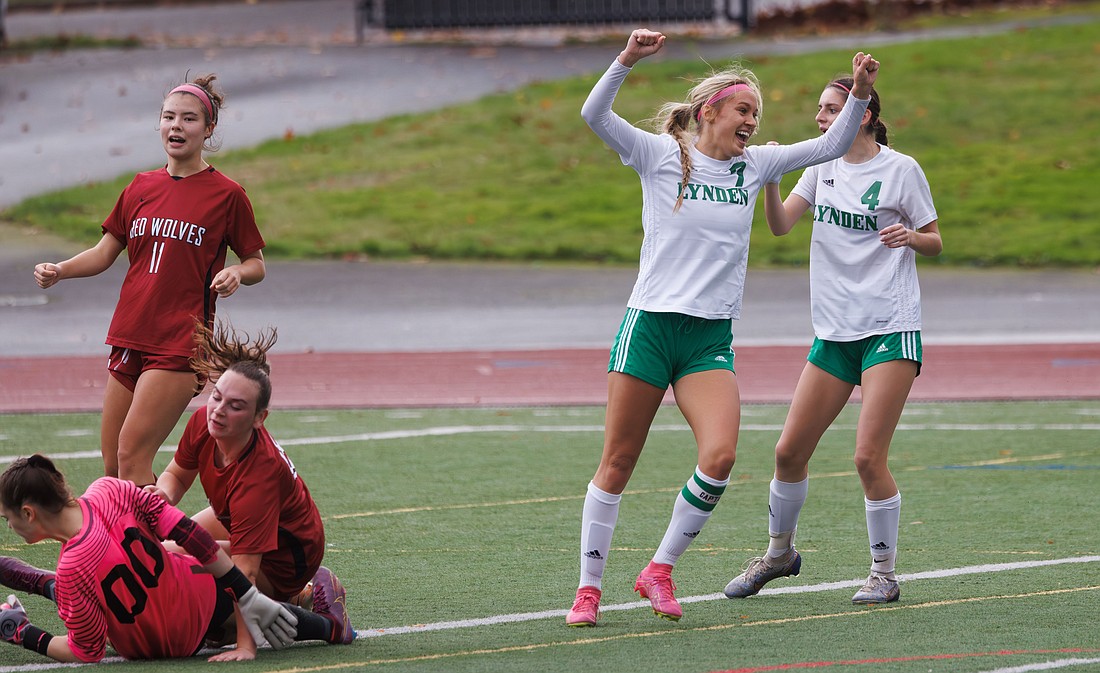 ---
---
A handful of prep volleyball and girls soccer teams remain in state contention, while cross country has wrapped up and girls swim and dive competitors head to the state meet.
Western Washington University women's soccer closed out its Great Northwest Athletic Conference schedule and is now gearing up for the postseason. 
The Vikings' volleyball and men's soccer programs had a productive week with a few matches left in their regular seasons, while Western's cross country teams turn their attention to nationals.
For everything prep football-related, see this week's football forecast.
Here's an overview of what else you may have missed from the last week in fall sports.
Prep
Volleyball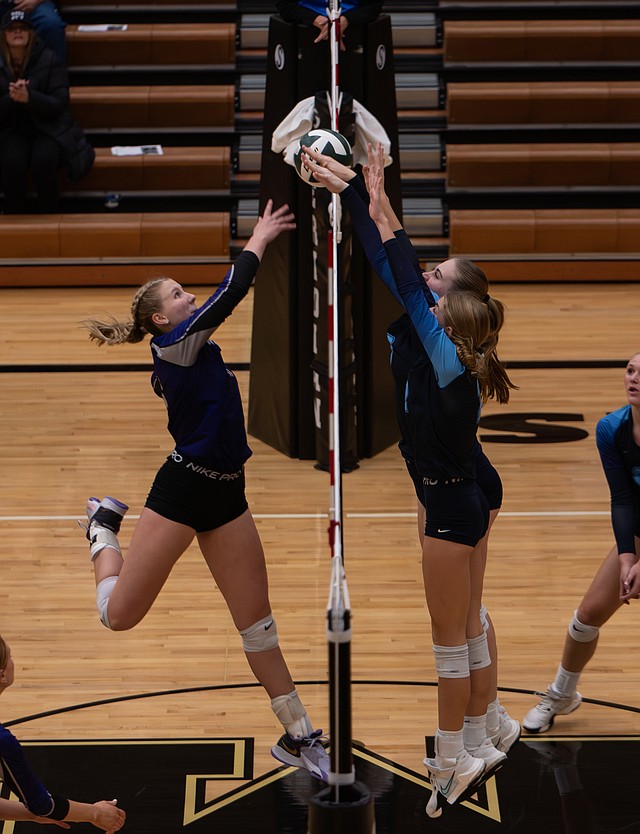 Four volleyball teams are still playing, and three have already secured state berths.
Meridian (15-4) and Nooksack Valley (12-6) secured 1A state tournament berths, while Lynden (19-1) captured Whatcom County's lone bid to the 2A state tournament. Burlington-Edison (19-2) will join Lynden as the second berth out of 2A District 1.
Nooksack Valley's consolation final victory over Lynden Christian on Thursday, Nov. 2 snapped the Lyncs' 18-year state streak.
Lynden will be the highest seed of the three, receiving the No. 2 seed in 2A. Meridian is No. 4 in 1A, and NV grabbed No. 5.
The 1A and 2A state tournaments run from Nov. 10–11 at the Yakima Valley SunDome.
Ferndale (10-8) is still alive with the 3A District 1 tournament beginning later than the others. The No. 6-seeded Golden Eagles beat No. 11 Edmonds-Woodway (9-9) in five sets on Thursday, Nov. 2 before being swept by No. 3 Meadowdale (13-5) on Tuesday, Nov. 7.
Despite the loss, Ferndale will face No. 10 Snohomish in the consolation semifinals for a chance to play for a state berth in the consolation finals. That match would be against No. 1 Lynnwood (17-0) or No. 4 Shorecrest (15-4).
If Ferndale loses in the consolation final, it would be the first time the Golden Eagles missed the state tournament in 10 seasons.
Girls soccer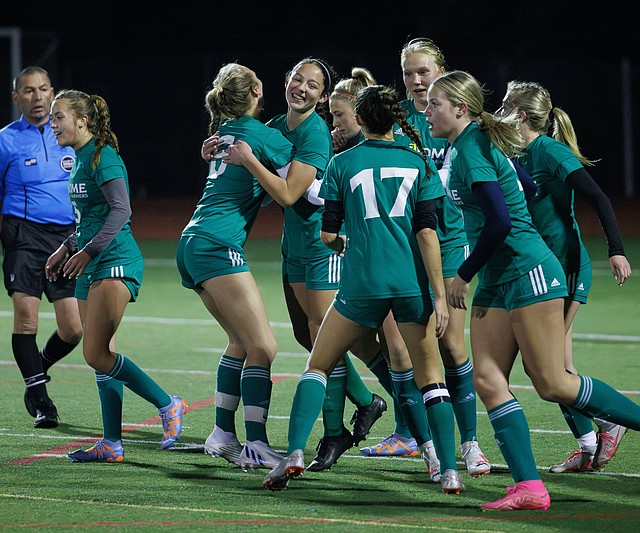 Four girls soccer teams are currently playing in state tournaments, and a fifth team was eliminated.
No. 15-seeded Lynden Christian (10-10) was eliminated by No. 2 Seattle Academy (15-2-2), 7-0, in the first round of the 1A state tournament. The loss ended the Lyncs' hopes of reaching another state championship after playing in their first one year ago.
Meridian (11-5-1), the No. 12 seed in the 1A state bracket, will face No. 5 La Center (16-2) in the first round on Nov. 8. The Trojans are playing in their first state tournament since 2016.
Sehome (14-1-3) is the sixth seed in the 2A state tournament after winning its first district title since 2011, and the Mariners will host No. 11 R.A. Long (14-5) in the first round of the tournament on Nov. 8. 
Lynden (14-4-3) is the No. 8 seed after yet another Cinderella run to the state tournament (won first-ever district championship in 2022 as No. 5 seed). The Lions will also host No. 9 Selah (12-5-1) on Nov. 8.
Both of those games are loser-out matches.
Ferndale (15-2-2) received the No. 11 seed in the 3A state tournament, and the Golden Eagles will travel to Interbay Stadium to face No. 6 Stadium (13-3-2) on Friday, Nov. 10. A win there would give Ferndale its first quarterfinals berth since 2019.
WWU
Men's soccer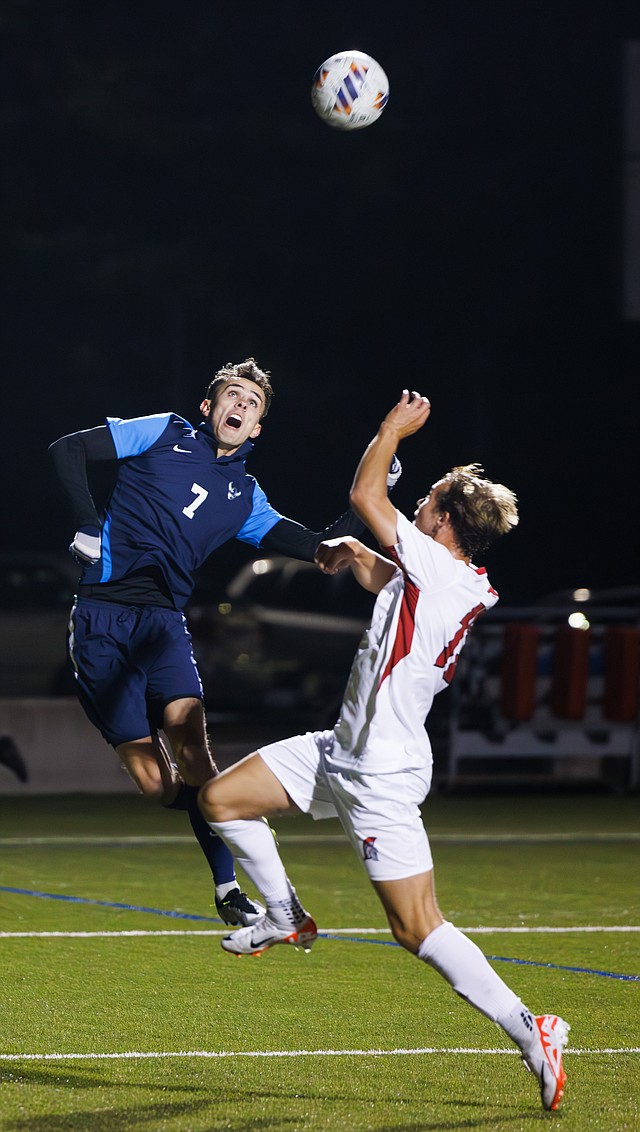 Western men's soccer (5-6-5, 2-4-4 Great Northwest Athletic Conference) played one game last week and finally got its first win since Oct. 5.
The Vikings earned a huge upset victory, 2-1, over conference-leading Simon Fraser (10-3-2, 7-1-1 GNAC) at home on Saturday, Nov. 4.
Both of Western's goals came from bench personnel, as junior forward Diego Alvarado and senior midfielder Elliott Rains each netted their first goals of the season.
Senior goalkeeper Brandon Locke saved three of Simon Fraser's six shots on goal. The Red Leafs outshot Western 14-9 but didn't score its lone goal until the 88th minute.
Western will travel to Saint Martin's (4-8-3, 2-6-2 GNAC) for its penultimate regular season match at 1 p.m. Thursday, Nov. 9.
Volleyball
The Vikings' volleyball team won both of their games last week and nearly had two consecutive sweeps.
Western (9-13, 9-5 GNAC) swept Montana State Billings (3-22, 1-14 GNAC) at home on Thursday, Nov. 2 before welcoming conference-leading Seattle Pacific (19-4, 13-2 GNAC) to Carver Gym on Saturday, Nov. 4. 
Seattle Pacific, ranked No. 18 nationally, was unable to handle the Vikings for the second time this season. Western swept Seattle Pacific on Oct. 5 and once again downed the Falcons, 3-1 (21-25, 25-19, 25-23, 25-19).
Western's offensive effort was spread out, as five Vikings finished with five or more kills. Junior Gabby Kepley led the team with 11, while redshirt freshman Delaney Speer had nine and sophomore Devyn Oestreich totaled eight. Oestreich also notched a team-high 12 digs, and Speer had three aces.
The Vikings have four games remaining in the regular season, and they will travel to Western Oregon for their next match on Thursday, Nov. 9.
Women's soccer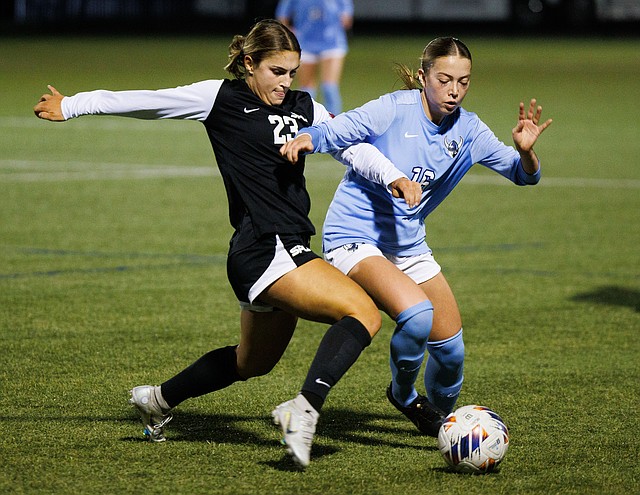 Western (11-4-4, 9-2-3 GNAC) split its two games last week, ending its stretch of eight games without a loss. 
The Vikings lost to Seattle Pacific (12-2-5, 9-0-5 GNAC), 2-0, on Thursday, Nov. 2 before beating Montana State Billings (5-9-3, 4-8-2 GNAC), 1-0, to close out the regular season on Saturday, Nov. 4.
Junior Gracen Crosby scored Western's lone goal in the win over MSUB — her third of the season.
Western, the No. 2 seed in the GNAC Championships, will play its semifinal game against No. 3 Western Oregon (8-4-6, 5-4-5 GNAC) at 4 p.m. Thursday, Nov. 9. That match will be played at Tomlinson Stadium in Ellensburg, Kittitas County.
GNAC women's soccer standings — Nov. 8
| | | |
| --- | --- | --- |
| Women's soccer | League | Overall |
| Team | W-L-T | W-L-T |
| Seattle Pacific | 9-0-5 | 12-2-5 |
| Western Washington | 9-2-3 | 11-4-4 |
| Western Oregon | 5-4-5 | 8-4-6 |
| Simon Fraser | 5-5-4 | 6-5-5 |
| Northwest Nazarene | 4-5-5 | 6-5-7 |
| Montana State Billings | 4-8-2 | 5-9-3 |
| Central Washington | 2-8-4 | 3-12-4 |
| Saint Martin's | 1-7-6 | 3-8-7 |
GNAC volleyball standings — Nov. 8
| | | |
| --- | --- | --- |
| Women's soccer | League | Overall |
| Team | W-L | W-L |
| Seattle Pacific | 13-2 | 19-4 |
| Central Washington | 10-4 | 16-6 |
| Simon Fraser | 9-5 | 14-8 |
| Western Washington | 9-5 | 9-13 |
| Saint Martin's | 8-6 | 15-9 |
| Alaska Anchorage | 7-8 | 15-15 |
| Northwest Nazarene | 6-8 | 10-12 |
| Alaska Fairbanks | 6-9 | 13-16 |
| Western Oregon | 3-11 | 9-13 |
| Montana State Billings | 1-14 | 3-22 |
GNAC men's soccer standings — Nov. 8
| | | |
| --- | --- | --- |
| Women's soccer | League | Overall |
| Team | W-L-T | W-L-T |
| Simon Fraser | 7-1-1 | 10-3-2 |
| Western Oregon | 7-1-3 | 10-3-3 |
| Seattle Pacific | 3-4-3 | 5-7-4 |
| Northwest Nazarene | 2-3-5 | 4-6-6 |
| Western Washington | 2-4-4 | 5-6-5 |
| Saint Martin's | 2-6-2 | 4-8-3 |
| Montana State Billings | 1-5-2 | 4-8-3 |