Visual Art
'Moments Unveiled' captures artistic journey at Cordata Gallery
Paintings, drawing and sculptures are in expansive David Syre exhibit
November 8, 2023 at 2:44 p.m.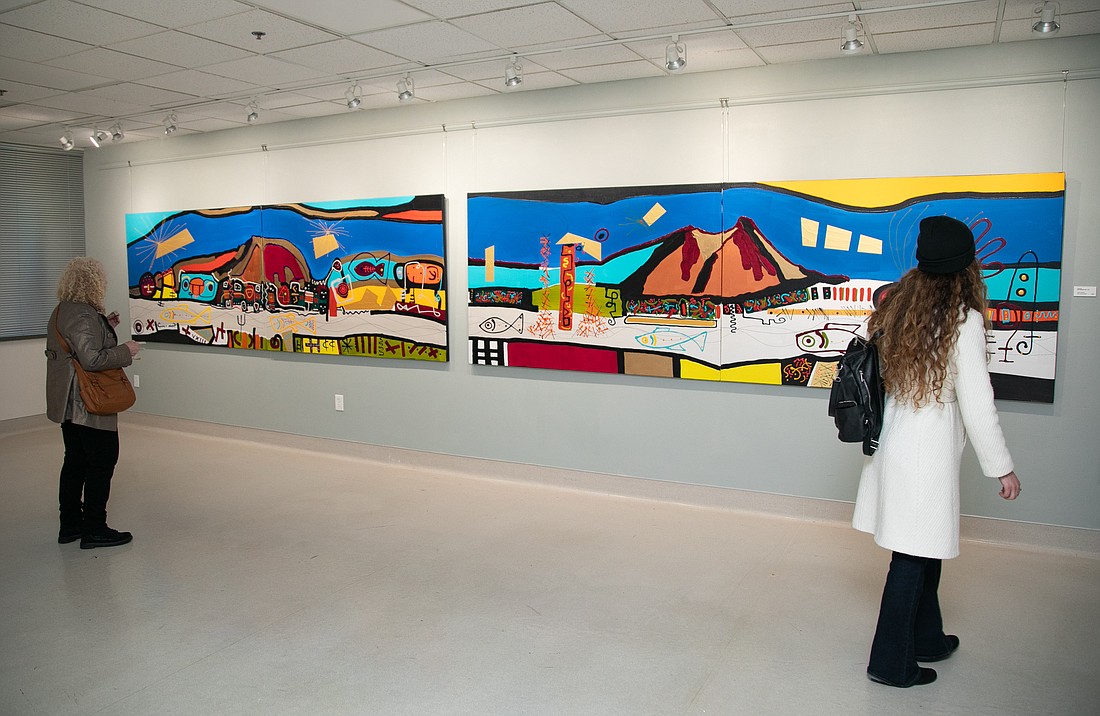 ---
---
At the opening reception for the new exhibition "Moments Unveiled" at Cordata Gallery, attendee Jeff Margolis perused the work of artist and gallery owner David Syre. 
"Art is mind-stuff," Margolis said. "The artist gets into it and explores and plays with it. No one else has been there. They're breaking ground that no one else has seen."
"Moments Unveiled" illustrates Syre's artistic journey from 2012 to the present. Syre, a Whatcom County native and longtime local businessman/philanthropist, is also the sole owner of Cascadia Daily News.
His revealing angst as a schoolchild in his 2016 work, "My Mind in Grade Two: Lawrence Grade School," captures the restricting feeling he must have felt as a young boy hemmed in by rote learning. Swirling multiplication tables and charts are surrounded by wild hues of red, orange and Cyrillic blue, framed by a symbolic classroom of white, almost prison-like.
The titles of his pieces depict Syre's evolution as an artist, from his 2014 work "Into the Universe" to 2022's "Don't Fence Me In," and 2023's "Courage Rising." 
Eero Johnson, whose company EJ Visuals created the video that accompanies the current exhibition, said he's learned a lot working with Syre.
"He's totally reliant on what's happening in the moment," Johnson said.
That's confirmed by what Syre said in the video: "There's never a plan. It's always responding to the present moment."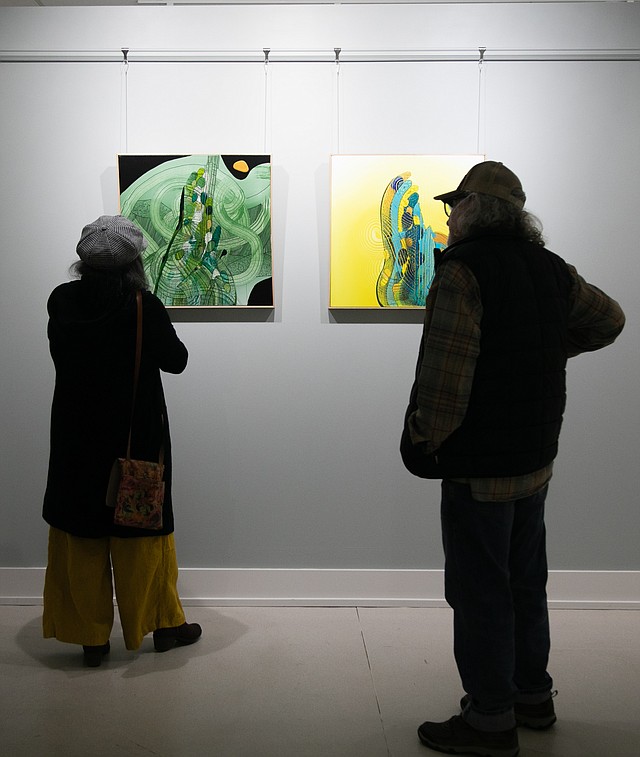 When Syre is in his studio, located on the Everson farm where he grew up, he said his process is simply to see what feels right, whether it's a spot of color here, or an image there. His thought process can be applied to any kind of art, be it creative dance or composing music.
"In creating, you must choose a process that allows your inner spirit to come from your subconscious mind," Syre said.
Margolis, a longtime friend and neighbor of the artist, has observed the changes in Syre's work over the years.
"One can see Syre's gradual emergence in 2023,"  he said, perhaps as a relief from the pandemic. "These sweeping, almost whimsical works — gold, yellow, Southwest oranges, arches, shimmies, swirls — witness the obvious thrill of plopping and swooping down, smearing gobs of paint are the magic of childlike joy."
In a video made for the "Origins and Evolutions" exhibition in 2019, Syre explained how, when he was a child, he used to melt crayons on the wood stove in his Grandma Jo's home, watching the colored wax drip onto the paper. 
In his series of Prisma Crayon drawings on black paper at the exhibit, he uses quick Matisse-like sketches that reference the land, architecture and more, sometimes with an almost-humorous air. "The Black Book of Drawings," a 320-page monograph, documents a selection of these drawings. 
This particular style may pay homage to the gifts his twin daughters, Mia and Amy, gave him in 2012 — paper, felt pens, and art sticks, plus their encouragement, that started him on his serious creative journey.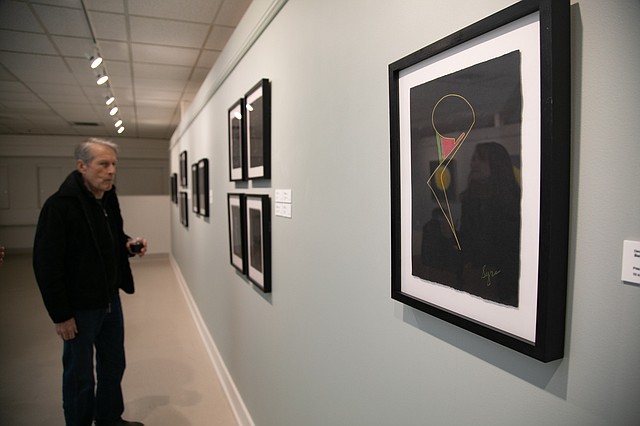 What may be one of the most impressive pieces in the exhibit is "My Nooksack Life," part of an immense polyptych initially created for the opening of the renovated Nugents Corner Market. It's a testament to Syre's youth growing up along the Nooksack River. The colorful mural depicts salmon, Mount Baker, Highway 9, Douglas firs and the river itself. 
On opening day, many visitors were examining the works both at a distance and close-up, to inspect his brushstrokes, the layers upon layers of bright, bold colors, and the symbolism of swirls, long lines and details that may be overlooked at first glance.
Bellingham's Leslie Rogers, who knew Syre from his visits in the 1980s to A New Leaf flower shop on Cornwall Avenue where she worked, said "Moments Unveiled"  is colorful, bold and whimsical.
"All his work strikes me as very fun," she said.
Visitors should not miss a sculpture in the back part of the gallery. 
"My Life," an autobiographical life-sized kinetic sculpture depicts, from bottom to top, significant events and stages of Syre's life — including surviving polio when he was 4 years old, learning to walk again, followed by his spiritual awakening and "living in the now" as expressed by the final element of the sun. 
The elements rotate around the central column, offering different combinations, hence different viewpoints of life events.
"Moments Unveiled," to quote Walt Whitman, "contains multitudes." From the time Syre was recovering from polio in his sickbed, admittedly lonesome and afraid, to his confident artistic exploration of his visions of life, his spiritual self, and the world around him, these works are evident of a continuous evolving sense of self-discovery and growth, moment by moment.
"In that process," Syre said, "I feel I am part of the art."
"Moments Unveiled" runs from 11 a.m. to 4 p.m. Tuesday through Saturday through Jan. 20 at Cordata Gallery, 464 W. Stuart Road. Info: cordatagallery.com. 
Editor's note: Gallery owner David Syre is the owner of Cascadia Daily News. This review was written by a freelance contributor.