Elections
UPDATE: Wednesday ballot drop shows one change in Lynden school board race
Some incumbents ousted in election for highly-contested seats
November 7, 2023 at 10:47 p.m.
|
Updated November 8, 2023 at 5:56 p.m.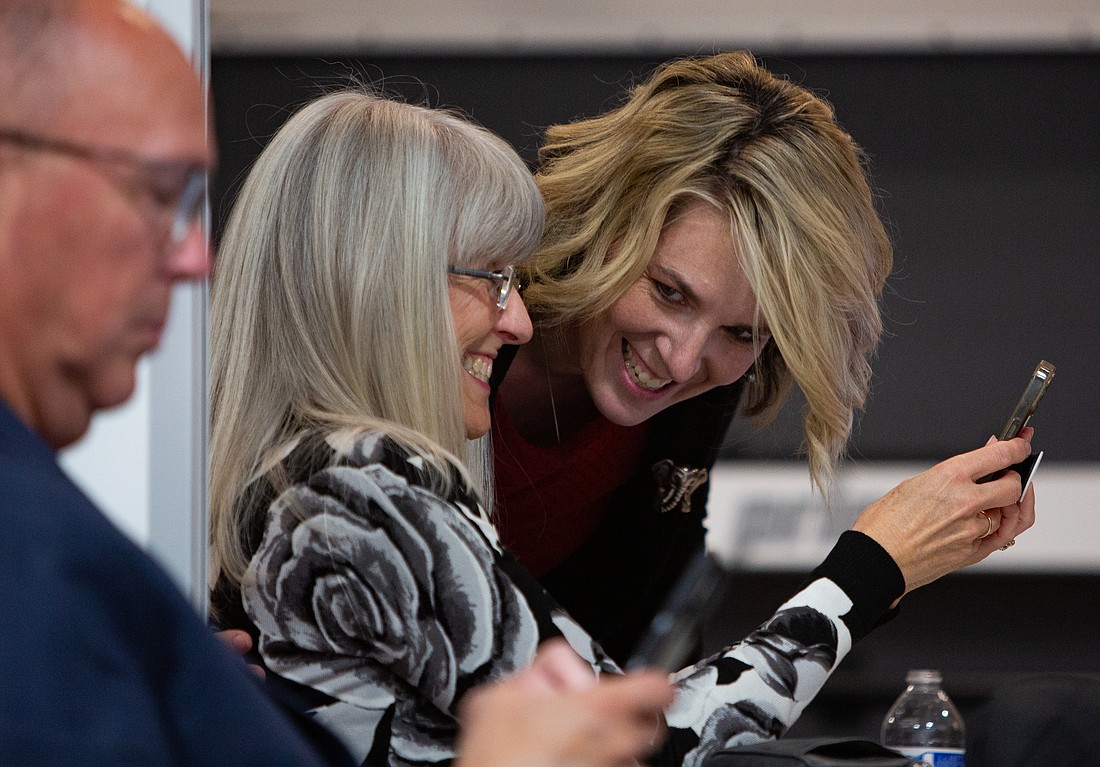 ---
---
In a year where culture wars impacted local school board races, some voters have picked candidates seeking to uphold parental rights and enact more control over what children learn in classrooms. 
Wednesday night ballot counts continue to show some longtime incumbents held onto their seats while others were ousted in favor of candidates who are newcomers.
Ferndale 
Incumbent Toni Jefferson is trailing school board challenger and former teacher Nancy Button in a highly contested school board election in the Ferndale School District. 
Button, who applied for that vacant director position earlier this year, filed a formal ethics complaint against the school board for making false statements about her when they decided to not interview her for the position. Button currently holds 60.5% of the vote. Jefferson was appointed to fill the Director 3 position in February, and she currently holds 39.4% of the vote.  
"I worked very hard to get my message out," Button said Tuesday night. "I'm grateful for all the people who stepped up and helped me in my campaign. I didn't expect such a strong lead. I think parents have to have a larger say in their kids' education. I want to bring transparency to families so they have a say what their children are learning in school."  
Another incumbent managed to hold on to his seat. 
District 1 director incumbent Kevin Erickson, who has been on the Ferndale School Board since 2010, currently holds 59.93% of the vote as of Wednesday night. He was challenged by Beth Perry, who received 39.86% of the vote. Perry, who homeschools her children, got involved with the school board during the pandemic due to mask mandates and school closures. 
"I'm feeling cautiously optimistic at this point," Erickson said Tuesday night. "There are still quite a few votes out there. I think our lead is far enough apart I don't expect to see any change, but anything's possible." 
Erickson said if he prevails, he'll be continuing the work he's been doing in the Ferndale School District.  
"I'm hoping to hear all voices and find common ground everyone can agree on," he said.   
In the District 2 seat race, Brent Bode and Antonio Machado Catano are still too close to call. 
As of Wednesday, Machado has 50.34% of the vote, while Bode has 49.46%, with Machado leading Bode by 79 votes, just slightly increasing his lead from Tuesday night. Both are new to the school board race.
Bode works at Western Washington University and emphasized the nonpartisan nature of school boards throughout his campaign. He was not available for comment.  
Machado, who works for the Western States Petroleum Association, emphasized on Tuesday the need to teach values within the family unit, not in schools, in his campaign. 
"It was close in the primary and I was expecting it to be close in the general," Machado said Tuesday night. "I think we did everything we could to get our message out. I'm looking forward to the final result and making sure we respect the result. Whatever happens in the end, I'll be happy."  
Lynden 
Lynden School Board races this year were highly contested. The only uncontested race was for Director Position 1, in which farmer Khush Brar sailed easily to victory with 97.38% of the vote. 
In Director Position 2, youth pastor Danny Martinez currently holds 67.53% of the vote, in comparison to Coast Guard veteran Nick Sawka's 32.18%. Both centered their campaigns on parental rights and ensuring that children are safe in schools and being taught appropriate content. 
"I'm very surprised, but very happy at the amount of support that our town has been able to show," Martinez said. "I'm just excited that people came out and voted … I'm hopefully looking forward to serving our community and being a voice for people in Lynden and just serving families and students and parents the best way that I can." 
Director Position 3 incumbent David E. Vis remains in a close race with challenger Jim Verburg, who works at Western States Petroleum Association, after serving for nearly six years on the school board. 
Wednesday results show Verburg has 52.68% of the vote, while Vis holds 47.2%.  
"It's great to be leading and it shows that there's definitely support for both me and David in the race," Verburg said Tuesday night. "I'm just humbled that at this point I'm leading."  
Vis was not available for comment, but during the campaign, talked about concerns on the politicization of the Lynden School Board. 
Incumbent Kenneth "Spin" Owsley has pulled ahead of Doris Smith, as of Wednesday night, and currently has 50.35% of the vote, to Smith's 49.24%.
Smith said at a school board forum in September that she was concerned about poor educational outcomes in the Lynden School District. She also said schools should be neutral, "rather than indoctrinating [children] with inappropriate racial, sexual and political material." 
Owsley was not available for comment. 
Meridian 
In the Meridian School District, founder of the Meridian Parent Coalition Michelle Simmons leads Riley Sweeney, former City of Ferndale communications officer and current ABC recycling communication manager.   
Simmons has 59.3% of the vote, while Sweeney has 40.28% of the vote, based on ballot counts released Wednesday night. 
Sweeney campaigned as a stalwart critic of partisan politics in school boards, which he said his opponent Simmons embodied.  
Simmons has presented concerns to the Meridian School Board about critical race theory and "changes to restroom and locker practices to include gender diverse students."  
Simmons said she wants to honor Meridian's "diverse community" by listening to parent concerns about curriculum. 
Sweeney and Simmons were not immediately available for comment. 
Marty Gray, incumbent for District 4, will return to the school board after an uncontested race. Last week, Gray criticized two continuing school board members when the board voted 3-2 to pass an updated nondiscrimination policy.  
"I am shocked and embarrassed that we went a 3-2 vote on nondiscrimination and equity," Gray said at the end of the Nov. 1 meeting. "Shocked and embarrassed, I really am. Twelve years I've been on the school board, and I never thought we'd vote 3-2 on this." 
The updated policy included commitments to equity and specifically acknowledged potential "opportunity gaps" that exist in the school system due to "different treatment experienced by students of color." The policy was updated by a committee of parents, students and staff and was aligned to the district's strategic plan. Board members Steve Corwin and Jarrod Karuza voted against the policy. 
In the District 1 race, Jana (Bjornstad) Haugen was leading Wednesday night with 60.49% of the vote. Haugen ran on a platform of child safety, communication between parents and teachers, and providing inclusive and supportive learning environments. Corey Culp, president of Meridian Youth Sports, campaigned on parents' rights. Culp currently has 39.13% of the vote. 
Bellingham 
Bellingham's school board race this year was quiet, with only one contested race. Camille Diaz Hackler, school board president and Position 1 director, sailed to reelection with no competitors, as did newcomer Scott Ritchey for Position 3. 
Incumbent Katie Rose seems poised to beat challenger Aran Clauson, based on Wednesday night's ballot drop. Rose has been on the school board since 2019 and currently has 57.35% of the vote. Clauson, a senior instructor at Western Washington University, garnered 42.32% of the vote. 
"I feel pretty good," Rose said. "I think the Bellingham school board race was an interesting one — not as divisive. That was great. It kept us focused on doing the best job we can for our kids. I'm passionate about making sure all kids have the opportunity to learn in the ways that work best for them."  
Blaine 
In Blaine, the school system saw another highly contested race. Challenger Erika Creydt is leading Kimberly Akre, incumbent director in District 1. Creydt has a steady lead with 64.41% of the vote, while Akre has 35.19% of the vote. Akre was appointed to the school board in January, and Creydt currently sits on the school board as the director for District 3. 
For the remaining positions, Ben Lazarus seems likely to win the District 2 position with 61.1% of the vote, compared to Dean Berkeley's 38.69%. For District 3, Cliff Freeman currently has 62.81% of the vote, and Jeffrey D. Carrington has 36.47% of the vote. In District 4, Ryan Ford currently has 58.87% of the vote, to Derrick Bovenkamp's 40.75% of the vote. 
Incumbent Don Leu, running unopposed for District 5, has 98.91% of the vote. 
Nooksack 
In the Nooksack Valley, Shelley Harder currently leads Sumas City Councilor Joshua Clawson for District 3 director, with 61.06% of the vote to Clawson's 38.34%. Incumbent Ty Elmendorf for Director-at-large No. 1 sailed to victory unopposed, as did Director-at-large No. 2 candidate Tanya Silves. 
Mount Baker 
In the Mount Baker School District, board president and District 5 incumbent Russ Pfeiffer-Hoyt is poised to continue serving on the board. He's been a director since 1999. He has 53.14% of the vote, compared to his challenger Theresa Sygitowicz's 46.25%. 
Incumbent Danielle Gray will return to the school board as District 1 director with no opponents, as will District 2 director Edward Fox. 
Jason Bloodgood leads Ashley Sterling in the race for District 3. Bloodgood has 49.96% of the vote, while Sterling has 40.51% of the vote. 
Concrete 
In Concrete, all candidates ran unopposed. Incumbent District 1 director Jessie Mattingly, incumbent District 2 director Michael Brondi and incumbent District 5 at-large director Laura Schmidt will return to the school board. 
Sedro-Woolley 
Board president Christina Jepperson will likely return to the school board. She currently has 52.04% of the vote in the District 2 race, while challenger Lindy Mullen Doyle has 47.73% of the vote. 
Incumbent Dani Baird Russell will also likely sail to election, with 63.95% of the vote, while challenger Hannah Oliver has 35.79% of the vote.