Community
Where to donate in Whatcom, Skagit counties this season
Opportunities to give gifts, time, food, money and more in 2023
November 6, 2023 at 5:00 a.m.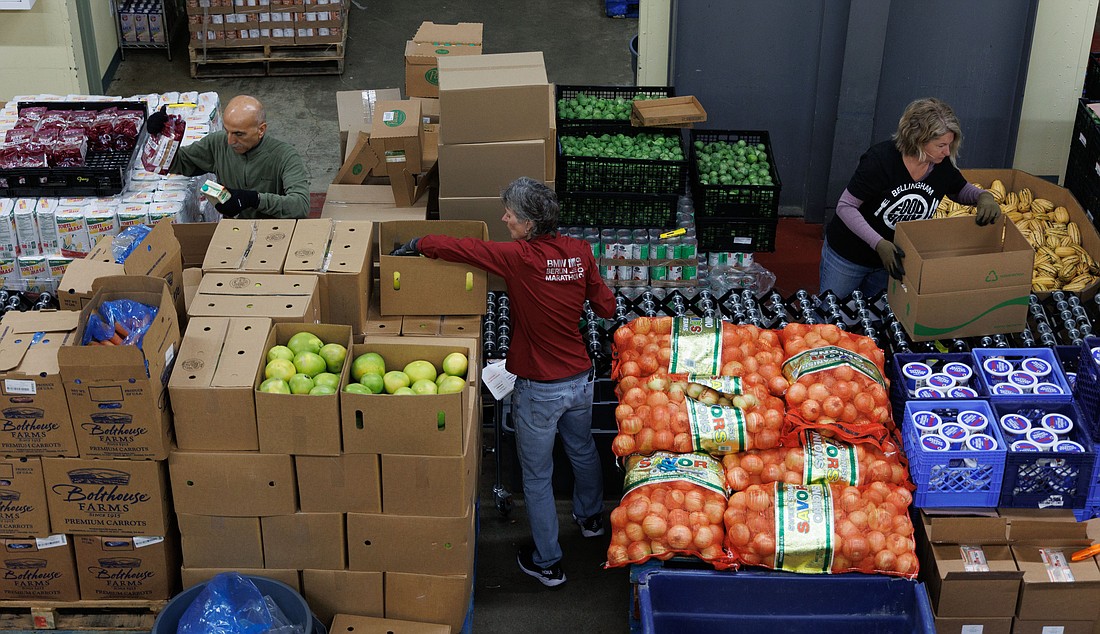 ---
---
Recent freezing temperatures in Whatcom and Skagit counties serve as a reminder that winter isn't far away, and neither is the season of giving. 
Here are ways to donate gifts, money, food and time to community members in need. 
Gifts for kids  
For 20 years, the Ferndale Holiday Giving Store program has provided presents to children. The venue is set up like a "real" store — complete with new toys, clothing and more — but gifts are free to low-income families within the Ferndale School District who qualify. Look for giving trees and donation boxes in December, or act now by donating money or pre-purchasing items on Amazon. Info: ferndalecs.org. 
Similarly, in Bellingham and Blaine, Community Toy Stores help families going through financial difficulties by offering them a "hand up, not a handout." People throughout Whatcom County purchase new gifts and donate them to the stores, which enables organizers to sell them to parents at 75% off their retail value. In Blaine and Birch Bay, donation boxes are set up through Dec. 1 at places like the Blaine Library, Blaine Senior Center, Birch Bay Recreation Center, and beyond. Info: northwest-church.com/toystore or blainecap.org/community-toy-store. 
Starting Thursday, Nov. 9, Village Books stores in Fairhaven and Lynden begin their annual Giving Tree event. Customers can choose as many angel ornaments from the trees as they want, which contain requests for specified books for kids of different ages. Once they've been purchased (at a 20% discount), employees will hold on to the literary loot and, in the weeks before Christmas, disperse them through community organizations such as Lydia Place, the Opportunity Council, Northwest Youth Services, DVSAS and Blue Skies for Children. Info: villagebooks.com. 
Gifts for seniors 
The Assistance League of Bellingham focuses gift-giving on seniors in care facilities in Whatcom County who may be lacking family or friends to remember them on special occasions. The Care Center Support Program gets holiday wish lists from residents — everything from pajamas to cologne, lap blankets, large-print books and more — and brings them gifts close to the holidays. Monetary donations are welcomed. Info: assistanceleague.org/bellingham. 
Community giving 
Since 1979, Community Action of Skagit County has been dedicated to ending poverty, stabilizing lives, and helping low-income families and unhoused community members get back on their feet. To that end, they're always looking for volunteers, and donations of funds, goods and services — including food, toiletries, jackets, tents, sleeping bags, etc. Head to their website to find out more about their family shelter wishlist. Info: communityactionskagit.org. 
The Anacortes Family Center helps unhoused women, children and families on the path to self-sufficiency, and are clear about how donations help them to do so. For example, a donation of $30 provides one night for a mom, $75 funds a night for a couple with children, and $300 covers a night for the entire shelter. Volunteer-wise, mentors and tutors for youth are always needed. Info: anacortesfamily.org. 
In addition to accepting women's clothing donations at Y's Buys Thrift Store on State Street, YWCA Bellingham is on the lookout for donations of essential items such as hair care products, underwear, laundry pods, sheets, pillows, reading glasses, pens, markers, dish soap and sponges. The clothing donations can be lightly used, but essential products must be new when they're delivered directly to the YWCA. Clothing vouchers for Y's Buys are given to women in need of clothing, and are distributed through the YWCA, Opportunity Council and Lydia Place. Info: ywcabellingham.org. 
Beginning Wednesday, Nov. 15 and continuing through Jan.15, the Friends of the Family Resource Center will begin its Winter Helping Hands Drive. The  all-volunteer nonprofit keeps Bellingham Public Schools' Family Resource Centers filled with basic personal care items (toothbrushes, detergent, etc.) and also covers emergent needs that aren't met otherwise, including kitchen supply boxes for newly housed families, orthopedic shoes, gas cards and more. The goal for the drive is $10,000, so donate what you are able to. Info: friendsofthefrc.org. 
Volunteer your time 
The Volunteer Center of Whatcom County is reporting that the county's cold weather shelters will need a lot of help in the coming months. They'll provide the training, and community members can donate their time as available. But with more than 100 local partners seeking volunteers on a regular basis, the opportunities to help during the fall and winter seasons are many. Financial donations also go a long way toward securing volunteer connections. Info: whatcomvolunteer.org. 
Lighthouse Mission Ministries is seeking volunteers and donations for its centennial Thanksgiving dinner, which is offered to hundreds of hungry and/or homeless people in the Bellingham community. Volunteers are needed for setup, cleanup, assisting the kitchen, serving food, bussing tables and more. The event takes place at noon Thursday, Nov. 23 at the Church of the Assumption's gymnasium at 2116 Cornwall Ave. If you can't make it, financial donations are also welcome. Info: thelighthousemission.org. 
World Relief Western Washington is seeking volunteers to help with refugee resettlement in Whatcom and Skagit counties with a goal of resetting 175 refugees by September 2024. Two kinds of volunteers are needed: Cultural companions and host home volunteers. The latter donates a safe, comfortable space for refugees, asylums and others in times of transition. If you have an ADU, mother-in-law suite or full apartment or house available, consider partnering with World Relief. Financial donations will also make a difference. Info: worldrelief.org/western-wa. 
Food and funds 
Birchwood Food Desert Fighters set up a free Share Spot in the Birchwood neighborhood every Saturday starting at 11:30 a.m., and beginning last week they moved to the employee parking lot of the Industrial Credit Union at 3223 Northwest Ave. If you have extra food or supplies to share, as well as sturdy plastic and reusable grocery grocery bags, drop them off between 11–11:30 a.m. Nonperishable food items are also needed at food share box locations throughout the neighborhood. Items such as granola and protein bars, canned milk, nuts, canned beans and fruit, produce that can withstand freezing temperatures, pasta, sauces, spices, jerky, cans of parmesan cheese, cereal and more are needed. To donate funds in the name of food justice, Venmo @birchwoodfoodjustice or drop off a check at the Share Spot. Info: Facebook.com/groups/birchwoodfooddesertfighters/. 
Year-round, food and cash donations are always needed at food banks in Whatcom and Skagit counties, which have experienced unprecedented need since the beginning of the pandemic. Bellingham Food Bank serves as a distribution center that collects and disperses more than 3 million pounds of food annually to other Whatcom County food banks, and Communication and Outreach Coordinator Stephanie Sisson said "no donation is too small, it all adds up." 
Sisson noted that financial donations are always going to be best because the food bank can purchase items wholesale and get specific things people have asked for, and said a sponsorship with Bell Lumber & Pole will match first-time donations or increased amount donations up to $100,000 through the end of December. If you want to donate food, she said pantry needs include canned meat and fish, beans, rice, pasta, boxed milks and items that are high in nutrition and shelf-stable. "Our food donations are also very valuable," Sisson said. "If it wasn't for community support, we wouldn't exist." Info: bellinghamfoodbank.org. 
If readers know of other community giving opportunities during the season, email ideas to newstips@cascadiadaily.com. This story will be updated over the next two months.