Hockey
Vince Dunn's 3rd-period goal leads Kraken past Predators 4-2
Philipp Grubauer made 33 saves
November 2, 2023 at 11:08 p.m.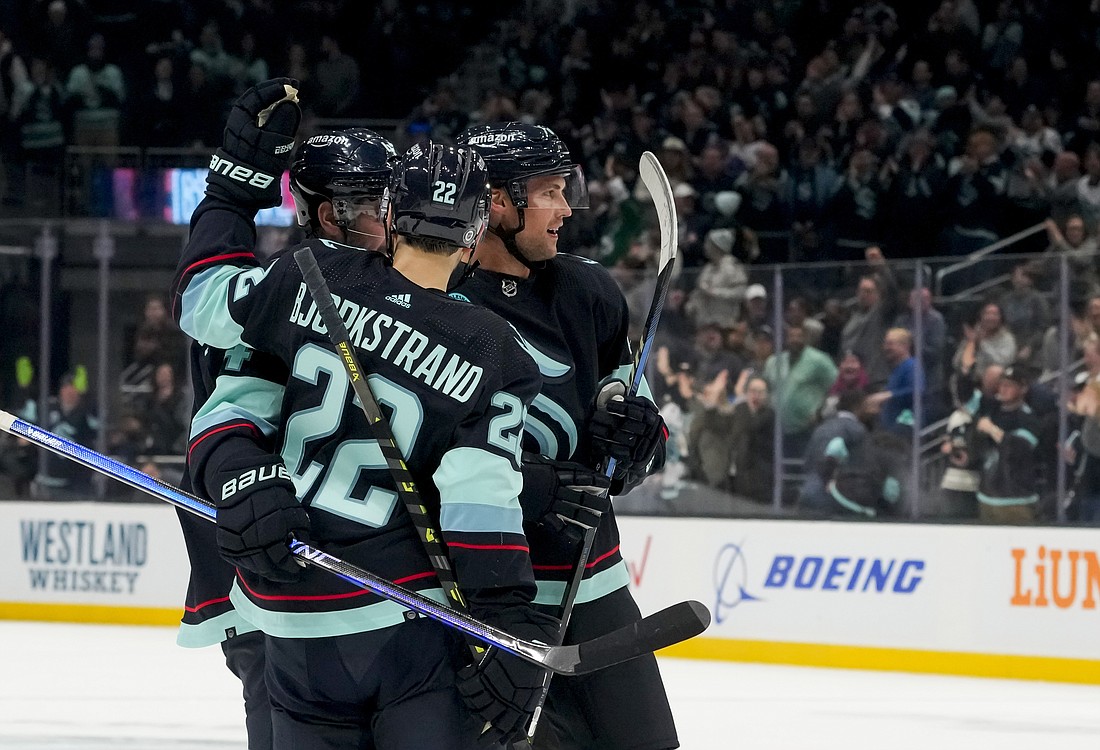 ---
By Tim Booth, AP Sports Writer
---
SEATTLE — Philipp Grubauer made enough important saves that the Seattle Kraken goalie could be forgiven for taking his first penalty in nearly eight years.
"It's kind of awkward not being able to sit in the box there after taking a penalty," Grubauer joked. "But, no added pressure. It's the same mentality. You've got to stop everything."
Grubauer stopped 33 shots, Vince Dunn scored his second goal of the season off a faceoff 8:38 into the third period to give Seattle a two-goal advantage, and the Kraken beat the Nashville Predators 4-2 on Thursday night, Nov. 2.
The Kraken withstood a disjointed and sometimes sloppy first two periods thanks to Grubauer, who was terrific, especially in the second period.
He stopped 14 of 15 shots in the period, several right around the goal mouth. Grubauer also picked up the second penalty of his career when he was called for tripping Nashville's Liam Foudy late in the period. It was his first penalty since a 2016 game against Ottawa while playing for Washington.
"The second period, that's the key point where (Grubauer) did a really good job getting us through that period and putting us in a good spot coming into the third period and the other guys picked it up from there," Seattle coach Dave Hakstol said.
Coming off a career high in points last season, Dunn's slap shot beat goalie Juuse Saros to the glove side to give Seattle a 4-2 lead.
The Kraken also got goals from Oliver Bjorkstrand and Jared McCann in the first period and defenseman Brian Dumoulin's goal late in the second period snapped a 2-2 tie. Dumoulin scored in consecutive games for the first time in his career.
After playing seven of its first 10 games on the road, Seattle won consecutive games for the first time this season following its overtime win over Tampa Bay on Monday. The Kraken will spend most of November at home with seven of the next 11 games on home ice.
"It's great to contribute. I think that's the biggest thing, especially with this team is everyone's got to contribute for us to win. And we've done that here in this last stretch," Dumoulin said.
Tommy Novak scored in the dying seconds of a power play 6:35 into the game and Roman Josi got the only shot past Grubauer in the second period with his second goal of the season, also on the power play. Nashville has dropped the first two games of a five-game road trip.
Nashville was 2 for 5 on the power play after going 0 for 4 against Vancouver to open the road trip.
"Felt like we had a lot of looks, a lot of really good chances, especially in that second period," Josi said. "We had a lot of pressure. Felt like we had a had a lot of really good chances we couldn't capitalize on."
Saros made 26 saves, but faced far more traffic than the first meeting against Seattle in the first week of the season when he made 23 saves in a 3-0 shutout.
Up next
Predators: Continue their road trip at Edmonton on Saturday.
Kraken: Host Calgary on Saturday.