The A-List
Amy's picks: Holiday happenings, art events, wine walking and modern dance
A curated selection of happenings in Whatcom and Skagit counties
November 2, 2023 at 5:00 a.m.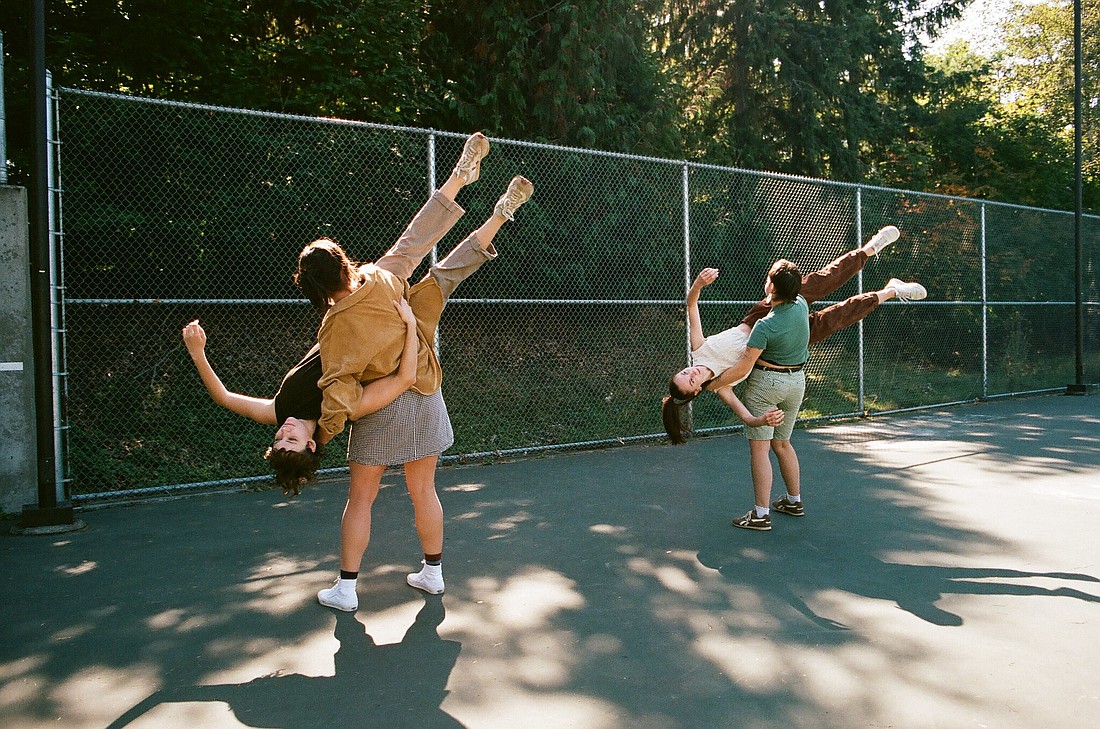 ---
---
AMY'S PICKS 
Nutcracker Holiday Gift Show
Nov. 9–12, Depot Arts Center, 611 R Ave., Anacortes
With Halloween come and gone, holiday bazaars, craft shows, gift shows, pop-ups, bake sales and artisan events are taking our corner of the world by storm (for further evidence, look to The A-List's online listings or the Cascadia Daily News website's event calendar).
What sets this 29th annual event apart is it takes place over the course of four days, features handmade goods by more than 60 Pacific Northwest artists, crafters and specialty food makers, and raises funds for area nonprofits such as the Helping Hands Food Bank. 
While it usually gets my hackles up when people start celebrating holidays early, most of the events I'm referring to help local artists and crafters keep doing what they're doing and give shoppers a chance to support them — while at the same time finding unique gifts for their friends and families. Info: nutcrackerholidaygiftshow.com. 
Holiday Wine Walk
5–8:30 p.m., Friday, Nov. 10, downtown Bellingham
During one of the Downtown Bellingham Partnership's seasonal wine walks, I purchased an expensive pair of earrings I likely wouldn't have splurged on if not for the fact I was slightly buzzed and convinced myself I needed them to complete my life. 
The mastery of combining pop-up wine tastings with shopping isn't lost on me, or on the people who regularly snap up tickets to these events. 
Seventeen unique locales will be hosting tastings — including Black Noise Records, Bison Bookbinding, Ideal, Third Planet, Fringe Boutique, NEKO Cat Cafe, WinkWink, Spincyle Yarns, Brazen, and The Comics Place — bringing an array of action to the urban core. If you find a new fave among the regional selections, you can purchase a bottle (or more) at each locale. Tickets are $40–$60. Info: downtownbellingham.com. 
'Doubles'
Nov. 10–11, 16–18, FireHouse Arts and Events Center, 1314 Harris Ave.
I love a clever theme, and the news release Bellingham Repertory Dance (BRD) submitted to me with photos of its dancers in various phases of movement on a tennis court caught my eye. Turns out the contemporary dance works aren't really sports-oriented, but no matter. 
The "doubles" the title refers to are instead an exploration of partnership, reciprocity and trust, and that's pretty cool, too.
Audiences can expect to see modern dance pieces such as Laura Patterson's "Agiocochook," which features dancers seeking survival; Samuel Hobbs' work "Early," challenging the boundaries of physical connection; and the premiere of a new work by BRD's Gabby Malagreca (among others). Tickets are $15–$35. Advance purchase is recommended, as the company's shows are known to sell out. Info: bhamrep.org.
Improv Festival
Nov. 10–11, The Upfront Theatre, 203 Prospect St.
A question I used to get asked when I was a performer at the improv-focused Upfront Theatre was "How come you need to rehearse if you're making everything up?" The answer was we were honing our craft — which involves learning to listen to your scene partners, becoming comfortable with different styles of improv and building trust.
At this inaugural festival hosted by The Upfront, audiences can experience firsthand the magic "rehearsals" can help bring to the stage when local improv groups will be joined by troupes from Vancouver, British Columbia; Seattle; Portland, Oregon; Spokane and Salt Lake City. Additionally, those with a little improv experience under their belts can sign up for various workshops led by area and visiting talent. Tickets to individual shows are $10–$16; weekend passes are available. Info: theupfront.com. 
Art's Alive!
Nov. 10–13, Maple Hall, La Conner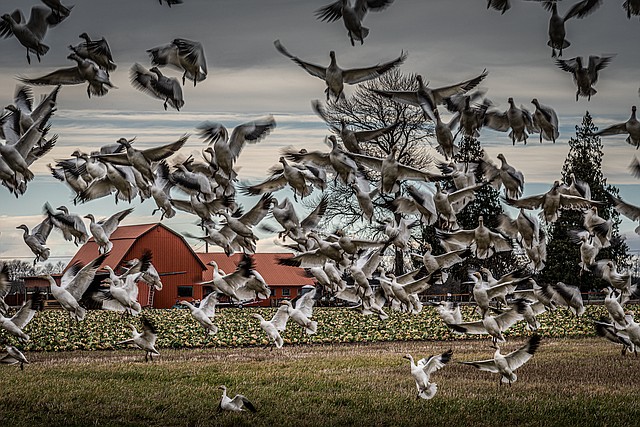 The picturesque town of La Conner has always been known for its art scene — it is, after all, home to the fabulous Museum of Northwest Art. But once a year, the La Conner Art Foundation pulls out all the stops for this four-day celebration of creativity, offering invitational and open art shows and related events from Friday to Monday. 
This year, the theme of "Northwest Focus" highlights the work of photographer and author Craig J. Barber, whose images in the exhibition pay tribute to the bountiful beauty of Skagit Valley farms. Also on display at the invitational show will be the artwork of Coast Salish master Dennis Allen, fiber artists Liz Moncrief and Terri Shin, award-winning watercolorist Peggy Woods, painters Janie Olsen and Christine Troyer, and others.
But that's not all. More than 60 artists will be showing their work in the Open Show. It's a smorgasbord of art, and viewing it is free. Info: artsalivelaconner.com. 
Bellingham Chamber Chorale
Nov. 11–12, Church of the Assumption, 2116 Cornwall Ave.
For two decades, the talented vocal artists of this homegrown chorale have been raising their voices in song. And lest you believe their performances are stuck in one era, think again. 
Because the chorale is composed of musicians who possess a high level of technique, conductor and composer Frederick Mabalot is able to take them from the Renaissance period to contemporary times, including pieces for orchestra. 
Their 20th anniversary concerts happening at noon Saturday and 5 p.m. Sunday are titled "Grace" and are dedicated to mothers and their indispensable roles. Attendees can listen to a moving rendition of the "Ave Maria," the musical narratives of Benjamin Britten's "Hymn to St. Cecilia," and musical arrangements of poetry by wordsmiths Rudyard Kipling and Pablo Neruda. General admission is $25, and students can check out the aural action for $10. Info: bellinghamchamberchorale.org. 
Artists' Holiday Studio Tour
Nov. 11–12, throughout Lummi Island
During a visit to Lummi Island in summer 2022, my brother, boyfriend and I spent more than an hour traversing the galleries and property of longtime couple Basil Atkinson (Wild Rabbit Gift Shop) and Ria Nickerson (Good Thunder Arts) at one of the three studio tours artistically minded islanders host each year. 
While Atkinson showed us his sandblasted rocks, forged knives and jewelry he creates from the scenic space on Tuttle Lane, he was generous with his time — and his stories. 
Something special happens when artists invite you into the places where they create, and on this island located just 20 minutes from downtown Bellingham, people are eager to tell you — and show you — what they're up to. Find out what I'm talking about at this weekend event, where more than 20 artists and craftspeople will be showing and selling their work at 15 island locales. It's worth the cost of the ferry ride. Info: lummi-island.com. 
ALL EVENTS 
Thursday, Nov. 2
'Steel Magnolias'
7 p.m., Nooksack Valley High School, 3326 E. Badger Road, Everson
A 10-minute play, "Hairdressers Code," will kick off this comedy-drama focusing on the bond among a group of Southern women in Louisiana. Tickets will be $6–$8 at the door to see the production by the school's drama department. Additional showings take place through Sunday, then again Nov. 9–11. Info: Facebook.com/nvhsdrama. 
'The Weir'
7:30 p.m., New Prospect Theatre, 207 Prospect St.
Conor McPherson's "hauntingly evocative" play will be presented by the Sojourner Theatre Cooperative through Sunday. The tale begins on a windy night in a pub in a small Irish town. When a pretty young woman who has just moved into a suspected haunted house joins a gathering of locals, things take a turn for the terrifying. Tickets are $15. Info: newprospecttheatre.org. 
Friday, Nov. 3
Skagit Artists Fall Juried Show
Through Sunday, Christianson's Nursery, Mount Vernon
Attend an opening reception for this juried group show featuring more than 30 artists from 4:30–7 p.m. Friday at the nursery's Meadow Schoolhouse. The show will continue from 10 a.m. to 5 p.m. Saturday and 10 a.m. to 3 p.m. Sunday. Info: skagitartists.com.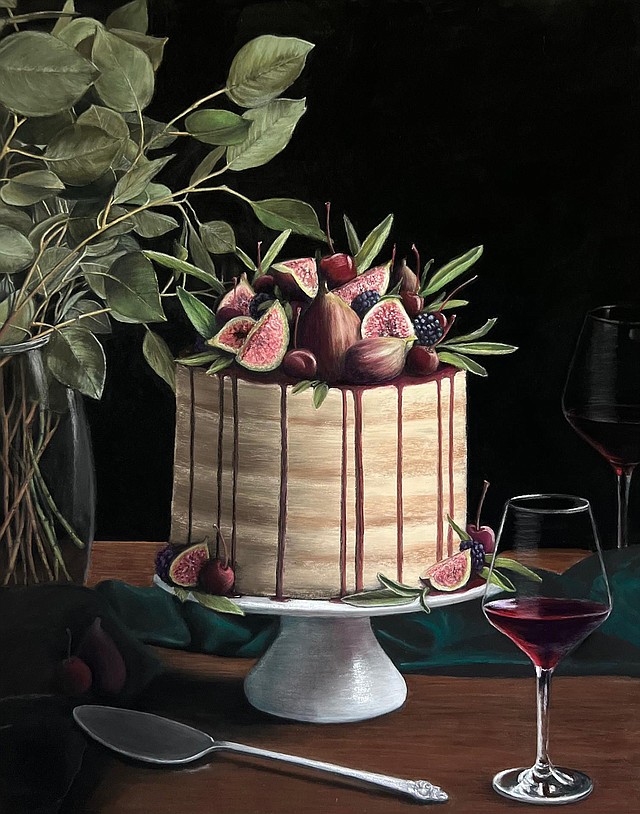 First Friday Artwalk
6–8 p.m., downtown Anacortes
MoonWater Arts, The Majestic Inn and Spa, Scott Milo Gallery (and the studios above the gallery), Squirrelwerks Studio, The Wishing Rock, and Ink & Wool will be among those opening their doors for this monthly art event. Entry is free. Info: anacortesart.com. 
First Fridays
6–10 p.m., throughout downtown Bellingham
Check out art exhibitions, events, restaurant specials, performances and more during this event, which features new programming on the first Friday of every month. Info: downtownbellingham.com. 
'Misery'
7 p.m., Blaine High School, 1055 H St.
Blaine Community Theater concludes this play based on Stephen King's novel of the same name through Sunday at the school's Black Box Theater. The story follows bestselling author Paul Sheldon, who wrecks his car during a winter storm and is "rescued" by his biggest fan, Annie Wilkes. Tickets are $14–$17. Info: blainecommunitytheater.com. 
'The Revolting Teens of Sherwood'
7 p.m., Mount Baker High School, 4936 Deming Road
Allison Ross directs this funny, fresh look at the timeless tale of the legendary hero Robin Hood. When Robin, Little John and Friar Tuck are captured, it falls to Marian and the Merry Men-in-training to come to the rescue. Expect swashbuckling adventure, derring-do and laughter. Tickets will be $5–$7 at the door. Info: mtbaker.wednet.edu. 
'The Marriage of Figaro'
7:30 p.m., McIntyre Hall, Mount Vernon
Pacific Northwest Opera will be presenting Mozart's masterwork with four performances of this operatic comedy through Nov. 10. The performers include Metropolitan Opera soprano Katie van Kooten and a cast of brilliant young singers. Tickets are $25–$85. Info: mcintyrehall.org. 
Days of Our Nights, Story Story Die
7:30 p.m. and 9:30 p.m., The Upfront Theatre, 208 Prospect St.
Watch this hilarious improvised soap opera most Friday and Saturday nights through November. At 9:30 p.m., Story Story Die will feature improvisers pitching a story. Each round will see scenes from every story, with the audience "killing" stories they no longer want to see. Tickets are $10–$16. Info: theupfront.com.
Sanford-Hill Piano Series
7:30 p.m., Performing Arts Center Concert Hall, WWU
This season's series kickoff features Ukrainian-born pianist Inna Faliks. Works by Bach, Mozart, Liszt and Jan Freidlin — who composed the work just for Faliks — are on the musical menu. Tickets are $20–$51. Info: tickets.wwu.edu. 
'The Wizard of Oz'
7:30 p.m., Lincoln Theatre, Mount Vernon
Attend opening night of the Theater Arts Guild's take on the story of a Kansas farm girl who travels over the rainbow to discover the magical power of home. The adaptation of L. Frank Baum's will show at various dates through Nov. 19. Tickets are $16–$34; on Nov. 9, all seats will be $12. Info: lincolntheatre.org. 
Saturday, Nov. 4
Craft Fair
8:30 a.m. to 3:30 p.m., Burlington Edison High School Gym, 301 N. Burlington Blvd.
This 32nd annual event will feature more than 100 vendors selling handmade arts and crafts. Food and raffles will be part of the fun. Entry is free. Money raised during the event will support the B-EHS band program. Info: behscraftfair.com. 
Yule Boutique
9 a.m. to 2 p.m., Grace Center at Trinity Lutheran, 2408 Cornwall Ave.
This annual event features a 15-foot-long table loaded with cookies, candies and cakes. Also on display and for sale will be handcrafted gifts, soup mixes, holiday decorations and vintage collectibles. Entry is free. Proceeds from the sale support Assistance League of Bellingham's community programs in Whatcom County. Info: 360-738-2803. 
Holiday Open House
9 a.m. to 6 p.m., Christianson's Nursery, Mount Vernon
"Old World Christmas" will be the theme of this two-day event taking place Saturday and Sunday. Find everything from new and antique holiday decorations to nature-inspired gifts and goodies for all ages. Local artisans and producers will also be selling their wares. Entry is free. Info: christiansonsnursery.com. 
Bellingham Farmers Market
10 a.m. to 2 p.m., Depot Market Square, 1100 Railroad Ave.
Approximately 90 vendors from Whatcom and Skagit counties are on site at this weekly market, which continues every Saturday through Dec. 16. Info: bellinghamfarmers.org. 
Dockside Market
10 a.m. to 2 p.m., Fishermen's Pavilion, Squalicum Harbor
Local fishermen will be selling their fresh and frozen wares at this twice-monthly market. Visit the dock early to find the best selection of seafood options. Details and participating vendors and products are posted 24 hours ahead of sale days. Info: bellinghamseafeast.org. 
Harvest Market
10 a.m. to 2 p.m., Hillcrest Lodge, 1178 E. Fowler St., Mount Vernon
Mount Vernon Farmers Market will host this seasonal soiree featuring farm-fresh fare and a variety of artisans. The event will be held indoors. Info: mountvernonfarmersmarket.org. 
Holiday Market
10 a.m. to 3 p.m., Depot Arts Center, 611 R Ave., Anacortes
Today and Sunday, Creative Avenue Northwest will host this event featuring more than 30 local businesses that will have art, photography and other handmade items for you to browse. Entry is free. Info: creativeavenuenw.com. 
Nordic Fest
10 a.m. to 4 p.m., Ferndale Events Center, 5715 Barrett Road
The Daughters of Norway will host this annual event — previously called the Scandinavian Fair — offering up baked goods, crafts, gifts, performances and much more. Show up early if you want to score food items, as they're known to sell out. Entry is $5 (free for those 12 and younger). Info: daughtersofnorway.org.  
Sea to See Art Show & Sale
10 a.m. to 5 p.m., Blaine Community Center, 635 8th St.
Blaine Arts Council hosts this event, which will feature a diverse array of art available to purchase from local artists. Music and food will also be available. Entry is free. Info: blaineartscouncil.org. 
WACK Studio Tour
11 a.m. to 4 p.m., throughout Whatcom County
Whatcom Artists of Clay and Kiln will host this event today and Sunday. More than a dozen stops are on the tour, which will feature at least two dozen participating artists. Five will be on-site at Baker Creek Ceramics in Bellingham, with others doubling up for the self-guided tour. Info: whatcomartistsofclayandkiln.org. 
Fix It Fair
Noon to 3 p.m., Ohio Street Workstudios, 112 Ohio St.
Pumped Bellingham and Clara's Canning will host this event featuring clothing mending, small appliance repairs, bike repair, knife sharpening and jewelry repair. Items will be repaired at no cost, but donations are always welcome. Info: pumpedbellingham.com. 
'Moments Unveiled' Opening Reception
3–5 p.m., Cordata Gallery, 465 W. Stuart Road
View paintings, drawings and watercolors by local artist David Syre during this opening event. The exhibition features pieces from 2012–2023, and includes everything from abstract paintings to modernist drawings and detailed watercolors. The works can be seen from 11 a.m. to 4 p.m. Tuesdays through Saturdays through Jan. 20, and by appointment. Info: cordatagallery.com. 
Editor's note: Syre is the sole owner of Cascadia Daily News.
Fall Swing Dance
6–9 p.m., Pioneer Pavilion, 2004 Cherry St., Ferndale
The Ferndale Arts Commission will host this free event with live music from Swing Connection Big Band. Lessons will take place during the first hour. Dress up or dress down, just come to have fun. Bottled water and light snacks will be provided. Info: cityofferndale.org. 
Gallowglass
7:30 p.m., Jansen Art Center, 321 Front St., Lynden
Hear contemporary Celtic folk when this Bellingham band brings its reinterpretation of traditional folk music with a focus on vocal harmonies, unique instrumentation and compelling arrangements. Tickets are $20. Info: jansenartcenter.org. 
Sunday, Nov. 5
Open Book: A Festival for Readers
Noon to 5 p.m., Ferndale Events Center, 5715 Barrett Road
Whatcom County Library System and partners will host this inaugural event featuring poetry and book readings, more than 20 booths and stages, a Teen Poetry Open Mic, a panel for aspiring writers, story times for kids, book pitches by local librarians, pop-up shops, chances to try letterpress printing with Bison Bookbinding, bookmobile and Whatcomcomics bus tours, a silent disco, prize drawings, reading recommendations, information about local book clubs and more. Entry is free. Info: wcls.org/openbook. 
Bellingham Symphony Orchestra
3 p.m., Mount Baker Theatre, 104 N. Commercial St.
"Rise" will be the theme of this concert celebrating hope and the resilience of the human spirit. Turkish cellist Efe Baltacıgil will be the featured performer; the program will feature Anthony DiLorenzo's "Anthem of Hope"; Fazıl Say's Concerto for Cello and Orchestra, "Never Give Up"; and Tchaikovsky's Symphony No. 6, "Pathetique." Tickets are $15–$52. Info: mountbakertheatre.com. 
Depot Comedy Night
8 p.m., Aslan Depot, 1322 N. State St.
Rachel Affleje will host this monthly stand-up comedy event featuring top-tier talent from around the Pacific Northwest. Erin Ingle will also do a set, and headliner Tyler Boeh will bring his big talents to town. Tickets are $20. Info: aslanbrewing.com. 
Monday, Nov. 6 
Guffawingham
8:30 p.m., Boots Bar and Lounge, 1263 Barkley Blvd.
This weekly stand-up comedy show can be attended every Monday. Each show features a host, and people can show up early to sign up for a slot on the roster. Info: facebook.com/guffawingham. 
Tuesday, Nov. 7
'The No Brainer Show'
6:30 p.m., Mount Baker Theatre, 104 N. Commercial St.
Jeff Kinney, author of the bestselling book "Diary of a Wimpy Kid," will host this "outrageously entertaining" one-hour event. Attendees will be invited to join Kinney onstage and face off in brain-challenging, game-show-style events to support their local library. Tickets are $12.50. The purchase of two tickets with come with a signed copy of "No Brainer." Info: mountbakertheatre.com. 
Wednesday, Nov. 8
Chuckanut Radio Hour
7 p.m., Hotel Leo, 1224 Cornwall Ave.
World-renowned alpinist Graham Zimmerman will be the featured author at this monthly event. He'll be sharing his new book, "A Fine Line: Searching for Balance Among Mountains" in the Crystal Ballroom. The tome traces Zimmerman's journey from adventuring for fun to becoming an outspoken conservation advocate. The event will also feature live music, poetry and "groaner" jokes. Advance registration is advised. Info: villagebooks.com. 
Thursday, Nov. 9
Front Street Jazz
7:30 p.m., Jansen Art Center, 321 Front St., Lynden
Community members who share the desire to play and perform simply for the enjoyment of making music will play a variety of genres — from classics to jazz, rock and new-age originals. Tickets are $15. Info: jansenartcenter.org. 
To Whom It May Concern
7:30 p.m., New Prospect Theatre, 207 Prospect St.
Hear people read a variety of letters onstage at this monthly event — real letters, old letters, correspondence back and forth, letters from the Whatcom Museum archives, improvised letters and more. A musician accompanies the event. Entry is $15. Info: readyourletter.com.
Western Wind Symphony
7:30 p.m., Performing Arts Center Concert Hall, WWU
Student performers will present "Lincolnshire Posy" by Percy Grainger; "Peace Dancer" by Jodie Blackshaw; "Shimmering Sunshine" by Kevin Day; and David Maslanka's "Give Us This Day." Info: cfpa.wwu.edu. 
Saturday, Nov. 11
Holiday Bazaar
9 a.m. to 4 p.m., Bellingham Covenant Church, 1530 E. Bakerview Road
More than 50 local vendors will be offering a variety of handcrafted wares at this 41st annual event. Plus, there will be a bake sale fundraiser for Bellingham World Relief. Info: bellinghamcov.org. 
Holiday Market
10 a.m. to 3 p.m., Sudden Valley Dance Barn, 8 Barn View Court
Makers from Whatcom and Skagit counties will be showing and selling their handcrafted items, so come support them and enjoy the fall colors on your drive to Sudden Valley. Info: suddenvalley.com.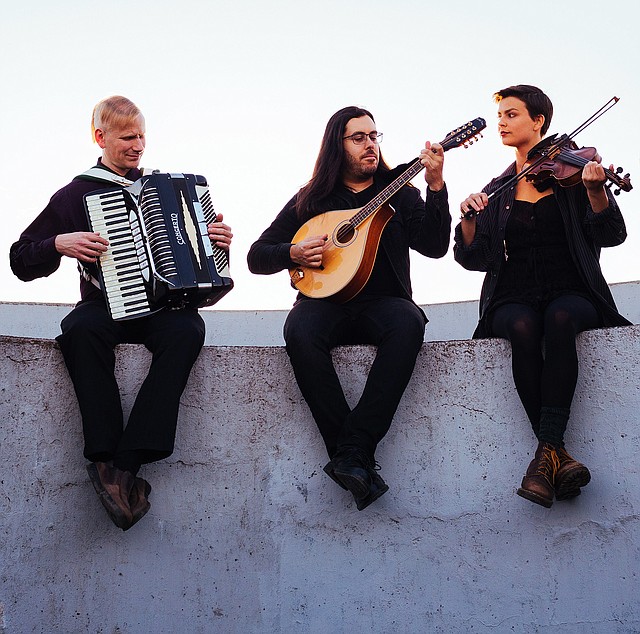 Ciderfest
Noon to 5 p.m., Bellewood Farms, 6140 Guide Meridian
This 11th annual event will feature 10 alcoholic cider tastings from Pacific Northwest cideries, plus seven tastings from Bellewood's own distillery. Events include a hard cider home brew competition and Celtic folk music by Clanna Morna. Tickets are $30 and include a commemorative sipping glass. Advance purchase is recommended. Info: bellewoodfarms.com. 
'Bellingham National' Opening
Noon to 5 p.m., Whatcom Museum's Lightcatcher Building
Both long-established and up-and-coming visual artists from across the United States will exhibit their paintings, sculptures, textiles, video, photography and more. All artists responded to this year's exhibition theme — Acts of Healing and Repair. Visitors can vote for their favorite piece to win a People's Choice Award. The exhibit shows through Feb. 25. Info: whatcommuseum.org. 
Sunday, Nov. 12
The Aunties: Women of the Salish Sea
7:30 p.m., Mount Baker Theatre, 104 N. Commercial St.
Follow the journey of three Indigenous matriarchs as they share their wisdom, humor, challenges and reasons for celebration. The Aunties include Dian Million (Tanana Athabascan), Heather Jefferson and Rena Priest. Tickets are $16–$45. Info: mountbakertheatre.com. 
Before heading out to attend in-person happenings, check with individual venues to make sure the event is still taking place as scheduled.
The A-List appears weekly. To submit an event for consideration, email calendar@cascadiadaily.com.