Prep/College
Sports roundup: District volleyball, soccer highlight the first week of postseason
Meridian volleyball, Sehome girls soccer clinch state berths; 12 other teams still alive
November 1, 2023 at 4:21 p.m.
---
---
Twelve prep volleyball and girls soccer teams are still fighting for state tournament berths as district brackets near completion, and two teams have already secured their spots.
Western Washington University's women's soccer team remains red-hot, and the Vikings haven't lost a match since Sept. 30. On the flip side, it's been an up-and-down month for Western volleyball and men's soccer.
For everything prep football-related, see this week's football forecast.
Here's an overview of what else you may have missed from the last week in fall sports.
Prep
Girls soccer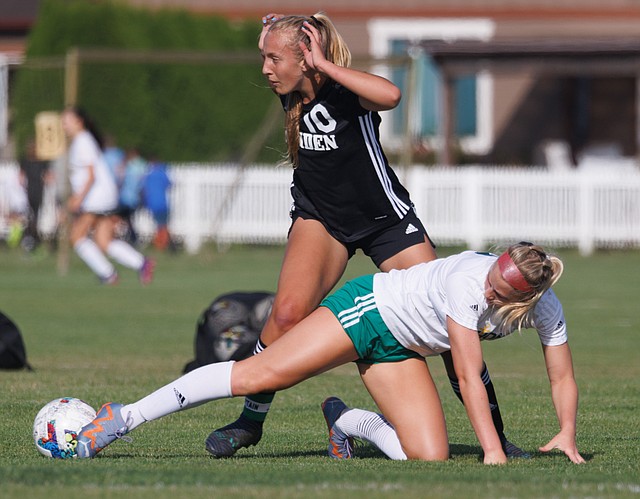 Only three local girls soccer teams have been eliminated from district tournaments thus far. 
Mount Baker and Squalicum had their seasons end early in the postseason, while Bellingham was eliminated late. Seven remain in play.
Sehome (14-1-3), the top seed in the 2A District 1 tournament secured its first district championship since 2011 after beating No. 3 Cedarcrest 4-1 on Tuesday, Oct. 31. 
The Mariners knocked off No. 8 Sedro-Woolley in the quarterfinals, 1-0, on Thursday, Oct. 26 and then defeated No. 4 Archbishop Murphy 3-0 two days later to advance to the title game.
No. 2 Bellingham (11-4-3) won its quarterfinal match, 2-0, versus No. 7 Burlington-Edison but lost 2-1 to Cedarcrest in the semifinals. The Bayhawks faced No. 5 Lynden, an in-county rival, in the consolation quarterfinals on Oct. 31, and were eliminated following a 2-1 loss to the Lions.
The game was a rematch of last season's 2A District 1 championship when Lynden won its first district title. Bellingham suffered the same fate a year later.
Lynden (12-4-3) will still need two more wins in the consolation bracket to advance to the 2A state tournament. The Lions will get another crack at Archbishop Murphy at 6 p.m. Thursday, Nov. 2 for a spot in the consolation final. Lynden lost to Archbishop Murphy in the tournament's quarterfinal round, and the two teams will face off for the second time in six days.
In the 1A District 1 tournament, No. 1 Lynden Christian (9-8) will once again battle No. 2 Meridian (10-5-1) for the district title at 7 p.m. Wednesday, Nov. 1. LC beat the Trojans for the title a season ago before reaching their first-ever 1A state championship game (lost 3-1 to Klahowya).
No. 3 Blaine (5-6-2) and No. 5 Nooksack Valley (2-15) will look to keep their seasons alive when they duel for a spot in the consolation final at 5 p.m. Nov. 1.
Ferndale (13-2-2), the No. 3 seed in the 3A District 1 tournament, was upset by No. 6 Oak Harbor (12-6-1), 3-2, in the quarterfinals. 
The Golden Eagles beat No. 10 Meadowdale (8-9-2) by a decisive score of 6-1 on Oct. 31 to advance to the consolation final against No. 4 Mountlake Terrace (11-5-2). Ferndale will be playing for a state berth, and it last reached the state tournament in 2021 but was eliminated in the play-in round.
Volleyball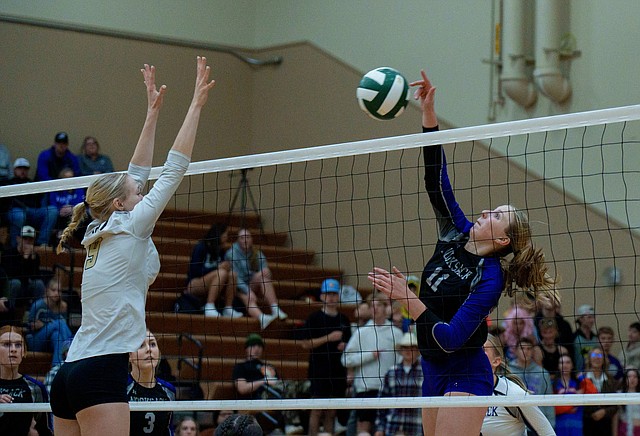 Seven local volleyball teams remain in contention for a state tournament berth heading into the latter half of the brackets, with one, Meridian, having already punched its ticket.
No. 1 Lynden (18-1), No. 3 Sehome (13-3) and No. 7 Bellingham are all alive in the 2A District 1 tournament, but only two can advance. 
Lynden is set to play No. 2 Burlington-Edison (18-1) for the 2A District 1 championship on Nov. 1, with the winner heading to the 2A state tournament. The loser will have to win one more game to advance. 
Sehome is looking to rebound following a five-set loss to Burlington-Edison in the semifinals, and the Mariners will battle No. 5 Anacortes (12-6) in the consolation quarterfinals on Thursday, Nov. 2. 
Bellingham, the lowest remaining seed still in contention, beat No. 6 Lakewood (8-11) in five sets on Tuesday, Oct. 31 to move onto a consolation quarterfinal match with No. 4 Archbishop Murphy. That contest will be on Thursday, Nov. 2.
Sehome and Bellingham will each need three consecutive wins, including beating the loser of the district title game, to advance to the 2A state tournament.
Meridian (15-4), the 1A District 1 tournament's top seed, secured a bid to the 1A state tournament after defeating No. 2 Nooksack Valley (11-6) in the district championship on Tuesday, Oct. 31.
Nooksack Valley dropped into the consolation final, where it will face No. 3 Lynden Christian (10-10) on Thursday, Nov. 2. LC lost to the Pioneers in the tournament's first round, 3-1, before bouncing back to sweep No. 4 Blaine (6-12) on Tuesday, Oct. 31.
The winner of the consolation final will secure the second state berth from 1A District 1, and the other will be eliminated.
Ferndale (9-7) finally received its 3A District 1 seed for the tournament, and the Golden Eagles sit at No. 6. They will face No. 11 Edmonds-Woodway (9-8) in a loser-out play-in match on Thursday, Nov. 2.
WWU
Women's soccer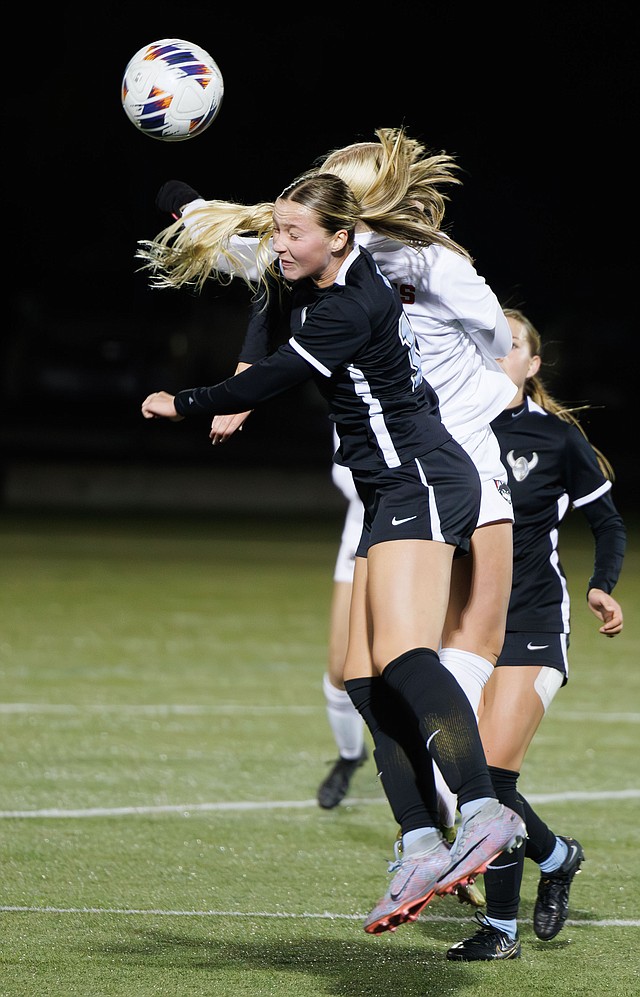 Western (10-3-4, 8-1-3 GNAC) has won three in a row and is 7-0-1 in its last eight matches. It has also outscored opponents 15-3 over that stretch.
The Vikings beat Western Oregon (8-4-4, 5-4-3 GNAC) on Oct. 26 in a 1-0 contest before defeating Saint Martin's (3-7-6, 1-6-5 GNAC) 2-0 on Oct. 28.
Sophomore forward Morgan Manalili had a goal in each of Western's last three games and she has netted a team-high six on the season — good enough to be tied for the conference lead with Seattle Pacific's Jacqueline Blakeley. Freshman midfielder Mie Cairns is second on the Vikings' roster with three goals.
Junior forward Myka Carr also scored her first goal as a Viking in the win over Saint Martin's.
Western has two regular season games left before the GNAC Championships begin on Thursday, Nov. 9. The second-place Vikings will host first-place Seattle Pacific (11-2-4, 8-0-4 GNAC) on Thursday, Nov. 2 before Montana State Billings (5-7-3, 4-6-2 GNAC) comes to town to wrap up the regular season on Saturday, Nov. 4.
Volleyball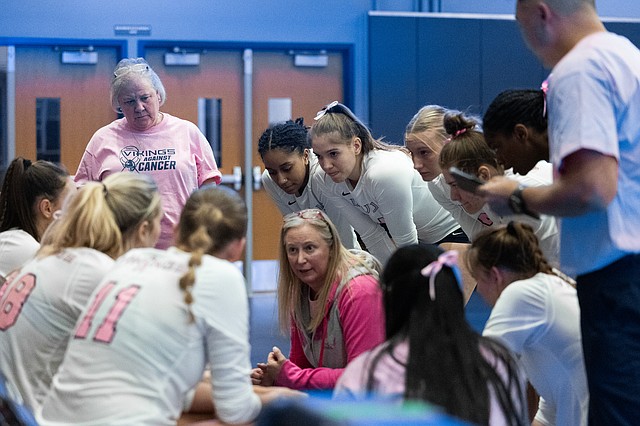 The Vikings (7-13, 7-5 GNAC) played just one match last week, losing in five sets to Simon Fraser (13-7, 8-4 GNAC) on Saturday, Oct. 28. They are now 2-4 over their last six matches after winning five straight from Sept. 16–Oct. 5.
Western fell into a fifth-place tie in the conference standings with Saint Martin's (14-8, 7-5 GNAC) as it heads into the final third of the regular season schedule. 
Last-place Montana State Billings (3-20, 1-12 GNAC) will travel to Bellingham for Western's next match on Thursday, Nov. 2. The Vikings will then host first-place Seattle Pacific (18-3, 12-1 GNAC) on Saturday, Nov. 4 — the last of three straight matches at home for Western.
Men's soccer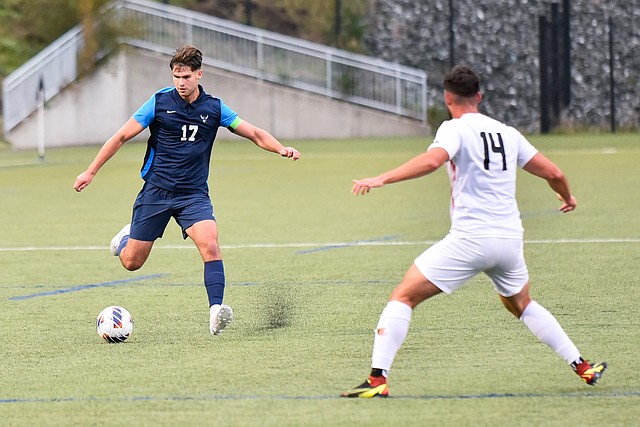 Western men's soccer (4-6-5, 1-4-4 GNAC) has not won a game since Oct. 5 (a 2-0 victory over Seattle Pacific) after recording two more draws last week. The Vikings are 0-3-3 in their last six matches.
Their most recent match was a 1-1 tie with Seattle Pacific (4-7-3, 2-4-2 GNAC), and senior defender Mitchell Hutter scored the lone goal for the Vikings.
Sophomore forward Albin Jonsson still leads Western with five goals on the season, but he has not scored since Sept. 16 — the Vikings' final non-league match before entering GNAC play.
Western's next match will be at home versus conference-leading Simon Fraser (9-2-2, 6-0-1 GNAC) on Nov. 4.
Girls soccer standings — Nov. 2
| | | |
| --- | --- | --- |
| Girls soccer | League | Overall |
| Team | W-L-T | W-L-T |
| Ferndale | 9-1-2 | 14-2-2 |
| Sehome | 8-1-1 | 14-1-3 |
| Bellingham | 7-1-2 | 11-4-3 |
| Lynden Christian  | 7-1-0 | 9-9-0 |
| Lynden | 6-2-2 | 12-4-3 |
| Meridian | 6-1-1 | 11-5-1 |
| Anacortes | 6-3-1 | 11-7-1 |
| Oak Harbor | 6-5-1 | 12-6-1 |
| Burlington-Edison | 4-4-2 | 8-8-2 |
| Blaine | 4-3-1 | 6-6-2 |
| Mount Vernon | 3-9-0 | 4-11-0 |
| Sedro-Woolley | 1-7-2 | 6-10-3 |
| Squalicum | 1-8-1 | 2-14-1 |
| Nooksack Valley | 1-7-0 | 2-16-0 |
| Mount Baker | 1-8-0 | 1-11-0 |
| Lakewood | 1-10-0 | 3-12-0 |
Volleyball standings — Nov. 2
| | | |
| --- | --- | --- |
| Volleyball | League | Overall |
| Team | W-L | W-L |
| Lynden | 15-0 | 19-1 |
| Burlington-Edison | 14-1 | 18-2 |
| Sehome | 12-3 | 13-4 |
| Meridian | 11-4 | 15-4 |
| Anacortes | 10-5 | 12-6 |
| Nooksack Valley | 10-5 | 11-6 |
| Ferndale | 9-6 | 9-7 |
| Oak Harbor | 8-7 | 9-7 |
| Lakewood | 7-8 | 8-11 |
| Lynden Christian | 7-8 | 10-10 |
| Bellingham | 6-9 | 8-10 |
| Blaine | 5-10 | 6-12 |
| Mount Vernon | 3-12 | 3-15 |
| Squalicum | 2-13 | 3-15 |
| Sedro-Woolley | 1-14 | 1-16 |
| Mount Baker | 0-15 | 0-18 |