Ski to Sea
Ski to Sea goes big for 50th anniversary
470 teams near capacity for annual race
May 31, 2023 at 5:55 a.m.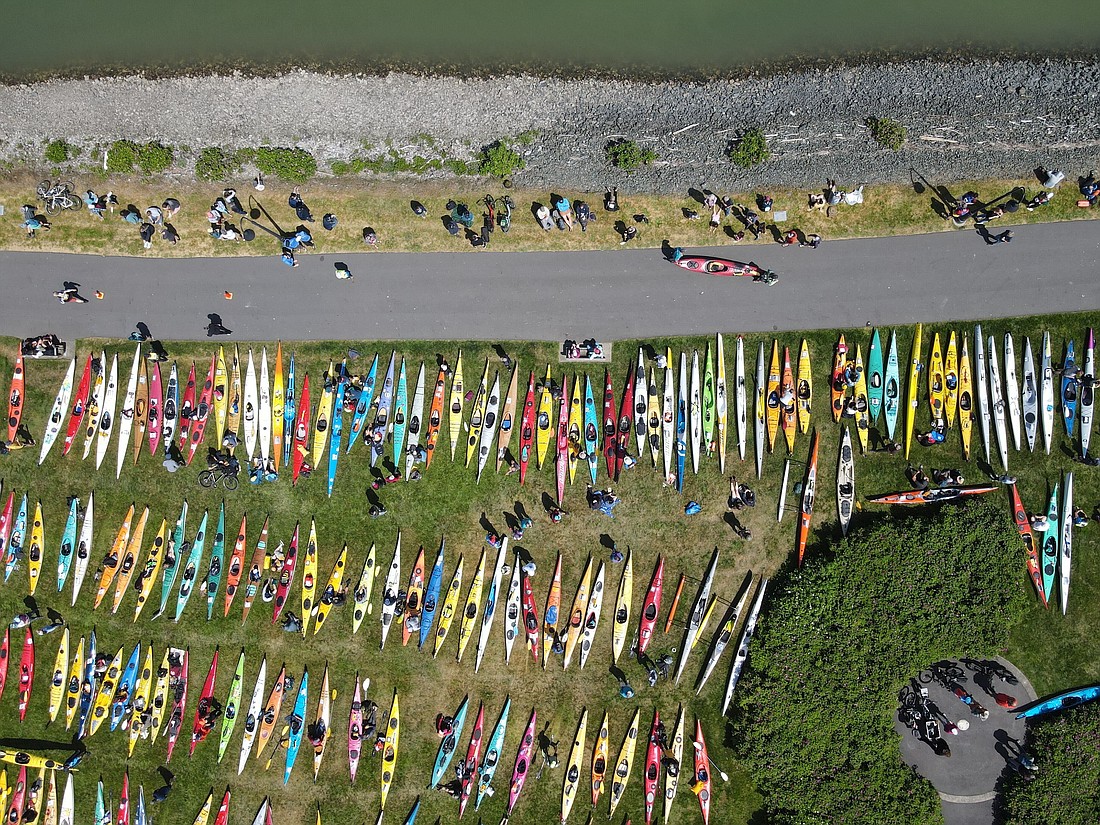 ---
---
Competitors flocked to Ski to Sea in large numbers on May 28 to help celebrate the event's 50th anniversary, giving organizers a much-needed boost after the financial disruption of the COVID-19 pandemic.
"Just celebrating 50 was a really bright spot," said Anna Rankin, who has been Ski to Sea's race director since 2016.
To honor the race's 50th birthday, organizers attempted to get 50 teams from all 50 states by waiving the entry fee for out-of-state teams. Ultimately, 40 states and the District of Columbia were represented.
"The very last team that I talked to on race day was the team that came from Alaska," Rankin said. Team members wore Alaska flag shirts and carried their state flag across the finish line.
"They were stoked to come to Bellingham and see how beautiful it is here, and participate in the race," Rankin said.
About 470 teams started the race's first leg at Mt. Baker Ski Area, putting this year's event close to its 500-team cap. Of those, Rankin said, roughly 400 teams paid the registration fee, which helped make the race profitable.
"This year is going to help further the recovery from the pandemic," Rankin said. "Last year, we made just enough to break even … This year is going to give us enough of a bump to put some in our rainy day fund."
Before 2020, Rankin said, she didn't know why Ski to Sea even needed a rainy day fund. She remembers thinking at the time, "What would ever cancel the entire race?"
"That rainy day fund got depleted during the pandemic," she said.
Rankin acknowledged the disappointment competitors felt after organizers canceled the kayak leg due to high winds.
"Safety is always going to be our top priority," Rankin said. "All I've received from the (Whatcom County sheriff's) marine units and the safety boats were accolades, that we made the right decision."
"That water is very, very cold," she added. "You can't be in that water that long. When the rescues outnumbered the safety boats, we had to stop."
Fairhaven Festival, a companion event to Ski to Sea held one-half mile from the finish line, was a "great success," Fairhaven Association Executive Director Heather Carter said. The festival benefited from good weather, Carter added.
"We don't have a way of giving accurate numbers, but the opinion was (we had) larger crowds this year, and visitors liked the layout" of more than 70 local artisans' booths, mainly along 11th Street, Carter said.
Although Carter was still recovering from festival busyness one day later, she was willing to look ahead to next year's event.
When asked via email on May 29 about the festival's future, Carter replied, "Definitely in 2024!"