Profiles
Jane Burns and Dana Mattson work back-and-forth on art
'Round and Back' features a creative collaboration
May 29, 2023 at 11:59 a.m.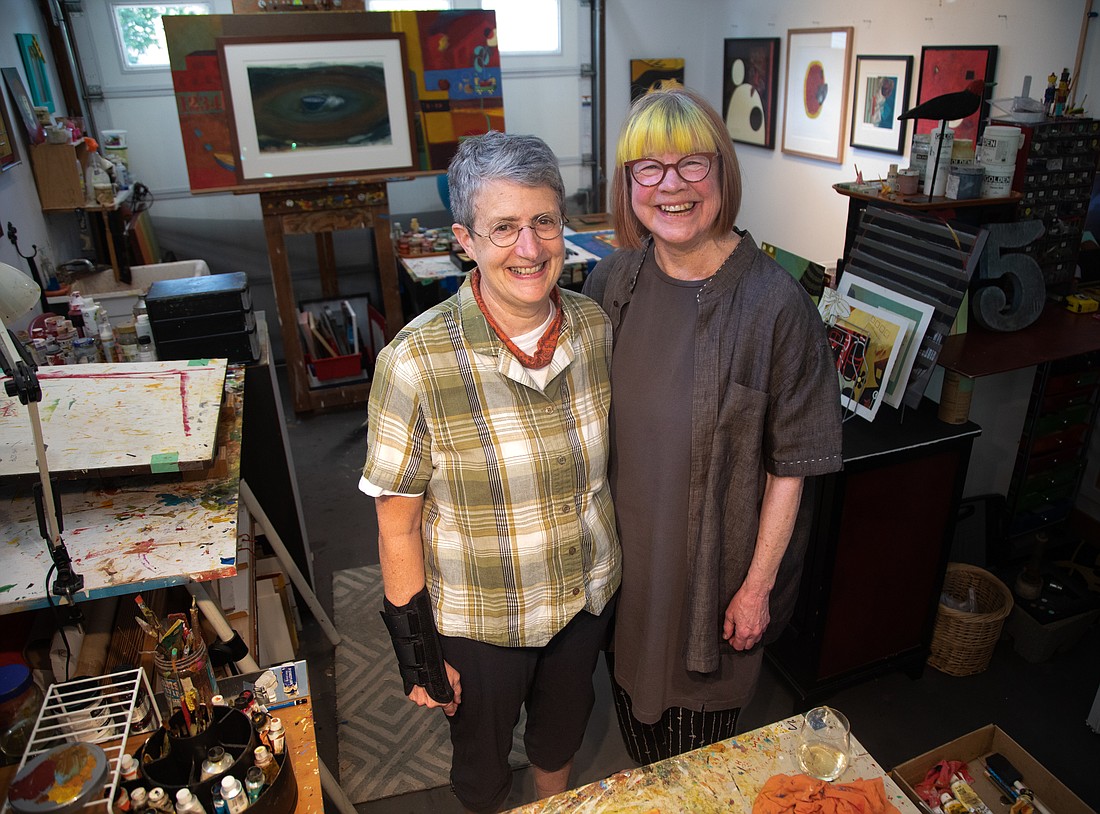 ---
---
"That's Jane. That's Dana. That's JĀNA," said Bellingham artist Jane Burns, pointing out the works in her studio off of Marine Drive.
Burns and her artistic friend Dana Mattson are a team effort, much the same as Randy Clark — who goes by "Fishboy" — and the late Tom Wood, who worked together to create "Woodfish" paintings.
The resulting joint exhibit, "Round and Back: A Two and a Half Woman Show," opens during the next First Friday Art Walk, with a reception taking place from 6–9 p.m. June 2 at Dakota Art Store in downtown Bellingham.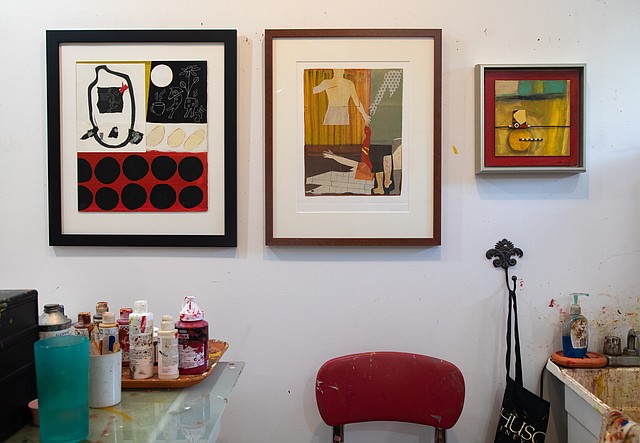 Last year, Burns and Mattson, longtime friends, started meeting for coffee to talk about their respective book projects. 
"Somehow we conjured up a show and spontaneously waltzed over to Alan Weydert at Dakota Art Store and he said 'yes' on the spot," Burns said. 
"Dana's work is so, so different from mine," she said, "yet when I look at it, I  understand it instantly. It talks to me like a poem before it is written." 
Mattson, 70, said her style has stayed fairly abstract over time, though "my materials have morphed with time and opportunity: collage, found object sculptures, painting and drawing and spray-painting, then printmaking when I was introduced to that form, and then painting on monotypes that were on paper."
Now she's also painting on canvas.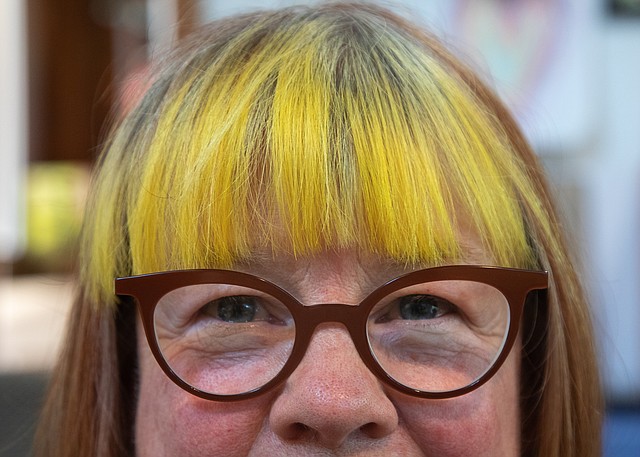 Mattson's childhood was all about making things. She had a Canadian aunt who asked her about her dreams, and then, Mattson said, she began to remember them and started to draw the "fluid abstractions" she was seeing at night, and to converse with the dream figures.
"A quirky path was set up that offered space to be happily odd and endlessly curious about most everything," Mattson said. "I was a sensitive, friendly introvert. I needed a lot of space and time without being rushed along."
In the same way, Burns, 65, said as a child she was quiet, a watcher and a reader, always trying to be invisible.
"I grew up in a family with six kids, so it actually was attainable amidst the mayhem," she said. "I kinda just stood there watching until there was a ball to chase. The math and humor of sports inspired me then and still does today."
Her paintings are her friends, Burns said, adding she does mostly hands-on framing, dressing her "beings" up for their adventures and losing her sense of time while she paints. 
"Time streams up instead of forward," Burns said. "Actually, linear tick-tockity time gets absorbed into my chase of colors, shapes and clues."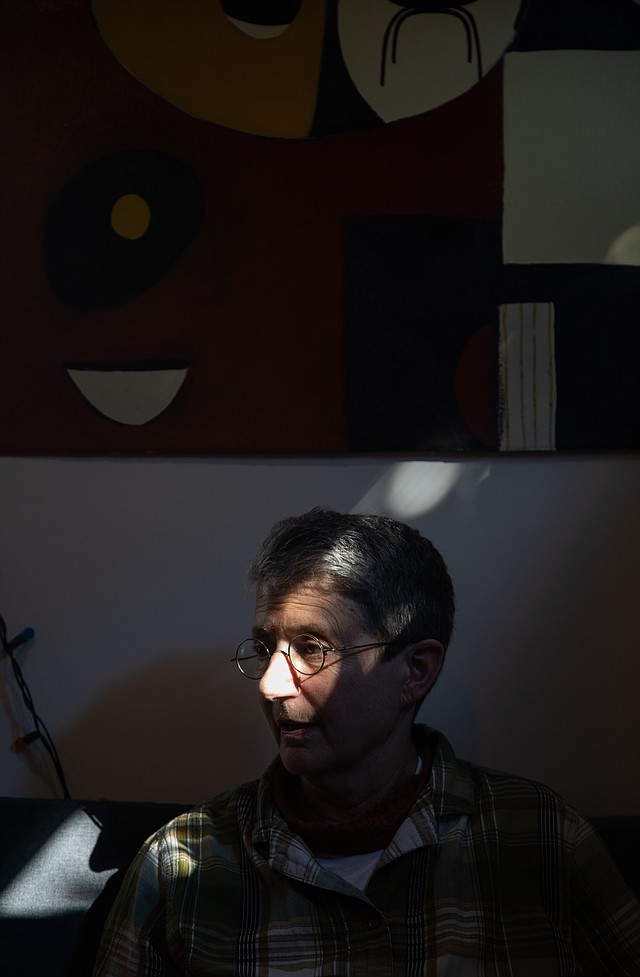 Mattson said her childhood also informed her work as an artist. As a family, they would sit around the table and make stuff, whether it was homemade cards or gifts. 
"Nobody was criticized for their artistic expression," Mattson said. "Nobody needed to know what the art meant. Art-making was one place where everyone could lay down their worries, frustrations and swords for a time and get along." 
Both Burns and Mattson currently have works on display at PeaceHealth St. Joseph Medical Center, and see art as a way toward healing.
That's especially true for Mattson, who combined an art practice and a massage practice for more than 30 years, working on both clients and friends. With permission, she would paint or write a poem in relation to what they told her during the sessions.
"There was no end to the tender and transformative experiences being shared," Mattson said. "Those conversations alone offer me enough inspiration to paint for the rest of my life."
Locals may also be acquainted with Burns' work hanging at Pepper Sisters on State Street and with her recently published children's counting book, "Mister Bingo's Surprizes."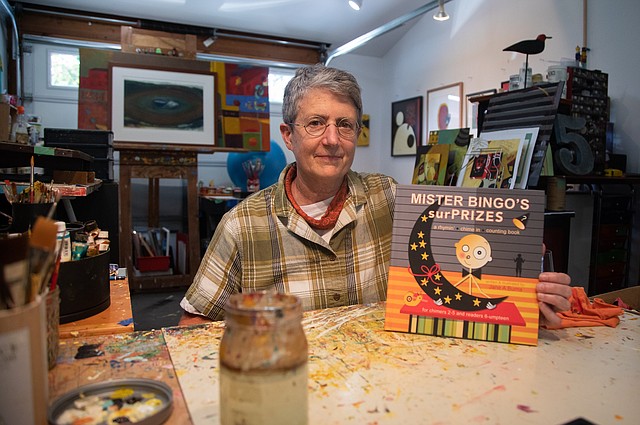 Although Burns and Mattson are enthusiastic about the new galleries and artists in town, they miss the old days — when Wade Marlow ran the then Blue Horse Gallery in downtown Bellingham, and the late Doug Chapman fostered creativity at Lucia Douglas Gallery in Fairhaven.
The artist community was a little different then, they said.
Burns remembers how George Thomas, then Whatcom Museum's executive director, would organize a croquet tournament for artists on his backyard lawn on South Hill, whereupon they would design wildly creative wickets, in the style of Barbie dolls or Baba Yaga, for example.
The exhibit at Dakota features both solo works by Mattson and Burns, as well as their collaborative JĀNA pieces.
"Working back-and-forth on our art has been a hugely educational thing for me," Burns said. "Maybe we're getting better at our craft."
Attend an opening reception for "Round and Back: A Two and a Half Woman Show" during the First Friday Art Walk from 6–9 p.m. Friday, June 2, at Dakota Art Store, 1322 Cornwall Ave. The works can be seen from 10 a.m. to 5 p.m. Mondays through Saturdays through July 30. Info: dakotaartstores.com, janeaburns.com or danamattson.com. 
An earlier version of this story incorrectly identified Jane Burns as a former massage therapist, and listed an incorrect website for the artist. The story was updated to reflect these changes at 9:30 a.m. on May 30. Cascadia Daily News regrets the errors.