Track & Field
Whatcom County athletes add 11 more state titles
Sehome boys capture 6 individual, relay titles on final day of season
May 27, 2023 at 7:09 p.m.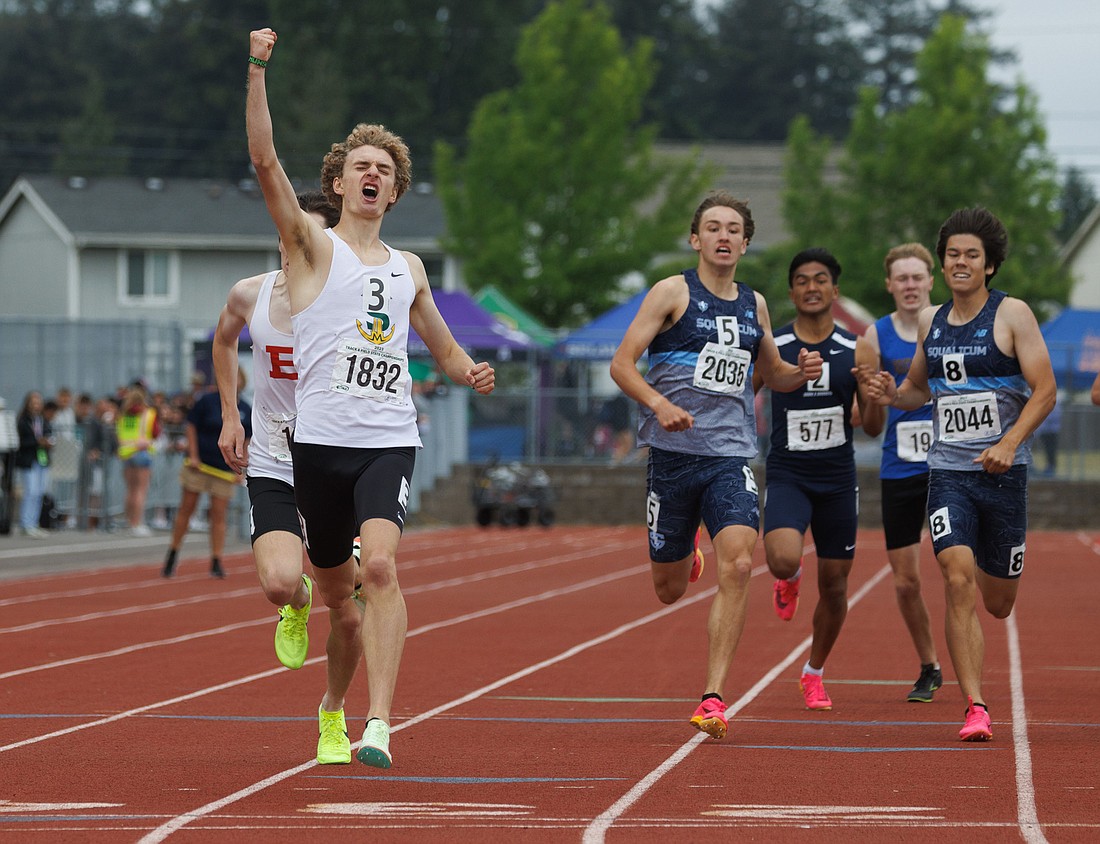 ---
---
After earning eight over the first two days, Whatcom County track and field athletes captured an additional 11 state titles at the season's final 1A and 2A meets on May 27.
The Sehome boys saved their best for last at the 2A/3A/4A state event at Mount Tahoma High School. The Mariners won six track event titles — five individual, one relay — on May 27, clinching their second-straight 2A state team title.
Local athletes also posted three 1A individual titles at the 1B/2B/1A state meet at Zaepfel Stadium at Eisenhower High School on May 27, with two coming from the Lynden Christian boys.
Sehome's boys team finished first overall in 2A with 73 points, while Lynden finished second with 53. The Sehome girls finished second overall with 48 points behind Tumwater (51), followed by Bellingham in third with 35.
Lynden Christian's boys team finished fifth at the 1A state meet with 37 points.
Sehome boys go for six event wins in one day
Sehome Senior Zack Munson, who already won the 2A boys 1,600-meter title on May 25, won another pair of championships in the 800- and 3,200-meter runs. 
Fellow senior Jacob Andrews won the 100-, 200- and 400-meter dashes while anchoring the Mariners' champion 4X100 relay team.
Andrews' performance was one for the ages, setting 2A state meet records in 200- and 400-meter dashes. His time of 46.89 seconds in the 400-meter race shattered a decade-old mark that was set by Tumwater's Andrew Brown in 2013 (47.10).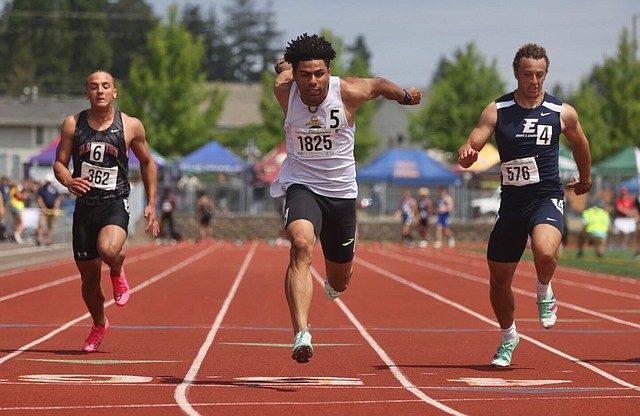 Despite that, Andrews' most shining achievement of the meet was perhaps in the last leg of the 4X100 relay, beating Clover Park's Zakai Abdullah by one-hundredth of a second. 
Sehome finished fifth in the prelims with a time of 43.32, and the Mariners' team of Mason Hill, Porter Leak, Andre Watson and Andrews shaved almost a full second off in the finals (42.53) to win the title.
Andrews won the 200-meter dash last year as well, and he pushed his career titles to five total with the four wins on May 27.
Munson also finished his high school career with five championships after winning the 3,200-meter run as a junior and the 2A boys cross country title earlier this fall.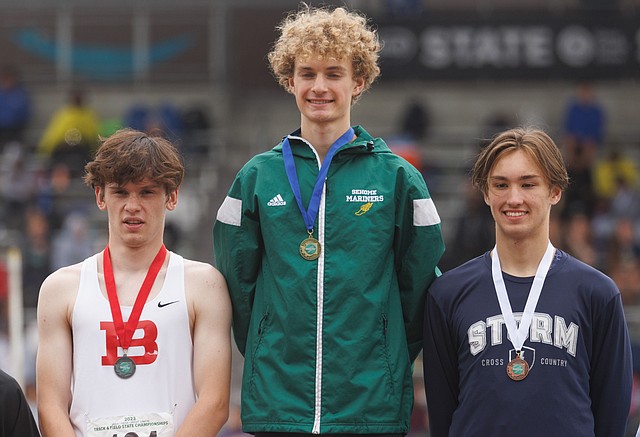 "To complete the triple [long distance wins] today, in my last day running in the Sehome singlet, it's really special," Munson said. "I'm just really grateful for the people that have coached me and the teammates I have."
In his 800-meter win, Munson was closely trailed by a trio of local runners. 
Munson crossed the finish line in 1:54.59 and was followed by Bellingham senior William Geisen in second (1:54.95), Squalicum junior Chase Bartlett in third (1:55.40) and Squalicum senior Wesley Sluys in fifth (1:55.64).
"I was definitely on my toes for that race, and that's the one I really had my eye on," Munson said. "We all want to absolutely destroy each other. That's just kind of the way it is. Off the track, we're all friends."
Lynden Christian, Meridian boys shine at 1A state meet
Two days after resetting the 1A state meet record books in the boys 1,600-meter run, Lynden Christian senior Andrew Luce earned another record by winning the 800-meter race with a time of 1:52.76.
Luce finished second in both the 800- and 1,600-meter runs a year ago, and he made good on both titles in his final high school season. He finished third in the 3,200-meter run as well with a time of 9:30.09
LC's Mick Owen was the No. 9 seed in boys triple jump entering the meet, and the Lyncs sophomore beat his seed time by nearly 3 feet in the finals (42-10.25) to capture the title. He bested Connell senior Chase Nielsen by 4.25 inches.
Meridian junior Jase Klinkhammer finished second in the boys 100-meter dash — arguably his best race — but he was able to clinch a title in the 400-meter dash instead (50.74 seconds).
On the girls side, Nooksack Valley senior Kate Desilets took third in the 100-meter dash with a time of 12.70 seconds. LC junior Alina Veltkamp also finished third in the triple jump with her mark of 35-6.25.
Lynden, Sehome, Bellingham place others in top-3 at 2A state
Lynden sophomore Faith VanBrocklin won the 2A girls 300-meter hurdles title with her finals time of 45.31 seconds. VanBrocklin finished second in the prelims behind Orting's Myquela Pride before edging her opponent by four-tenths of a second in the finals.
The Lions' girls 4X100 relay team of Reta VanderMay, Eve Ellis, Kiki York and VanBrocklin finished third with a time of 49.97 seconds.
Sloan Dickson, Olivia Holmes, York and VanBrocklin combined to earn a second-place finish in the girls 4X400 relay with a time of 4:05.60.
Lynden senior Troy Petz took second in the boys triple jump with his mark of 44-09.25. Petz also finished second in the long jump on May 26 after winning the title last season.
Lynden's boys 4X400 relay team of Gage Ellis, Daniel Bowler, Porter Wilhite and Petz took second with a time of 3:22.69.
Sehome's girls 4X200 relay team of Keira Reeves, Alina Kravtsov, Bella Connell and Triya Mitchell took second behind Tumwater with a time of 1:45.21.
Kravtsov also finished third in the girls 400-meter dash (59.91 seconds), while senior Julie Gill took third in the girls 3,200-meter run (11:14.53).
Bellingham's Chayse Flick-Williams fell short of a second straight girls 100-meter dash title, finishing second behind Rogers (Spokane) senior Ellabelle Taylor with a time of 12.54 seconds.