Indigenous Affairs
Gathering of the Eagles brings tribes, community to Lummi Nation
9-day gathering celebrates environment, culture
May 26, 2023 at 9:41 p.m.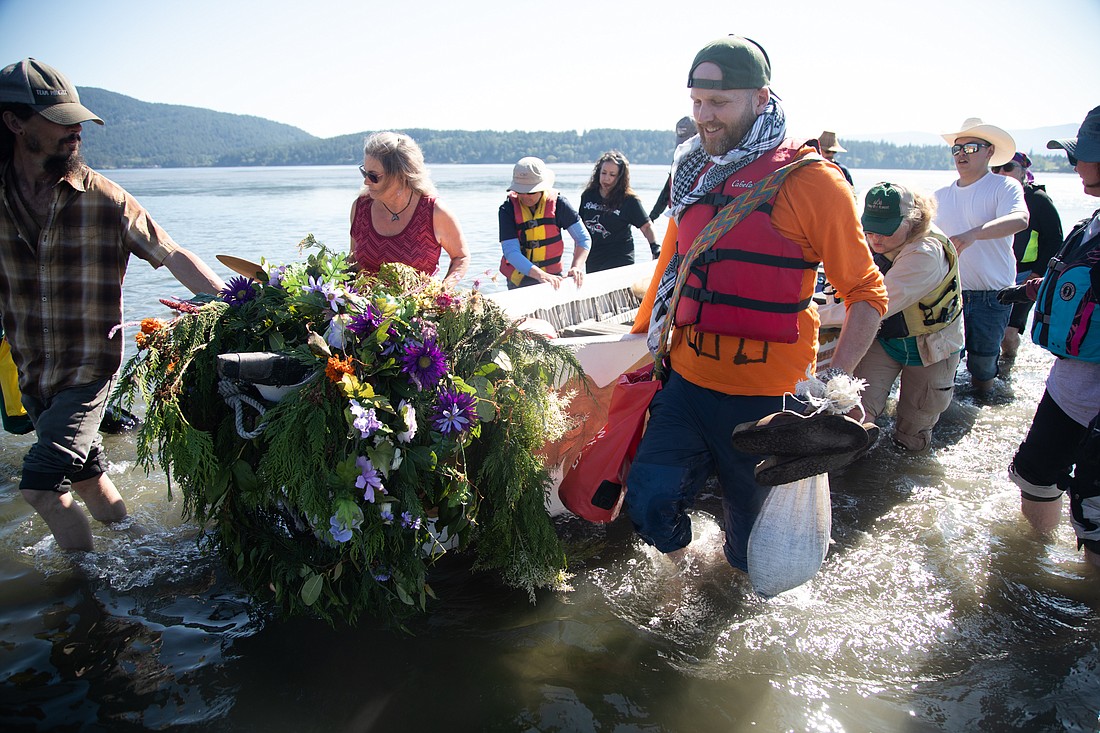 ---
---
More than a dozen bald eagles were spotted this week as Indigenous canoeists paddled from Orcas Island to the grounds of the Lummi Nation, where tribes from across Washington and beyond have met for the Gathering of the Eagles, a nine-day celebration and cultural exchange.  
The canoe journey began May 21, when several canoe groups — including the Hawaiian Outrigger Canoe Voyaging Society from Maui, the Chief Leschi Schools from Puyallup and the Carver's Camp canoe from Tacoma — paddled from Anacortes to Lopez Island, before continuing on to San Juan Island and Orcas Island, completing the journey across the "ancestral highways" of the Coast Salish people.
The paddlers landed at the Stommish Grounds in the Lummi Nation on Friday, where the chairman of the Lummi Nation, Tony Hillaire, welcomed them. 
"I'm so thankful to those coming to share their stories, their culture with us," Hillaire said Friday. "It's good feelings and good heart." 
In its third year, the Gathering of the Eagles brings together tribes from the Puget Sound region, as well as from Maui, Hawaii and beyond for discussions about tribal identity and environmental protections alongside the Alliance of Earth, Sky and Water Protectors. 
Organizers from the Lummi Nation, including Freddie Lane — who goes by his Lhaq'temish name Sul ka dub — said the event was designed to unite grassroot organizers in protecting their communities, cultural heritage and homelands. 
"It's with the spirit of healing, hope, honor, happiness and hospitality that we are able to continue this work together," Lane said. 
Last year, Lane said the event brought more than 1,100 participants from 25 Indigenous tribes and First Nations over the nine-day canoe journey and meeting. This year, they hope to see similar levels of participation. 
The gathering will remain in the Lummi Nation for the remainder of the event, where participants will be able to celebrate Coast Salish culture and discuss ways to support environmental causes. 
After the canoes landed Friday, tribal members celebrated the Lummi 'schelangen,' or the tribe's way of life, with speeches, song, dance and prayer.
The bald eagles on the way to Lummi, observers said, were a sign of welcoming and blessings from ancestors. 
"Our ancestors led the way to your ancestors," Kimokeo Kapahulehua, one of the attendees from Hawaii, said as his canoe was towed onto the beach at Stommish Grounds. 
Other wildlife, too, appeared to the paddlers throughout their journey. Paddlers from Chief Leschi Schools, on their canoe, Spirit of the Wolf Protects, were joined by several migratory orcas near San Juan Island.