Profiles
Lummi artist puts finishing touches on story pole carving
Jason LaClair envisions a Whatcom County filled with Coast Salish art
May 25, 2023 at 5:05 a.m.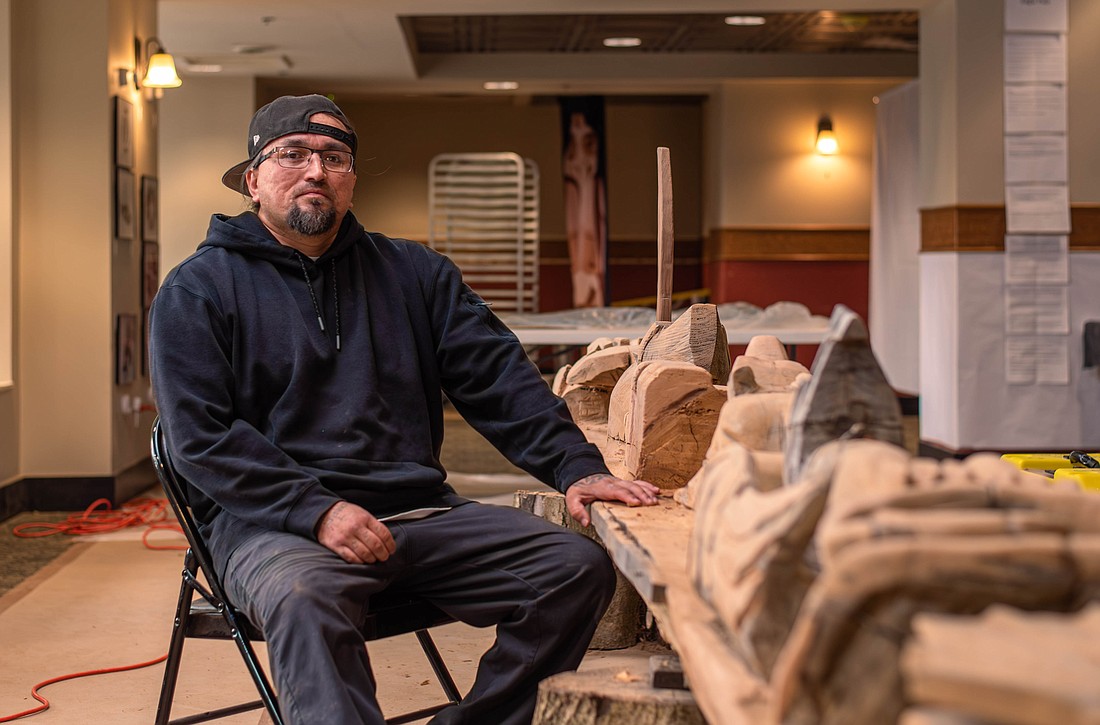 ---
---
Jason LaClair's dream is to see Whatcom County filled with Coast Salish art honoring his ancestors and the land they once lived on. The Lummi Nation artist's latest project — a ceremonial story pole he is carving at Hotel Leo — is one piece in that puzzle.  
When LaClair goes to the downtown hotel to work on the carving, he enters through an unassuming white door off the main lobby. At the center of the room, daylight from Cornwall Avenue streams through a large picture window onto the 25-foot red cedar log, and a fine layer of sawdust coats the floor. Here, LaClair places his hand on the log.  
Then, he prays.  
"It's alive, you know, and I can't have any kind of bad energy," LaClair said. "So if I'm not feeling 100 percent, or angry, I won't come anywhere near the pole." 
Since the beginning of May, LaClair has been adding finishing touches to the pole, where members of the public have had a chance to watch his process. The project serves as the centerpiece to "QwotQwem," an installation honoring local Native and Indigenous artists, presented by Children of the Setting Sun Productions as part of the Downtown Bellingham Partnership's First Friday Art Walk. "QwotQwem" is the original Lummi word for Whatcom, meaning "noisy waters" in Xwlemi Chosen.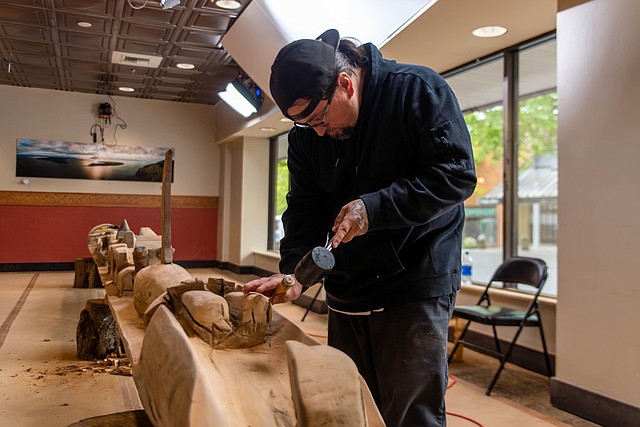 Much of the initial work on the story pole was done by Samuel Cagey, Jr., a carver and Lummi tribal elder. After that work came to a halt due to health complications from COVID-19, Cagey Jr. knew he wanted LaClair to carry out his vision and finish his story. 
"What we both see in Jason is his love for our stories, his love for the presentation of our Coast Salish stories," said Darrell Hillaire, executive director of Children of the Setting Sun Productions.  
LaClair has lived in Coast Salish territory his entire life and grew up surrounded by master carvers. His own art, however, has manifested itself through other mediums — until now.  
LaClair began reading books about art at age 9, going on to do formline printmaking for 25 years. He created his first mural in 2020, but things really took off in September 2022, when he partnered with local artist Gretchen Leggitt to create the 750-foot "Salmon Run" mural for the City of Bellingham on North Forest Street. Now, his work can be seen around the city at the waterfront pump track, Bellingham Public Library and many other locations.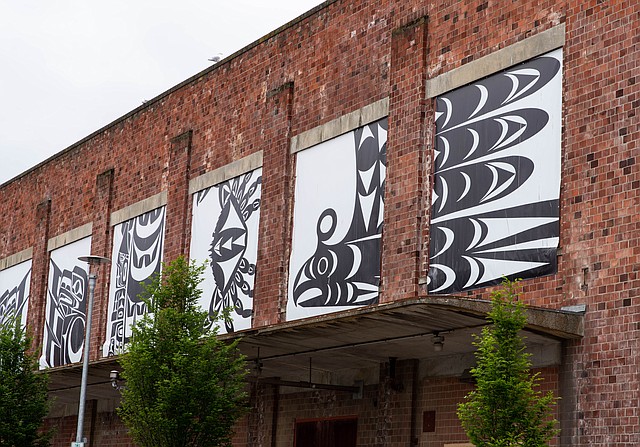 The story pole — LaClair's first-ever carving project — brings a new sense of weight to his work. 
"Samuel is one of our spiritual leaders, so seeing something like this through is huge for him," LaClair said of his predecessor.  
Carvings on the pole reflect a connection with and respect for Mother Nature and all of her beings, LaClair said. From the bottom to the top of the log, Cagey Jr. carved a mermaid, serpent, birdman, wolf, bear, whale and eagle — each symbolizing different values.  
"It tells a story," LaClair said. "It reminds us to pay attention to things going on around us, to be leaders and follow our hearts and to be respectful."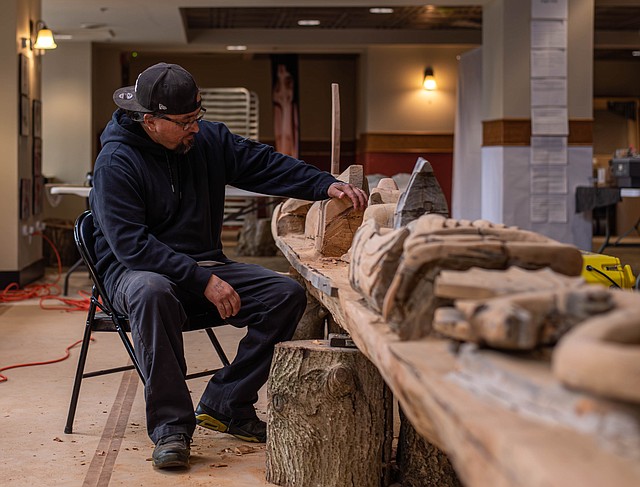 LaClair said when he took over the project, Cagey Jr. had already brought it nearly to the finish line. His next steps were to begin sanding the carving and chiseling away any rot from the bottom of the log. In the coming weeks, he'll consult with Cagey Jr. to draw designs on the log, paint it and seal it, likely finishing by later in the summer.  
While this work offers an opportunity to complete Cagey Jr.'s artistic vision, it's also an opportunity to share their vision with others. For Hillaire, the story pole and accompanying Indigenous art at Hotel Leo fit perfectly with Children of the Setting Sun Productions' mission to create, share and educate.  
"It really is the beginning of a dream to perhaps do an art gallery," he said. "This opportunity for experiential learning is right there." 
Last week, three different classes from local elementary schools came to watch LaClair in action, learning the story of the ceremonial carving and helping out with their own small pieces of sandpaper.  
That kind of learning, Hillaire said, touches people's hearts, not just their minds. 
"It's transformative, rather than just transactional," Hillaire said.  
As LaClair looks ahead to the carving's anticipated completion, he's excited for it to be a starting point for telling the stories of the Coast Salish people. 
"People get to walk by and see it," he said. "It connects us to our community. Sharing our culture and our art and our history, and being open about it, gives us a deeper connection to everybody around us."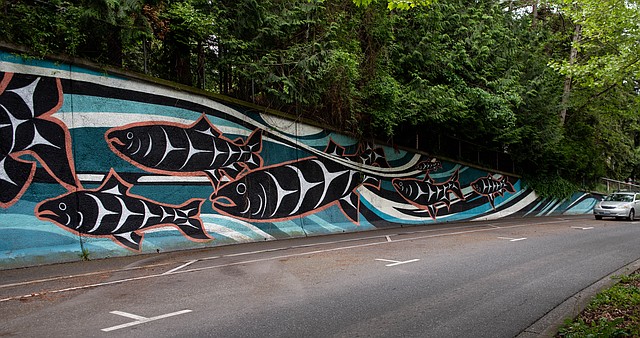 Those interested in seeing the story pole and accompanying art at the Hotel Leo can do so at the Downtown Bellingham Partnership's First Friday Art Walk from 6–10 p.m. on Friday, June 2. Info: downtownbellingham.com/first-fridays.