Ski to Sea
Belgian runner with Bellingham ties ready to prove his mettle
Alexander Kamoen looks to help team of doctors finish high at Ski to Sea
May 25, 2023 at 5:00 a.m.
---
---
One might think the newest member of a Ski to Sea team made up mostly of orthopedic surgeons would also be … an orthopedic surgeon. But The Unorthodocs — pun intended — will now add Alexander Kamoen, a 24-year-old Belgian analytics consultant, who has ties to one of the team members through a foreign exchange program that took place in 1983.
When Jason Stoane, a partner at Northwest Radiologists and Mount Baker Imaging in Bellingham, was 18 years old in 1983, he took part in a foreign exchange program, American Field Service, with a family in Ghent, Belgium. 
Stoane joined Kamoen's family for one year, living with Kamoen's grandparents and uncle while Kamoen's mother did her exchange program in the U.S.
"They taught him about the Belgian culture, and he speaks and understands Dutch," Kamoen said in a recent interview. "He still does after all these years … He's considered part of our Belgian family."
Fast forward 40 years to March 2023 and Stoane, 58, was making his first trip back to Belgium in 15 years to visit his guest family.
It was then that Stoane and Kamoen had their first real conversation, as Kamoen was just 9 years old the last time Stoane had visited.
"He's a grown adult now and he's like my nephew," Stoane said.
Stoane was looking for a runner to complete his Ski to Sea team, and as luck would have it, Kamoen had just completed his first-ever marathon — Run the Rome Marathon — in Rome, Italy, on March 19.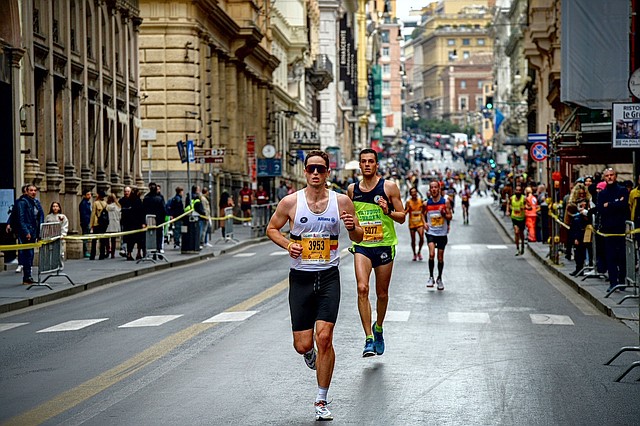 Kamoen, who only began running and training in October 2022, completed the 26.2-mile course in 2 hours and 53 minutes to finish 200th out of 15,000 runners.
Stoane was immediately intrigued by Kamoen's running ability and soon offered him an invitation to join his Ski to Sea team.
"It's always hard to get a runner because they age out," Stoane said.
It wasn't an immediate yes from Kamoen. He had to mull it over for a week.
"Of course, it's quite a trip for me, so I had to make some arrangements with my employer," Kamoen said. "I'm pretty excited."
Kamoen, who trained four or five times a week to prepare for the Rome marathon, is now running 30–45 miles each week in preparation for Ski to Sea.
This will be Kamoen's first time visiting the West Coast of the United States. He's been to New York City twice. He booked his flight April 18, is flying to Bellingham on May 24 and will be staying with Stoane and his family.
"I don't know what to expect," Kamoen said. "I'm nervous in a different way than I was for the Rome marathon because this is a downhill race."
The Rome marathon is generally flat, winding through the ancient city with 4–5 miles of the surface being large cobblestones.
During Ski to Sea, Kamoen will be tasked with running 8 miles on asphalt along Mount Baker Highway with a 2,200-foot drop in elevation. The average runner completed this leg in 57 minutes in 2022. Kamoen will finish by handing the team's timing chip to their road bicyclist.
"I'm looking into techniques for running downhill, whether I should use carbon-plated shoes, shoes with more cushioning to save my knees," Kamoen said.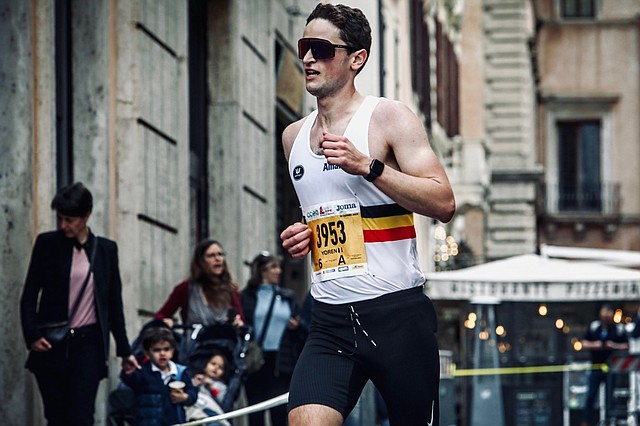 One problem he's had is Belgium is mostly flat. The only hilly areas are located in the southwestern corner of the country near the Ardennes forests, where World War II's famous Battle of the Bulge took place.
"I was there recently on a family trip, so I took the opportunity to run up and down the hills," Kamoen said.
His new teammates will be counting on him to be prepared.
One of the oldest continuously named teams in Ski to Sea, The Unorthodocs — always made up of medical doctors along with their family and friends — have been one of the top teams in the race for the past quarter century.
The team currently has three orthopedic surgeons along with Stoane, who is a neuroradiologist and does the canoe leg with Bellingham surgeon Joel Hoekema.
They've placed as high as eighth overall, and finished sixth in the competitive open division, and 16th overall in 2022. The team will compete in the veterans division this year.
"We've won the recreational open many times," said Stoane, who is retiring from Ski to Sea after this year's race. "Our team is really consistently good. We have pretty decent people on each leg, [which] is why we do so well; it's just consistency across the board."
Whatever happens when the race begins May 28, Kamoen and Stoane are just happy they get to revitalize the decades-long connection between their families.
"I'm really excited because it's a great way to reconnect with my Belgian guest family," Stoane said. "I've always had them in my heart, but it's been hard over the years to maintain. This is super great [Kamoen] is able to make the time and come over. It will just keep our families closer in the future."
And Kamoen is eager to prove himself, not only to his teammates, but to himself and everyone else.
"I really want to make the best of it and show people what Belgian athletes can bring," Kamoen said.