Theater
Under the big top at Shoestring Circus
An all-human spectacle comes to Waypoint Park
May 24, 2023 at 5:55 a.m.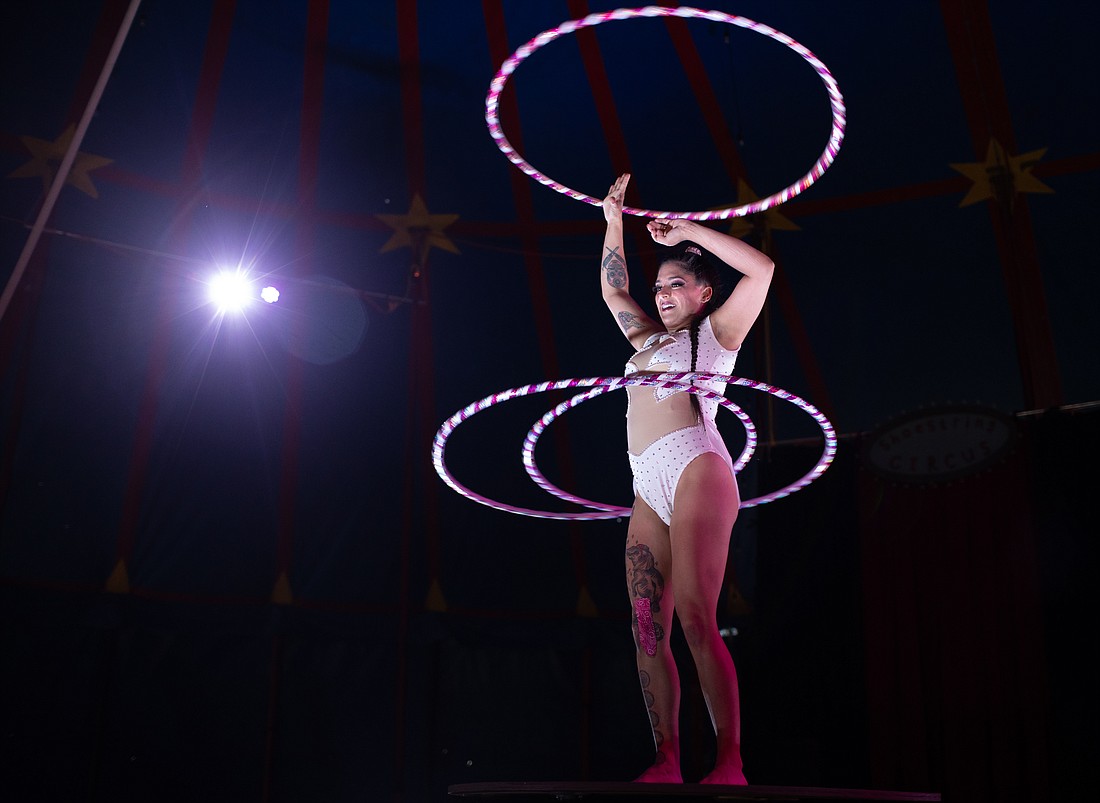 ---
---
It's difficult to miss the striped big top tent currently set up near downtown Bellingham's Waypoint Park, and the road signs pointing the way to the Shoestring Circus suggest something special is afoot inside the colorful dome-like structure.
This theory proved to be correct during a dress rehearsal the evening before the debut of the new circus, where artistic alchemy was on full display. Shoestring co-owners Nicole Laumb, Justin Therrien, Sadye Osterloh and Poki McCorkle were joined by other Bellingham Circus Guild (BCG) performers past and present on the night before the inaugural show to share their various talents — from juggling to hula-hooping, amazing aerial feats, trapeze acts, sword balancing, "hair hanging," contact balls and more. The excitement was palpable.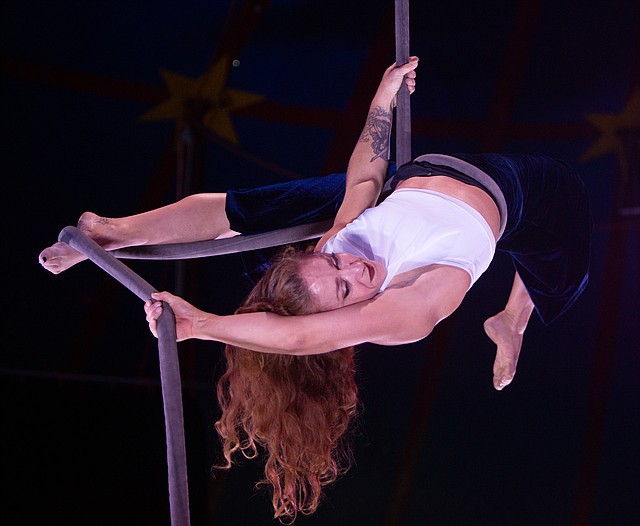 "The four of us have all been circus performers for over a decade each," Laumb said shortly before the rehearsal got underway. "It's always been a bit of a dream to have our own tented show, and so we took the leap and decided to go for it."
Purchased in February 2022 from another circus in California, the tent got its first bonafide test run with its new owners last weekend during a string of six performances. From Friday, May 26, to Monday, May 29, the talented team will reconvene to present eight more shows to the public.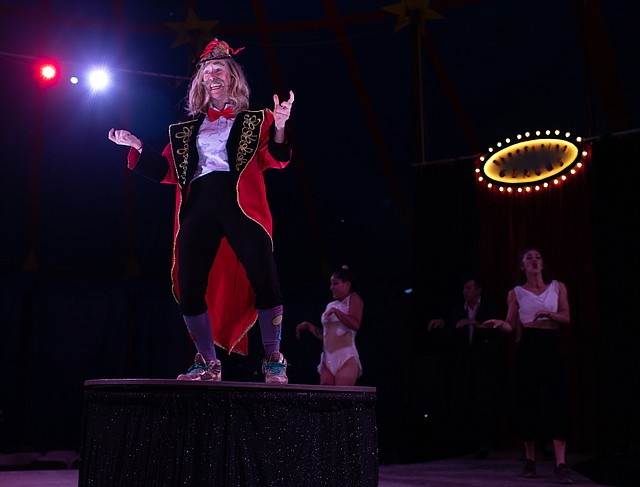 On May 22, Laumb said tickets for the entire run had sold out, even after they added a noon show on Memorial Day. She said the support they've had from the community to fill the 340-seat venue is what they were hoping for but could never have expected.
"We are so grateful that people have connected with the show. Performing for full tents is a dream come true, and we have had such an amazing time putting this project together with our cast and crew," Laumb said. "We hope to make it an annual event in Bellingham and bring new and exciting shows for everyone to enjoy under the big top."
She also said all four of the co-owners will continue to collaborate with the BCG, which has been supportive of the new endeavor from the get-go.
"There are other artists in the show you'll see here that are also at the guild, but I think it's going to be really fun for people to see them in a tented space, in kind of that more classic circus feel," Laumb said. "We're really happy to showcase them like that."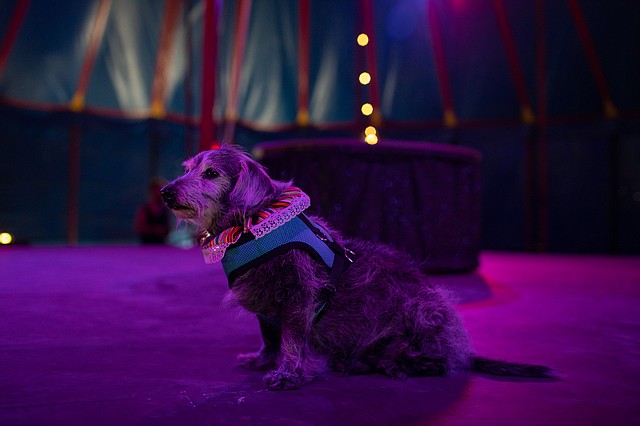 Laumb said they were looking for acts that would be classically beautiful in a big top, and also ones people aren't likely to see in other places. For example, she performs an "Iron Jaw" act where she spins two metal chairs from a bit in her teeth — yes, it's just as frighteningly thrilling as it sounds — and the aforementioned "hair hang" features Stephanie Little Thunder Morphet-Tepp (stage name: The Flying Brain), who claimed a Guinness Book of World Records title in 2022 for holding the most amount of weight by her hair (277 pounds).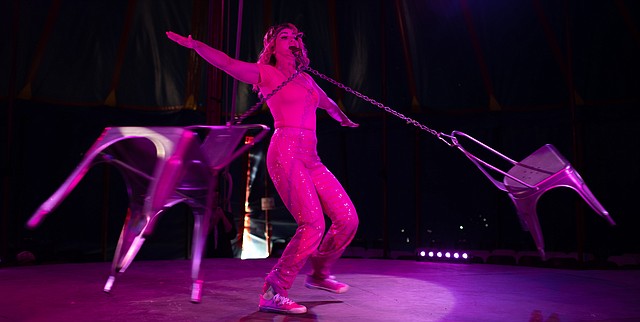 Also of note is a perch ladder act by McCorkle and Osterloh, parents of 7-month-old Otis — who was also in attendance at the dress rehearsal and may or may not be included in upcoming shows (depending on if he's asleep, or awake but cranky). It's likely he won't be part of the ladder shenanigans, which see McCorkle balancing a 15-foot ladder on their shoulders while Osterloh climbs to its top, contorts her body in various ways and then descends with panache.
Osterloh also acts as an emcee for the show, with a recurring character who helps the audience celebrate "Shoesday" and pops up at various times to move the storyline forward. With exuberant good humor, a pasted on-mustache and alarmingly large eyebrows, Osterloh's laugh is contagious and her talent is undeniable. But she's not one to toot her own horn; instead giving props to her fellow cast mates.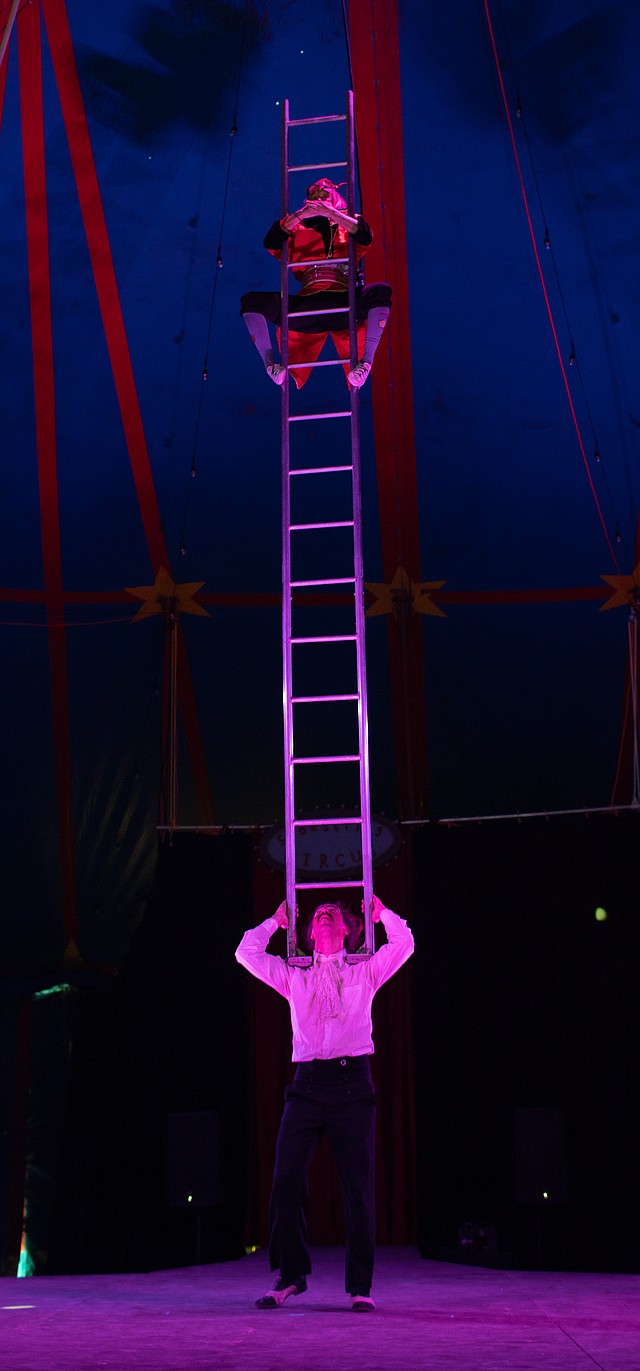 "I feel like all of these performers are so phenomenal," Osterloh said. "It's such a gift that we're working with this crew. It's like a blend of acts that are hilarious and fun, and then other acts that I cry when I watch because it's just so beautiful ... it's such a blend of all the lovely emotions."
Therrien, who counts magic, mime, illusion and sword-swallowing among his sideshow talents — but won't be performing the latter during this particular show — said he's looking forward to seeing what happens next for the Shoestring Circus. After its test run in Bellingham, the troupe plans to hit the road next summer.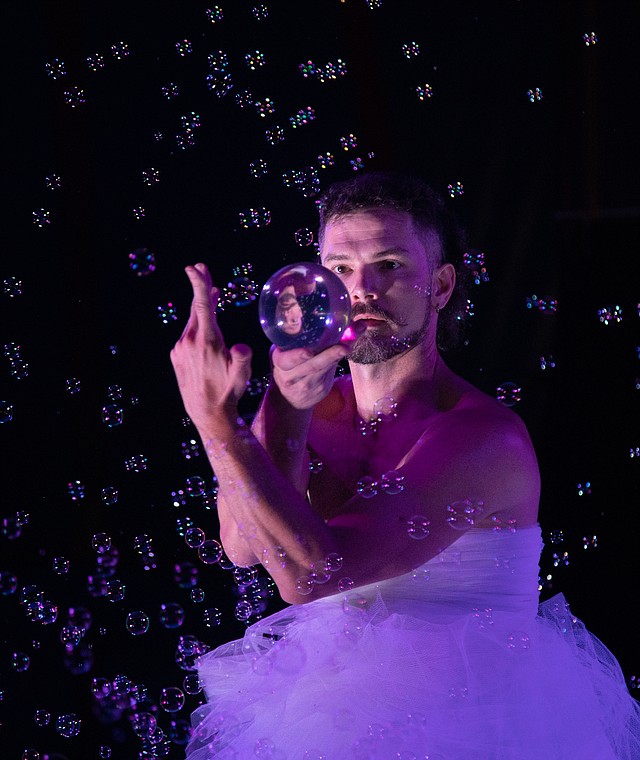 "I'm excited to take this joy and excitement and start going down the road with it," Therrien said. "That's what I love, is traveling by means of circus. Popping up the structure in a field or something and inviting a bunch of people to come. And then poof, we're gone."
To find out more about the Shoestring Circus, go to shoestringcircus.com.