Environment
Is Northwest Washington prepared for a train disaster?
Rail cars move unknown hazards through local towns daily
May 24, 2023 at 5:50 a.m.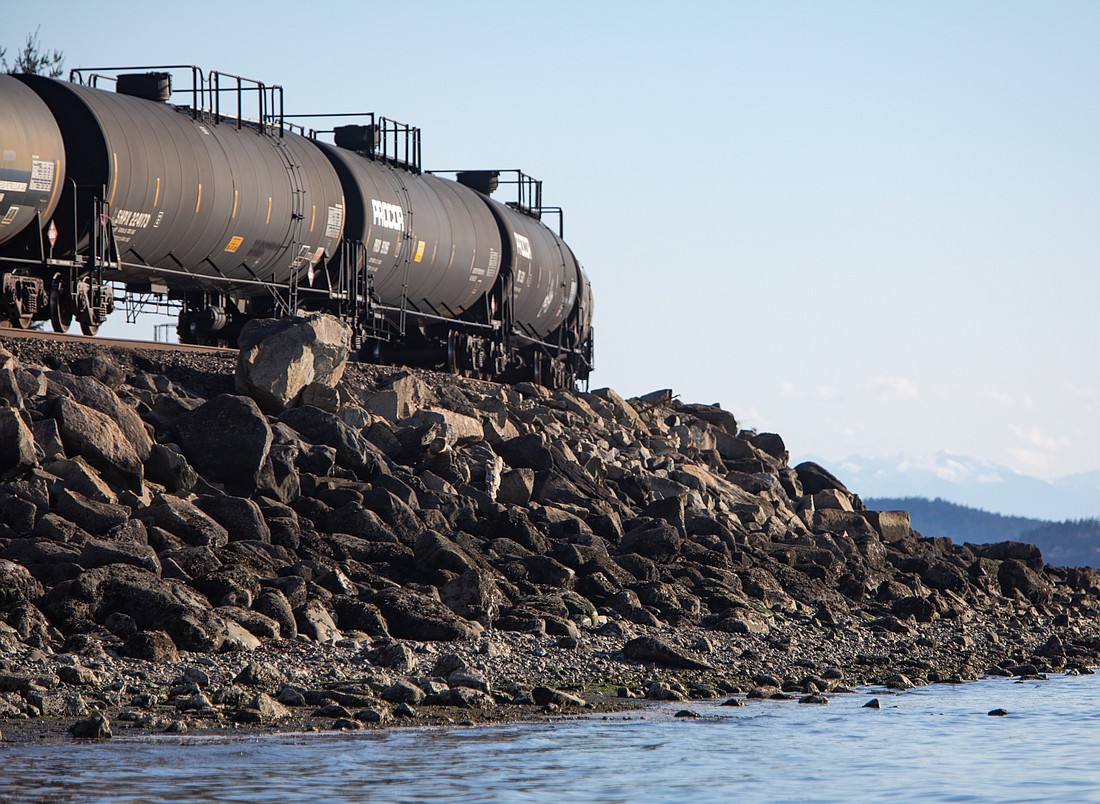 ---
---
When a train carrying hazardous materials like vinyl chloride derailed in rural Ohio this February, the 4,700 residents of East Palestine — located about a quarter-mile from the Pennsylvania border — were not prepared. 
Neither were the emergency responders, nor the state's department of transportation, which opted to let the toxic materials burn for days. Ohio Gov. Mike DeWine called the neighborhood's mandatory evacuations "a matter of life and death," as the burning material sent phosgene — a toxic gas used as a bioweapon in World War I — into the atmosphere. 
The obvious aftermath question — Can it happen here? — was asked in communities nationwide, including Washington state, where more than 44 million tons of hazardous materials such as chlorine and oil are carried along the state's freight rail lines each year, according to WA Sen. Maria Cantwell's office.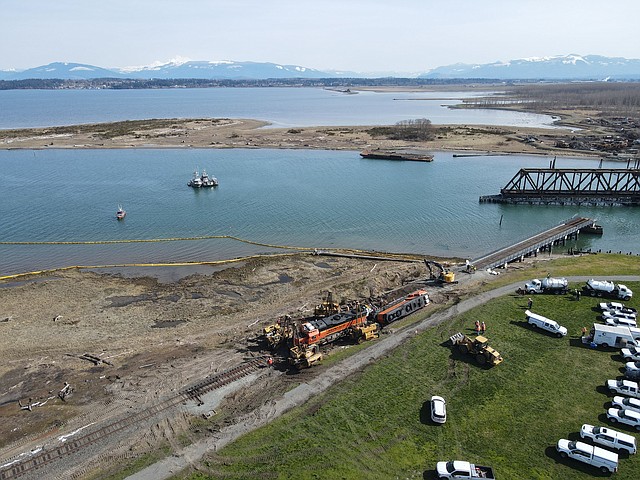 Over the past decade, more than 500 derailments in the state have caused oil spills and fires, damaged property and created signfiicant environmental damage.
In March, a seven-car Burlington Northern Santa Fe (BNSF) freight train derailed on the Swinomish Reservation near Anacortes, spilling about 3,100 gallons of diesel into soil and groundwater in an environmentally sensitive area.
A December 2020 incident near Custer spilled almost 30,000 gallons of highly explosive oil and caused a fire in rural Whatcom County. Luckily, of the 106 BNSF train cars carrying "hazmat" materials — primarily Bakken crude oil — only 10 spilled. The incident is still under investigation by the FBI, though the Federal Railroad Administration report covering the derailment listed four possible causes, including "possible vandalism" and "BNSF management's failure to notify employees about vandalism events," of which more than 40 occurred in Whatcom and Skagit counties in 2020. 
Twenty-three trains have derailed in Whatcom County between January 2000 and December 2022, including the train in Custer. Another 21 derailed in the same time frame in Skagit County.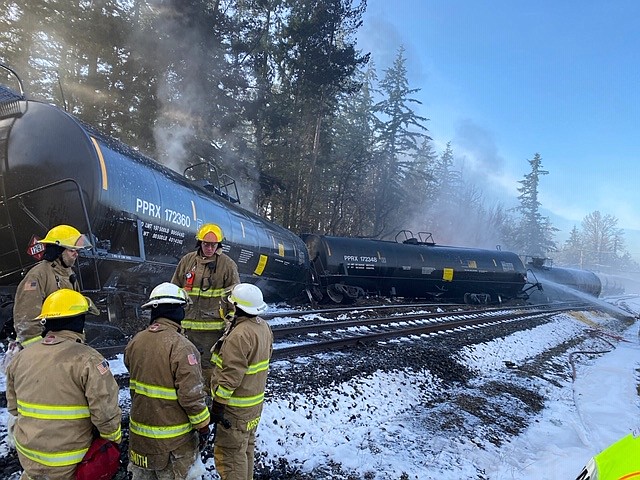 But every day, hundreds more pass through the region, carrying materials that could potentially devastate communities across Western Washington. The City of Bellingham is even considered a "high-risk disaster area" because of the international rail line, and hazardous materials on trains are considered a specific risk under the county's emergency management materials. 
"Southbound trains coming out of Canada have chlorine, and they've got all kinds of bad stuff," said John Gargett, deputy director of Whatcom County's Sheriff's Office Division of Emergency Management. "We know they come through every single day." 
Engineers aboard the trains are required to carry paper manifests, detailing the contents of each train car, so when the train derailed in Custer, emergency responders knew what was on it. 
"When Custer happened, the first thing the train engineer did, after making sure that his crew was safe, was immediately walk over with the manifest," Gargett said. 
Gargett said the details of the manifest are also included on the AskRail app, available for emergency responders. The app, he said, is basically just a digital version of the paper manifest. 
"If there's a train moving through Whatcom County, we can stand there and bring up the train and look and see, literally on demand, what's in each car," he said.
Though the information is available to emergency responders in the manifest and the app, it's rarely accessed outside of crisis scenarios. 
When asked if they knew what was on passing train cars, two separate Whatcom County employees suggested Cascadia Daily News reporters sit near tracks and watch every train car to learn what's in them.
"The data is available, but we generally don't look at it," Gargett said Monday. "Manifests are available if we want them … Of course, if we [looked] every single day, we'd almost have to hire somebody to sit and go through those."
Though the data is available to emergency responders, Gargett said the county doesn't make it public due to safety concerns, particularly after a rash of attempts to sabotage the railroads in Whatcom throughout 2020. 
"It's not publicly available due to the sensitive nature of the materials on the train," Gargett said. "We don't want just anybody looking and saying 'there's a lot of bad stuff coming through, let's see what we can do to derail it.'"
Gargett said trains in Washington are regulated under the Washington State Department of Ecology, but it's a little bit more complicated than that, Ecology representatives said. 
"We don't have quite the same kind of regulation in place for trains like we do for other things," said Ty Keltner, Ecology's media contact for spills prevention, preparedness and response. "With Ecology, we have jurisdiction over oil handling facilities and ships and stuff like that. We do not regulate rail or trains." 
Keltner said railroads are required to let Ecology know when oil is going down the tracks in Washington — but not anything else. 
In Washington, railroads have few authorities beyond Ecology. The state's Utilities and Transportation Commission (UTC) plays a small role in regulating the rails, but the main overseer of the rail system is the Federal Railroad Administration (FRA). 
The state and federal agencies tasked with railroad regulation have not kept a close eye over the last few decades on Western Washington, where hundreds of derailments and collisions have occurred. Even amid agencies, there appears to be confusion as to who regulates the railroads. 
UTC regulations are limited, and don't include hazmat response, and FRA requirements direct railroads to state agencies. 
"There is no state regulation that requires railroads to report to the UTC on the types of substances they transport," Amanda McCarthy, the communications director for the UTC, wrote in an email. "The UTC's jurisdiction over railroad safety and the mission of the agency's railroad safety program is focused in a few key areas that are not preempted by federal law."
Another regulatory agency, the state Department of Transportation, did not respond to a request for comment prior to publication. 
Even the FRA doesn't closely monitor hazardous materials traveling along freight railroads. The only federal mandatory reporting requirement — established in the Code of Federal Regulations Title 49 — requires a railroad to provide transport details to the "appropriate State-delegated agency" prior to "operating a high-hazard flammable train," or a single train transporting 20 or more loaded tank cars in a row, or more than 35 loaded cars throughout the train. 
Even so, Gargett said Whatcom County is as prepared as it can be in the event of a major spill like the one in Ohio. The county is home to two oil refineries, and Gargett said that's actually a major plus when handling toxic materials or spills due to their specialized emergency response equipment, like foam trucks. 
"We're really fortunate in that we have the support of the industry, which means they can respond, as well, as they did in Custer," Gargett said. 
Gargett said refinery equipment has been made available for the county to use in times of emergency, but it's no silver bullet. 
"It doesn't mean a spill wouldn't be catastrophic," he added. "I don't want to paint a rosy picture here. There certainly could be impacts from any hazardous materials that spill."