Uncorked
The monarchy of wine
What grape will be crowned king?
May 19, 2023 at 5:00 a.m.
---
---
The month of May is full of celebrations of accomplishments — graduations, Mother's Day, Ski to Sea, the Kentucky Derby and, for the first time in 70 years, the crowning of a king.
I missed the coronation of King Charles III, you know, with the time difference and all. And frankly, I'm not that interested in the royals, despite my fascination with the late Princess Diana. How could I not be? Oh, that fairytale wedding. I had a sleepover with my grandma the night before the ceremony so we could accommodate the time difference and watch as it was happening. I couldn't believe I was witnessing a real, live prince and princess get married! 
This iota of interest in the royals and the monarchy got me wondering: What grape, in all of the world, would be king? A varietal worthy of being king needs to be powerful, confident, respected and recognized worldwide. To me, the answer is simple — cabernet sauvignon. King Cab. As king, cabernet has the strength to stand alone and the wisdom to blend itself with others at times of weakness and instability. 
A king must also realize the importance of marriage and family, and needs to choose carefully when it comes to finding a grape worthy of becoming queen. A queen grape needs to be resilient, intelligent, fertile and possess elements of beauty and grace. A smart king need look no further than chardonnay. 
As queen, chardonnay offers the brilliance of Champagne, the razor-sharp wit of Chablis and, as the most widely planted grape on earth, chardonnay is ripe for the picking. There is also a warm and buttery side to Queen Chard that some find hard to resist, especially King Cab and his desire for an heir to the throne. 
In the monarchy of wine, the king and queen are blessed with two children — Prince Cabernet Franc and Princess Sauvignon Blanc. Although a hearty red like his father, Prince Cab Franc is his own man and often prefers the company of others; he enjoys sharing his inherent finesse and sweet aromas of violets to create a perfect blend. The prince is a true team player and occasionally likes to throw his peppery spice and high acid into the game. The result is a win-win for both the prince and his teammates. 
Princess Sauvignon Blanc, or Sancerre, as she prefers to be called, is a beauty to behold. She is the crystal-clear color of innocence and the embodiment of nobility. Unlike her brother, the princess enjoys being the center of attention and rarely seeks counsel from others. The princess has an intimate group of friends, with Sémillon as her closest confidante; as a savvy friend, she knows it is in her best interest to make the princess look good. 
Like all good royals, the Monarchy of Wine has its share of juicy scandals. For King Cab, it is his illegitimate son, Merlot. Rumor has it that when King Cab was a young prince, he fell in love with Forbidden Fruit, which bore him a son. This particular grape lacked the pedigree of chardonnay and the Queen Mother banished her from the kingdom.
As one of the world's most widely planted grapes, Merlot is a formidable presence in the life of King Cab. Compared to his father, Merlot is sweeter and softer and very well-liked and has no intention of letting the crown slip through his vines.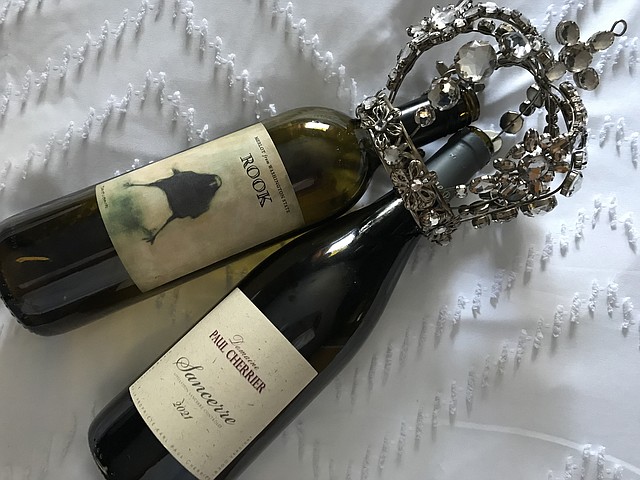 Without further ado: The monarchy of wine
King Cabernet Sauvignon, a 2020 Alveare Cabernet Sauvignon from Washington ($22.99, Seifert & Jones Wine Merchants). This is a phenomenal cab from the Rattlesnake Hills AVA. Expect loads of sweet cherries, spicy oak and smooth tannins. 
Queen Chardonnay hails from a 2021 Talbott Kali Hart chardonnay from California ($19.99, Sehome Haggen). She's a perfectly balanced chardonnay — ripe fruit, lively acidity and a touch of sweet, creamy butter and oak. 
Prince Cabernet Franc is a 2018 Marc Bredif Chinon from Loire, France ($22.95, Old World Deli). It's 100% cab franc and a classic example of the grape — bright red fruits with youthful acidity and peppery spice. 
Princess Sauvignon Blanc can be found in the 2021 Domaine Paul Cherrier Sancerre from Loire, France ($26.95, Old World Deli). This wine is gorgeous! Aromas of sun-dried linen and lime peel with flavors of honeyed lemon curd and grapefruit. 
"Prince" Merlot is the 2019 Corvidae Rook Merlot made in Washington ($17.99, Sehome Haggen). It's definitely a wine worthy of nobility. 
Katie Bechkowiak owned Vinostrology wine bar in downtown Bellingham from 2013–19. If you have wine suggestions for her monthly column, contact vinostrology@gmail.com.