College
WWU awarding varsity letters to women of Title IX era
Nearly 200 former athletes, coaches returning to Bellingham for ceremony
May 17, 2023 at 5:55 a.m.
|
Updated May 19, 2023 at 10:32 a.m.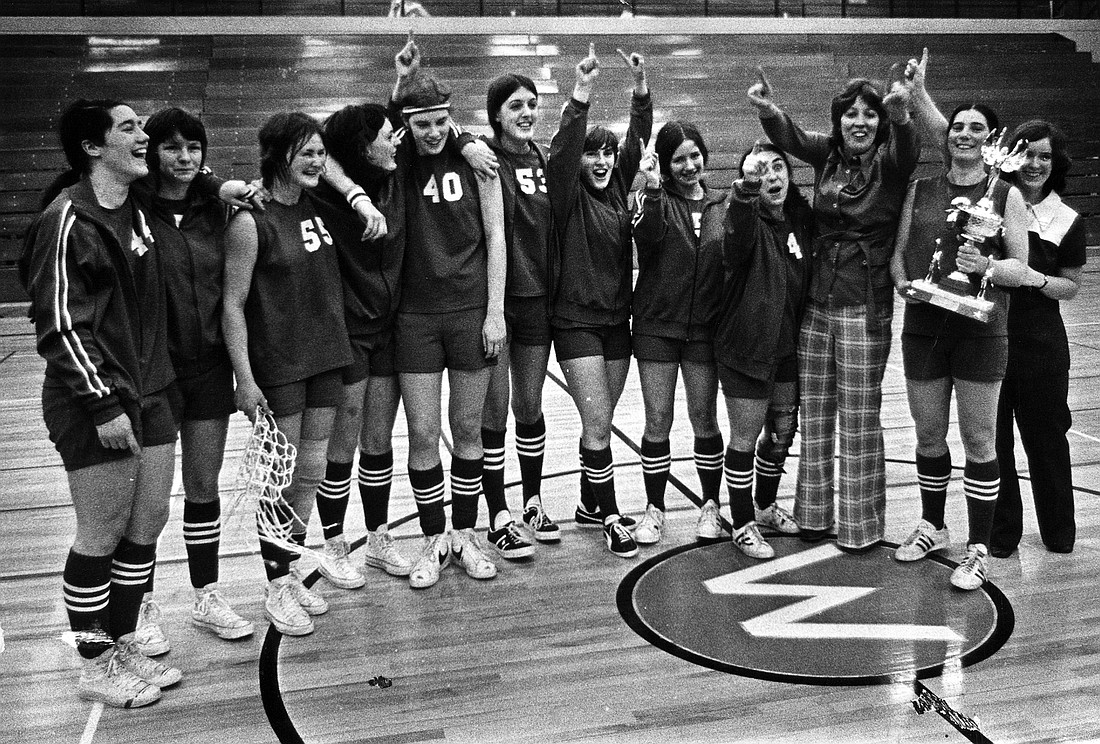 ---
---
Nearly 200 former Western Washington University women's athletes and coaches will receive their varsity letters as part of a Title IX 50th Anniversary celebration during the university's Back2B'Ham Alumni and Friends Weekend on May 20.
The women, who all attended Western between 1968–81, were identified and contacted over six months by a committee of 16 women, including Terri McMahan — a 2022 Western Athletics Department Hall of Fame inductee.
Paul Madison, Western's former sports information director and current athletics historian, helped McMahan by digging up old rosters as a starting point. 
The late 1960s was the biggest struggle, with some rosters being handwritten lists or signup sheets, but teams gradually became more well-documented into the following decade.
McMahan and the committee began making calls after identifying 350 women, and they had 185 confirmed attendees as of May 11.
"My sadness is I know there are people we didn't find," McMahan said. "We're talking up to and beyond 50 years ago, we're talking a lot of people who have different last names now."
Two of the women who will receive their letters, Bethany Ryals and Laura Healy, will also be speaking at a McMahan-organized breakfast at the Bellingham Cruise and Ferry Terminal in Fairhaven on the morning of May 21.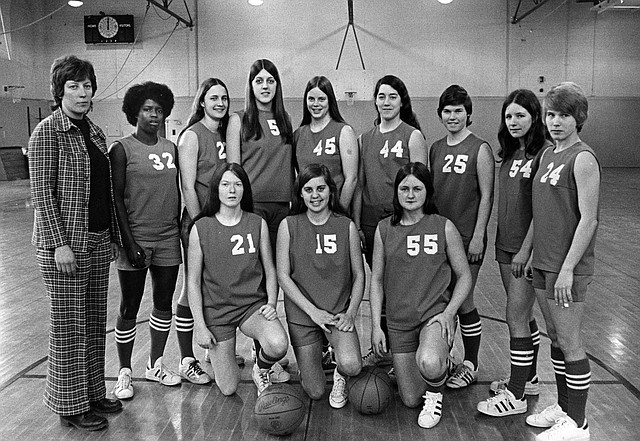 In addition to seven other speakers — including Madison and current volleyball coach Diane Flick-Williams — McMahan has 100 former women's athletes attending the event, and the current Western volleyball team is helping with setup.
Healy, who was one of three instrumental individuals in the grassroots start of Western women's soccer, alongside Paul Stensen and Cindy Landrud, said the letters ceremony is something she never expected, but appreciates.
"We grew [women's soccer] so much when we were there, that there was already a sense of accomplishment," Healy said. "To be brought back, and awarded a varsity letter, is like a pat on the back that comes out of nowhere and feels really good."
Healy began at Western in the fall of 1975 — nearly three years after Title IX's passing — when there was no organized women's soccer team. She and Landrud, her roommate, tried out for the men's team. Eventually, they met Stensen, who offered to coach a start-up women's team. 
In the spring of 1976, the team went to the student store and purchased matching T-shirts ahead of their first-ever game against Seattle Pacific University in Queen Anne.
"We had the muddiest field," Healy said. "Sometimes you'd be running around and the ball would just stop in a pile of mud; it would almost be over your cleats. We always got the worst of the worst, but we loved it."
The Northwest Collegiate Soccer Conference gradually formed with schools from British Columbia and across Washington state. The program was permanently elevated to varsity status in 1981 and has been so ever since.
"We were at the tip of the iceberg of this sport catching on for women," Healy said.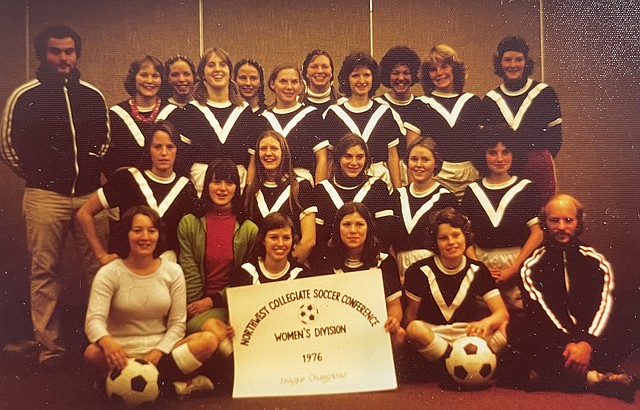 Ryals' Western career is a storied one, having played basketball for the Vikings from 1973–75 before dropping out after a close friend of hers, Peg Bolek, died of a heart attack at 23 years old.
She returned to Western in 1981 at 25 years old, trying out for cross country before joining the only track and field relay team in school history to ever win a national title.
Ryals spent 22 years in education and had a 32-year career in the U.S. Air Force, mostly in the reserves. Ryals retired as a lieutenant colonel and a veteran of the Iraq War and operation Desert Storm with four years of active duty.
Ryals recalled connections between her athletic career at Western and her time deployed. When she tried out for the Vikings' women's cross country team, she wasn't quite able to keep up with the "elite ponies" of the group. 
Despite that, the team rallied around her and motivated her on one particularly difficult run.
"Ten years later, I was in Iraq," Ryals said. "We were doing an engine loading run on a C-130, filling it [with] stretchers full of soldiers. There was some concern there might be incoming sky missiles, so we had to keep the engines running. We're just getting them on as fast as we can, and I learned, from those ponies, that you never leave anybody behind."
Ryals is excited about the Title IX celebration and what it means to the athletes and coaches who were at Western during the decades before and after its passing.
"I think it's absolutely darling they're doing this," Ryals said. "I think it brings to the forefront Title IX again … Here are the original warriors."
The letters ceremony will be from 11:45 a.m. to 2 p.m. May 20 on the main floor of Carver Gymnasium. 
Western's Back2B'Ham Alumni and Friends Weekend will also feature a keynote speaker, actress Ashley Judd, to begin the three-day celebration at 6:30 p.m. on Friday, May 19, in the Performing Arts Center on Western's campus.
A previous version of this story stated Lynda Goodrich would be speaking at the Sunday breakfast event hosted by Terri McMahan. Goodrich will instead be speaking at the Saturday letters ceremony. The story was updated to reflect this change at 10:32 a.m. May 9, 2023. Cascadia Daily News regrets the error.