Business Matters
New Bellingham water taxi increases options to the San Juans
Island Opportunity Charters begins passenger, freight service
May 17, 2023 at 4:50 a.m.
|
Updated May 18, 2023 at 11:04 a.m.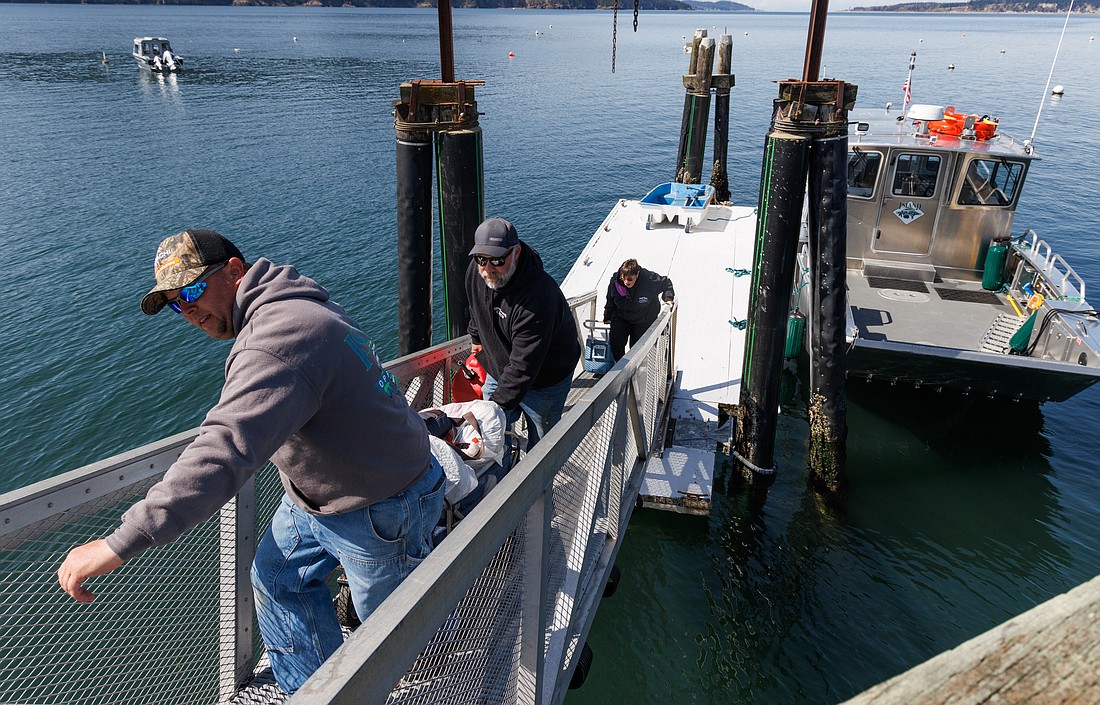 ---
---
Hotel charter adventures. Passenger water taxi capacity between Bellingham and the San Juan Islands just tripled, thanks to a new business — and boat — that launched this spring.
Bellingham-based Island Opportunity Charters began operating from Squalicum Harbor in March, providing water taxi and freight services on its custom-built, 12-passenger Munson landing craft. The idea for the business was born after Mark Riedesel, who was building a cabin on Decatur Island, arranged to take a water taxi out of Anacortes when his own boat was down for maintenance. 
"Mark texted me as he was riding a water taxi, and said, 'Hey, we should buy a boat and do a water taxi,'" co-owner Craig Hougen said. "We've always talked about having jobs on the water and he came up with the idea."
"It was this moment like well, nobody's really doing this out of Bellingham," Riedesel said. "We should look at that because there's this whole north end of the islands that's kind of underserved, and there's a lot of people up there with cabins just like I have on Decatur Island."
That March 2021 text message started a two-year process for the now-partners. Hougen, who works for a local construction contractor as a superintendent, and Riedesel, who owns Barlean's Fishery in Ferndale, began looking into captain's licenses, insurance, moorage with the Port of Bellingham and, naturally, boats.
"The boat took the longest time to get built because that was 18 months," Riedesel said. "But it took us about that long to get everything in order and get to where we could open the doors."
After what the partners estimate was a total of $400,000 in startup costs, the silver boat with "Opportunity Knots" in green lettering sits at the end of a dock through Squalicum Harbor's Gate 7. It wasn't just a matter of buying the boat and starting service; because of its passenger capacity, Hougen said the vessel also required U.S. Coast Guard certification.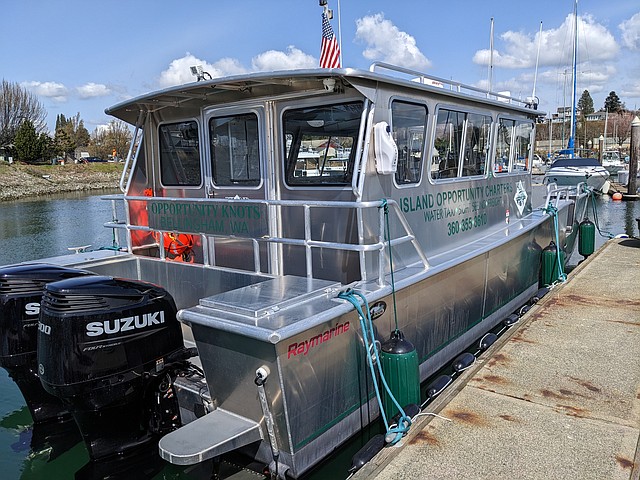 "We wanted a boat to be able to take at least two or three families out to their desired destination. It also gives us more options for moving people around in the islands, less trips to bring more people," he said. "This helps us get our prices lower as we have a bigger payload with the same fuel burn."
The result is marine transportation that the company said can handle 12 guests in a covered cabin with a head (yes: lavatory) and up to 3,000 pounds of cargo on its front deck. Cruising speed of the 36-foot craft is 28 miles per hour, Riedesel said, essentially making the boat "a big school bus that goes fast on the water."
Hougen said Opportunity Knots' first trip in March was with a group of five people and four dogs headed to Sucia Island for a day hike. Since then, there have been more passengers to the islands as well as cargo, including oysters from Judd Cove Shellfish on Orcas Island once a week. 
"They like using us so they don't have to mess with the ferries," Hougen said. "We also transported a deck full of chainsaws, weed eaters and a walk-behind brush hog."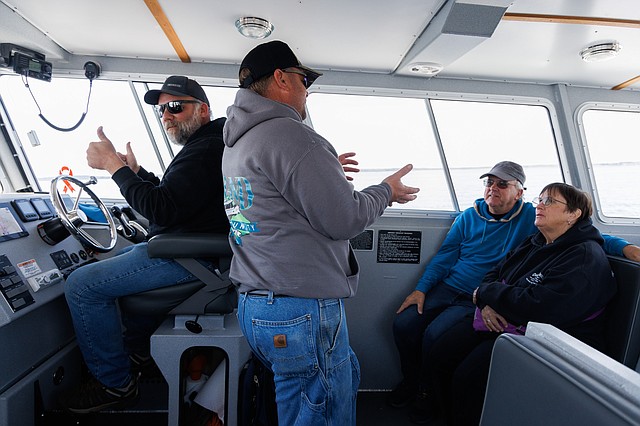 Posted one-way fares start at $50 per person to Eliza Island and top out at $150 for Point Roberts, or Stuart and Johns islands, with a three-person minimum. Hougen said customers so far tend to be workers who commute to the islands, park day trippers, cabin owners and sightseers — all who may not want to drive to Anacortes to catch the island transportation available from there.
Or, who don't use the other Bellingham option that Hougen said he and Riedesel were unaware of when they began their startup journey: Specialized Marine Transport (SMT). That father-son firm operates a smaller, six-passenger landing craft which SMT's website said was built in 2020, plus a large cargo barge, the Tin Boot Too, purchased in 2006 and also docked at Squalicum Harbor. 
Still, Hougen and Riedesel's 12-passenger boat greatly increases seats available from Bellingham. They've also started offering a twice-weekly "Sucia Island Adventure Charter" with Hotel Bellwether leaving from the hotel's private dock on Saturdays and Wednesdays beginning May 20.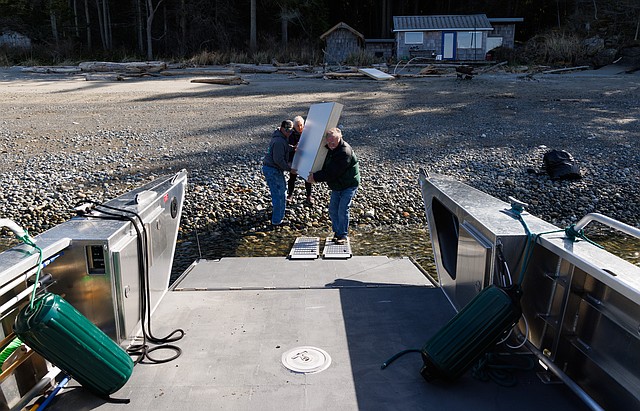 The two said the biggest eye-opener so far has been the demand for sightseeing. 
"Quickly we've realized how many people live in Bellingham that really haven't seen it from the water side," Riedesel said during a dockside visit in April. "We have a customer that's gonna go for a ride-along today; they haven't been out in the islands in 20 or 30 years, and they'd just like to go see that again."
Long term, the partners said, the plan is to add a second boat for greater flexibility. 
"If we can get through this summer and continue to have some customers through the winter and get a steady clientele we will be successful," Hougen said. "I have no doubt summers will make money and be busy, but to make this a viable business we need year-round work to keep busy." 
Places & Things
Cascade Mall at 201 Cascade Mall Drive in Burlington has a new owner. Burlington Investment Properties, which last year bought the nearby Shops at Burlington and renamed it Burlington Plaza during renovations, purchased Cascade Mall in April. Skagit County property records show a taxable selling price of $18.5 million. 
The previous owner, Merlone Geier Partners, bought the mall in 2017 but closed the interior stores in June 2020 early in the pandemic. Burlington Investment Properties' Al Monjazeb said he expects to have a better idea of his plans for the mall this fall. 
(For the latest Places & Things, check here throughout the week.)
Frank Catalano's column appears Wednesdays. Email: frankcatalano@cascadiadaily.com; Twitter @FrankCatalano.
The caption of the Waldron Island photo was updated at 11:04 a.m. May 18, 2023.