The A-List
A&E calendar: Oysterfest, markets, choirs and festivals
A curated selection of happenings in Whatcom and Skagit counties
May 17, 2023 at 5:05 a.m.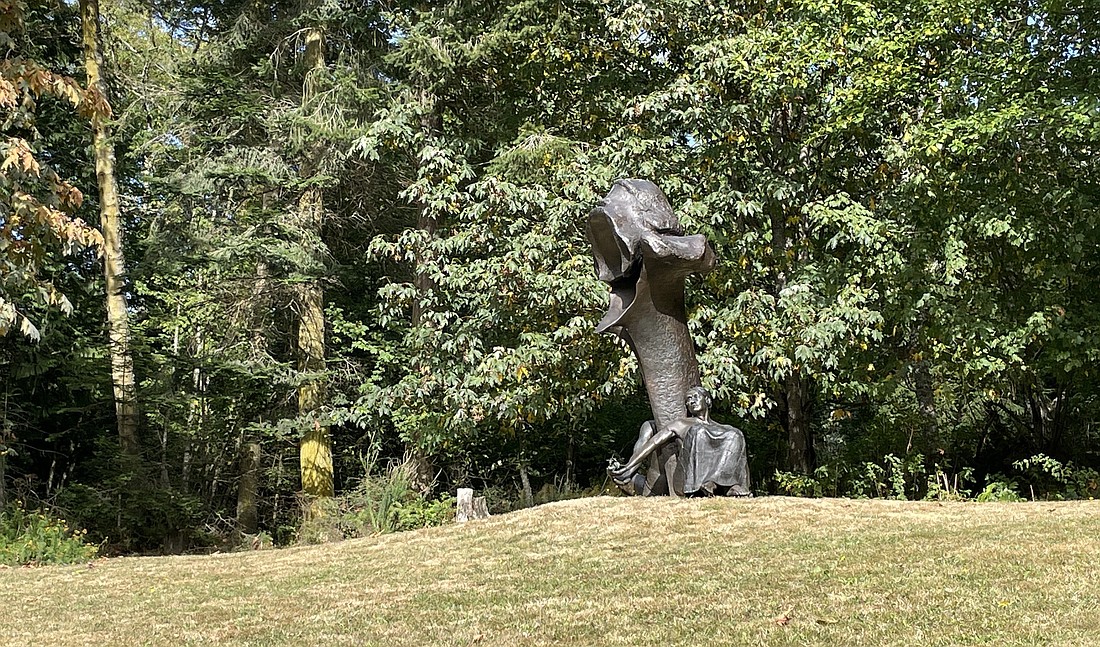 ---
---
Thursday, May 18
Wine Walk
5–8 p.m., Barkley Village, 3111 Newmarket St.
Attendees can stroll through 13 pop-up shops and restaurants as they taste regional wines. Tickets are $40 and include a keepsake glass, eight tasting tickets and a goodie bag. Info: barkleyvillage.com. 
'The New Electric Ballroom'
7:30 p.m., The Happy Place, 1215 Cornwall Ave.
Thursday through Saturday, attend Idiom Theater's production of this play by Edna Walsh about small-town life and a family trapped in their own stories. Warnings: partial nudity, talk of sexual assault, broken hearts, arrested development, fishmongers, cursing, blasphemy and food thrown in anger. Tickets are $20; additional performances take place May 25–27. Info: idiomtheater.org. 
The GBU
7:30 p.m., The Upfront Theatre, 207 Prospect St.
Bellingham's longest-running improv show, "The Good, the Bad, and the Ugly," takes place every Thursday, featuring a rotating performance format and guest players. Tickets are $10–$15. Info: theupfront.com. 
'Singin' in the Rain'
7:30 p.m., Anacortes Community Theatre, 918 M Ave.
This musical based on the classic film continues with showings Thursday through Sunday through May 27. Tickets are $25. Info: acttheatre.com. 
Menace on the Mic
8:30 p.m., Menace Brewing, 2529 Meridian St.
Want to take a chance at performing standup comedy? Show up early to sign up for your spot, then stick around to see the action unfold. The free event takes place every other Thursday. Info: menacebrewing.com.
Friday, May 19
Bike to Work and School Day
6–9:30 a.m., Bellingham and beyond
As part of this national biking event, drop by "celebration stations" on your way to school or work and pick up pastries, fruit, coffee and more. Info: biketoworkandschoolday.org. 
Shoestring Circus
7 p.m., near Waypoint Park, Bellingham waterfront
Head to a big-top tent across from the park for the inaugural show by this new circus company founded by four Bellingham-based circus artists who will be bringing their unique style of story, skill and spectacle to town. Additional showings happen through Sunday, then again May 26–29. Tickets are $15–$45. Info: shoestringcircus.com. 
'The Jungle Book'
7 p.m., BAAY Theater, 1059 N. State St.
Friday through Sunday, Bellingham Arts Academy for Youth students ages 9–12 will continue a four-week run of this popular musical about a human boy named Mowgli and his animal friends. Different casts will perform through June 4. Tickets are $12. Info: baay.org
An Improvised Musical
7:30 p.m., The Upfront Theatre, 207 Prospect St. 
"The Puget Sound of Music" features scriptless musicals Fridays and Saturdays through May. At 9:30 p.m., stick around for Upfront Classic. Tickets are $10–$16. Info: theupfront.com. 
Cantabile Chamber Choir
7:30 p.m., McIntyre Hall, Mount Vernon
"In a State of Beauty" will be the theme of this concert of live choral music by Washington state composers. Original video footage of the natural beauty our state has to offer will be part of the performance. Tickets are $25–$40. Info: mcintyrehall.org. 
Brassapalooza
7:30 p.m., Performing Arts Center, WWU
Chamber ensembles and solo works by all four brass studios at Western can be heard at this annual concert, which will conclude with an epic large brass ensemble. Entry is free and open to the public. Info: cfpa.wwu.edu. 
Night Beat
7:30 p.m., First Congregational Church, 2401 Cornwall Ave.
Bellingham Music Club hosts cellist Colin Carr and pianist Thomas Sauer for a program of sonatas by Bach, Schubert, Debussy and Britten. The duo has toured the U.S. and Europe together extensively. Suggested donation is $20 (all students are free). Info: bellinghammusicclub.org. 
The Robin Christopher Show
8 p.m., New Prospect Theatre, 207 Prospect St.
Local actors and improvisers Robin Corsberg and Christopher Coombs will debut this new show, described as "a somewhat improvised daytime/nighttime talk show where the audience is the special guests." Tickets are $15. Info: newprospecttheatre.org. 
Saturday, May 20
Mount Vernon Farmers Market
9 a.m. to 2 p.m., Riverwalk Park
Attend opening day of this weekly market, which takes place every Saturday through Oct. 14. In addition to farm-fresh produce, the market features baked goods, live music, arts and crafts and more. Info: mountvernonfarmersmarket.org. 
Studio Tour
10 a.m. to 5 p.m. Saturday and Sunday, Camano Island and Stanwood
This 24th annual event will feature more than two dozen artists opening their doors to the public. Peruse everything from paintings to sculptures, textiles, ceramics, jewelry, leather and woodworking, and hand-blown and fused glass. The self-guided tour is free. Info: camanostudiotour.com. 
Bellingham Farmers Market
10 a.m. to 2 p.m., Depot Market Square, 1100 Railroad Ave.
Approximately 90 vendors from Whatcom and Skagit counties are on site at this weekly market, which continues every Saturday through Dec. 16. Info: bellinghamfarmers.org.  
Dockside Market
10 a.m. to 2 p.m., Squalicum Harbor, Gate 5
Local fishermen will be selling their fresh and frozen wares at this twice-monthly market. Visit the dock early to find the best selection of seafood options. Info: bellinghamseafeast.org. 
Oysterfest
Noon to 8 p.m., H and G street plazas, Blaine
This event returns with oysters from Drayton Harbor Oyster Company, more than 35 vendors, live music, cooking demos, seafood sales, events, a food court for kids and a beer garden. Entry is free. Info: blainebythesea.com.  
Whatcom Chorale
3 p.m., St. Paul's Episcopal Church, 2117 Walnut St.
Celebrate a half-century of music at a "50 Seasons of Song" concert. The retrospective, "Gratitude," will feature works from the 16th to the 21st centuries. Info: whatcomchorale.org. 
Artist Talk
5:30 p.m., I.E. Gallery, 5800 Cains Court, Edison
As part of his "Un/Natural Wonders" exhibit, sculptor Lanny Bergner will talk about the works celebrating the structural intricacies found in nature — specifically details seen in tree leaves and insect wings. The exhibit shows through May 28. Info: ieedison.com. 
Dalia Monterroso
6 p.m., Village Books, 1200 11th St.
Meet the local author of "Let's All Keep Chickens! The Down-to-Earth Guide to Natural Practices for Healthier Birds and a Happier World." If you're thinking about raising chickens but don't know where to start, register in advance to reserve a seat. Info: villagebooks.com. 
Choir of the Salish Sea
7:30 p.m., Bellingham Unitarian Fellowship, 1207 Ellsworth St.
Hear "Galbraith Mountain" — a musical montage to the mountain bike and trail running mecca — tonight and 3 p.m. Sunday at the Fairhaven Village Green. Tickets are $10–$20. Info: choirofthesalishsea.org.  
Kulshan Chorus
7:30 p.m., Mount Baker Theatre, 104 N. Commercial St.
Bellingham's intergenerational chorus presents "Considering Matthew Shepard," a Grammy-nominated three-part oratorio composed by Craig Hella Johnson. The work is a powerful and compassionate musical response to the 1998 murder of Matthew Shepard — one of America's most notorious anti-gay hate crimes. Tickets are $25–$30. Info: mountbakertheatre.com. 
Heart by Heart
8 p.m., Lincoln Theatre, Mount Vernon
Steve Fossen and Michael Derosier, the original bassist and drummer for the band Heart during the 1970s and early 1980s, will be joined by other veteran musicians for an unforgettable evening of music. Tickets are $20–$35. Info: lincolntheatre.org. 
Sunday, May 21
Valley Made Market
10 a.m. to 4 p.m., Riverwalk Plaza, Mount Vernon
Attend a monthly pop-up market filled with handmade goods, heaps of community and live music. The event takes place once a month through September. Info: downtownmountvernon.org. 
Whatcom Sound Jazz
3 p.m. Bellewood Farms, 6140 Guide Meridian Road
"Marvelous Music in May" will be the theme of this concert featuring WSJ's vocal jazz ensemble and jazz choir. The family-friendly event will feature classic jazz favorites. Admission is $15 (youth 17 and younger are free). Info: whatcomsoundjazz.org. 
Bellingham Community Band
3 p.m., Central Lutheran Church, 925 N. Forest St.
Attend an afternoon of uplifting music including pieces from "Harry Potter," "Star Trek," "Pirates of the Caribbean" as well as tributes to Benny Goodman, Frank Sinatra and more. Suggested donation is $20 at the door (children 12 and under are free). Info: bellinghamcommunityband.weebly.com. 
Monday, May 22 
Makers Market
5–8 p.m., Farmstrong Brewing Co., Mount Vernon
Shop an array of works by local artists at this monthly market, including handmade crafts such as candles, sweets, paintings, jewelry and more. Info: farmstrongbrewing.com. 
Tuesday, May 23
Early Music Festival
7 p.m., Fir-Conway Lutheran Church, 18101 Fir Road
Maike Albrecht (soprano), Hans-Jürgen Schnoor (harpsichord), Jeffrey Cohan (baroque flute), Carrie Krause (violin), Elisabeth Phelps (violin), Lindsey Strand-Polyak (viola) and Adaiha Macadam-Somer (cello) perform at a "Bach: Concerti and Cantata" concert. Suggested donation is $20–$25 (free for youth). Info: salishseafestival.org. 
Wednesday, May 24
'The Mountain Runners'
6 p.m., Pickford Film Center, 1318 Bay St.
In anticipation of the new Whatcom Museum exhibit opening May 27, "Mountain Runners: America's First Endurance Race and its Legacy Today," watch this locally produced 2012 docudrama about the first run in 1911, the Mount Baker Marathon. Tickets are $9–$12. Info: pickfordfilmcenter.org. 
Jami Templeton and Andy Langham
7:30 p.m., Jansen Art Center, 321 Front St., Lynden
This piano and vocal jazz duo will perform songs from Templeton's critically acclaimed debut jazz album "The Shape of My Heart," which was produced and arranged by Langham. Tickets are $20. Info: jansenartcenter.org. 
COW Concert
7:30 p.m., Performing Arts Center, WWU
Composers of Western will present brand-new works for voice, woodwinds, brass, strings, piano and percussion, including three premieres by this year's COW Ensemble. Entry is free and open to the public. Info: cfpa.wwu.edu. 
Thursday, May 25
Vox Pacifica
7 p.m., First Congregational church of Bellingham, 2401 Cornwall Ave.
At concerts Thursday and Friday, this women's chorus will present "Ageless Wisdom," a vocal celebration of collective life experiences such as joy, rage, sorrow, compassion, adventure and more. Tickets are $10–$20. Info: voxpacifica.org. 
Friday, May 26
'The Book of Will'
7:30 p.m., DUG Theater, WWU
Find out what happens when a sub-par Hamlet rip-off hits a stage near the Globe Theatre, and members of Shakespeare's acting troupe, the King's Men, try to put an end to the plagiarism and save Will's works for the ages. The play shows through Saturday, and again May 31–June 3. Tickets are $7–$15. Info: tickets.wwu.edu.
Saturday, May 27
Spring Studio Tour
10 a.m. to 5 p.m., throughout Lummi Island
On Saturday and Sunday, more than 30 artists and craftspeople will be showing and selling their work at 24 locations around the scenic land mass. Peruse paintings, drawings, prints, photography, pottery, knitwear and more, and meet the artists in person. Entry to the self-guided tour is free. Info: lummi-island.com. 
Betties Burlesque
8:30 p.m., Wild Buffalo, 208 W. Holly St.
Bellingham Roller Betties will be out of their skates and bringing audiences a burlesque show to remember. Produced by renowned burlesque diva Whorchata, get ready for a night of sultry seduction, cheeky performances and very little clothing. Tickets are $20 (bring dollar bills along, too). Info: wildbuffalo.net. 
Sunday, May 28
Fairhaven Festival
11 a.m. to 7 p.m., throughout historic Fairhaven
Live music and events, food and drinks, family fun, an artisan market and much more will be part of this annual event, which takes place near the last leg of Ski to Sea. Entry is free, and all are welcome. Info: enjoyfairhaven.com. 
Before heading out to attend in-person happenings, check with individual venues to make sure the event is still taking place as scheduled.
The A-List appears weekly on Wednesdays. To submit an event for consideration, email calendar@cascadiadaily.com.