Roundup
Sports roundup: WWU men's golf headed to nationals
Girls tennis districts conclude; boys soccer, baseball state brackets set
May 15, 2023 at 8:40 p.m.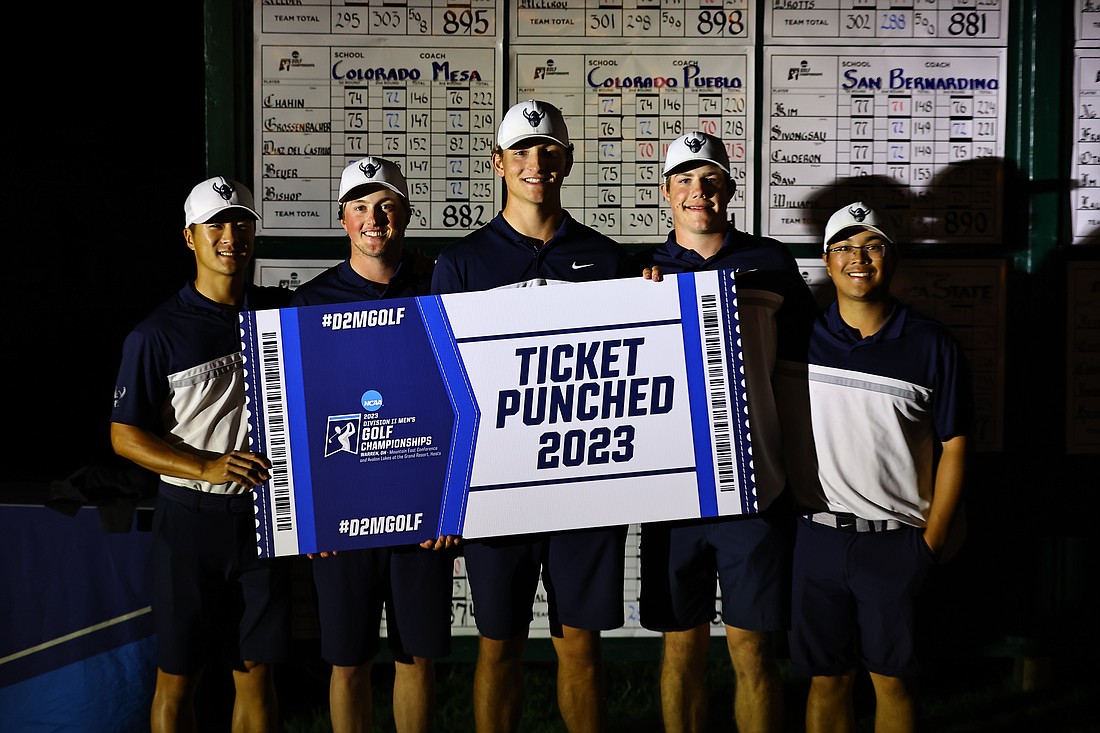 ---
---
Prep baseball and boys soccer districts concluded, and state tournament brackets are now set. Girls tennis ended with Bellingham winning a district championship and sending four girls to state.
Western Washington University's men's golf team punched its ticket to the national tournament for the first time since 2016, and women's rowing placed third at the Great Northwest Athletic Conference Championships.
Don't miss these highlights from Whatcom County's prep sports teams over the past week.
Prep
Baseball
Then there were three. Lynden Christian, Ferndale and Lynden are the last remaining Whatcom County baseball teams, and each is playing in different state tournaments.
Ferndale, the No. 6 seed in the 3A District 1 tournament, was the first to secure its state bid, beating No. 4 Monroe 11-2 on May 11 in the consolation semifinals.
Senior Jake Mason led the Golden Eagles on the mound, pitching a three-hit complete game while allowing just two earned runs and striking out four. Mason also went 3-for-5 at the plate with two RBIs.
Senior Jordan Mason, Jake's brother, finished the game 2-for-3 batting with two runs scored.
Ferndale (19-4) pulled the No. 8 seed in the 3A state tournament and will play No. 9 O'Dea (12-10) in the first round of the tournament on Saturday, May 20, at Kennewick High School.
LC won four-straight games in districts — including eliminating county rival Meridian in the consolation semifinals on May 13 — and has reached the 1A state tournament with a 12-12 overall record. 
The Lyncs were seeded No. 15 in the 1A state tournament, and they will face No. 2 La Center at 1 p.m. on May 20 at Camas High School.
No. 2-seeded Lynden (19-6) lost to No. 3 Burlington-Edison in the 2A District 1 semifinals on May 9 but bounced back to win two-straight games on May 13, advancing to the 2A state tournament.
Lynden beat No. 8 Sehome, 10-0, and followed that up with a 6-0 win over No. 6 Sedro-Woolley in the consolation final. 
The Lions earned the No. 5 seed in the 2A state tournament, and they will face No. 12 North Kitsap (14-9) at 1 p.m. on May 20 at Auburn High School.
Girls tennis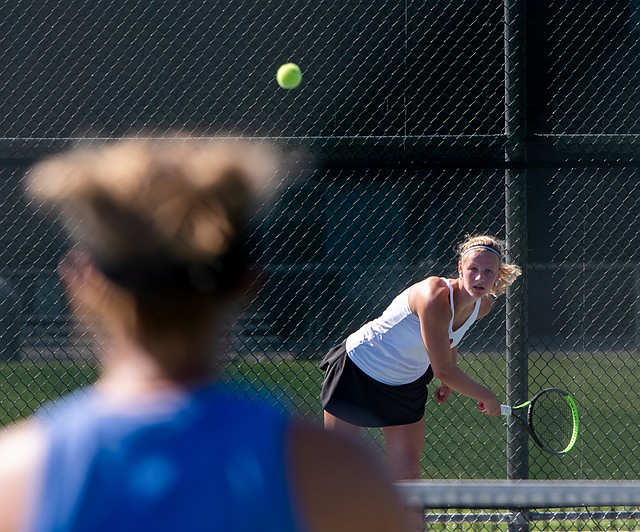 Bellingham captured the 2A District 1 championship with 23 points, edging second-place Lynden (20 points), fueled by two singles players and one doubles team placing top three at the tournament May 15 at Sehome High School.
On the singles side, Bellingham's Lowa Gresham won the district title by defeating Squalicum's Bernadine Salvatierra (6-4, 6-2). Both are off to the state tourney.
Lynden's Adia Newcomb and Kalanie Newcomb won the doubles title after defeating Bellingham's Kira Carlson and Ella Morrow (6-4, 7-5). Both teams clinched state berths.
Bellingham's Ellie Wolverton also secured her spot at state by defeating Lynden's Sierra Wyant (6-2, 6-4) in the third/fourth-place match. Wyant will be a state alternate.
The state tournament will be held at the Nordstrom Tennis Center in Seattle May 26–27. Players will now await the WIAA's seeding to determine matchup times.
Girls golf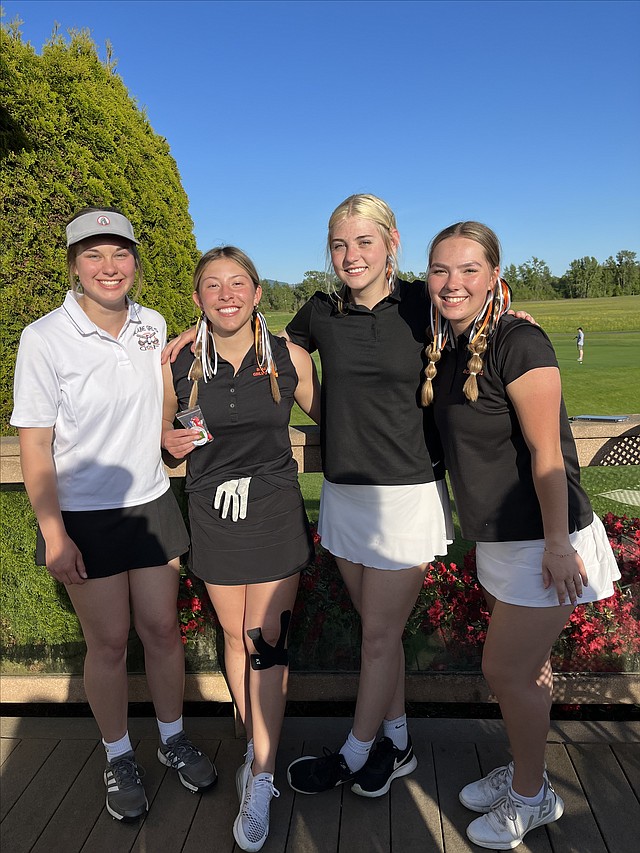 Blaine won the 1A District 1 girls golf tournament on May 11 at the North Bellingham Golf Course. Ellie Tanjuaquio led the Borderites, claiming the individual title with her score of 106.
Lynden Christian's Madeleine Engels finished second (106) while Blaine's Hope Weeda and Meridian's Abbie Britton tied for third (111). 
In addition to those top four, Kijah Van Rijswijck (Blaine), Hattie Stratton (Meridian), Reese McIntee (Meridian), Ava Drafs (Mount Baker), Kennedy Brzozowski (Meridian) and Jovi Jensen (Meridian) advanced to the bi-district tournament on Tuesday, May 16. 
Blaine's Mia Tavis and LC's Emily Young will be alternates.
Meridian finished second at the district tournament with a score of 596, and LC finished third with a score of 662.
Boys soccer
Sehome and Bellingham are off to the 2A state tournament following the Mariners' 2A District 1 championship win over the Bayhawks on May 13.
Lynden was eliminated following a 2-1 (8-7) loss to Archbishop Murphy in penalty kicks.
In Class 1A, Meridian and Blaine were each eliminated at the 1A District 1/2 crossover on the same day. 
Meridian (12-4-3), which won the 1A District 1 championship over Blaine on May 9, lost to Cedar Park Christian at the crossover, 3-2. The Borderites (11-4-2) were shut out by Overlake, 6-0, and both teams saw their seasons come to an end.
WWU
Men's golf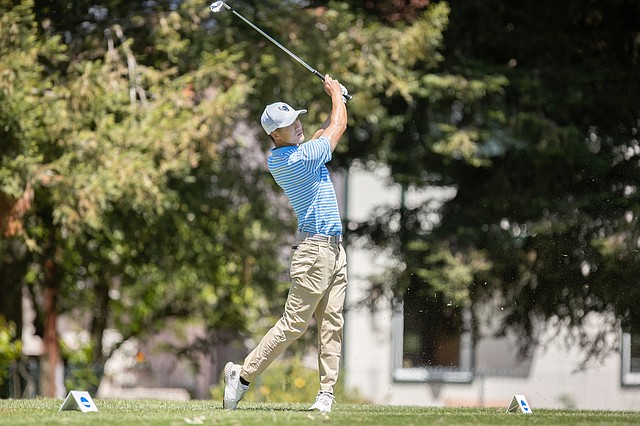 Western men's golf has punched its ticket to the NCAA Division II National Championships after tying with Sonoma State for the West/South Central Super Regional tournament title at Foxtail Golf Club in Rohnert Park, California, on May 13.
The Vikings are headed to nationals for the first time since 2016 — and 10th team trip overall — after posting a 3-over-par 867 as a team. 
Western's final round team score of 4-under-par 284 helped them to a two-hole playoff with Sonoma State, but it was called off part way through due to darkness. Sonoma State was awarded the trophy after a scorecard tiebreaker, but the Vikings remain co-regional champions.
Western senior Jordan Lee led the Vikings, finishing second overall with a 9-under-par 207 through the three-round tournament. Sophomore Seth King finished tied for eighth with a 2-under-par 214.
The NCAA Division II National Championships will be held at Avalon Lakes Country Club in Warren, Ohio, from May 22–26.
Women's rowing
Western placed third out of four total teams at the GNAC Championships on May 13 at Dexter Lake in Lowell, Oregon.
The Vikings' Varsity 4+ entry posted the top performance, finishing second behind Central Oklahoma with their season-best time of 7:56.06. Their Varsity 8+ and Exhibition 4+ entries each finished fourth.
Central Oklahoma won the GNAC title, edging Cal Poly Humboldt by one point with its team score of 27. Western finished with 19 points, and Seattle Pacific finished fourth with 18 points.
The six-team NCAA Division II Championships field will be announced at 2:30 p.m. Tuesday, May 16, on NCAA.com.
A previous version of this story misspelled Bellingham girls tennis player Ellie Wolverton's name. The story was updated to reflect this change at 1:15 p.m. May 16, 2023. Cascadia Daily News regrets the error.