Track & Field
WWU sweeps GNAC titles for first time in program history
Vikings notch 13 event wins, 29 podium finishes
May 14, 2023 at 1:54 p.m.
---
---
Western Washington University track and field completed a sweep of the Great Northwest Athletic Conference Championships for the first time in program history on May 13 at McArthur Stadium in Monmouth, Oregon.
The Vikings' women's team won its first-ever GNAC title after posting 183 points, edging Western Oregon (160). Western finished second in the nine-team field the previous two seasons.
Western's men's group captured its fourth consecutive title and 10th overall in the event's 20-year history after accruing 209.5 points, more than 80 points ahead of second-place Western Oregon (124).
Western athletes earned 13 event wins — five on May 12, eight on May 13 — while placing athletes on the podium (top three) in 29 different events.
Sophomore Ila Davis led Western's women's group, posting first-place finishes in the women's 3000-meter steeplechase (10:41.34) and 5,000-meter run (18:12.34).
Freshman Maurice Woodring won the men's 400-meter hurdles (52.90 seconds), and was one of four athletes on Western's men's 4X100 and 4X400 relay teams that both finished first.
Senior Jaydon Tryon won the men's javelin with a personal record mark of 61.75/202-7, entering the Western record books at No. 10 in program history.
Sophomore Katie Potts finished first in the women's discus with her mark of 43.78/143-7, and fellow sophomore Raine Westfall took the top spot in the women's hammer throw with a mark of 52.45/172-1.
Western's all-time outdoor season leader in the women's 800-meter run, junior Marian Ledesma, continued her stellar season with a first-place finish in the event, clocking a time of 2:14.50.
Sophomore Kevin McDermott, the Vikings' all-time outdoor season leader in the men's 5,000-meter run, finished first in the event with his time of 14:42.03.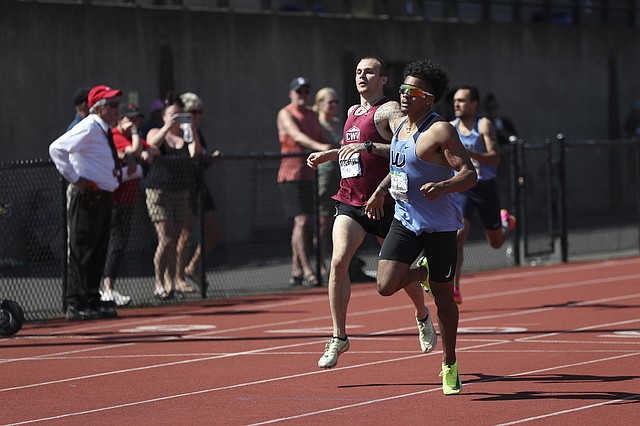 Sophomore Jeret Gillingham (men's 3,000-meter steeplechase), junior Andrew Oslin (men's 10,000-meter run) and freshman Meaera Shannon (women's 10,000-meter run) rounded out Western's individual wins on May 12.
Other notable GNAC Championships performances from Western included freshman Ashley Reeck's trio of second-place finishes (women's 3,000-meter steeplechase, 1,500-meter run, 5,000-meter run), and sophomore Mia Crocker's pair of third-place finishes (women's 800-meter run, 1,500-meter run).
Selections for the 2023 NCAA Division II Outdoor Track and Field Championships will be announced on Tuesday, May 16.
The NCAA Championships will be held May 25–27 at the ThunderBowl on the Colorado State University–Pueblo campus in Pueblo, Colorado.