Soccer
Lynden eliminated by Archbishop Murphy in penalty kicks
Lions fall 2-1 to Wildcats in district consolation final
May 13, 2023 at 5:17 p.m.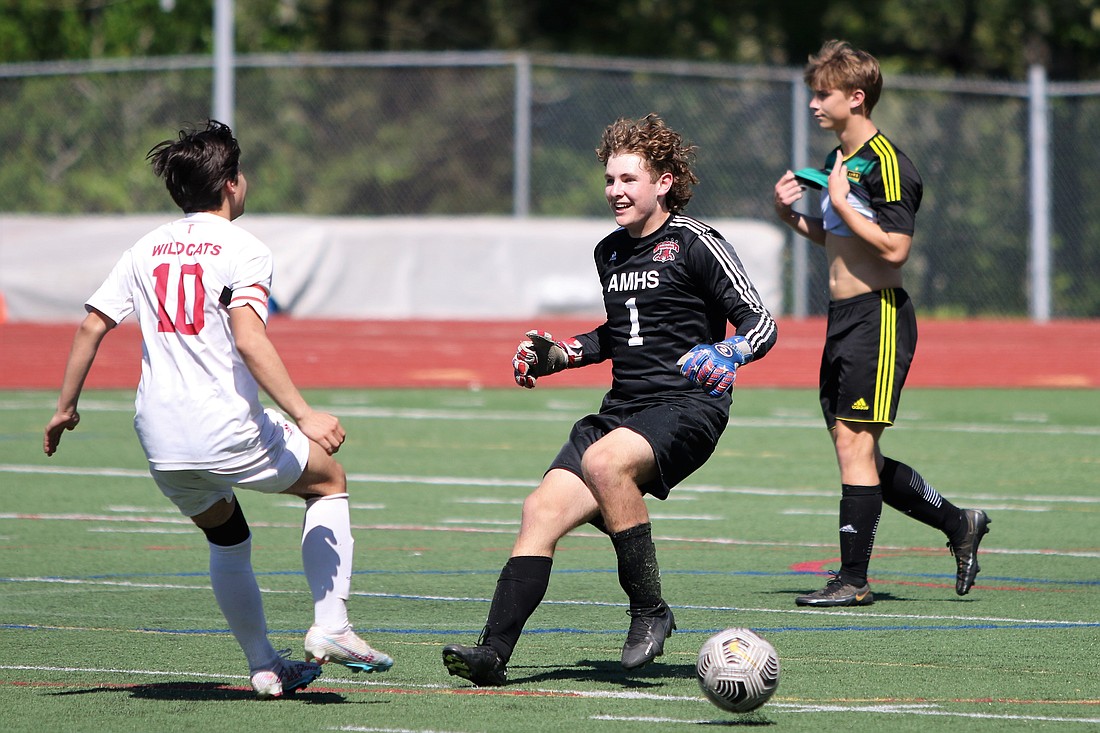 ---
---
Collin Anker's penalty kick — Lynden's eighth — ricocheted off the crossbar and the Lions saw their state tournament hopes suddenly evaporate in a 2-1 (8-7) elimination loss to Archbishop Murphy in the 2A District 1 consolation final Saturday afternoon at Civic Stadium.
"It was our best opportunity in I don't know how many years," Lions coach Drew Smiley said. "Unfortunately, now, we're rebuilding. … It was heartbreaking to not get through [to state]."
Third-seeded Lynden (10-6-3) has not reached the 2A state tournament since 2011. The door swung wide open for the Lions when they were matched with No. 6-seeded Archbishop Murphy (10-9-1), which eliminated top-seeded Squalicum, 3-0, on May 11.
The Wildcats are headed to the state tournament for the first time since 2018. Lynden will graduate 12 seniors and return 10 from this year's roster.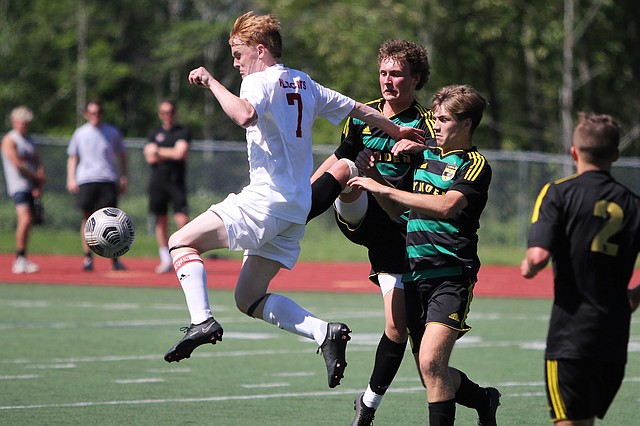 After two scoreless, five-minute overtime periods, both teams went score-for-score through seven rounds of penalty kicks. In the eighth, Archbishop Murphy made theirs and Lynden's went off the bar.
"I thought [Archbiship Murphy] outplayed us today," Smiley said. "It's tough because I figured we would win the shootout."
Lynden senior Jesus Ramirez found the net for the Lions in the fourth minute on the team's second shot on goal of the game. Ramirez finished a deflection off a corner kick to give Lynden the early advantage.
Both teams' defense held for the rest of the first half, and Archbishop Murphy goalkeeper Cam Ilgenfritz stopped six Lynden shots in the first 40 minutes.
The Lions outshot the Wildcats 7-5 in the first half, with Lynden goalkeeper Trey Smiley saving three shots.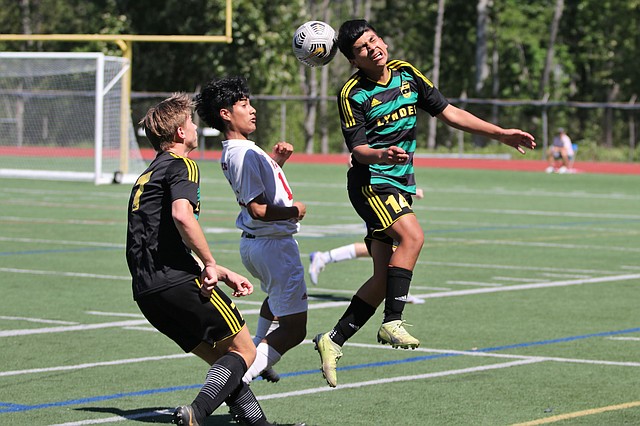 Archbishop Murphy was the aggressor in the second half, controlling the ball for much of the 40-minute stretch. The Wildcats had a goal waved off in the 56th minute due to offsides — decided after much pleading from the Lions — but Archbishop Murphy was able to find an equalizer in the 71st minute by sophomore Zach Mohr.
The Wildcats' defense held for the final nine minutes, and Archbishop Murphy was able to outlast the senior-heavy Lions.
Smiley said his team seemed to be gassed by the end of the game, which was less of an issue for the Wildcats. Lynden made far more substitutions than Archbishop Murphy, but the fresh legs were not enough.
"Hats off to them for maybe being more fit than us," Smiley said.
Archbishop Murphy clinched the third and final berth to the 2A state tournament from District 1, and its seed will be decided on Sunday, May 14, when the rest of the bracket is seeded.