Outdoors
Locals 'begging' officials to fix Glacier Creek Road
Roadway washed out during November 2021 flood; repairs anticipated by end of 2025
May 11, 2023 at 5:00 a.m.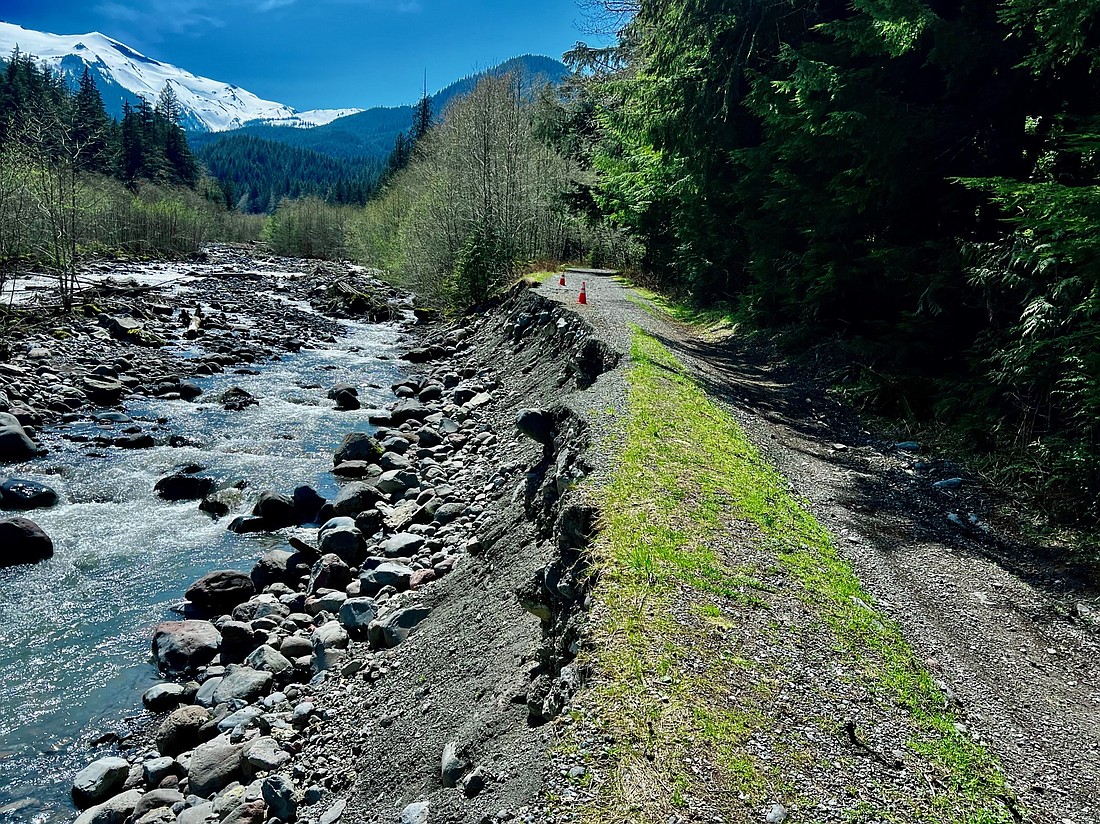 ---
---
GLACIER — U.S. Rep. Rick Larsen saw firsthand a vexing problem for the local outdoor recreational community when visiting a washed-out section of Glacier Creek Road two weeks ago.
The appearance of the ranking Democrat on the House's Transportation & Infrastructure Committee gave some frustrated hikers, climbers and snowmobilers hope that access to prime recreational real estate will reopen soon.
Larsen announced plans to use Federal Highway Administration dollars to repair the section — 290 feet of caved earthen roadway. But it won't happen in time for the upcoming hiking and climbing season.
U.S. Forest Service officials said they anticipate completion of the repairs before the end of 2025. Officials have not announced a specific timeline and budget while developing planning and preliminary design phases.
The narrow Glacier Peak Road (Forest Service Road 39) washed out at mile 3.8 because of the severe flooding in November 2021. Those wanting to enjoy the Heliotrope Ridge Trail have had to hike or bike up 2,000 feet and 4.5 miles along the road to reach the trailhead.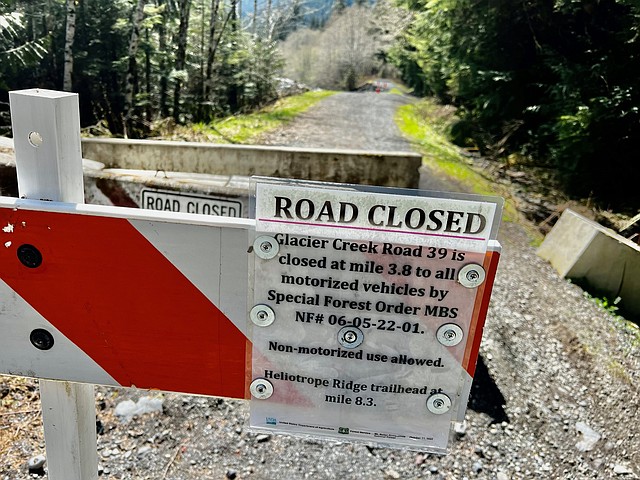 While Heliotrope Ridge is one of the area's great day hikes, it also is the staging ground for an ascent of Mount Baker from the north, via the Coleman-Deming Glacier. Climbing guide services have been forced to use the southern access routes because of the closure.
"It has concentrated traffic on the south side," said Bellingham's Mike Graw, a member of the Cascade Backcountry Alliance. "We can't spread out the traffic like we once could."
To understand the significance of the closure, consider that in 2017 the Nooksack Access Travel Management plan designated Glacier Creek Road as a high-need recreational access point.
Cascade Backcountry Alliance, Whatcom County Snowmobilers Club and the Bellingham-based Citizens for Forest Roads spearheaded a lobbying campaign this year to bring the issue before lawmakers.
Larsen received complaints about road closures because the national forest area was moved into his 2nd District this year as part of redistricting. 
Another recreational concern is access to the stunning Skyline Divide Trail in the same vicinity. Deadhorse Creek Road washed out at 3.3 miles during the November 2021 storm.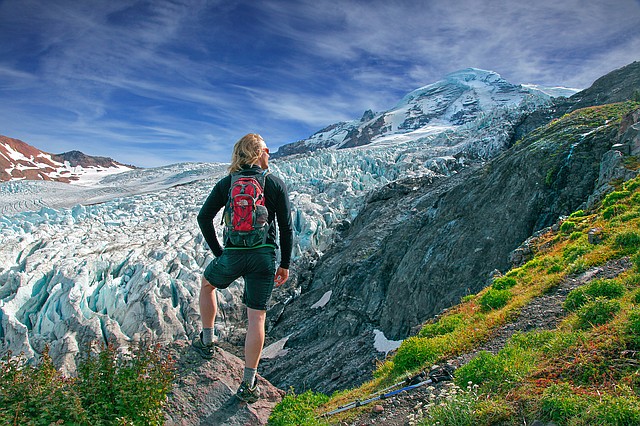 Two popular day hikes became inaccessible for most users, just like that. Snowmobilers felt the impact of the Glacier Creek Road closure this winter because the only other area they use is along Canyon Creek Road (Forest Service Road 31).
"It cuts our riding terrain in half," said Eric McRory, a Bellingham dentist and outdoor enthusiast. "It gets crowded with only one road."
McRory said Whatcom snowmobile club members have the equipment and expertise to fix mountain roads. They already clear culverts and perform other work so "we can access our backyard wonderland."
"We just need a temporary fix," McRory said. "It's frustrating when we have 100 people in the club able to fix the problem and they won't let us do it."
Government officials are worried about liability issues when unsupervised citizens attempt road repairs. 
And this is more complex than fixing a pothole like Arnold Schwarzenegger said he did last month in Los Angeles. The handiwork of the actor and former California governor became an issue when officials said the site was a trench for utility work — not a pothole. 
Our local road hero wouldn't make a Terminator mistake like that. 
I met Doug Huddle a year ago while tooling along Glacier Creek Road one late afternoon. He stopped his repair work to warn me against driving around the washout in my low-clearance vehicle.
Since then, Forest Service crews have erected a concrete barrier and added boulders in a ditch to thwart any attempt to drive up the road. The fragile section that needs repair would suffer further damage if people tried to drive past.
Huddle, 74, is a former fish biologist with the Washington Department of Fish and Wildlife. He looks like part of the natural habitat with a lean frame and a fleecy billy goat beard.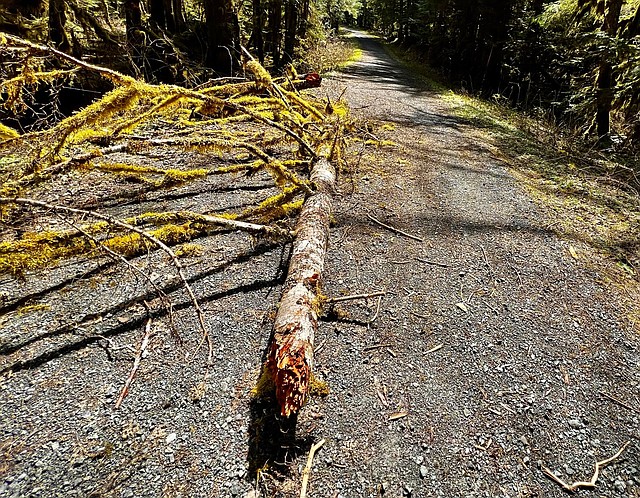 Huddle not only knows the local forests and waterways, but he is also fluent in government bureaucracy. Huddle said rangers face competing policy guidelines on what to do with the Glacier Creek washout. 
Repairing the road is not difficult, but the question is whether officials must relocate the route away from the river because of conservation policies. 
"The Forest Service road issue is so complicated you couldn't cover it in 'War and Peace,'" Huddle said.
Highlighting the washout has brought greater attention to the main culprit: regular road maintenance. Glacier Creek Road is gutted and pockmarked in the first 4 miles. Trees have fallen across the road a mile or so after the washout.
"It is symptomatic of greater negligence that has been going on for several decades," Huddle said. "The Forest Service hasn't been given significant money to do the seasonal maintenance work that is required."
Glacier Creek Road is one of many damaged Forest Service roads in the national inventory. Mount Baker district roads are particularly challenging to maintain because they are on steep slopes in a wet climate. 
Citizens for Forest Roads is a volunteer group working with the Forest Service to clean culverts and ditches, fill in potholes and ruts and remove trees, branches, rocks and other debris. Huddle is currently removing snow from an avalanche on Church Mountain Road.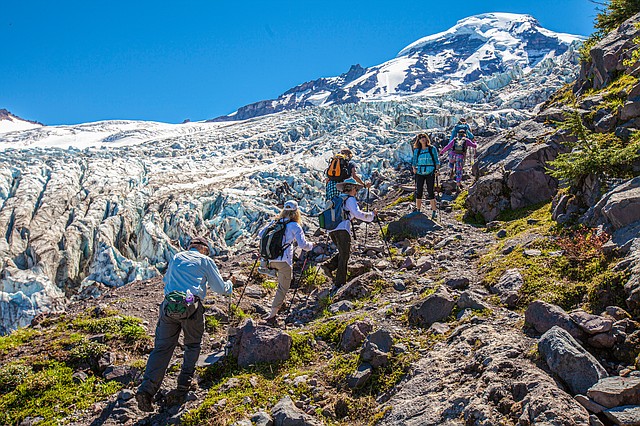 I wondered why he devotes so much time to this kind of volunteerism.
"If I didn't do that, I'd be an angry, geriatric malcontent," Huddle said. "I'm doing society a favor by working up on a remote mountain road."
More seriously, he believes in giving back to his community in any capacity.
Huddle has hiked, climbed and hunted in the North Cascades much of his life. He has summited Mount Baker six times. Now Huddle gets his outdoor fix by repairing and maintaining Forest Service roads for our benefit.
"For some people, the national forest is a gymnasium where they can challenge their fitness," he said. "It is a laboratory for others who want to learn about the intricacies of ecology. It also is a cathedral for spiritual renewal."
That summarizes why the local community is begging government officials to fix Glacier Creek Road — and ensure all roads leading to trails remain passable.
The mountains, rivers and forests speak to us like nothing else. We need the outlet.