The A-List
A&E calendar: Circus acts, guitars, burlesque and bicycles
A curated selection of happenings in Whatcom and Skagit counties
May 10, 2023 at 5:05 a.m.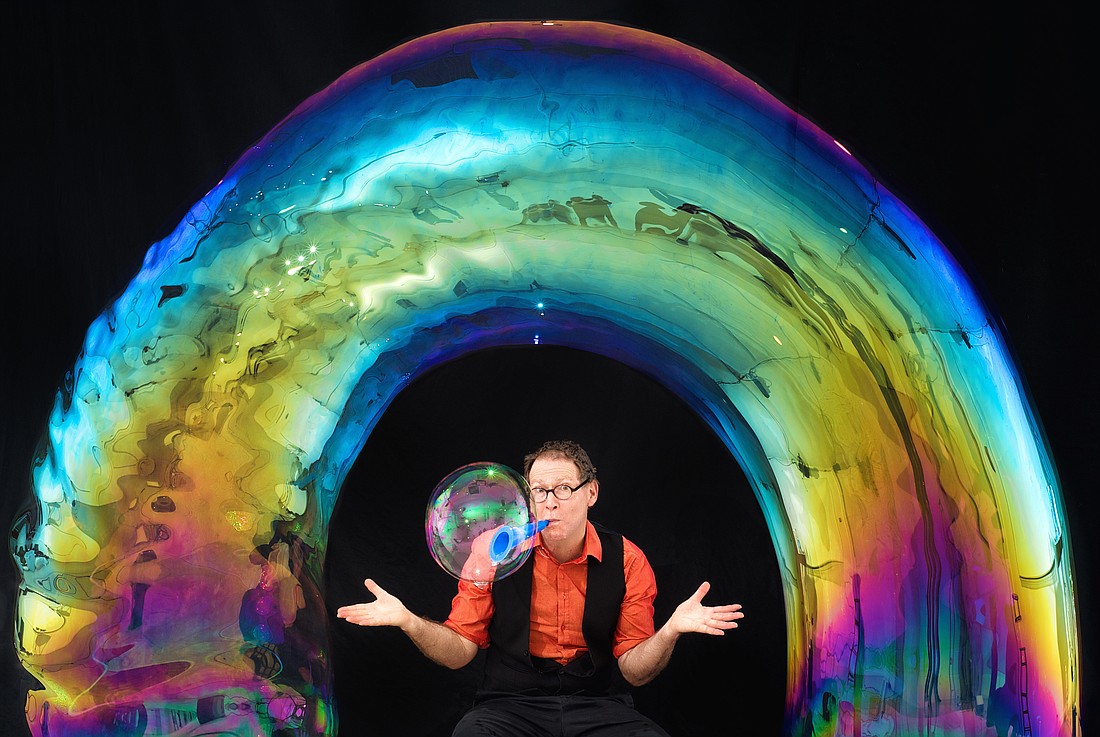 ---
---
Thursday, May 11
Docent Tour
1 p.m., Whatcom Museum's Lightcatcher Building, 250 Flora St. 
A docent-led tour of "Katazome Today" will focus on both the contemporary and traditional Japanese art techniques used in the works featured. Tours begin in the lobby and are included with museum admission. Info: whatcommuseum.org.
Dance in Concert
7:30 p.m., Performing Arts Center, WWU
Western Washington University student dancers will perform choreography by renowned artists and faculty at showings Thursday through Sunday on the PAC Mainstage. This year's guest artist is Toni Pasion. Tickets are $8–$16. Info: tickets.wwu.edu. 
Rodney Crowell
7:30 p.m., Lincoln Theatre, Mount Vernon
As part of The Chicago Sessions Tour celebrating the album of the same name, the Grammy-winning artist will bring his Americana-roots music to the stage, along with special guests Rob Ickes and Trey Hensley. Tickets are $40–$70. Info: lincolntheatre.org. 
'The Day Room'
7:30 p.m., The Happy Place, 1215 Cornwall Ave.
Celebrate Idiom Theater's 20th anniversary by attending Thursday through Saturday showings of acclaimed novelist and playwright Don DeLillo's tale of a group of actors playing hospital patients. Or is it a group of hospital patients playing actors? Info: idiomtheater.org. 
The GBU
7:30 p.m., The Upfront Theatre, 207 Prospect St.
Bellingham's longest-running improv show, "The Good, the Bad, and the Ugly," takes place every Thursday, featuring a rotating performance format and guest players. Tickets are $10–$15. Info: theupfront.com. 
'Singin' in the Rain'
7:30 p.m., Anacortes Community Theatre, 918 M Ave.
This musical based on the classic film continues with showings Thursday through Sunday. Tickets are $25; additional performances take place weekends through May 27. Info: acttheatre.com. 
Friday, May 12
Studio Tour
10 a.m. to 5 p.m. daily through Sunday, Camano Island and Stanwood
This 24th annual event will feature more than two dozen artists opening their doors to browsing visitors and eager arts consumers. Peruse everything from paintings to sculptures, textiles, ceramics, jewelry, leather and woodworking, and hand-blown and fused glass. The free, self-guided tour continues May 20–21. Info: camanostudiotour.com. 
Spring Wine Walk
5:30–9 p.m., downtown Bellingham
Kick off Mother's Day weekend by sipping and shopping local at 19 businesses as they host pop-up tasting rooms featuring a variety of regional wines. Retailers will also offer special deals. General admission is $40. Info: downtownbellingham.com. 
'Beauty and the Beast'
7 p.m., Nooksack Valley High School, 3326 E. Badger Road
This musically inclined love story will come to life at the school's Performing Arts Center Friday through Sunday. Tickets will be $8–$10 at the door (cash or check only). Info: Facebook.com/nvhsdrama/.
'The Jungle Book'
7 p.m., BAAY Theater, 1059 N. State St.
Bellingham Arts Academy for Youth students ages 9–12 will kick off a four-weekend run of this popular musical about a human boy named Mowgli and his animal friends. Different casts will perform Fridays through Sundays through June 4. Tickets are $12. Info: baay.org. 
Guitars of Western
7:30 p.m., Performing Arts Center Concert Hall, WWU
Western's Guitar Ensemble, Guitar Quartet and soloists from the studio of Eli Schille Hudson will perform works by Chick Corea, Nathan Lam and Georges Bizet at this concert. Entry is free and open to the public. Info: cfpa.wwu.edu. 
An Improvised Musical
7:30 p.m., The Upfront Theatre, 207 Prospect St.
"The Puget Sound of Music" features script-less musicals Fridays and Saturdays through May. At 9:30 p.m., stick around for Upfront Classic. Tickets are $10–$16. Info: theupfront.com. 
Saturday, May 13
Market by the Sea
10 a.m. to 2 p.m., G Street Plaza, Blaine
Attend this farm and craft market in downtown Blaine overlooking beautiful Blaine Harbor every Saturday through mid-October. Info: blainebythesea.com.
Bellingham Farmers Market
10 a.m. to 2 p.m., Depot Market Square, 1100 Railroad Ave.
Approximately 90 vendors from Whatcom and Skagit counties are on site at this weekly market, which continues every Saturday through Dec. 16. Info: bellinghamfarmers.org.  
Whidbey Art Market
10 a.m. to 4 p.m., Campfire, 5417 Crawford Road, Whidbey Island
Bring mom along for this event taking place Saturday and Sunday featuring fine art by 10 local artists who spent the winter creating lots of new work to delight and inspire — from paintings to photography, hand-woven baskets, pottery, jewelry, sculpture and printmaking. Entry is free. Info: whidbeyartmarket.com.
Speaking Our Truth
7 p.m., Lincoln Theatre, Mount Vernon
Poet Luther Hughes will share the stage with local LGBTQ+ high school students for this event. Earlier in the day, the students will have participated in a poetry workshop. Hosts Roberto Ascalon and Gina Touché will be joined by pianist Amos Miller. Entry is free and open to all. Info: lincolntheatre.org. 
Mother Earth Dances
7 p.m., Blaine Performing Arts Center, 975 H St.
Day-to-Day Dance celebrates Mother's Day with shows tonight and tomorrow featuring works by Elizabeth Smyth, Sabrina Gomez-Vannelli and Valerie Goliff. More than 40 community students ages 3 to 19 will take part. Tickets are $15. Info: daytodaydance.com. 
Bellingham Burlesque Show
7 p.m., The Underground, 211 E. Chestnut St.
Betty Desire will host this Mother's Day Eve show, featuring plenty of burlesque talent, giveaways and more. Tickets are $25; if you buy them before today, you'll be entered to win a bottle of champagne. Info: bellinghamburlesqueshow.godaddysites.com. 
Skagit Symphony
7:30 p.m., McIntyre Hall, Mount Vernon
"Eyes on the Horizon" will be the theme of this concert, which was originally intended to close out the symphony's first season with Maestro Wheatley. Guest artist Christina Wheatley will join the performance. Tickets are $15–$50. Info: mcintyrehall.org. 
Sunday, May 14
Second Sunday Jazz
2 p.m., Anacortes Public Library, 1220 10th St.
At this monthly event, Victor Horky and his Silk Road Swing Band will play compositions by Django Reinhardt as well as jazz standards, traditional music from Hungary, Romania, Russia, France and more. Entry is free. Info: library.cityofanacortes.org. 
The Amazing Bubble Man
2 p.m., Lincoln Theatre, Mount Vernon
Longtime performer Louis Pearl shares the art, magic, science and fun of bubbles with both comedy and artistry. Audience participation will be part of the show. Tickets are $12–$15. Info: lincolntheatre.org. 
Monday, May 15
Vaudevillingham
7 p.m. and 9 p.m., Cirque Lab, 1401 6th St.
Bellingham Circus Guild's monthly community open-stage circus variety show features an early family-friendly performance, and a later "anything goes" gig. Suggested donation is $10–$20 per person, but give as you are able. Info: bellinghamcircusguild.com.  
Tuesday, May 16
Transportation Career Fair
11 a.m. to 1 p.m., Settlemyer Hall, Bellingham Technical College
Job-seekers looking for work in the transportation and automotive fields are welcome to meet with more than a dozen employers at this free event. Attendees are encouraged to dress professionally and bring copies of their resumes. Info: btc.edu. 
Wednesday, May 17
Blue Room Comedy
8 p.m., The Blue Room, 202 E. Holly St.
Sean Flikke will be the featured performer at this stand-up comedy show. Sets by Nathan Romano, Trevor Gjendem, Sadie Ikemeier and Jack Stewart can also be seen, and the Blue Room House Band will take part. Tickets are $7 in advance, $10 at the door. Info: blueroombham.com. 
Thursday, May 18
Wine Walk
5–8 p.m., Barkley Village, 3111 Newmarket St.
Brigid Collins Family Support Center will team up with Barkley Village for this event. Attendees can stroll through 13 pop-up shops and restaurants as they taste regional wines. Tickets are $40 and include a keepsake glass, eight tasting tickets and a goodie bag. Info: barkleyvillage.com. 
Violins of the World
7:30 p.m., Lincoln Theatre, Mount Vernon
Asian music, blues, Celtic rhythms and melodies of the Mongolian steppe will combine at this event led by French guitarist, singer and composer Mathias Duplessy. This is the ensemble's first tour of the United States. Tickets are $20–$35. Info: lincolntheatre.org. 
Friday, May 19
Bike to Work and School Day
6–9:30 a.m., Bellingham and beyond
As part of this national biking event, drop by "celebration stations" on your way to school or work and pick up pastries, fruit, coffee and more. The event is meant for both everyday cyclists and those who have been thinking about getting back on their rides. Info: biketoworkandschoolday.org. 
La Conner Guitar Festival
Through Sunday, throughout La Conner
Concerts, workshops, panel discussions, exhibits and sales of some of the world's finest handmade instruments will be part of this annual festival celebrating the art of lutherie (guitar builders). Ticket prices vary; some events are free. Info: laconnerguitarfestival.com. 
Shoestring Circus
7 p.m., near Waypoint Park, Bellingham waterfront
Head to a big-top tent across from the park for the inaugural show by this brand-new circus company founded by four Bellingham-based circus artists who will be bringing their unique style of story, skill and spectacle to town. Additional showings happen through Sunday, then again May 26–29. Tickets are $15 for youth, $30 general and $45 for front-row seating. Info: shoestringcircus.com. 
Sunny War
7:30 p.m., Mount Baker Theatre, 104 N. Commercial St.
As part of the venue's Lookout Sessions in the intimate Walton Theatre, Sunny War will enliven traditional folk and blues music with lyrics reflecting 21st-century concerns. Admission is $18.50–$25.50. Info: mountbakertheatre.com. 
Cantabile Chamber Choir
7:30 p.m., McIntyre Hall, Mount Vernon
"In a State of Beauty" will be the theme of this concert of live choral music by Washington state composers. Original video footage of the natural beauty our state has to offer will be part of the performance. Tickets are $25–$40. Info: mcintyrehall.org. 
Saturday, May 20
Oysterfest
Noon to 8 p.m, H and G street plazas, Blaine
This event returns with oysters from Drayton Harbor Oyster Company, more than 35 vendors, live music, cooking demos, seafood sales, events, a food court for kids and a beer garden. Entry is free. Info: blainebythesea.com. 
Whatcom Chorale
3 p.m., St. Paul's Episcopal Church, 2117 Walnut St.
Celebrate a half-century of music at a "50 Seasons of Song" concert. The retrospective "Gratitude" will feature works from the 16th to the 21st century. Guest percussionist Kay Reilly will join the performance. Info: whatcomchorale.org.
Choir of the Salish Sea
7:30 p.m., Bellingham Unitarian Fellowship, 1207 Ellsworth St.
Hear "Galbraith Mountain" — a musical montage to the mountain bike and trail running mecca — tonight and 3 p.m. Sunday at the Fairhaven Village Green. The tenor and bass choir will perform songs like Queen's "Bicycle Race," "Here Comes the Sun," and "Seven Bridges Road." Tickets are $10–$20. Info: choirofthesalishsea.com. 
Heart by Heart
8 p.m., Lincoln Theatre, Mount Vernon
Steve Fossen and Michael Derosier, the original bassist and drummer for the band Heart during the 1970s and early 1980s, will be joined by other veteran musicians for an unforgettable evening of music. Tickets are $20–$35. Info: lincolntheatre.org. 
Sunday, May 21 
Valley Made Market
10 a.m. to 4 p.m., Riverwalk Plaza, Mount Vernon
Attend a monthly pop-up market filled with handmade goods, heaps of community and live music. The event takes place once a month through September. Info: downtownmountvernon.org. 
Before heading out to attend in-person happenings, check with individual venues to make sure the event is still taking place as scheduled.
The A-List appears weekly on Wednesdays. To submit an event for consideration, email calendar@cascadiadaily.com.