Hockey
Bellingham catches Kraken fever
Fans gather for beer, hockey as team makes playoff run
May 9, 2023 at 5:00 a.m.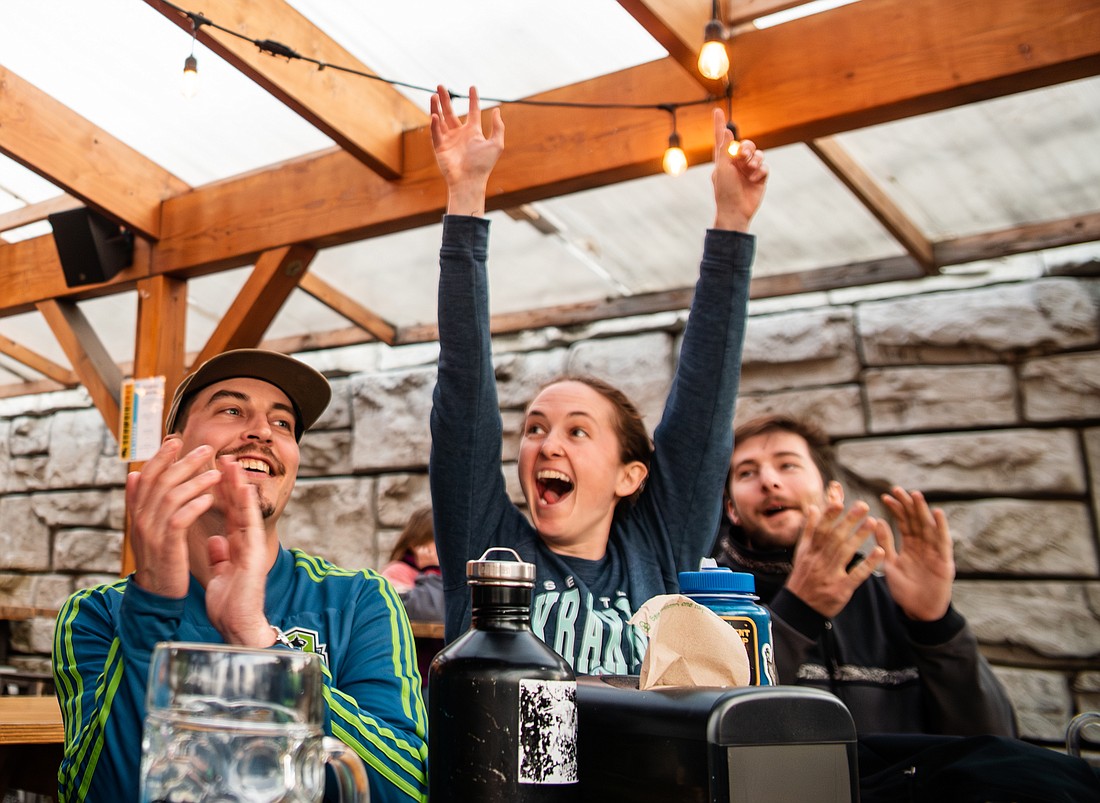 ---
---
When a group of Ski to Sea teammates met at Schweinhaus Biergarten May 7 to watch the Kraken, none of them sported the hockey team's official sweater — the one with the ice-blue, tentacled "S" logo that's been popping up around town more and more recently.
But they did their best to represent their favorite National Hockey League team, whose color scheme happens to include four shades of blue.
JP Belanger showed up at Schweinhaus in a Sounders shirt. Alex Bellarks had a blue-green Arc'teryx jacket.
At least Jess Meyer put on a basic long-sleeve "Kraken" shirt to watch Game 3 of the Western Conference semifinal matchup between Bellingham's newest favorite sports team and the Dallas Stars.
Bellingham is catching Kraken fever. In only its second season, Seattle's hockey team is making some noise in the Stanley Cup playoffs.
Day-one fan
Meyer said she's been a Kraken fan from day one, even though the team finished dead last in its division during its inaugural season.
"Their first season was hard, but it was fun to watch a new team," Meyer said.
Meyer grew up outside Detroit rooting for the Red Wings dynasty from a couple decades ago. She found it easy to adopt the Kraken after Detroit's team stopped making the playoffs.
Meyer's friend Hunter Boylan hales from Fairbanks, Alaska, where hockey fandom comes naturally. He grew up following the University of Alaska Nanooks. 
"If I could watch anything, I would prefer watching a hockey game," Boylan said.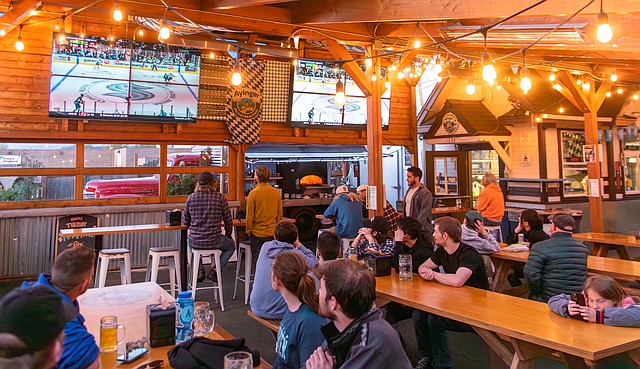 As fun as hockey is to watch, the season is long: 82 games stretched over six months. Come April, the top 16 teams in the league make the playoffs, sometimes referred to as the NHL's "second season." 
Suddenly, the casual fan has a lot more motivation to tune in. This time of year, only the winners are still taking to the ice in the NHL, and the Kraken have earned their rightful place among the league's best.
The team went from winning 27 games in its first year to 46 this year. Even so, the Kraken only made the playoffs as an extra wildcard team, meaning they had to face a first-place team in the first round.
Kraken fans started to believe after Round One, when the underdogs dispatched the defending Stanley Cup champions, the Colorado Avalanche, in Game 7 of a seven-game series.
"The Avalanche looked like the better team," Meyer admitted, "but the Kraken looked really scrappy."
'A new generation'

That fateful game marked an apparent changing of the guard in hockey. The mighty Avalanche had fallen to a young Kraken team that includes Matty Beniers, a rookie-of-the-year finalist. On that same day, the best team in hockey this year and one of the greatest franchises in history — the Boston Bruins — lost to a team from Florida.
Story has it that a Bruins fan at Schweinhaus took off her Bruins sweater after her team's defeat, and replaced it with a Kraken jersey.
"It's like a new generation is coming up," Belanger said. "For so long, it's been [Sidney] Crosby and [Alex] Ovechkin," he added, naming two of the sport's aging superstars. 
Much of the credit for the Kraken's playoff success so far goes to their German goalie, Philipp Grubauer. As they say in the hockey world, Grubauer stood on his head in that Game 7.
"He just blocked everything," Meyer said. "I don't think they could have done it without him."
Meyer was acknowledging the biggest truth about playoff hockey: A team will only go as far as its goalie will take them. Judging from the May 7 game against Dallas, Kraken fans have a real reason for hope.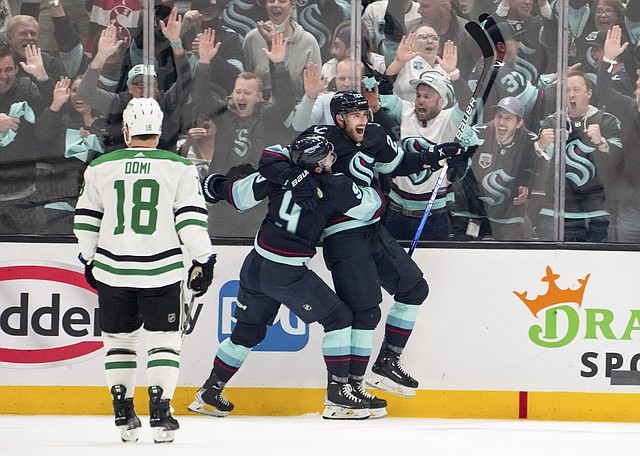 Grubauer totally outplayed the much-hyped goalie on the Stars' end of the ice, an American named Jake Oettinger. Oettinger gave up five goals in a decisive second period on May 7, and he looked ready to quit playing about halfway through the onslaught.
Dallas never threatened, and Seattle came away with a 7-2 win and a 2-1 lead in the best-of-seven series.
The fans at Schweinhaus brimmed with confidence.
"Cup or bust!" Bellarks exclaimed, with a grin, knowing full well the Kraken had a long way to go before the team hoisted the most coveted trophy in sports. Seattle has won six playoff games. They still need 10 more.
But after a decisive win May 7, local fans allowed themselves to dream.
"It would be cool if Seattle got the Stanley Cup again, after, like, forever," Boylan said.
It's been forever and a day, in fact, since Seattle laid claim to the Cup. A team called the Metropolitans defeated the Montreal Canadiens in 1917 to become the first U.S. team to win the trophy.
Seattle is more than overdue for a hockey championship, and Bellingham fans are already committing to the celebration.
"If they make it to the Stanley Cup Final," Meyer said, "I'm going to save up and buy a jersey."