The A-List
A&E calendar: Art walks, films, bubbles and Star Wars
A curated selection of happenings in Whatcom and Skagit counties
May 3, 2023 at 5:05 a.m.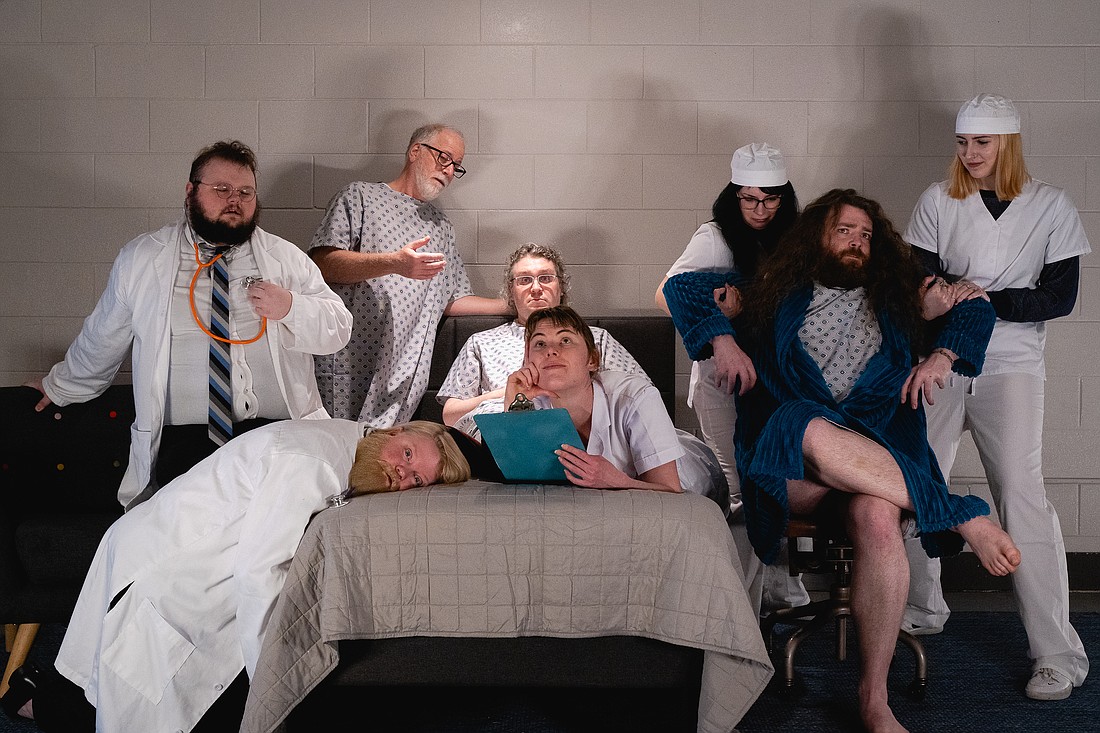 ---
---
Wednesday, May 3
Dine Out for Maple Alley Inn
Through May, throughout Whatcom County
Help raise funds for the Opportunity Council's Maple Alley Inn by eating at participating restaurants. A portion of your purchase will benefit the program that provides free hot meals to those who need them. Info: oppco.org/dineout. 
'Hamlet (Variorum)'
7 p.m., Explorations Academy, 1701 Ellis St.
Outsiders Inn presents this meditation on Shakespeare's "Hamlet" for the final week Wednesday through Saturday. The dynamic and high-velocity two-hour production is performed by a 10-actor ensemble. Tickets are $10. Info: outsidersinn.ludus.com. 
Thursday, May 4
Cascadia International Women's Film Festival
Today through Sunday, throughout Bellingham
As part of this seventh annual event featuring films by female directors from around the globe, attend viewings, panel discussions and other events at the Pickford Film Center, Mount Baker Theatre and beyond. Ticket prices vary. Some events are free. Info: cascadiafilmfest.org.
Children's Art Walk
5–7:30 p.m., downtown Mount Vernon
Explore the vibrant colors and playful themes of summer during this free community event featuring art from talented local elementary and middle school students. Maps will be available at the event. Info: downtownmountvernon.org. 
'Star Wars: Return of the Jedi'
7 p.m., Mount Baker Theatre, 104 N. Commercial St.
Watch the reunion of Luke Skywalker, Princess Leia and Han Solo on the big screen during this one-night-only showing of the 1983 film. Tickets are $12.50. Info: mountbakertheatre.com. 
'The Day Room'
7:30 p.m., The Happy Place, 1215 Cornwall Ave.
Celebrate Idiom Theater's 20th anniversary starting with this showing of acclaimed novelist and playwright Don DeLillo's tale of a group of actors playing hospital patients. Or is it a group of hospital patients playing actors? The play continues May 5 and May 11–13. At 7 p.m. and 9 p.m. on May 6–7, watch Idiom's 57th iteration of its 48-Hour Theater Festival, which features plays going from page to stage in 24 hours — twice. Info: idiomtheater.org. 
'My Son Pinocchio'
7:30 p.m., The Claire, 655 Front St., Lynden
Disney's "My Son Pinocchio, Geppetto's Musical Tale" concludes its run with showings Thursday through Sunday. The song-filled production tells the timeless tale of Pinocchio through the eyes of his father. Tickets are $11–$15. Info: theclaire.org. 
The GBU
7:30 p.m., The Upfront Theatre, 207 Prospect St.
Bellingham's longest-running improv show, "The Good, the Bad, and the Ugly," takes place every Thursday, featuring a rotating performance format and guest players. Tickets are $10–$15. Info: theupfront.com.
Menace on the Mic
8:30 p.m., Menace Brewing, 2529 Meridian St.
Want to take a chance at performing standup comedy? Show up early to sign up for your spot, then stick around to see the action unfold. The free event takes place every other Thursday. Info: menacebrewing.com. 
Friday, May 5
Children's Art Walk
5–8 p.m., downtown Bellingham
Works by Whatcom County students will hang in the windows of various businesses and venues throughout the urban core at this 23rd annual event. There will also be a number of activities for kids and adults, music and more. Info: alliedarts.org. 
First Friday Artwalk
6–8 p.m., downtown Anacortes
MoonWater Arts, The Majestic Inn and Spa, Scott Milo Gallery (and the studios above the gallery), Adrift restaurant, Fidalgo Fudge and Playhouse Ceramic Studio will be among the venues taking part in this free monthly event. Info: anacortesart.com. 
'Beauty and the Beast'
7 p.m., Nooksack Valley High School, 3326 E. Badger Road
This musically inclined love story will come to life at the school's Performing Arts Center this weekend and next. Tickets will be $8–$10 at the door (cash or check only). Info: 360-988-2641. 
Cinco de Jazz Party
7 p.m., Blaine Senior and Community Center, 763 G St.
At this festive event, enjoy performances by Blaine High School Jazz Band and Chorus, Bellingham Dixieland All-Stars, swing dance lessons and more. Entry is $5–$15. Info: btjsjazz@gmail.com. 
'Singin' in the Rain'
7:30 p.m., Anacortes Community Theatre, 918 M Ave.
This musical based on the classic film opens with showings at 7:30 p.m. Friday and Saturday, and 2 p.m. Sunday. Tickets are $25; additional performances take place weekends through May 27. Info: acttheatre.com. 
Saturday, May 6 
Plant Sale
9 a.m. to 12 p.m., Bellingham Public Library, 210 Central Ave.
Birchwood Garden Club will host its 30th annual event featuring perennials, annuals, veggie starts, indoor plants, pots, books and choice selections from members' gardens. Cash or check only, please. Info: birchwoodgardenclub.org. 
Bellingham Farmers Market
10 a.m. to 2 p.m., Depot Market Square, 1100 Railroad Ave.
Approximately 90 vendors from Whatcom and Skagit counties are on site at this weekly market, which continues every Saturday through Dec. 16. Info: bellinghamfarmers.org.  
Dockside Market
10 a.m. to 2 p.m., Squalicum Harbor
Local fisherfolk will be selling their fresh and frozen wares at this twice-monthly market. Visit the dock early to find the best selection of seafood options. Info: bellinghamseafeast.org. 
First Saturday Market
11 a.m. to 4 p.m., Emerald Flats, 14969 W. Bow Hill Road
Shop from local arts, crafts and food vendors, listen to live music by Trischimmel Unplugged, check out a kid zone and more. Entry is free. Info: kxaestates.com. 
Family Activity Day
Noon to 4 p.m., Whatcom Museum's Lightcatcher Building, 250 Flora St.
This family-friendly event returns for Japanese Children's Day. Visit the exhibit "Katazome Today," craft a carp streamer, practice your Kendama skills and enjoy performances and games. Reduced admission is $3. Info: whatcommuseum.org. 
Italo Scanga Symposium
1–2:30 p.m., Museum of Northwest Art, La Conner
Related to the "Permanent Immigrant" exhibit currently on display at MoNA, this event will celebrate the legacy of the late artist. Friends, artists and colleagues who worked alongside him will share their stories. Suggested donation is $5. Please RSVP. Info: monamuseum.org. 
Clearbrook Dixie Band
2–5 p.m., VFW Hall, 624 N. State St.
Bellingham Traditional Jazz Society invites the community to an afternoon of hot New Orleans-style jazz for listening and swing dancing. Entry is $5–$20. Info: bellinghamjazz.com. 
Peter Wohlleben and Thor Hanson
7 p.m., Bellingham High School, 2020 Cornwall Ave.
As part of the Nature of Writing series, these two award-winning authors will discuss Wohlleben's new book, "The Power of Trees: How Ancient Forests Can Save Us If We Let Them." Whatcom Million Trees Project will also be on hand to talk about their work. Tickets are $32; includes a hardcover copy of the book. Info: villagebooks.com. 
Skagit Valley Chorale
7:30 p.m., McIntyre Hall, Mount Vernon
"Celebrating in Song" will be the focus of concerts taking place Saturday and 2 p.m. Sunday. The diverse roots and branches of choral music will be highlighted. Tickets are $20–$30. Info: mcintyrehall.org. 
Sunday, May 7
Pop-up Mini Market
10 a.m. to 2 p.m., Welcome Road, 300 W. Champion St.
Local artists will share their creative products at this market; attendees can also enjoy wine, coffee, shopping and snacks. Info: welcomeroadwinery.com. 
Spring Festival
10 a.m. to 3 p.m., Meadows Montessori School, 2377 Douglas Road, Ferndale
Handmade crafts and artisan products, musical performances, face painting, barn animals, family activities and food options will be part of this free event. Info: meadowsmontessori.org. 
Bike Swap
1–5 p.m., Boundary Bay Brewery, 1107 Railroad Ave.
Shop used bikes and gear at an affordable price at this event hosted by Shifting Gears. Check their website for details on selling your gear. Info: letsshiftgears.com. 
May Bike Parade
2 p.m., downtown Bellingham
Help re-create a historic bike photo for the second year by meeting on Jersey Street between East Holly and East Chestnut streets. Together, cyclists will ride down Holly Street to Waypoint Park. Info: cob.org/event/bike-parade. 
Bellingham Chamber Music Society
3 p.m., Hotel Leo Crystal Ballroom, 1224 Cornwall Ave.
"Revolutionary Women in Music" will be the focus of this show featuring some of the greatest women composers in history — including Clara Schumann, Jennifer Hidden and Louise Farrenc. Tickets are $10–$40. Info: musicinbellingham.com. 
Depot Comedy Club
8 p.m., Aslan Depot, 1322 N. State St.
Chase Mayers will host this monthly stand-up comedy show featuring the best of regional talent. Timmy Booth will be featured, Gaby Lucas will be a guest comedian, and Tyler Smith will headline the event. Tickets are $20. Info: aslanbrewing.com. 
Thursday, May 11
Dance in Concert
7:30 p.m., Performing Arts Center, WWU
Western Washington University student dancers will perform choreography by renowned artists and faculty at showings Thursday through Sunday on the PAC MainStage. This year's guest artist is Toni Pasion. Tickets are $8–$16. Info: tickets.wwu.edu. 
Rodney Crowell
7:30 p.m., Lincoln Theatre, Mount Vernon
As part of The Chicago Sessions Tour celebrating the album of the same name, the Grammy-winning artist will bring his Americana roots music to the stage, along with special guests Rob Ickes and Trey Hensley. Tickets are $40–$70. Info: lincolntheatre.org. 
Friday, May 12
Camano Island Studio Tour
10 a.m. to 5 p.m. daily through Sunday, Camano Island and Stanwood
This 24th annual event will feature more than two dozen artists opening their doors to browsing visitors and eager arts consumers. Peruse everything from paintings to sculptures, textiles, ceramics, jewelry, leather and woodworking, and hand-blown and fused glass. The free, self-guided tour continues May 20–21. Info: camanostudiotour.com. 
Spring Wine Walk
5:30–9 p.m., downtown Bellingham
Kick off Mother's Day weekend by sipping and shopping local at 19 shops as they host pop-up tasting rooms featuring a variety of regional wines. Retailers will also offer special deals. General admission is $40; VIP tickets are $60. Info: downtownbellingham.com. 
Saturday, May 13
Mother Earth Dances
7 p.m., Blaine Performing Arts Center, 975 H St.
Day-to-Day Dance celebrates Mother's Day with shows tonight and tomorrow featuring works by Elizabeth Smyth, Sabrina Gomez-Vannelli and Valerie Goliff. Come join Mother Earth as she dances in honor of the beauty and magic on the planet. More than 40 community students ages 3–19 will take part. Tickets are $15. Info: daytodaydance.com. 
Bellingham Burlesque Show
7 p.m., The Underground, 211 E. Chestnut St.
Betty Desire will host this Mother's Day Eve show, featuring plenty of burlesque talent, giveaways and more. Tickets are $25; if you purchase them before today, you'll be entered to win a bottle of champagne. Info: bellinghamburlesqueshow.godaddysites.com. 
Skagit Symphony
7:30 p.m., McIntyre Hall, Mount Vernon
"Eyes on the Horizon" will be the theme of this concert, which was originally intended to close out the symphony's first season with Maestro Wheatley. Guest artist Christina Wheatley will join the performance. Tickets are $15–$50. Info: mcintyrehall.org.
Sunday, May 14
The Amazing Bubble Man
2 p.m., Lincoln Theatre, Mount Vernon
Longtime performer Louis Pearl shares the art, magic, science and fun of bubbles with both comedy and artistry. Audience participation will also be part of the show. Tickets are $12–$15. Info: lincolntheatre.org. 
Before heading out to attend in-person happenings, check with individual venues to make sure the event is still taking place as scheduled.
The A-List appears weekly on Wednesdays. To submit an event for consideration, email calendar@cascadiadaily.com.