Visual Art
Life studies classes are 'like yoga for artists'
Novice, experienced artists can hone their skills
March 29, 2023 at 5:55 a.m.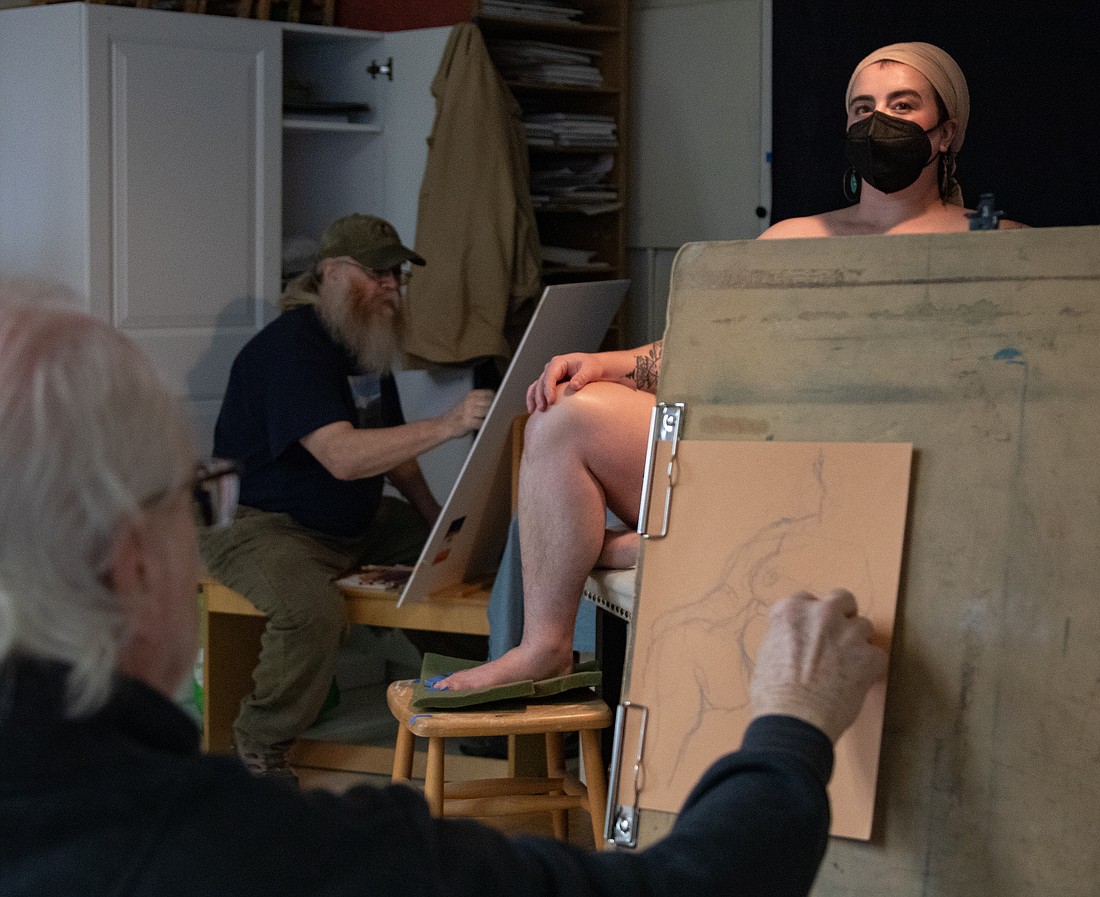 ---
---
John Lennon's song "Watching the Wheels" played softly in the background as a handful of artists sat or stood in front of their easels. They looked back and forth from their creation stations to the nude model posed on a podium in front of them as they worked to capture their singular visions of the human form.
To Mary Morton and the other artists, this was a typical scene. From 4–7 p.m. every Friday in a BellinghamART classroom in the Creekside Building on Ellis Street, a model disrobes and takes a pose they will keep for the duration of the life studies session (with short breaks every 20 minutes). Participants draw, paint or sculpt what they see. From 10 a.m. to 1 p.m. Saturday, the model and some of the artists will return to the room for a series of shorter poses.
Morton — who took over facilitating the sessions nine years ago after local painter Joyce Prigot handed over the reins — said the workshops are open to everyone, regardless of their skill level. Fees are $15 per session or $52 for four consecutive sessions, with funds going to the models and the rental of the room.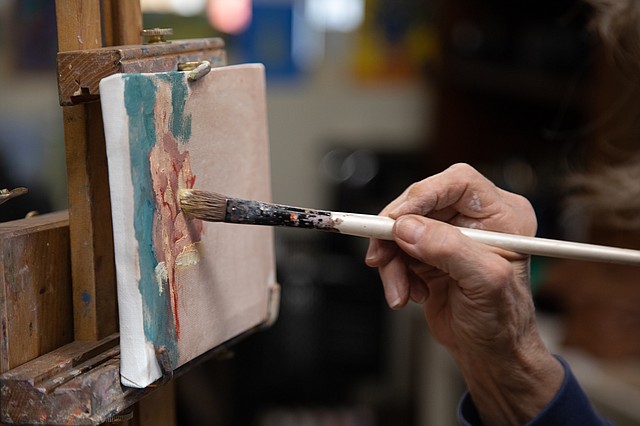 "What I get out of it is that I get to study from the figure, mostly, and I just love the group, too," Morton said during a break. "It's like yoga for artists, really. You're using your art form — studying, focusing. It's very casual, so you can come and experiment. I try all different things, so does everybody here. We don't have to create masterpieces every time."
Adrea Boman, who was taking classes with Lynn Zimmerman at BellinghamART when she found out about the sessions, has been attending the Friday afternoon gatherings for several years. She said she simply wants to be able to draw competently and gets a lot out of the three hours she spends with fellow artists every Friday.
Boman said she typically photographs her drawings from each session, and if she likes them she'll stick them on her wall and study them, figuring out what she did right and what she did wrong. She welcomes suggestions from her peers, but points out it's not a typical classroom scene.
"There is no teaching here," Boman said. "You can come and draw and do whatever you want. It's entirely individual."
Leo Morningstar, the model for that day's session, said they love being a part of the creative process. Morningstar knows the artists are counting on them to stay still, and that motivates them to keep the pose.
"It's kind of like meditating or getting a tattoo," Morningstar said, adding they spend time stretching before each session. "You kind of have to get in a trance, but once you do and settle into it it's very relaxing."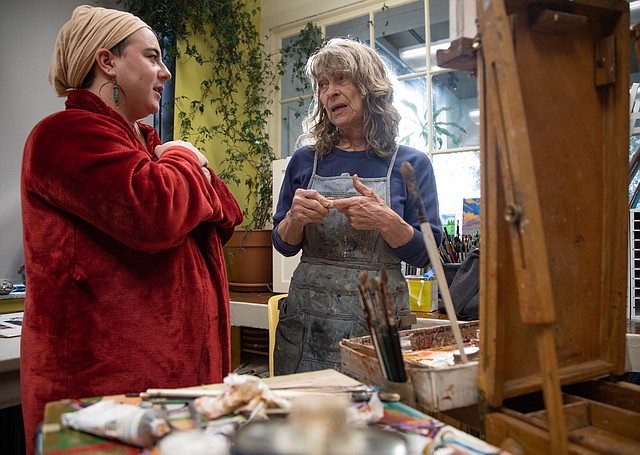 Morningstar is also an artist, and during breaks, they enjoy perusing the various works to suss out how people are translating their pose.
"They're all very talented and their styles are really different, so it's fun to see how each of them interpret the same person," they said.
Wade Marlow agrees. The owner of Bellingham's late, great Blue Horse Gallery had paused for a moment to look at fellow artist Michael Heath's side-view rendering of Morningstar — complete with earrings, a face mask and head covering — and observed that "he draws a good line."
Marlow noted he stopped drawing and painting for a long time and is trying to come back to the practice. He said learning to see through an artist's viewpoint again and learning to control lines takes discipline, and attending the life studies sessions keeps him focused.
"Figure drawing is to painters and sculptors what doing the scales are to a musician," he said. "It still helps me."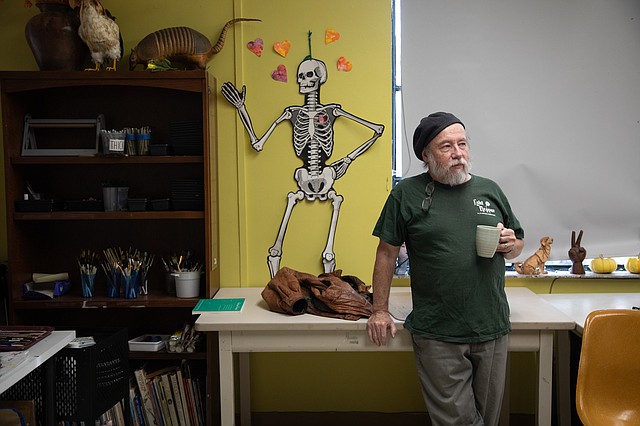 Heath, who returned to his easel shortly before the session resumed to turn the music back on, is a well-known watercolor painter. If his name sounds familiar, it might be because he's recently hung work at the Mount Baker Theatre, Drizzle, Chocolate Necessities and Fairhaven's Avenue Bread — where his art will be exhibited through April.
When asked what his favorite part of the body is to draw, Heath said any part that has light coming in on it in a pleasing way, whether it's morning, midday, mid-afternoon or evening light.
Heath has been drawing his whole life, and said when he got back from Vietnam, an instructor at Ohio State took him under his wing. It was there he learned that mastering the skill of figure drawing would help him in the long run as a professional artist and teacher.
"He said, 'If you don't understand how to draw the human figure, you're never going to be admired or accepted as an artist. You're just not going to,'" Heath said. "He said, 'It sharpens you.' I answered, 'I love landscapes,' and he said, 'You keep doing figures all your life, you're always going to be great with landscapes because there's no greater landscape than the human figure.'"
To find out more about the Life Studies sessions taking place every Friday and Saturday at the Creekside Building in Bellingham, reach out to facilitator Mary Morton at marydmorton@yahoo.com.