The A-List
A&E calendar: Bunnies, blooms, comedians and art openings
A curated selection of happenings in Whatcom and Skagit counties
March 29, 2023 at 5:00 a.m.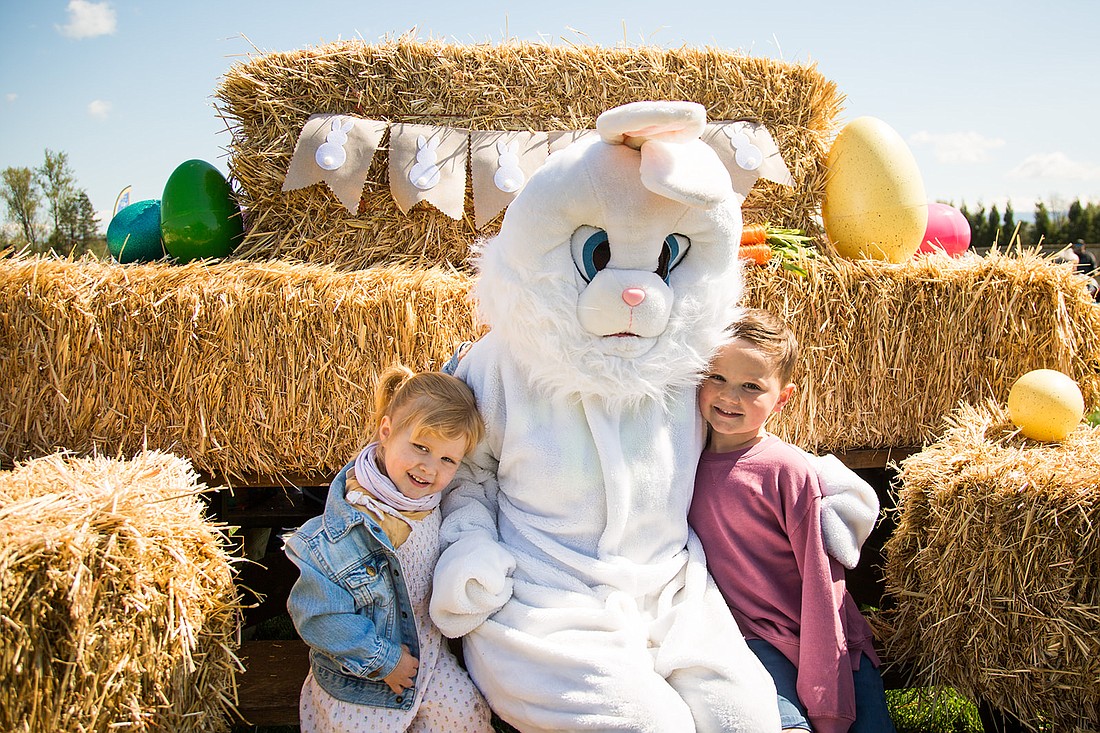 ---
---
Wednesday, March 29
Open Mic
8 p.m., The Blue Room, 202 W. Holly St. 
For the first edition of the Western Wednesday event organized by the Downtown Bellingham Partnership, the venue will team up with local comedian Damon Lawton to host a stand-up comedy open mic. Seattle-based comedian Reece Green will perform a set when the open mic concludes. Entry will be sliding scale at the door. Info: blueroombham.com.
Thursday, March 30
'The Addams Family'
7:30 p.m., Lincoln Theatre, 712 S. First St., Mount Vernon 
Attend this musical comedy by META Performing Arts for the final weekend at shows Thursday through Sunday. Tickets are $18–$25 to see the heartwarming, blood-chilling romp featuring everyone's favorite Gothic family. Info: lincolntheatre.org.
The GBU
7:30 p.m., The Upfront Theatre, 207 Prospect St. 
Bellingham's longest-running improv show, "The Good, the Bad, and the Ugly," takes place every Thursday, featuring a rotating performance format and special guest players. Tickets are $10-$15. Info: theupfront.com.
Friday, March 31
Northwest Guitar Festival 
Through Sunday, Performing Arts Center, WWU
This annual event includes performances by David Feingold, Elizabeth Brown, Michael Nicolella, Duo Noire and a Sunday afternoon Ensemble Showcase. Tickets are $15–$30. Info: northwestguitarfestival.org.
Genre Legends
7:30 p.m., The Upfront Theatre, 207 Prospect St.
Improvisers will tell stories in three different genres at the early show on Friday and Saturday. At 9:30 p.m., stick around for March Comedy Madness. Tickets are $10–$15. Info: theupfront.com.
Skagit Community Band
7:30 p.m., Maple Hall, La Conner
"Artistry in Rhythm: Swing into Spring Jazz Concert" will be the focus of concerts Friday and at 3 p.m. Sunday in Anacortes at Brodniak Hall. The SCB Big Band will join the gigs, which will feature selections from Duke Ellington, Benny Goodman, Jimmy Dorsey and Charles Mingus. Entry is free; donations are appreciated. Info: skagitcommunityband.org.
Andrew Rivers
8 p.m., The Blue Room, 202 E. Holly St., #301
This lauded stand-up comedian returns to Bellingham with his personal and fun storytelling style. Rivers' comedy specials from Dry Bar Comedy (2018) and The Laugh Button (2021) have millions of views on YouTube and Facebook, so expect to get a few laughs in. Tickets are $12–$30. Info: blueroombham.com.
Afterglow Comedy Hour
9 p.m., Stemma Brewing Co., 2039 Moore St. 
This monthly stand-up comedy event hosted by Nikki Kilpatrick will feature sets by Brett Emerson, Jay Markovitz, Claire Jones and Ryan Danley. Jaren George will be the featured act. Tickets are $10 and advance purchase is required. Info: stemmabrewing.com.
Saturday, April 1
Tulip Festival 
Through April, throughout Skagit Valley 
Tours of tulip fields, live music, the Downtown Mount Vernon Street Fair, photo contests, a salmon barbecue, a Tulip Parade in Mount Vernon, basketball tournaments, art shows, garage sales and much more will take place through the month as part of this 41st annual event. Remember: the tulips bloom according to Mother Nature, so plan accordingly. Info: tulipfestival.org.
Dahlia Tuber Sale 
10 a.m. to 3 p.m., Bloedel Donovan Park, 2114 Electric Ave. 
Attend this annual event put on by the Whatcom County Dahlia Society. From pompon tubers to dinner plate dahlias, there will be something for everyone (but get there early, as popular plantings sell out quickly). Info: whatcomcountydahliasociety.org.
Bellingham Farmers Market 
10 a.m. to 2 p.m., Depot Market Square, 1100 Railroad Ave. 
An expected 90 vendors from Whatcom and Skagit counties will be on site for opening day of the weekly market, which continues every Saturday through Dec. 22. Show up at 9:45 a.m. to see Mayor Seth Fleetwood at the annual cabbage toss, then stock up on local produce, baked goods, gluten-free items, jewelry, pottery and more. Info: bellinghamfarmers.org.  
Dockside Market 
10 a.m. to 2 p.m., Fisherman's Pavilion, Squalicum Harbor
Local fisherfolk will be selling their fresh and frozen wares at this twice-monthly market. Visit the dock early to find the best selection of seafood options. Details and participating vendors and products are posted 24 hours ahead of sale days. Info: bellinghamseafeast.org.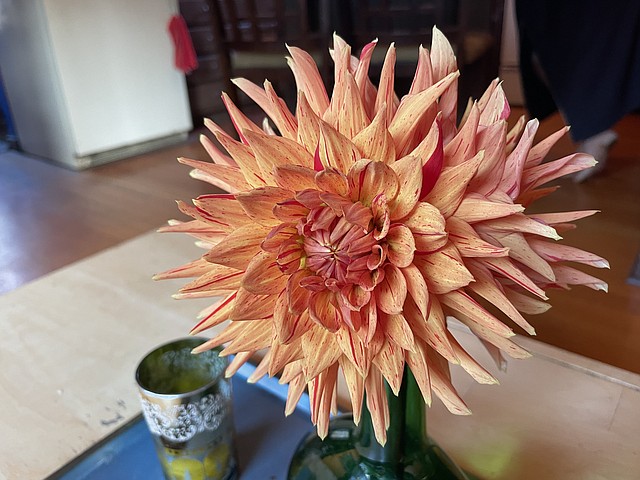 Skagit Wood Expo
10 a.m. to 6 p.m., Skagit County Fairgrounds, Mount Vernon 
This inaugural event taking place Saturday and from 10 a.m. to 3 p.m. Sunday will feature milling demonstrations, educational talks, a live equipment and materials auction, dozens of local craft vendors, tabling from local organizations, a large assortment of wood and slabs for sale, and circus shows. Entry is $7 (free for kids under 12). Info: skagitwoodexpo.com.
Skagit Chili & Chowder Cook-off
1–4 p.m., Farmstrong Brewing, 110 Stewart Rd., Mount Vernon 
The Mount Vernon Chamber of Commerce hosts this event, which will feature a number of submissions from around the city. Entry is $15 and gets you six samples and a vote (plus a large portion of your favorite). Info: mountvernonchamber.com.
T.O.P. Jazz Band
2–4 p.m., VFW Hall, 625 N. State St. 
Bellingham Traditional Jazz Society presents its monthly concert featuring this Seattle-based ensemble. Bring your dancing shoes for a "foot-stomping, multi-course stroll through the remote beginnings of jazz." Entry is $5 for students, $15 for members and $20 general. Info: bellinghamjazz.com.
Spring Show Opening Reception
2–5 p.m., River Gallery, 19313 Landing Road, Mount Vernon
Paintings, sculptures, jewelry, photography and glass from a variety of local and regional artists will be on display at this seasonal show, which can be viewed from 11 a.m. to 4 p.m. Wednesdays through Sundays through April 30. Info: rivergallerywa.com.
Guy Anderson Exhibit Reception
3–5 p.m., i.e. gallery, 5800 Cains Court, Edison 
View i.e.'s selection of life drawings, woodblock prints and paintings by the legendary Skagit artist who passed away in 1998. The works can be seen Fridays through Sundays throughout April. Info: ieedison.com.
Andy Eccleshall Reception
3–5 p.m., Smith & Vallee Gallery, Edison 
Meet the Edmonds-based landscape painter at this opening event, which will be on exhibit Thursdays through Mondays through April. Paintings by Liz Park will be on display in the Flex Gallery. Info: smithandvalleegallery.com.
Sunday, April 2
Spring Hop-Up
Noon to 3 p.m., Inner Child Studio, 715 W. Orchard Drive
Wooden egg coloring, games, activity stations, a seed and starts swap, and visits with rescue bunnies and roosters will be part of this event being put on by Bellingham Veg Fest. Entry to the all-ages event is free; donations are welcome. Advance registration is required. Info: innerchildstudio.org.
Northwinds Quintet
2 p.m., McIntyre Hall, Mount Vernon 
This ensemble comprised of musicians from Skagit Symphony and other area bands will feature varied works from the classical chamber repertoire, with special guests Michael Wheatley and Barb Hunter performing a selection for violin and cello. Tickets are $25. Info: mcintyrehall.org.
Shoulder Season Makers Market
4–8 p.m., Kulshan Brewing, 1538 Kentucky St.
More than 30 local makers will share their wares at this event, whose goal is to celebrate outdoor-minded femme creatives in the outdoor community during the transition of the season. Info: kulshanbrewing.com.
Wednesday, April 5
Sanford-Hill Piano Series
7:30 p.m., Performing Arts Center Concert Hall, WWU
Ukrainian pianist Dmytro Choni will be the featured artist at this concert. Choni is the most recent bronze medalist from the prestigious Van Cliburn International Piano Competition, and has collaborated and performed with renowned orchestras around the world. Tickets are $20–$49. Info: tickets.wwu.edu.
Improv Night
8 p.m., The Blue Room, 202 E. Holly St.
Members of The Upfront Theatre and Western Washington University's student-led improv troupe, The Dead Parrots Society, will team up for this Western Wednesday show. Tickets are $7. Info: blueroombham.com.
Thursday, April 6
Rexville Grange Art Show Reception
5–8 p.m., Rexville Grange, 19299 Rexville Grange Rd., Mount Vernon 
While perusing the paintings, pottery, glass, photography, jewelry, clothing, weaving and wood from area artists, enjoy refreshments and listen to live music from Campbell Road and Under the Radar. The art show will be open from 10 a.m. to 6 p.m. daily through April 16. Info: rexvillegrangeartshow.com.
Marley's Ghost
7:30 p.m., Lincoln Theatre, 712 S. First St., Mount Vernon 
Americana and acoustic music will be on display when this longtime ensemble brings its eclectic energy and versatility to the stage. Expect to hear everything from roots to rock, blues, bluegrass, gospel and country music. Tickets are $24–$39. Info: lincolntheatre.org.
Menace on the Mic
8:30 p.m., Menace Brewing, 2529 Meridian St.
Want to take a chance at performing stand-up comedy? Show up early to sign up for your spot, then stick around to see the action unfold. The free event takes place every other Thursday. Info: menacebrewing.com.
Friday, April 7
First Friday Artwalk 
6–8 p.m., downtown Anacortes
MoonWater Arts, Scott Milo Gallery (and the studios above the gallery), Adrift Restaurant, Trinity Skate and Clayhouse Ceramic Studio will be among those participating in this monthly event. Entry is free and open to all. Info: anacortesart.com.
First Friday
6–10 p.m., downtown Bellingham
The 11th annual Recycled Arts Resource Expo (RARE) at Allied Arts will be part of tonight's programming by the Downtown Bellingham Partnership's monthly event combining art events, live music, restaurant specials and much more. RARE provides a platform for eco-friendly artists to showcase their art created from recycled materials. The exhibit will be up throughout April. Info: alliedarts.org.
'I'm Not a Comedian'
7:30 p.m., Mount Baker Theatre, 712 S. First St.
Ronnie Marmo portrays a classic talent in "I'm Not a Comedian … I'm Lenny Bruce" both Friday and Saturday night. The show looks at the life and battles of one of the most groundbreaking and impactful comedians of all time, and has earned critical acclaim. The performances are part of MBT's Out of the Box Series in the intimate Walton Theatre. Tickets are $55–$70. Info: mountbakertheatre.com.
Saturday, April 8
Easter Celebration
9 a.m. to 3 p.m., Bellewood Farms & Distillery, 6140 Guide Meridian 
Photo opportunities with the Easter Bunny, tractor train rides through the apple orchard and live music by Lynden-based band Queen's Bluegrass will be part of this event taking place both Saturday and Sunday. Children age 12 and younger can also play games along the Bunny Trail for $5 per kid, while adults can sample hard cider, beer on tap and farm-made spirits in the distillery's tasting room. Entry is free. Info: bellewoodfarms.com.
Skagit Drag Show 
6 p.m., Lincoln Theatre, Mount Vernon 
Simply Curious Enterprises presents "10 Years of Inspiration" at this annual show, which was created in 2013 to give a space for connecting the community through creative expression by sharing love, art, knowledge and support. Both newcomers and seasoned performers will share their talents. Tickets are $20. Info: lincolntheatre.org.
Sunday, April 9
Adults-only Easter Egg Hunt
1–4 p.m., Gruff Brewing, 104 E. Maple St. 
If you're 21 or older, grab a basket and a few friends and hop on over to the beer garden to score candy, merch, beer, prizes, drink specials and more. Raffle prizes will also be part of the free festivities, and Brothers Bus Bistro food truck will be on site. Info: Facebook.com/gruffbrewingco.
Before heading out to attend in-person happenings, check with individual venues to make sure the event is still taking place as scheduled.
The A-List appears weekly on Wednesdays. To submit an event for consideration, email calendar@cascadiadaily.com.