Restaurants
Review: Penny Farthing
Craft cocktails and shared plates at Chuckanut Bay Distillery space
March 25, 2023 at 5:00 a.m.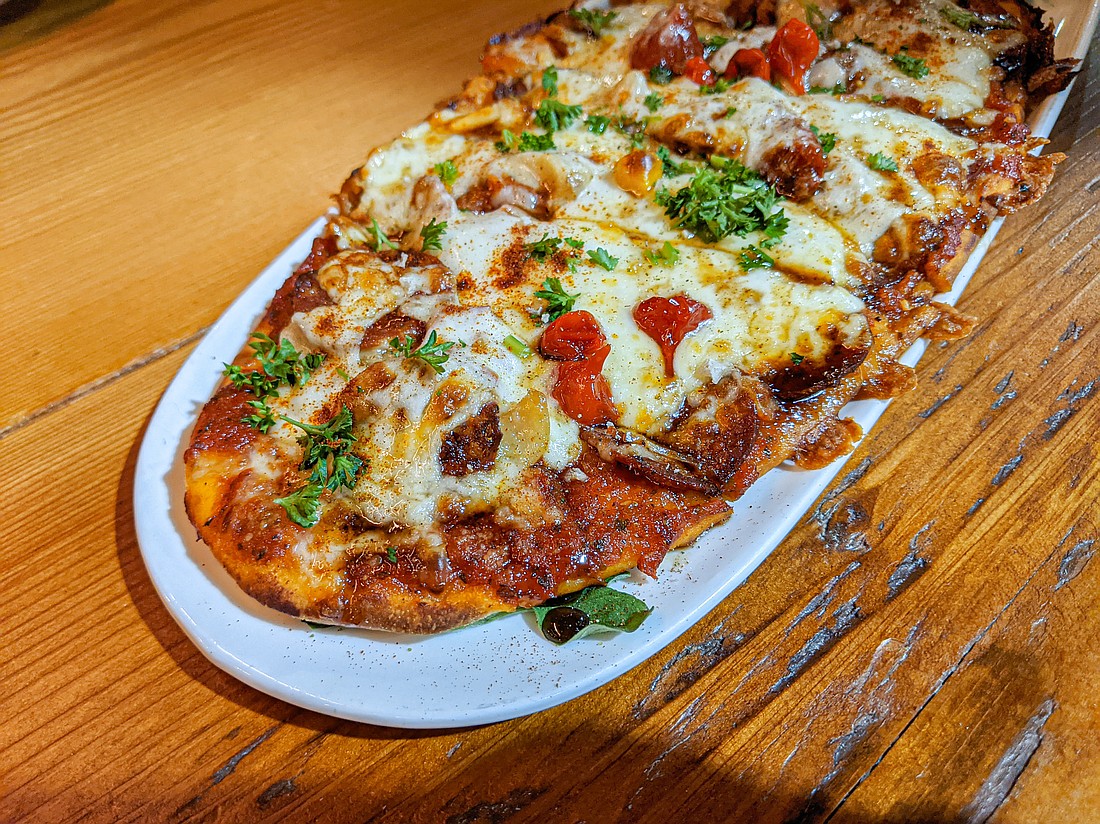 ---
---
Chuckanut Bay Distillery, which moved from its tiny location behind Boundary Bay Brewery into the huge old JCPenney building in downtown Bellingham in 2017, added a feather to its cap in the form of a new restaurant, which opened in the summer of 2022.
They named it Penny Farthing after the old style of high-wheeled bicycle, in honor of the bicycle-powered grinder the distillers once used to crush potatoes for their first vodka (which I am told was just as exhausting as it sounds).  
The space, which is one door over from the distillery's tasting room, is narrow and dark with rich, finished wood and slightly steampunk-feeling details. But it still feels airy, with huge windows looking into the distillery. Occasionally, you can spy tour groups learning more about the distilling process. The mezzanine area adds extra space for private parties, and a cozy nook with a sofa can be found under the stairs. While the tasting room has some outdoor tables, the restaurant doesn't seem to have outdoor seating, although I've heard a rumor of a rooftop bar coming this summer.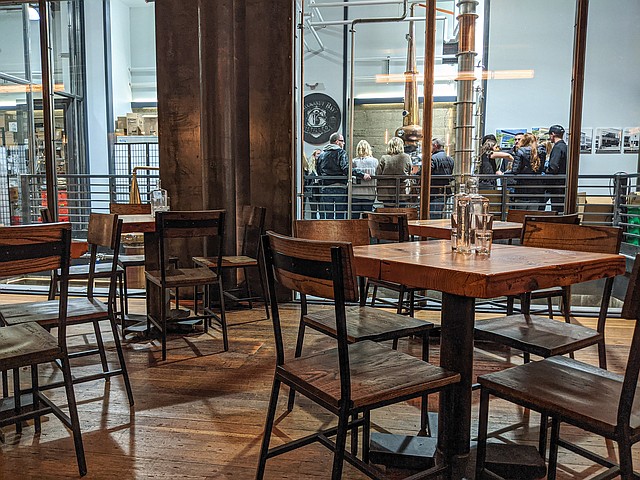 It's all about the drinks here, of course, showcasing Chuckanut Bay's lineup of spirits. The cocktail menu has a lot of classics, renamed with local flair, like the Whatcom Whiskey Sour or the Bayview Corpse Reviver #2, as well as some originals. When I was recovering from a nasty cold, I very much enjoyed the Fairhaven Pharmacy Penicillin ($14), a happy glass of blended Scotch, lemon and honey-ginger syrup, with a nub of crystallized ginger as a garnish. They make a very good dry martini ($13), which you can personalize with Chuckanut Bay's gin or either of their vodkas, then add olives, lemon peel or orange bitters — or make it dirty with olive brine. The Penny's Purple Lady ($13) was also a favorite, with gin, lemon, triple sec and an egg-white float. 
To keep their drinks company, diners will find a food menu with a Mediterranean vibe, with lots of garlic and herbs. Although prices might seem a little high, everything is designed to share. If you're just snacking, the mezze platter ($25) is a great choice, but if you're hoping for a full dinner, we found three plates was a good amount for two people, if it included a flatbread, a meat, and a vegetable or salad.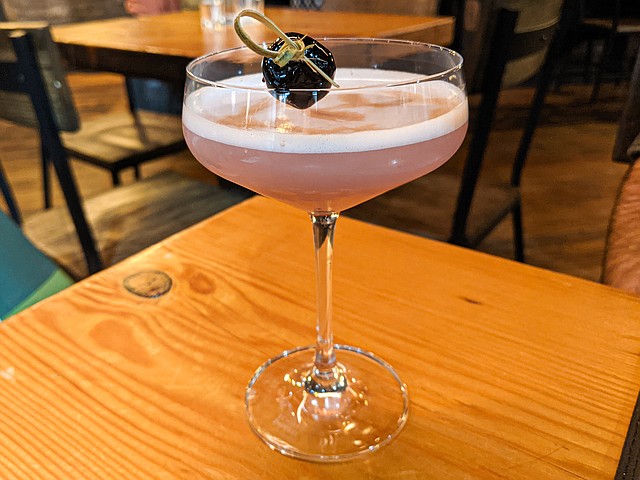 The more people in your party, the more you get to try. I suggest ordering in courses, so everything doesn't arrive at once (tables are a bit small to fit in multiple plates). Menu items are helpfully marked as vegetarian/nut allergy/dairy-free/gluten-free to make it easy to order, and recommended cocktail pairings are suggested for each dish. 
My favorite dishes here have been the flatbreads. The Flatbread de Valencia ($19) is my personal favorite, piled with tender eggplant, Shishito peppers, olives and arugula, giving it a savory and wonderful flavor, like a deconstructed caponata. The Spanish Flatbread ($23) is a close second, with sun-dried tomato sauce, spicy chorizo and an absolute ton of roasted garlic, adorned with a few tiny sweet-hot peppers. Both of these were so generously topped they were difficult to eat by hand without making a huge mess. In retrospect, we should have used a knife and fork.
To accompany the flatbread I enjoyed the Green Man's Garden Salad ($9), with fresh greens, thinly sliced radishes and scallions, laid on a bed of thin strips of cucumber, and a white balsamic dressing made with Chuckanut Bay's Green Man's Dram; it was very fresh and good.
On our last visit, we tried the Patatas Bravas ($13), and I will probably have to get them every time I come here from now on. Too hot to eat when they arrived in a cute little cast-iron skillet, the potatoes proved so meltingly tender and tasty that we scalded ourselves anyway. Drizzled with a creamy sauce and spicy bravas sauce, every last morsel and drop got scraped up before we let the server take the dish away.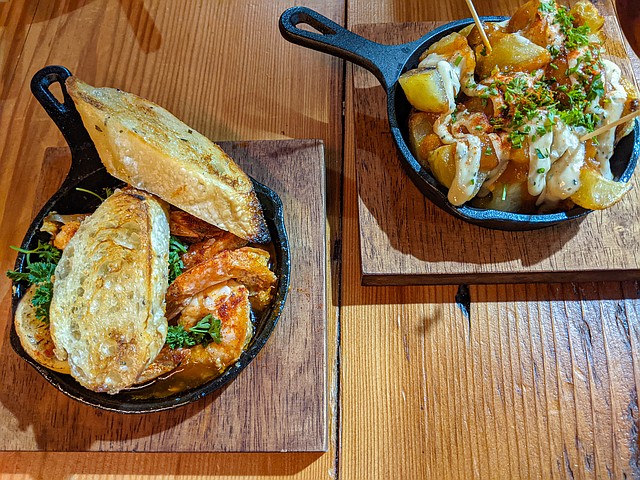 Several meat dishes are also on the menu, including Cast Iron Catalan Shrimp ($23) and Tuscan Ribs a la Rosticceria ($24), but at least when we ordered them they were both lacking. The shrimp came in the same adorable cast-iron pan as the potatoes, in a pool of flavorful paprika- and garlic-spiked oil, but the shrimp themselves were desperately overcooked (although we did enjoy dipping the provided toasted baguette into the spicy oil). The ribs, on the other hand, were perfectly cooked, with tender meat falling off the bone, but the red wine agrodolce sauce had very little flavor and tasted totally unsalted. 
For dessert, my dining partner tried the Krampus sundae ($11). A scoop of chocolate ice cream (balanced precariously on a lot of whipped cream, which made it swirl around like a ball bearing) was topped with marinated cherries and a chocolate sauce made with Krampus hazelnut and spice liqueur. Mint crystals were a nice touch, making it delicious as well as a very festive-looking dessert to finish off your evening.


Penny Farthing is open from 4–9 p.m. Tuesday through Friday, and 2–9 p.m. Saturday and Sunday at 1309 Cornwall Ave. Info: chuckanutbaydistillery.com.