Visual Art
At MoNA, 'Permanent Immigrant' rewinds an artist's career
Paintings, sculptures bring Italo Scanga's visions to life
March 23, 2023 at 5:00 a.m.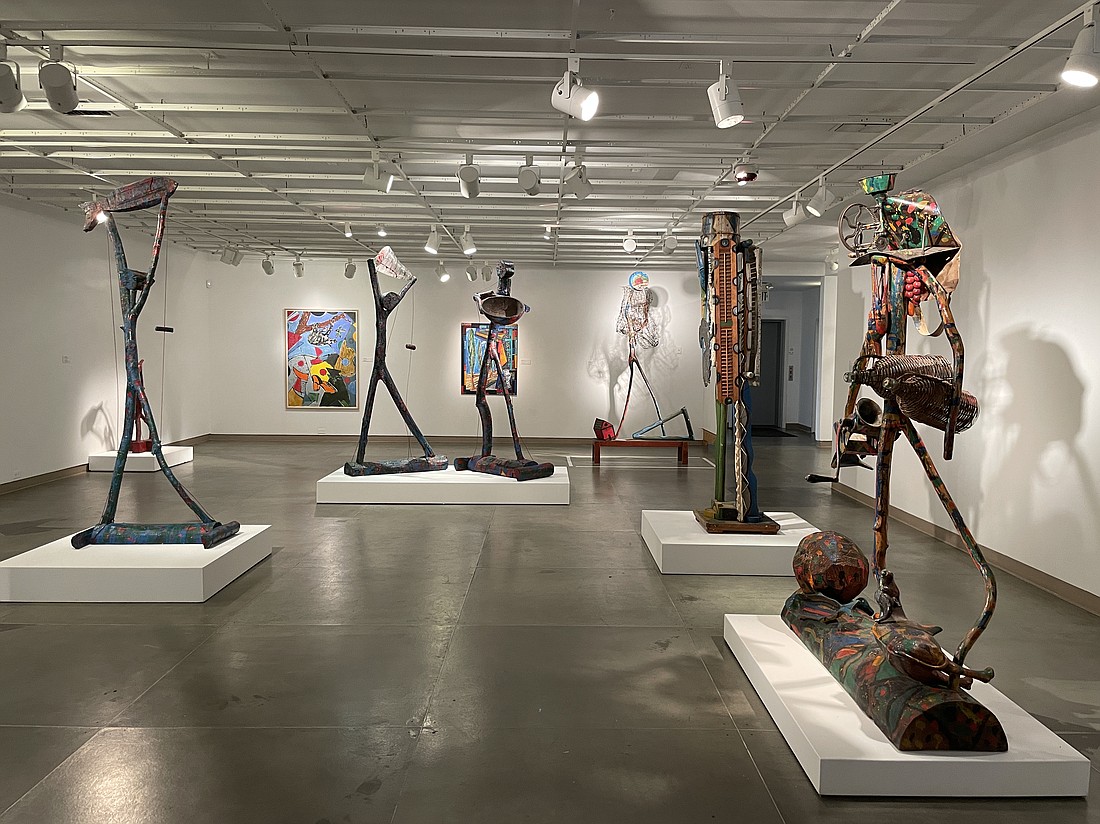 ---
---
Italo Scanga has been called a "permanent immigrant" for his peregrinations from America to his birthplace in the Italian region of Calabria. 
A child of peasant immigrants to the U.S., Scanga put himself through high school in Michigan while working nights at General Motors. Following two years with the U.S. Army in Austria, he obtained a degree at Michigan State University, achieved recognition for his art and taught at several universities. By 1978, he had settled into a tenure track at the University of California San Diego in La Jolla. And everywhere, the charming, innovative artist made friends. He passed away in 2001. 
The exhibit of his work at the Museum of Northwest Art (MoNA) in La Conner, "Permanent Immigrant: Italo Scanga in the Dale and Leslie Chihuly Collection," ranges from beautiful paintings to strange, attenuated wooden sculptures, reminiscent of those of his Swiss contemporary, Alberto Giacometti.  
On the ground floor are some of Scanga's works from the collection of the Chihulys and more on the second floor, along with works by other artists under the rubric "Geppetto's Children: Italo Scanga at Pilchuck Glass School." Both exhibits were curated by Seattle art critic Mathew Kangas, who was commissioned by glass master Dale Chihuly to write Scanga's biography.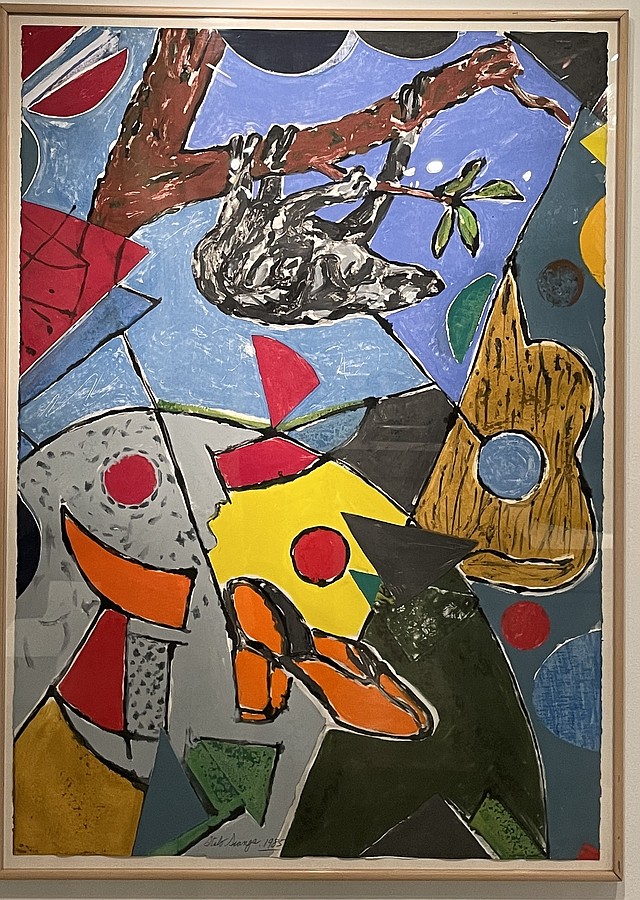 Scanga met Chihuly when teaching at Tyler School of Art in Philadelphia, and they became lifelong friends. Once Chihuly relocated to Washington state, the personable Scanga became a regular member of the summer team. Glass artists appreciated his help during the frenzied, all-night sessions at the furnace. Days, Scanga mentored the work of summer residents and created his own art from salvaged wood and secondhand-store treasures.
A tall candelabra of brass figures greets museum visitors; it's made up of a rabbit, two horses, a  dolphin, a pair of long-necked birds and a Buddha, all expertly soldered together. The museum tag reads, "Animal Nirvana." It's "the apotheosis of the artist's obsession with castaways found in thrift shops … redeeming the worthless and inconsequential … [returning] to his roots in the Italian-American Arte Povera movement." (Of which Scanga was not an actual member.)
"Animal Nirvana" is accompanied by three of Scanga's wooden "Polychrome Heads." These small, cubist sculptures are some of his finest pieces. Unfortunately, a larger and more dramatic "Polychrome Head" might be overlooked, around the corner to the right. Scanga acquired woodworking skills as a child when he apprenticed to a furniture-maker during the war as the family waited for peace, when his father would be able to bring them all to America.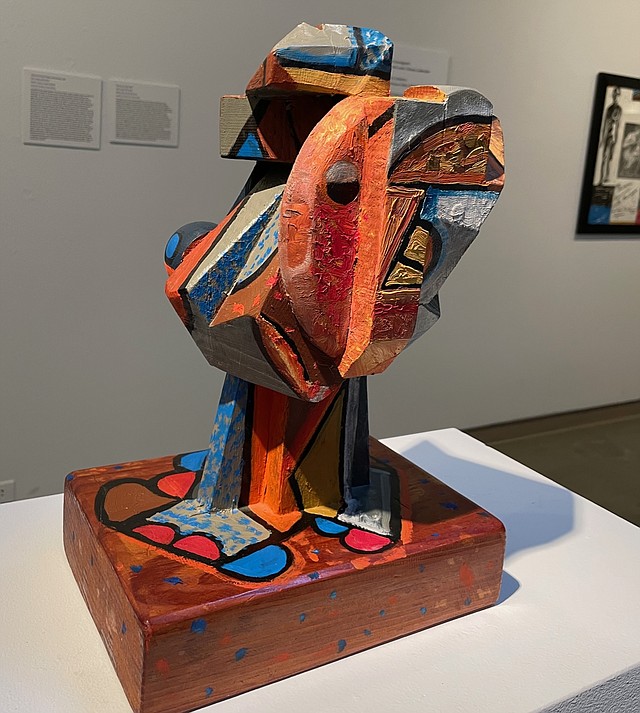 The main floor gallery is dominated by looming, spindly, humanoid figures assembled from tree branches and objects found in secondhand stores — coffee grinders, wicker-covered wine bottles, wire mesh, etc. Some are part of his "Fear" Series, such as "Fear of Drinking (Male)," made in 1980. The Fear Series has been linked to the theme of anxiety in post-war European art, film and literature, evidenced in the work of Alberto Moravia, Cesare Pavese and even W. H. Auden.
Still, it's hard to think of "fear" when you watch the video of the good-natured and charming artist which plays in the Benaroya Glass Gallery. And his gaily painted two-dimensional works, "Sloth" (1985) and "Trees and Head" (1987), are marvelous compositions. 
Scanga appeared to have had little use for religion or even the heritage of Italian art — why else does he scribble over holy pictures ("Ten Saints") and desecrate the image of Caravaggio, calling him "Il Pittore Maledetto?"
The second-floor gallery reflects not only aesthetics but also some of the social concerns of the museum. There remains the magnificent 28-by-7-foot mural painted by Skagit artist William Cumming in 1941, lost in a barn for half a century and now beautifully restored. It's a favorite of visitors.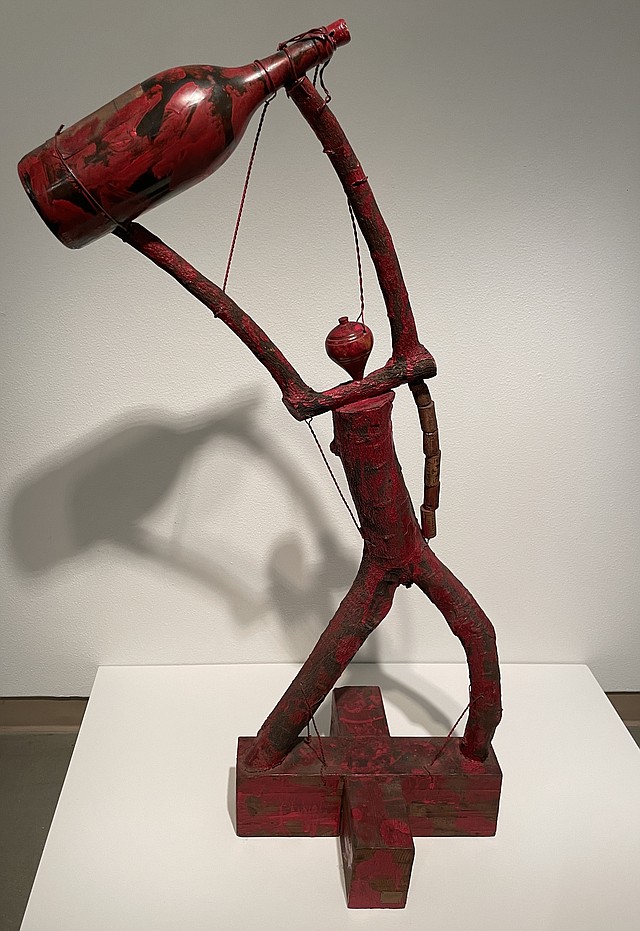 At the opposite end, the museum's dedication to the causes of missing and Indigenous women on one side and children's art on the other leave only the partial north, the south wall spaces and the center floor available to "Gepetto's Children." This pays tribute to Scanga's encouraging presence at Pilchuck by displaying examples of the work of attendees, in addition to a few more Scanga originals: "Cypress Tree" (mixed media, 1993); a glorious painting of green on metallic gold; and the work titled "For Dale — Dog and Macchia" (mixed-media, 1985), a lively abstraction featuring a dog and mountain peaks.
Among the many works of the "children," I was seduced by Walter Lieberman's "Venus of Victory," (1991, enamel on plate glass) and John Buck's elegant carved statue in cottonwood, "The Calling" (no date). Here also is a blown-glass masterpiece by Dale Chihuly, "Shell Pink Macchia with Lime Lip Wrap" (1987).
Watching over the second-floor exhibit is my favorite wooden statue by Scanga: "Untitled" (Metaphysical), circa 1985. It's been accomplished with more taste and care than most of the other standing statues: the coloring is harmonious, even glossy, with a pleasant human face peeking out. Why is this piece upstairs, rather than welcoming visitors under the spotlight at the entry? We leave such questions to the curator.
See "Permanent Immigrant" from noon to 5 p.m. Sunday and Monday, and 10 a.m. to 5 p.m. Tuesday through Saturday through May 14 in La Conner at the Museum of Northwest Art, 121 S. First St. Entry is free. Info: monamuseum.org.