Soccer
Lynden rivalry match ends with stalemate
Lynden, Lynden Christian tie for first time since 2018 with 1-1 result
March 16, 2023 at 7:45 p.m.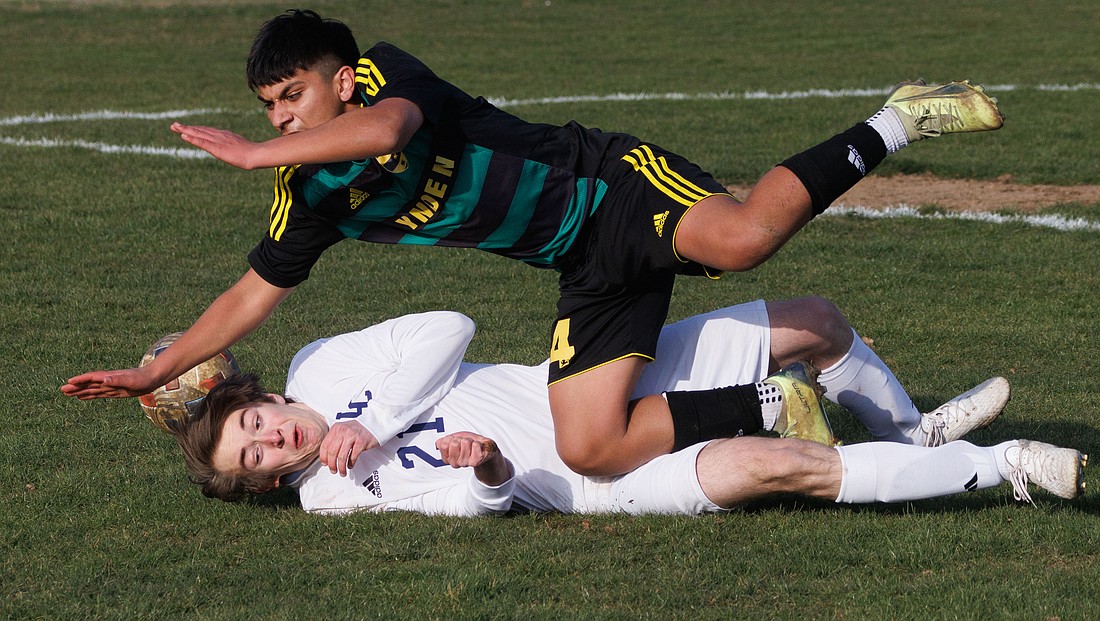 ---
---
LYNDEN – This draw didn't invoke the same feelings for both teams.
In-city rivals Lynden and Lynden Christian had an early-season non-league match end in a tie, 1-1, at Bender Fields on Thursday night.
The match marked the first draw between the two teams since March 26, 2018, as Lynden had won the previous three contests. 
"I have so much respect for Drew [Smiley] and his program. They're well-coached, they're tough, they're technically gifted," first-year LC coach Chad Fakkema said. "To pull that off, that was awesome. I'm so happy right now."
LC, clearly elated by the result in its season opener, graduated 17 seniors at the end of last season and presently has no seniors, three juniors, nine sophomores and six freshmen on the roster.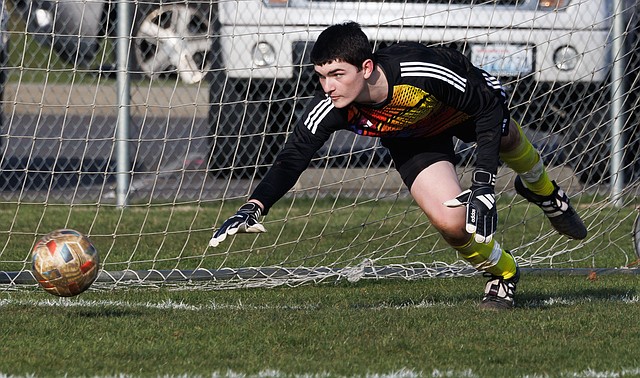 Lynden is a veteran team with 13 seniors that was coming off a 3-0 loss to defending 2A state champion Squalicum on March 14.
"We're young, we're going to develop them, we're excited for the future," Fakkema added. "I told the boys 'there's no expectation for you guys this season.' All we can do is surprise people."
Lynden controlled the pace and the ball essentially the entire game. The Lions stayed on the attack, taking 22 total shots on goal, but were unable to convert a single one as their only goal came in the 43rd minute on a penalty kick.
The Lions' inability to put the ball in the net through two games so far this season has the team frustrated — especially against a team they expect to beat.
"It doesn't matter how many shots you have, that doesn't go on the scoreboard," Lynden coach Drew Smiley said. "I expected us to put six, seven, eight goals away today."
LC went up 1-0 in the 18th minute on a perfect setup that was finished by Lyncs sophomore Gunnar Parriera. The shot was one of just three shots on goal LC had the entire first half, and it led by that margin at halftime.
Lynden earned a free shot at the net in the 43rd minute when a poorly angled tackle on Lions senior Collin Anker set fellow senior Sawyer Johnsen up with the penalty try.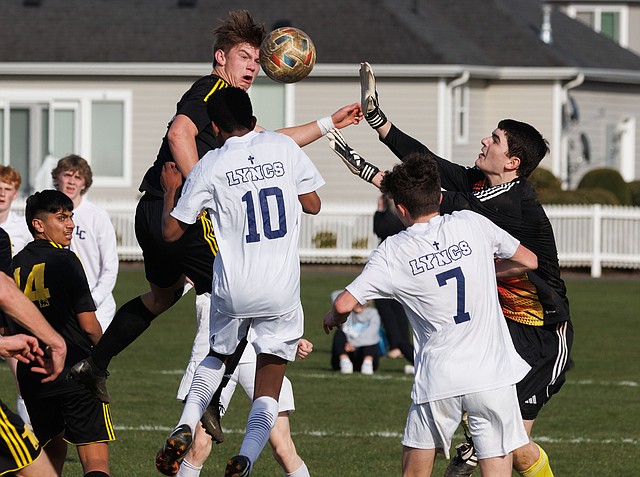 Johnsen buried it in the lower left corner, and that draw persisted for the remainder of the match.
All told, LC had just four shots on goal the entire game and one in the second half. The Lyncs made them count, as an attempt with about 10 minutes remaining went narrowly wide of the left post on a breakaway that could have won it for the Lyncs.
While having freshman goalkeeper Judah Calvin on edge the entire match wasn't necessarily the plan for LC, the conservative approach seemed to work in its favor, and Calvin held up well in the goal.
"My style of soccer is attack, attack, attack. Against Lynden you can't do that," Fakkema said. "We knew that they send balls long, so we were going to play conservative and work our way up."
LC is now 0-0-1 to begin its season, and the Lyncs will stay home to face Oak Harbor (0-0-1) at 2 p.m. Saturday, March 18.
Lynden, now 0-1-1, will look to put a notch in the win column when the Lyncs travel to Anacortes (0-0-1) at 1 p.m. on March 18.
"I think we just need time," Smiley said. "We've got a lot of guys who didn't do anything in the offseason, so we're paying the price right now. They think they can come out and play, just because they're athletes, and it doesn't work."