Basketball
Dunks, triples and smiles: The Whatcom County Senior Classic
Local hoopers compete one last time as county teams sweep games
March 11, 2023 at 5:19 p.m.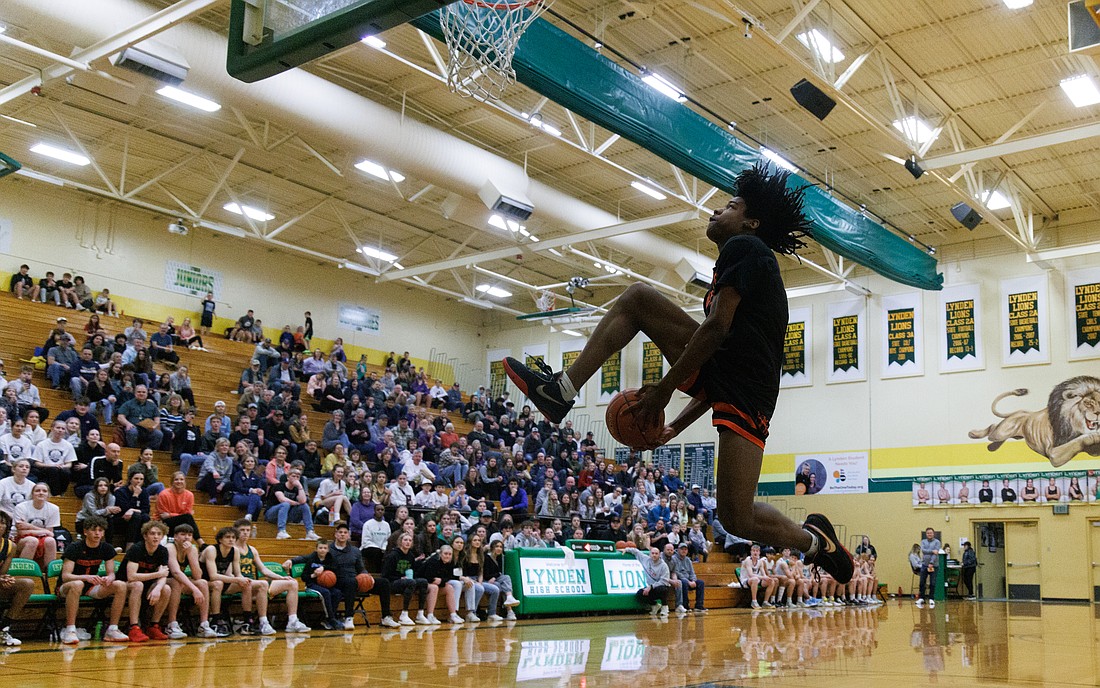 ---
---
The Whatcom County Senior Classic basketball event, hosted annually at Lynden High School's Jake Maberry Gymnasium, put a bow on the prep basketball season March 10.
No matter how a team's season ended — good or bad; on a high or low note — local seniors all got to compete in their high school uniforms one last time.
For those new to the event, senior boys and girls  are split into two teams: City and County. 
The City teams are comprised of players from Bellingham, Sehome, Squalicum, Blaine and Ferndale. The County teams are made up of Lynden, Lynden Christian, Meridian, Mount Baker and Nooksack Valley, while Lummi Nation athletes played for City in the girls game and County in the boys game.
There are five competitions held at the event. The girls kick things off with a 3-point contest, followed by an extended, collegiate-length game with 10-minute quarters. The boys get the same treatment, but a dunk contest precedes the aforementioned items and is perhaps the biggest driver of fan attendance.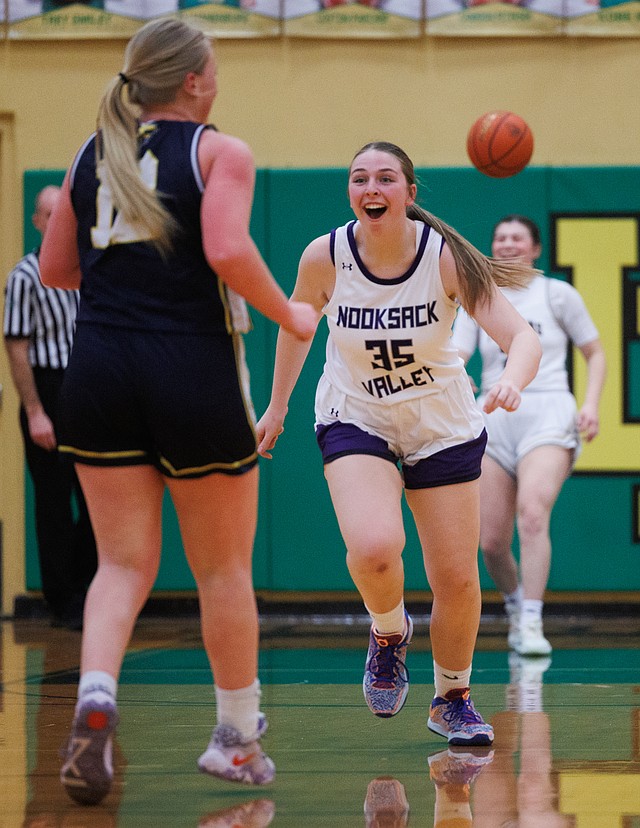 Girls 3-point contest champion: Hallie Kamphouse, Nooksack Valley
NV's sharpshooting senior landed herself in the finals after sinking five-straight triples in the first round. Kamphouse defeated Ferndale's Cailyn Kessen 11-6 in the finals after another impressive stretch of buckets.
Boys 3-point contest champion: Lucas Smith, Blaine
Smith might not have the quickest release on his 3-point shot, but he makes up for that in efficiency. Blaine's floor general was tasked with defeating Lynden's Trey Smiley, who ignited the crowd after draining 11 3-pointers in the first round — a hidden skill set he doesn't often exercise during games. Smiley cooled off in the finals and Smith won 7-2.
Boys dunk contest champion: Grey Garrison, Sehome
Full disclosure: I was one of the five judges for this event. Whether that makes me more or less credible to discuss this, I'm not sure.
The event began with five contestants: Meridian's Hunter Jones, NV's Ayden Roper, Blaine's Mathew Russ, Sehome's Grant Kepley and Garrison — all very talented athletes.
Russ and Garrison moved on to the finals, and the 6-foot-7 center from Sehome possessed the clear height advantage. Garrison took home the crown, outscoring Russ 137-120.
City vs. County girls basketball game: County 64, City 49
Full disclosure (again): I was on the bench as an "assistant" coach for the County team and was very influential in the team's perfectly executed full-court press that allowed just five points in the second quarter. I also led a "County on three!" chant that really energized the team. That being said, head coach Ryan Dykstra deserves all the credit for the win.
City managed to trim a 12-point third-quarter deficit to just five heading into the final 10-minute period, but County's 18-point effort in the fourth quarter powered them to the win.
Multiple halfcourt shots connected, highlighted by a perfect swoosh from Ferndale's Madisyn Butenschoen for City and a galvanizing long triple from Lynden's Chloe Wittenberg as County's only player on the floor at the time.
Both teams combined for 19 3-pointers in a game that saw LC's Daisy Poag lead all scorers with 17 points on five triples. City was led by 14 points from Sehome's Mac Cooper.
County had what some may consider an unfair advantage with five Lyncs players — enough to create a full lineup — all on the same team. They were, unsurprisingly, quite effective when all in the game at the same time.
LC's Alexie Hagen tallied 10 points for County while fellow Lyncs Demi Dykstra and Taryn Herwerden each totaled six. Wittenberg and Meridian's Maris Baklund finished with five, while the Trojans' Avery Neal and NV's Taylor Lentz each totaled four. NV's Ella Perry (three points), Kamphouse (three points) and Reganne Arnold (one point) rounded out County's scorers.
Lummi Nation's Raven Solomon totaled seven points for City, while the Blackhawks' Aliesha Solomon and Ferndale's Kessen finished with six. Ferndale's Ashley Lang added five while teammates Ellie Ochoa (three points) and Butenschoen (four points) contributed.
Bellingham's Ellie Wolverton (four points) and Squalicum's Callie McEachran (three points) wrapped up City's scoring. 
Mount Baker's Jojo Lindsey and Sehome's Madi Hogan did not score, while the Mountaineers' Madison Barter competed in the 3-point contest but not the game due to injury.
City vs. County boys basketball game: County 109, City 97
It was close for a while, but once the County boys took the lead in the second quarter they never looked back.
If you like 3-pointers and dunks, you'd have enjoyed this one. Both teams hoisted up plenty of shots from beyond the arc, tallying 31 makes between the two groups — 17 from City and 14 from County.
Defense was certainly not a focal point for either team, and the extended quarters allowed for plenty of scoring. Jake Locker, a former quarterback for Ferndale, the University of Washington and the Tennessee Titans of the NFL, helped lead City as one of the team's two head coaches.
Meridian's Jones led all scorers with 19 points for County, all on shots inside the 3-point arc. Squalicum's Xander Sledge led City by doing the exact opposite, posting 18 points on six 3-pointers. 
NV's Roper added 16 points for County, while Lummi Nation's Richard Wilson finished with 14 and LC's Tyler Sipma tallied 11, along with a fair bit of assists on passes you'd only expect to see in a pickup game at the local park.
Lynden's Kobe Baar finished with 10 points while teammates Coston Parcher (nine points) and Trey Smiley (five points) turned in a few buckets. LC's Dexter Zylstra (nine points) and Lane Dykstra (six points) joined NV's Bennett DeLange (five points) and Mount Baker's Ethan Larson (two points) in rounding out County's scorers.
City's scoring was more top-heavy, as Sehome's Garrison (15 points) and Kepley (13 points) joined Blaine's duo of Smith (13 points) and Russ (12 points) in helping lead City's offense.
Sehome's Isaac Lawrence totaled seven points, Blaine's Carson Lehnert added five and fellow Borderites teammate Ethan Koreski joined Bellingham's Grayson Stone in finishing with three. Ferndale's Damien Toney (four points) and Sehome's Dane Dominguez (two points) wrapped up the scoring for City.