Restaurants
Review: Homeschool BBQ
Sunnyland eatery earns passing grades across the board
March 9, 2023 at 5:00 a.m.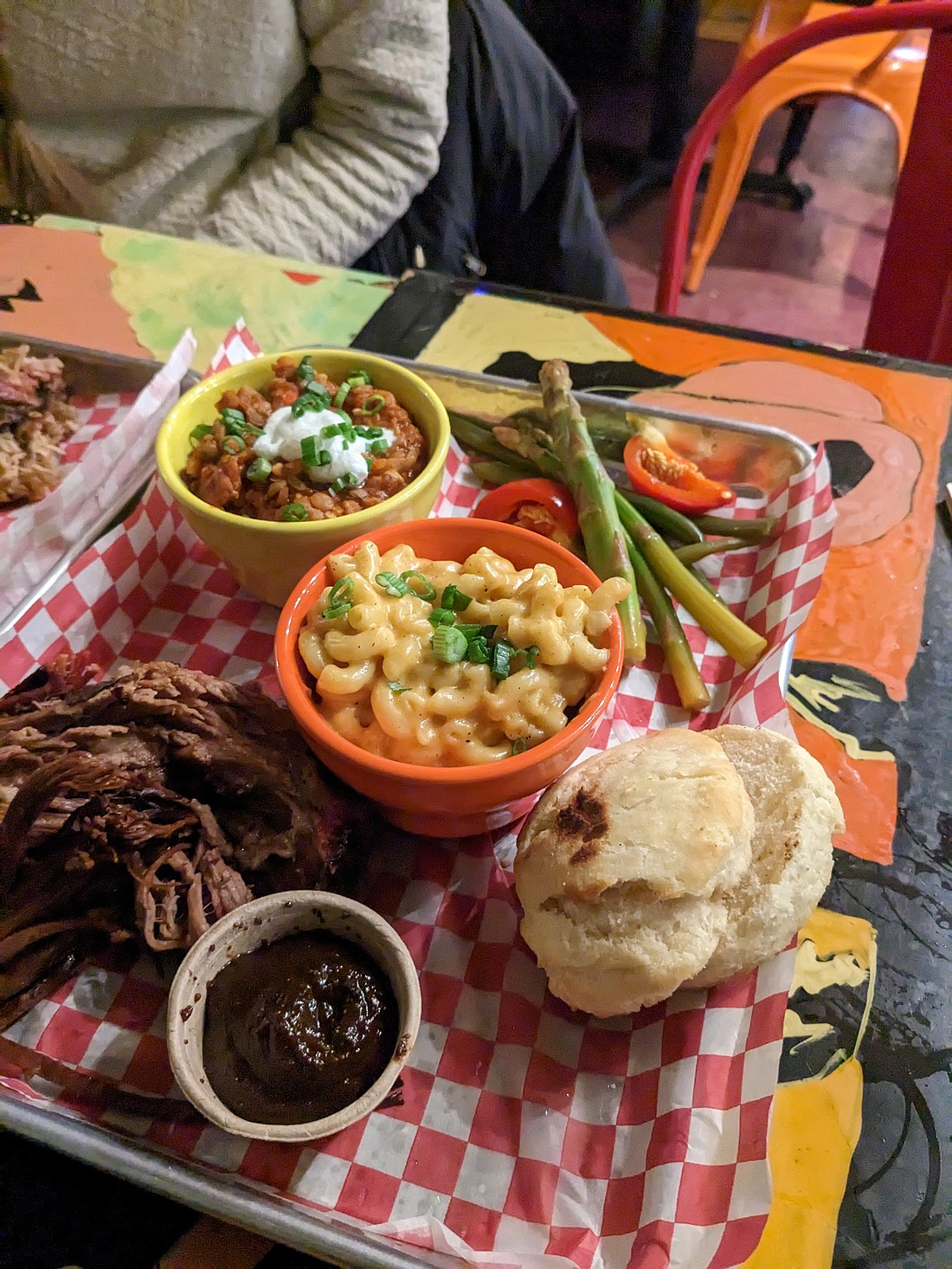 ---
---
Behind me sits a gnome. Next to that gnome is another. In fact, upon examination, there are actually five gnomes sitting behind me. They're not eating, so I assume they're part of the staff. 
Yes, folks, you've guessed correctly: I'm in the former Homeskillet dining room. Homeschool BBQ, the new occupant of this colorful building in the Sunnyland neighborhood, has chosen to maintain the incredibly eclectic decor. In my opinion, it was the right decision.
Looking a lot like your favorite great-aunt's sitting room, the small space is bright and vibrant. Large parties may want to consider going elsewhere, however. I couldn't see any seating that could accommodate more than four (or five, if you're intimate). A patio is in the works, and will certainly be a welcome addition. With a painting of a cow and a pig staring at me, I got to ordering their hopefully well-cooked counterparts.
The menu stays true to a classic barbecue menu, with a few interesting exceptions. A tikka masala option for the mac and cheese and a kimchi chili are obvious standouts. I'll go ahead and admit I didn't bother — like hash browns or drip coffee, the basics are where a barbecue joint should be judged. Brisket, pulled pork, pork belly, cowboy lentils, mac and cheese, potato salad, coleslaw and biscuits felt appropriate.
But first, a Tex-Mex bean dip ($12). Served alongside fresh tortilla chips, I was very much reminded of the seven-layer dips of Super Bowls past. This is more elevated, swapping out pre-made ingredients with thoughtfully prepared fresh variations. I'm allergic to avocado, but that didn't stop me from going in for a few extra bites. Facial numbness aside, it was very good.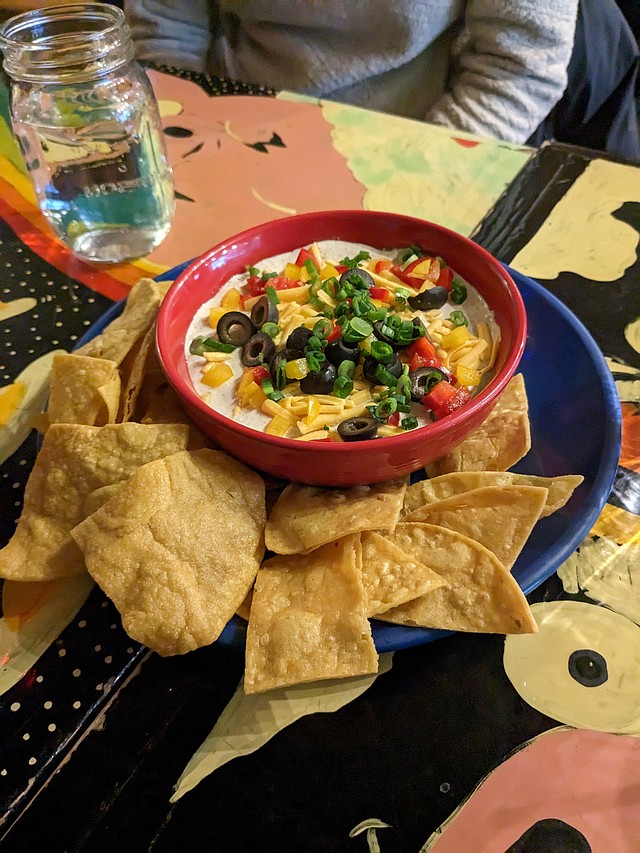 The brisket plate ($26) came with a half-pound of brisket, two sides and house pickles. To my surprise, the pickles were a fun assortment of asparagus, string beans and peppers. The brisket was excellent — juicy and toothsome, but not greasy. They mention a smoke followed by a roast to finish, leading to a softer exterior. I'd have loved more bark, but that's a personal preference from someone fond of burnt ends. 
On the pulled pork plate ($22), I opted to add a side order of pork belly ($9). The pulled pork is finished on a griddle, giving it a crisp underside that I didn't personally care for. Again, the menu calls out "smoked and roasted" — see a theme materializing? Smoker purism aside, I liked it in conjunction with the barbecue sauces on offer. My favorite was the black garlic bourbon, followed closely by the coffee-and-brown-sugar "Betty's Backyard BBQ." 
Pork belly, one of my favorite proteins, is not one I'm used to seeing on barbecue menus. Smoked with black tea and braised, this is, if I'm not mistaken, a take on a Chinese dish. This is not a traditional smoke; black tea not handling the temperature of most smokers. It is quite nice — but once again, we're butting up against that deviation from traditional smoking.
The sides, however, stayed on the straight track. The mac and cheese was gloriously unpretentious — no panko, no bacon, no penne. I, unfortunately, had to share this with others, so I'd suggest getting your own. The coleslaw and potato salad were both light and tart, making for a much easier eating experience than the mayo-heavy cookout staples you're probably used to.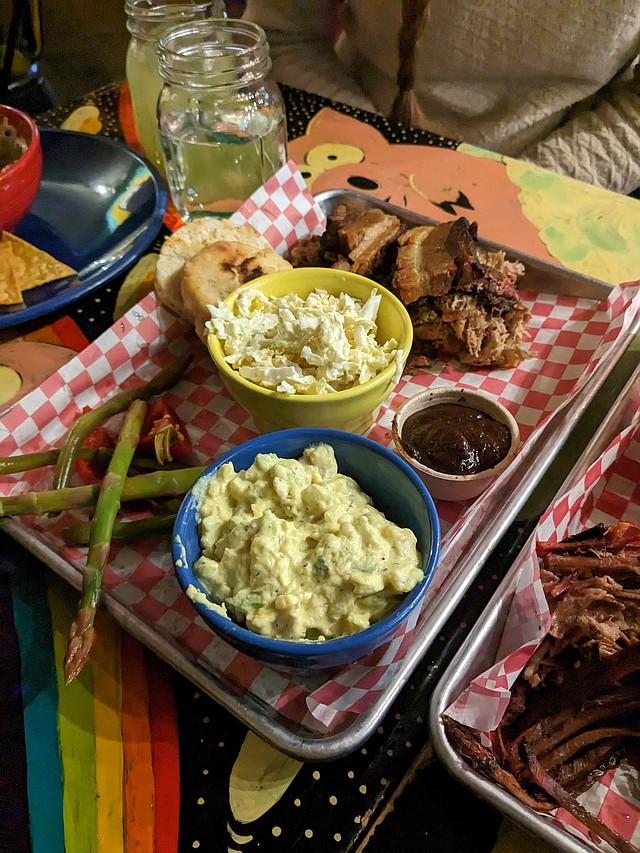 The real standout here was the cowboy lentils. Lentils are one of those legumes that benefit from a skilled hand, lest you end up with a dish that tastes … healthy. These lentils were flavorful and bright, bringing in some heat in the form of their tomato-based sauce. It reminded me a lot of a Caesar, probably owing to the celery. This is another one I'd defend from others at my table.
The biscuits ($3) were typical buttermilk biscuits. Having to add them on to an order instead of getting them with the plates was not my favorite thing, but understandable given the inclusion of two sides. Helping the margins a bit, I'd be happy with a slice of good white bread, Texas-style.
My first impressions of Homeschool were generally positive, but I don't think they'll scratch the itch if you're looking for traditional barbecue. 
The difficulties associated with barbecue are nothing to shrug at. Taking the route of smoking for flavor and roasting or braising to finish is, to me, a compromise that sacrifices texture for convenience. While there are ways to reduce the active time of barbecue classics that finish in a smoker, their scalability leaves a lot to be desired. 
Where this menu of solid "just about traditional" barbecue finds its strength will be in a neighborhood haunt much like Homeskillet of old. On opening night, a constant stream of longtime Homeskillet regulars came in to warm greetings and remembrances. Homeschool is picking up where its predecessor left off, with passing grades across the board.
Homeschool BBQ is open from 11 a.m. to 8 pm. Thursday through Sunday at 521 Kentucky St. Look for Henrietta, the giant painted chicken who resides out front. Call them at 360-812-6465, or search for them on Facebook.