Basketball
Standing atop a legendary ladder of hoops success
WWU's Carmen Dolfo leads another on-court 'family' into NCAA tournament
March 9, 2023 at 5:37 p.m.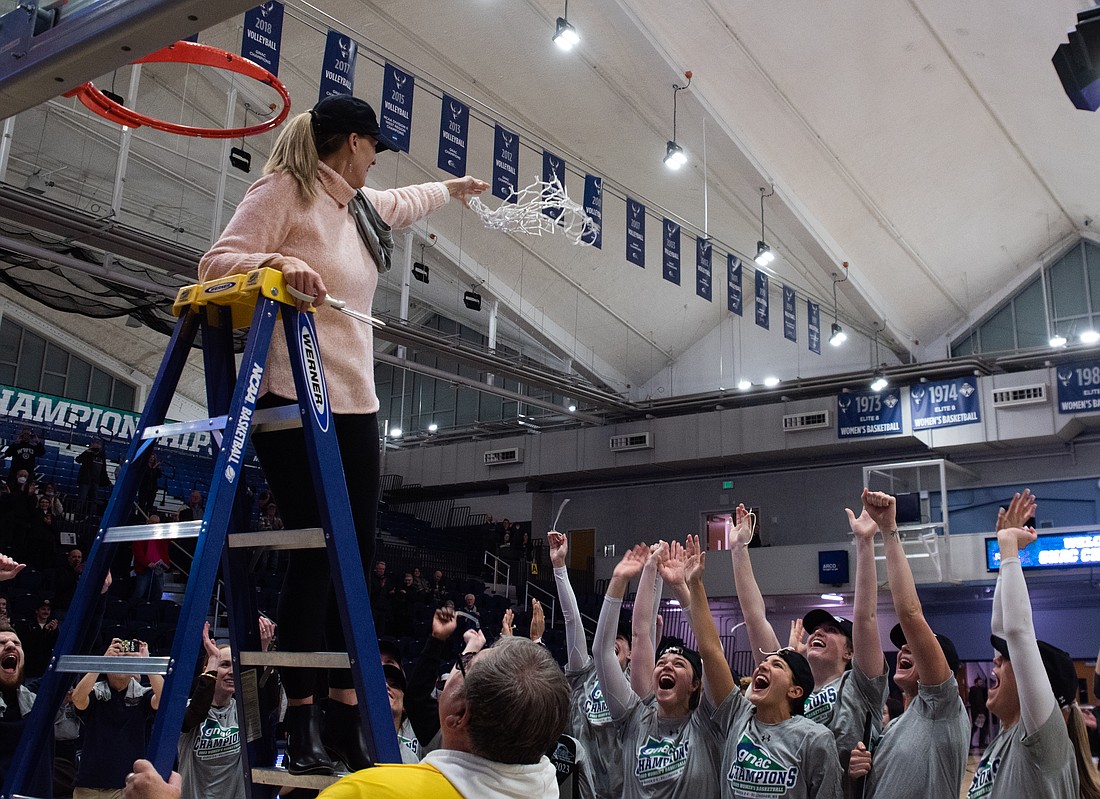 ---
---
Carmen Dolfo stood atop a ladder March 4 and snipped the last strand from a net in Carver Gymnasium. It never occurred to her to hang onto it, even for a second, before tossing it to her team gathered below. The net from the Great Northwestern Athletic Conference championship wasn't hers to keep, she said later.
"They are the ones who fought and did it, so I feel like it's for them," said Dolfo, Western Washington University's longtime women's basketball coach. "This is their team. I want to support them and lead them, but I mean, ultimately, they just did a fabulous job."
Dolfo's team-first philosophy can't obscure the fact that Western's remarkable success over the past three-plus decades can be largely attributed to the leadership of one person — the one who routinely makes players believe moments like last Saturday night's come-from-far-behind victory over Montana State Billings are possible.
In her 32nd season, Dolfo, 58, may be experiencing her finest run in a stellar career.
Another NCAA tournament looms
When the No. 2-seed Vikings (24-3) play their first-round West Regional NCAA Division II Tournament game against No. 7 Azusa Pacific at Cal State Dominguez Hills Friday afternoon, March 10, they will play as defending West Regional champions. 
Last year, the Vikings were national runners-up after reaching the NCAA national championship game for the first time in school history. The 2022 regional title advanced Western to the Final Eight for the third time (2000, 2013, 2022). The Vikings lost to Glenville State, 85-72, in the final of the 64-team tournament.
In the past four seasons (including the COVID-shortened 2020-21) Dolfo has led her teams to a combined 77-18 record, a .811 winning percentage, going 40-12 in GNAC play (.769).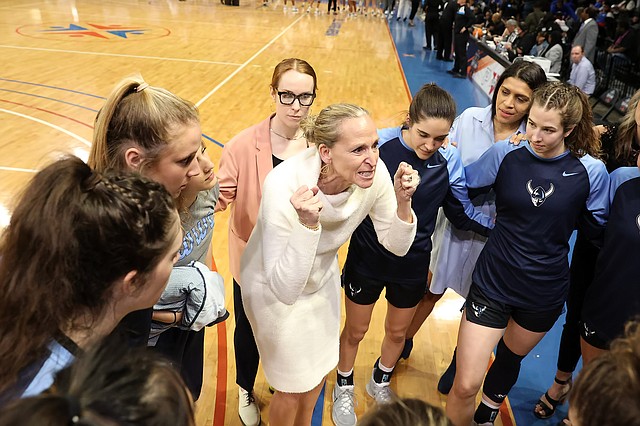 Dolfo's career record is 667-254 (.724). She has compiled 23 seasons of 20 or more wins and is the winningest coach in any sport in Western's history. 
"She's the epitome of the program," said Lynda Goodrich, longtime Western coach and former athletic director of Dolfo, who coached her for two seasons at Western before hiring her as an assistant and then head coach in 1990, when Dolfo was just 25. Goodrich and Dolfo are the only two coaches in the 52-year history of the modern women's program.
 "When you think of Western women's basketball, you think of Carmen," Goodrich said. "Frankly, she's one of the best coaches in the country at all levels. Not only in wins, but in how she develops her players as young women and how they develop as people. You've just got to take great pride in that."
A multi-sport star athlete
If it wasn't for volleyball, Western might not be so good at basketball. 
As an undergrad, Dolfo transferred to Western in 1984 after two years at NCAA Division II Biola University in La Mirada, California. Lured by California weather, the star four-sport athlete (volleyball, basketball, tennis, swimming) from Pen High in Penticton, British Columbia, was a standout basketball player at Biola but was disappointed when the school nixed her request to play volleyball, too.
Goodrich said Biola ended Western Washington's season in a 1983 NAIA bi-district game that sent the winner to nationals. Goodrich couldn't help but notice a 5-foot-11 player who played with uncommon intensity. 
"She got I don't know how many points scoring and rebounding," Goodrich said, "and just killed us. And she was a sophomore!"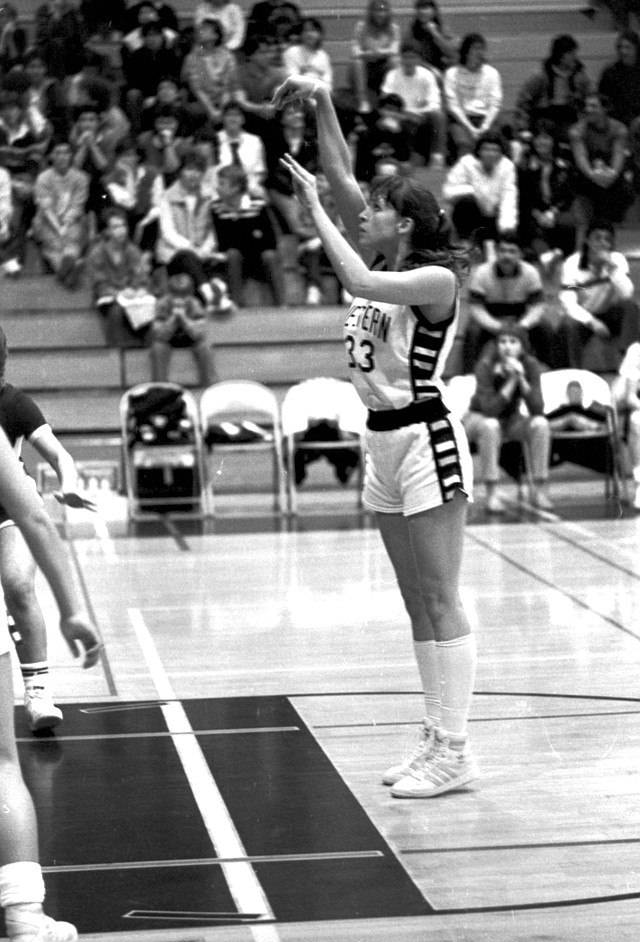 Dolfo had a connection to Bellingham because when she was 4 or 5, the family spent a summer in the city as her dad began his master's in education program at Western. Years later, he called Goodrich, saying his daughter was looking to transfer colleges. On her way back to school from spring break, Dolfo met Goodrich in her office.
"My friend and I swung by there just as we were driving home," Dolfo said, "and I just really liked it and when I met Linda I really, really liked her and I was closer to home."
Western sealed the deal — it would let her play volleyball.
"I was jumping for joy," Goodrich said. "As high as I can jump, yeah."
At Western, Dolfo would go on to play two years of basketball and be named a second-team NAIA All-American in 1986 as a senior, when she led the team with an average 16.8 points a game and helped lead it to the national quarterfinals. She lettered three years in volleyball as a setter, leading the team in assists in 1986 (with 792) and earning NAIA all-district honors.
She is one of only two people in any sport to represent Western in a national tournament as a player, assistant coach and head coach.
Coaching skills that transcend streaks
As good as she was as an athlete, Dolfo is an even better coach. She is the daughter of coaches and educators — her dad, a math teacher, coached high school hoops; her mom, a kindergarten teacher, coached in high school and elementary schools.
At last weekend's GNAC tournament, Western's players won on the floor, but Dolfo and her coaching staff also shined.
In spite of entering as the No. 1 tournament seed, Western came out in the seminal shooting cold, missing layups and getting outmuscled by rival Seattle Pacific, the fifth seed. In the kind of game upsets are made of, Western clawed its way to a 58-53 win. In the final against No. 2 seed Montana State Billings, the Vikings overcame a 17-point third-quarter deficit to win 76-71.
Dolfo's teams emphasize defense for good reason: Players can control the effort it takes to play good defense. They can't always control how well they — or an opponent — is shooting. In the second half of that SPU game, Dolfo challenged the Vikings to match SPU's physical game and play grittier defense. They wound up digging out a win.
In Saturday's final, it was a different story: Montana Billings was shooting lights-out. The No. 2 Yellowjackets hit 9 of 13 3-pointers (71%) in the first half.
Dolfo wins in all kinds of circumstances because she can coach the intangibles, too — like keeping her team from panicking when things aren't going well, or the other team is unusually hot. MSU-Billings' 3-point shooting went from 9 of 13 in the first half to 0 of 3 in the second.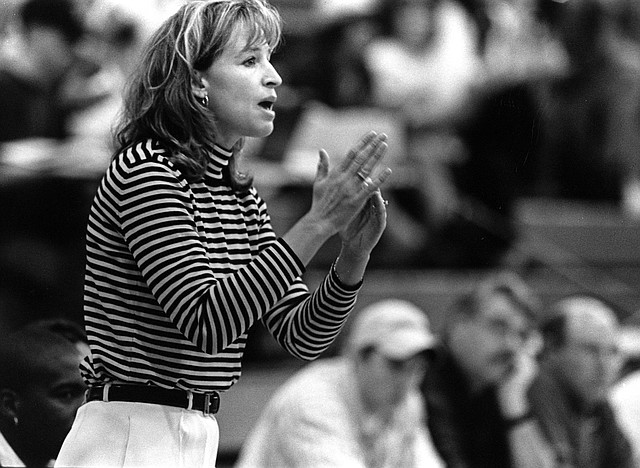 "They came out the second half and changed completely what they're doing," said Gracie Castaneda Phelps, a 2022 graduate and member of last year's team who now coaches at Blaine High School. "They pressured (the) ball, they took away tendencies, and they stuck together as a team. Making those changes in a game like that is really, really hard. But I think that speaks to how good Carmen is, as a coach and how bonded her players are to her."
Dolfo preaches being "in the moment" to her players to keep pressure at bay.
"We've just really tried to focus on one game at a time," she said. "And that's what this team does best. We are really talking about where we want to go, or what the next thing is. Ultimately, everybody knows what we want to do. But our conversation is the next team. And so hopefully, that can take some stress off them."
While Dolfo and staff recruit players who have won state titles or played in multiple state championships, they also look for players who show athleticism — soccer players make good basketball players, for example, Dolfo notes. They seek players who have grit and resolve.
But the biggest thing? Character.
"What kind of person they are," said 11th-year assistant coach Stacey Terrell. "We want to recruit good people. And I think that is part of why we are successful. We care for our team because we are so team-oriented. We have to have kids that think that way. It's not just all about one big star."
High standards, tight timelines
Those who know her say Dolfo is intense and direct, holding players and others accountable. 
Said Terrell: "If we're going to be in the gym 'til 4, then you better not come in until 4:01 … She's not yelling at people. She fights for what's right, she fights for the team."
Not for just small things, but big ones, too, like gender equity. While university budgetary bean counters at other conference schools discussed having men's and women's teams play the same nights and travel together, Dolfo said no.
Senior forward Katrina Gimmaka, who played for Nooksack Valley, remembers as a freshman being intimidated during early practices when there was so much to learn.
"She holds all of us to a very high standard," said Gimmaka, the team's second-leading scorer going into the GNAC Tournament, averaging 10 points per game. "She was always there to tell me the correction and give constructive feedback. I always looked at that as an intimidating thing when I was a freshman, but now I'm like, I need it. Give it to me."
Dolfo is fiercely competitive. As a younger coach, it took her days to get over losses. But having a family helped with perspective. Dolfo sometimes went on the road with her three children, with coaching staff and players pitching in to keep an eye on them.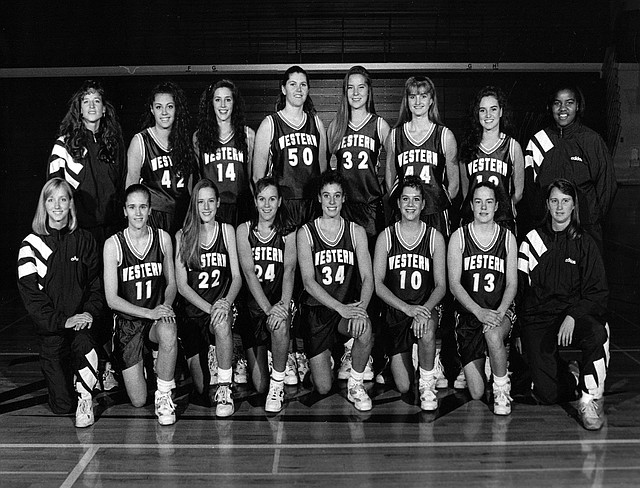 Dolfo's hard-won magic is that she can be demanding and still be in demand.
Brad Jackson, the 27-year former Western coach who led the men's team to a national title in 2012, for years shared an office next door to Dolfo.
"I would bet you that there aren't very many days that go by that she doesn't at least have some interaction with every player on her team," he said. "Whether that's in a formal sense sitting in the office during the day, or in a more casual sense, talking to players on the floor, talking to players afterwards. She and (husband) John are just amazing about opening their homes."
In 2017, Dolfo was the first adult Castaneda (now Phelps) told about the sexual abuse she had suffered by her stepfather growing up in Snohomish. With the support of Dolfo, Terrell and the team, Castaneda filed charges and testified at his trial. Dolfo testified on Castaneda's behalf. The stepfather was eventually convicted and is in prison. 
"The fact that she just was who she was as a person, so strong," Castaneda said of her coach. "She's such a good mentor and such a good leader that I just felt in my heart that this was the person I needed to open up to and she helped me on every single step along that way. And same with Stacey."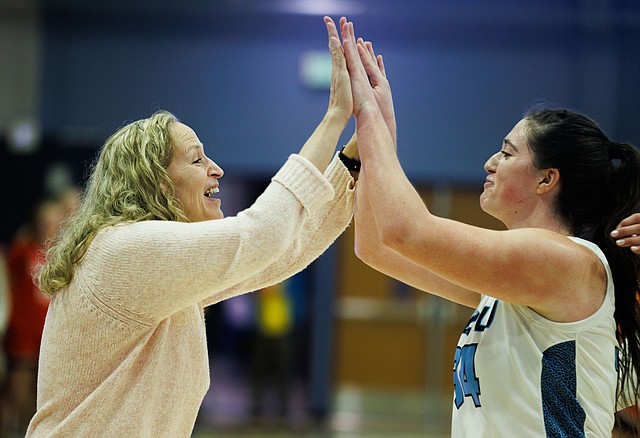 Gimmaka said the cliché is true about the team being a family. She noticed it during the recruiting process.
"I had a couple of other schools in mind," she said. "But it was how the team was like, how the girls were with each other. I was like, 'Oh my gosh, this is a family here.' And it's still like that. And I just I really love that … When I went to other schools, I just got like a selfish feeling from other girls. But coming here, it was like, everyone wanted everyone to do good. And I still get that feeling whenever I play with these girls."
As for Dolfo, "I think of her as my second mom," Gimmaka said. 
A family, on-court and off
Dolfo's family has basketball at its core. Husband John Garrison, sales director for British computer accessory company Targus, played for Eastern Washington and has coached youth teams. They met when Carmen coached John's sister, Chris, at Western. Last Sunday night, he and Carmen watched game film in the family media room.
 "He's been such a supportive guy," Dolfo said. "I'm so thankful. He's kind of jumped into this career. Because if he didn't, it would be so hard as a family. And he's been great that way."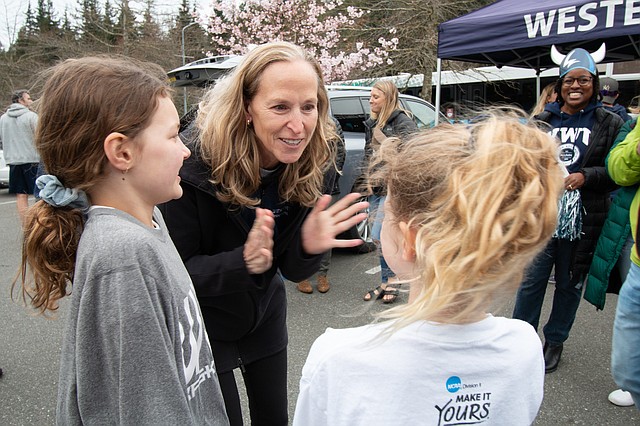 Son Grey just finished his senior season at Sehome High, where he was named first-team all-conference alongside cousin Grant Kepley, Chris's son. One of John and Carmen's two daughters, Aspen, is a sophomore playing for St. Mary's (California) College. Another daughter, Kennedy, teaches at Cordata Elementary.
With Friday's NCAA West Regional game, Dolfo, with one family supporting her and another playing for her, is eyeing the task at hand. Of course, the Vikings would like to return to the national title game. But the big picture is made up of smaller ones.
"The struggle we're having a little bit is putting a 40-minute game together," she said. "When you get to this place, if you don't put a 40-minute game together, teams are too good. We just can't do that. And so that's my goal for us. Sometimes we kind of see what other teams are going to do and then we respond. We just need to do a better job of setting the tone from the beginning."
One game, one moment, one team.