Drink Cascadia
Beer, tamales and inclusivity at El Sueñito
Sunnyland brewery emphasizes community and culture
March 8, 2023 at 5:00 a.m.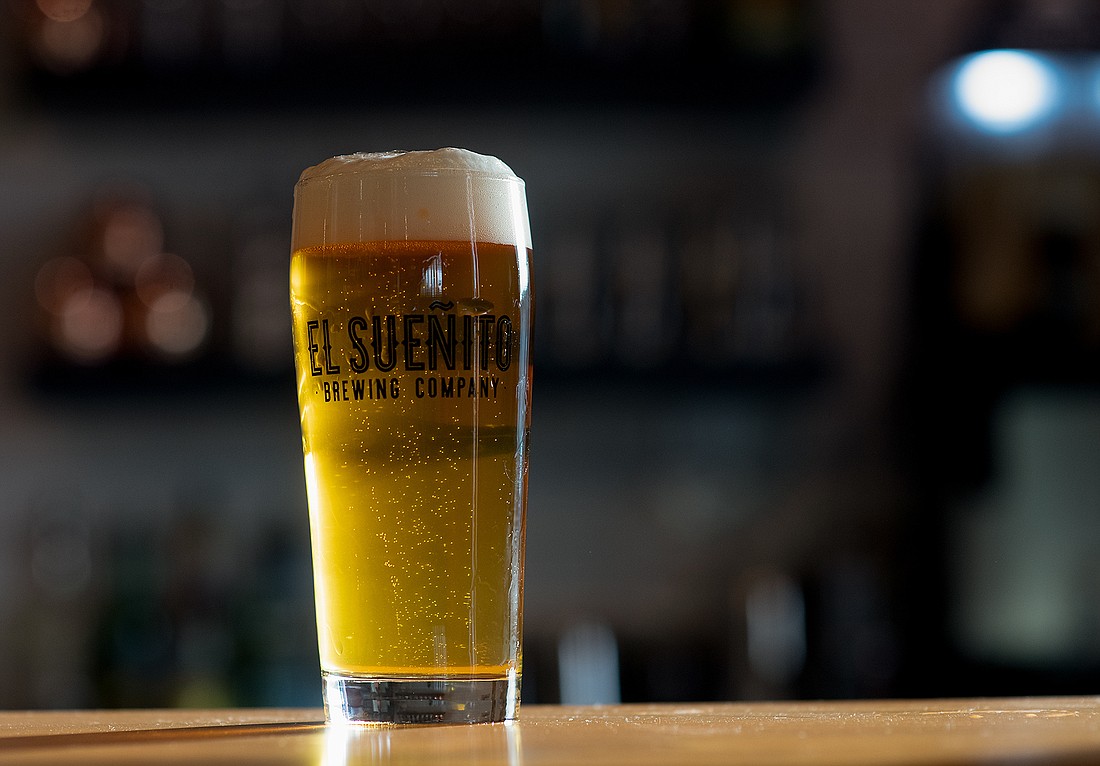 ---
---
Bellingham's highly anticipated El Sueñito Brewing Company opened on Feb. 17 in the Sunnyland neighborhood. More than 1,800 people turned out for the three-day grand opening weekend.
El Sueñito ("the little dream" in Spanish) is the dream of co-founders and spouses Osbaldo Hernandez and Dennis Ramey. The business began as a pop-up tamale shop, Frelard Tamales, in 2015 in Seattle. Frelard Tamales grew organically over the years, adding a brick-and-mortar location in Green Lake and now a sister business in Bellingham. If you've heard something about a hot new "brewery with tamales," this is the place.
Located in a bright orange building (a former auto shop) at 1926 Humboldt St., El Sueñito is at the center of Sunnyland's growing brewery blocks. Inside, the space is colorful and lively, with a massive mural covering one wall and unobstructed brewhouse views. A garage door will open to the patio during warmer months, effectively doubling the brewery's limited indoor seating. The inclusive space is family-friendly and dogs are allowed outside on the patio.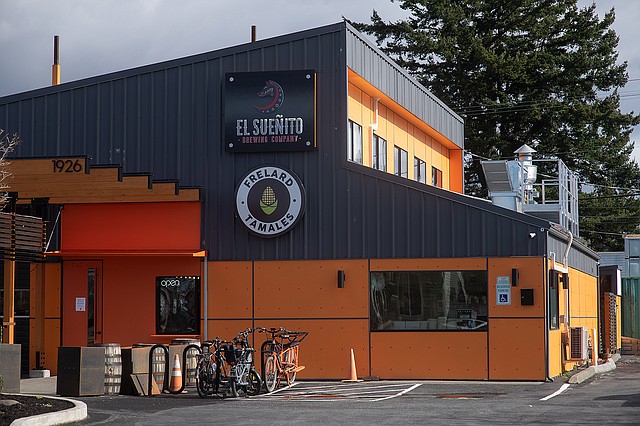 Every detail — from custom tap handles to gender-neutral restrooms — is intentional at El Sueñito. In addition to running a restaurant for years, Hernandez and Ramey spent a lot of time brewery-hopping for research. Together, they've visited more than 137 breweries in Washington alone.  
On the beer side, Ramey's professional brewing experience ensures a strong opening tap list. Ramey completed his Master Brewer Certificate from the University of California, Davis before brewing at Hellbent Brewing in Seattle.
El Sueñito opened with three original beers on tap: an IPA, a blonde ale and a pale ale. I tried all three and particularly enjoyed the aromatic, citrusy pale ale. Two collaboration beers were available during my visit as well — Baya Gose, made with Aslan Brewing, and Horchata Milk Stout, brewed with Kulshan Brewing. Customers will also find a fresh new witbier on tap this week. 
If you're wondering where the lagers are, there's a simple explanation. Lagers take longer to ferment than ales. More beers are coming soon — including a kölsch and easy-drinking Mexican lagers.
In addition to beer, El Sueñito offers cocktails (margaritas, anyone?), plus local ciders from Bellingham Cider, Lost Giants and Finnriver. I spotted some nonalcoholic options at lunchtime, too. Customers were sipping on bottled Coca-Cola and Topo Chico alongside hearty plates of tamales.
Speaking of tamales, the food at El Sueñito is fantastic. Choose from nine tamale varieties, including clearly labeled meat, vegetarian and vegan options. I ordered a half-pound jalapeno and cheese tamale, adding a generous portion of Mexican rice, refried beans, house-made salsa, crema and pickled veggies to make it a meal. A selection of tacos and appetizers are available as well. You can even place to-go food orders online. 
While beer and tamales may be the initial draw, El Sueñito's focus on community and culture will set them apart from other local breweries. As a gay- and Mexican-owned business, they look forward to hosting more inclusive events. The brewery's opening weekend offered a taste of what's to come. 
"We had mariachi, a drag queen person of color, we had queer people of color performing folkloric dances," Hernandez said. "That's going to be a continual focus in our work — in our events and programming."
Upcoming events include the brewery's running club, which will kick off March 22 and meet every Wednesday thereafter. Hernandez also mentioned upcoming Lotería (a Mexican game similar to bingo) nights and weekend brunch beginning in April. Additionally, he's looking forward to annual celebrations for Cinco de Mayo, Pride Month, Mexico's Independence Day and Día de los Muertos. 
"I want folks to come make this space a community hub, and also come experience the cultural components that we hope to add to this space and the neighborhood," Hernandez said.
El Sueñito Brewing is open from 11 a.m. to 10 p.m. Monday through Sunday at 1926 Humboldt St. in Bellingham. Info: elsuenitobrewing.com. 
Brews and spirits news
• Structures Brewing's Old Town location in the former Chuckanut Brewery space on Holly Street is opening Saturday, March 11. Check their Instagram for the latest updates this week. Expect "drive-in style burgers, fried chicken sandwiches, house-made chips and handcrafted beer" made by the one and only Structures Brewing. I'll check it out and report back with more info next month.
• On March 10, Time and Materials Taphouse will launch its new cocktail program. That means four house cocktails on draft — something you don't see around here too often.
• New beer releases around town abound this month. For a taste of the season, you can't go wrong with Kulshan's Mossy Rock Dry Irish Stout. Kulshan also recently released a collaboration with Otherlands Beer, Bright Moments Helles Lager. 
Brandon Fralic's Drink Cascadia column runs on the second Wednesday of every month. Reach him at drinkcascadia@gmail.com