Environment
Contentious 'Brokedown Palace' tree sale paused in Whatcom
Sale of 69-acre tree stand initially slated for May
March 6, 2023 at 3:04 p.m.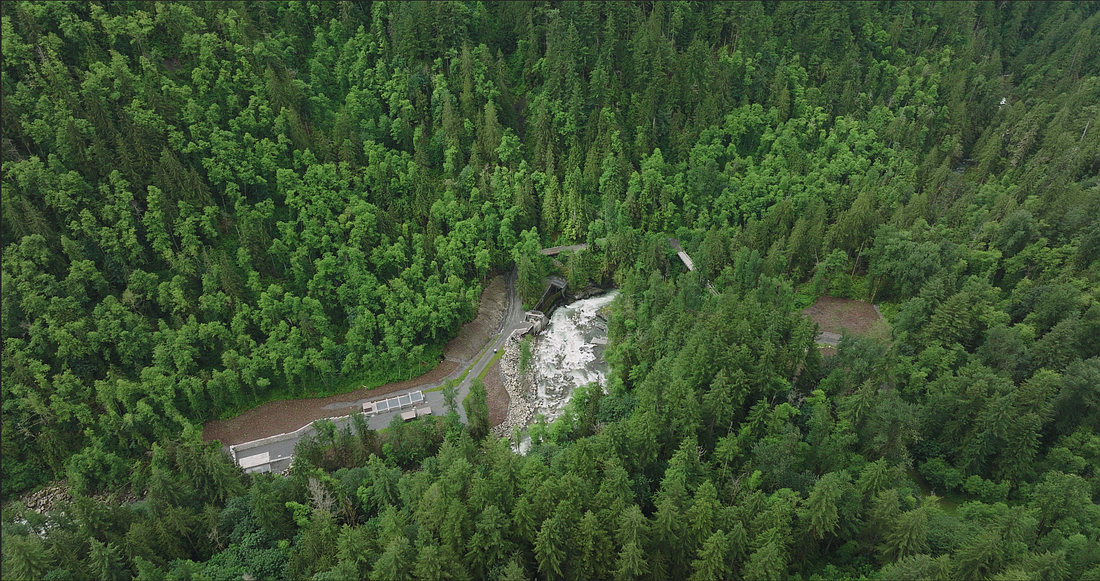 ---
---
The Washington State Department of Natural Resources has paused the controversial sale of a 69-acre tree stand along the Middle Fork of the Nooksack River, initially slated for auction in early May. 
The stand, named the "Brokedown Palace" by a Grateful Dead fan years ago, rests just 500 yards from the Middle Fork, and just a few yards further from the site of a recent, multi-million dollar dam removal project. 
The project has since been paused while DNR conducts an additional regulatory review of the site, which sits on steep land with the potential for landslides. 
"The sale has been delayed because the regulatory group could not evaluate the sale area because there was snow on the ground," said Chris Hankey, who serves as the Baker District manager for the Northwest Region at DNR. "For things, especially oriented with slope stability, they need to be able to see the ground." 
Hankey said the delay could be just a month or so — until an on-site evaluation can be conducted without a foot of snow on the ground — meaning the stand will likely go up for auction later this summer. 
The temporary pause is a step in the right direction for local advocacy groups and environmental activists, who submitted more than 1,000 comments to the state during the review process, calling for the sale to be canceled.
"We see this pause as an encouraging development," said Alexander Harris, the land and water policy manager at RE Sources, a local environmental nonprofit. "Well over 1,000 people have already weighed in, arguing that this forest is unique and special and deserves protection from clear-cutting."
The Brokedown Palace stand is a second-growth stand, meaning the trees were last cut sometime in the early 1900s. When logged, most tree stands are replaced with "plantation" stands: monoculture forests planned for future logging purposes. Brokedown, along with several other stands around the county, naturally regenerated, with trees of varying ages, sizes and species. 
"Something that people don't realize is that a vast majority of our lowland forests have already been clear-cut and replaced with tree plantations," Harris said. "Only small remnants of mature legacy forests remain. Brokedown Palace is one of those legacy remnants." 
Legacy forests — forests that naturally regenerated after being logged sometime before 1945 — need to be protected for their ability to store carbon and help combat climate change, Harris said. And clear-cutting this stand could be dangerous for salmon habitat in the river below.  
The area around Brokedown Palace is "basically a cliff," Harris said, with incredibly steep slopes. Logging too close to the river could contribute to landslides and land instability, destabilizing shallow soil areas by removing the root network and eliminating mature forest canopy, he said.
"There's hundreds of thousands of acres of available forest land that are currently clear-cut on regular cycles in Whatcom County, and it seems like a major mistake to target pockets like this that have the potential to elevate that landslide risk," Harris added. "Clear-cut logging in this kind of steep slope undermines the investments that we're already making elsewhere on this reach of the river."
The recent dam removal project, completed in 2020, and ongoing river habitat development such as manmade logjam construction, are only some of the steps local groups, governments and Tribes have taken to repair the Middle Fork habitat for salmon. 
DNR doesn't use the term "legacy forest," Hankey said, but the agency recognizes the environment in the region is sensitive. DNR's environmental review process is long, and includes environmental evaluations to protect delicate landscapes. 
"We have a substantial area permanently locked down from timber harvesting in the Middle Fork," Hankey said. "It's called a special habitat conservation area, and it is permanently locked down in the Middle Fork for marbled murrelets." 
Hankey said DNR does not believe logging in the Brokedown Palace stand will impact the capacity of the Middle Fork to support salmon health. 
"Our Habitat Conservation Plan and riparian management procedures are designed to protect, enhance and maintain salmonid habitats," he said Monday. "The river's health will be maintained, and all the benefits that we get from that dam removal will be fully experienced by future fish populations."
Brokedown Palace is not the first "legacy" stand to go up for auction in the county. Whatcom's "Box of Rain," also named after a Grateful Dead song, was auctioned in late 2022, despite significant pushback from environmental groups. 
"We've had a number of sales that have generated a lot of concern from neighbors, from advocacy groups and even from county officials," he said.
DNR will present information about the Brokedown Palace sale during Tuesday's Whatcom County Council meeting, to help explain the agency's responsibilities to local beneficiaries and environmental plans. 
The funds from tree sales like Brokedown Palace and Box of Rain go toward state trust beneficiaries, including local school districts, rural libraries, emergency responders and local universities. 
"Our Habitat Conservation Plan and riparian management procedures are designed to protect, enhance and maintain salmonid habitats," Hankey said. "The river's health will be maintained, and all the benefits that we get from that dam removal will be fully experienced by future fish populations."