Basketball
All-NWC girls basketball teams announced
Nooksack Valley's Coppinger, Wichers earn top honors
March 6, 2023 at 1:37 p.m.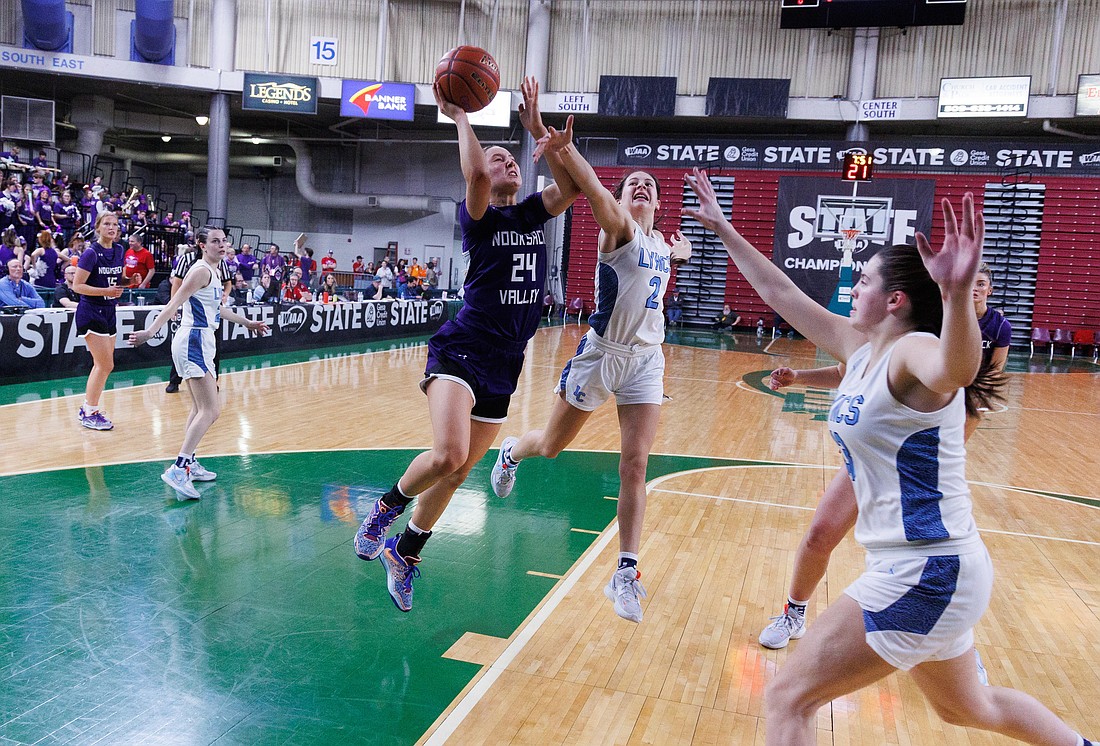 ---
---
The 2022–23 All-Northwest Conference girls basketball teams were announced Monday, March 6, as voted on by the league's coaches.
Nooksack Valley received two of the three highest honors, with coach Shane Wichers being named Head Coach of the Year and junior guard Devin Coppinger selected as Player of the Year.
Seven other Whatcom County players were named to the First Team, with two each from NV and Lynden Christian, while Lynden, Sehome and Mount Baker each had one. 
The Second Team was also locally dominated, as eight county players earned selections.
Below is the full list of selections.
Head Coach of the Year: Shane Wichers, Nooksack Valley
Assistant Coach of the Year: Clare Martin, Bellingham
Player of the Year: Devin Coppinger, Nooksack Valley, Junior
All-Northwest Conference First Team
| | | |
| --- | --- | --- |
| Name | School | Year |
| Grace Hintz | Lynden Christian | Soph. |
| Payton Mills | Lynden | Fr. |
| Lainey Kimball | Nooksack Valley | Jr. |
| Demi Dykstra | Lynden Christian | Sr. |
| Camryn Kerr | Anacortes | Sr. |
| Chesah Holmes | Burlington-Edison | Soph. |
| Hallie Kamphouse | Nooksack Valley | Sr. |
| Madi Cooper | Sehome | Jr. |
| Madison Barter | Mount Baker | Sr. |
All-Northwest Conference Second Team
| | | |
| --- | --- | --- |
| Name | School | Year |
| Avery Neal | Meridian | Sr. |
| Malia Garcia | Mount Vernon | Jr. |
| Haylee Koetje | Lynden | Jr. |
| Mari Binning | Squalicum | Jr. |
| Analise Slotemaker | Burlington-Edison | Sr. |
| Ellie Ochoa | Ferndale | Sr. |
| Adia Newcomb | Lynden | Sr. |
| Tana Hoekema | Nooksack Valley | Jr. |
| Daisy Poag | Lynden Christian | Sr. |
| Emmy Hart | Sehome | Jr. |