Basketball
Western erases 17-point deficit to win GNAC championship
Vikings get revenge on MSUB with 76-71 win
March 4, 2023 at 10:02 p.m.
|
Updated March 5, 2023 at 1:36 a.m.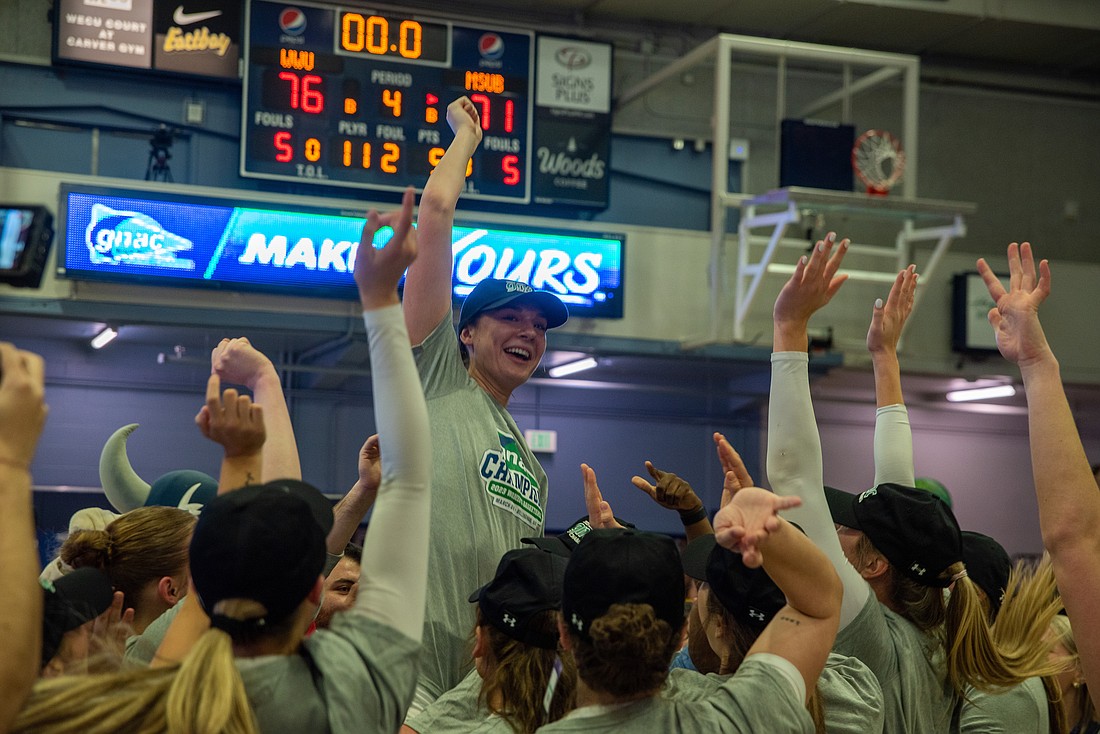 ---
---
Western Washington University women's basketball overcame a 17-point deficit to beat Montana State University Billings 76-71 and capture the Great Northwest Athletic Conference championship Saturday, March 4 at Carver Gymnasium.
The win, in front of a crowd of 1,400, gave the Vikings their third GNAC title in program history.
It was a back-and-forth battle with eight lead changes in the first five and a half minutes as Western took an 11-10 lead. Yellowjacket sophomore guard Aspen Giese — who hit the game-winning buzzer-beater in the last matchup between the two teams — led MSUB with seven points during that stretch.
MSUB started heating up, shooting 5 for 7 from the floor to put together a 12-4 run and take a 22-17 lead at the end of the first quarter.
Western found a few buckets in the paint in the second quarter, but the Yellowjackets became lethal from deep, finding success shooting off screens at the top of the arc. 
MSUB drilled 6 of 14 shots from 3-point range while Western missed on all four of its attempts. The air raid helped the Yellowjackets build a 17-point lead with one minute left in the second quarter. 
The Vikings responded to close out the half with a 5-0 run, bringing their deficit down to 44-32. 
Western's defense settled in coming out of halftime. A fearsome full-court press from senior guard Avery Dykstra and sophomore guard Maddy Grandbois pushed the Yellowjackets' pace, and MSUB was held to just 4-for-10 shooting from the floor and 0 for 2 from deep. 
"[The team] made the decision that they were going to turn that around and we were not going to go down without a fight," Western coach Carmen Dolfo said. "They stepped up and got into people and it changed the momentum of what was going on." 
Western countered with an electrifying 10-for-14 shooting, including 2 for 4 from deep, to get right back into it. 
Grandbois and junior guard Brooke Walling led the charge, both putting up eight points in the third quarter, as the Vikings went on a 12-0 run in the final two minutes to pull within two points at 58-56.
As the thunderous cheer of fans shook Sam Carver Gymnasium, Western continued to hack at MSUB's lead in the final quarter.  
The Vikings finally tied it up when Grandbois sank two free throws to kick off the fourth-quarter scoring. Senior guard Mollie Olson hit a jumper a minute later to put the Vikings on top 62-60, sending the gym into a frenzy. 
The Vikings shot 7 of 12 from the floor in the quarter while suffocating the Yellowjackets in the front and backcourts, holding them to just 2-for-12 shooting. 
Foul trouble kept it close — as the Vikings gave the Yellowjackets seven trips to the charity stripe — but other than a brief tie at 60-all, Western never trailed again.
Walling led the Vikings with 22 points and eight rebounds and was named tournament MVP.
"I was just trying to do it for the team and it worked out pretty well," Walling said. 
Four other Vikings finished with double-digit points on the night: Senior guard Avery Dykstra contributed 12 points and fellow senior guard Katrina Gimmaka added 10. 
"It was the perfect way to end my last game here at Carver," Dykstra said. "I'm really thankful. To do it with my friends, too, it's awesome." 
Senior center Carley Zaragoza dropped in 12 points and Grandbois scored 10, both coming off the bench. 
"What motivates us to play so hard for each other is the coaching staff and how hard we love each other, truly," Grandbois said. 
Next up for Western is the NCAA Division II West Regional, which takes place March 10-13 at a campus site that will be announced Sunday, March 5. 
"We just want to focus on the next game we play, and that's our philosophy from last year, too," Dolfo said. "Everything's aside after this and the next one's our biggest game."