Guest Commentaries
Port Commissioner: Waterfront district is buzzing
Development projects, container village highlight summer progress
June 29, 2023 at 5:00 a.m.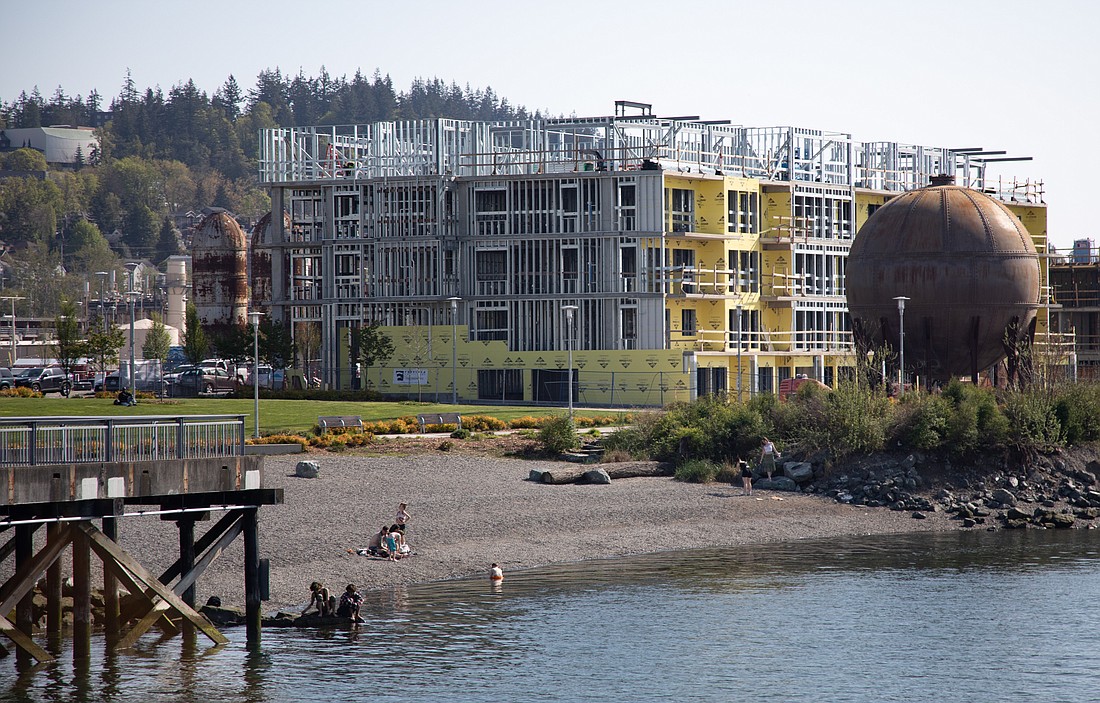 ---
By Michael Shepard, Guest Writer
---
As summer approaches, I want to provide some updates about what is going on this year in Bellingham's Waterfront District. The Waterfront District is buzzing with construction, community events and people out enjoying great recreation and popular local businesses. The exciting mix of development and use we see today is only possible because of thoughtful planning, lots of community engagement and a major effort to clean up past environmental contamination. 
When the Georgia Pacific pulp and tissue mill closed in 2007, the Port of Bellingham assumed ownership of the property and a very large environmental cleanup. It took nearly 15 years to plan, secure funding and complete the first phase of cleanup.
Since then, the port has prioritized public use of the site and development. We have also worked to ensure that development reflects our community values, is accessible to everyone and meets high standards for environmental sustainability. The community has responded in a big way, making the Waterfront District a vibrant part of our downtown Bellingham community. I'll briefly cover some highlights and what to expect in the near future.
There are two projects currently under active construction. The first project consists of three condominium buildings being built just south of Waypoint Park by Harcourt Developments. These buildings will have ground-floor commercial space, underground parking and fantastic views. The first two buildings are scheduled for completion in October. 
The second project, called Millworks, is being built by Mercy Housing Northwest on the corner of Laurel Street and Cornwall Avenue. This project consists of 83 units of permanently affordable rental housing and six early childhood learning classrooms run by the Whatcom YMCA. Phase 2 of Millworks is already under option by the Whatcom Community Foundation to build workforce housing, office space for local nonprofits, a commissary kitchen and local food business incubator space. 
The next big development project on the horizon will transform the historic brick Boardmill Building into a hotel, conference center and residences. This project is under option by a local group of developers led by Faber Construction. The new hotel will make use of the historic building, keeping alive that rich history. The team is also planning an innovative public park on top of a parking garage.
Community use of the Waterfront District is anchored by several popular amenities. The Pump Track continues to attract users of all ages and will host the 2023 NW Tune-Up. This July festival brings an impressive music lineup, a beer garden, bike racing and product demos. Tickets are on sale now.
The Portal Container Village is now fully open for the season and features great food, drinks and entertainment. We plan to keep the Container Village for years to come and it will be expanding next year. The Waterfront District will have more than 30 acres of public parks. That includes the space occupied by the Pump Track and Waypoint Park, which is being expanded by the City of Bellingham next year.
Environmental sustainability has been central to planning at the Waterfront District. All new construction must connect to a centralized district energy system. This system is currently in permitting and plans to capture waste heat from the nearby PSE Encogen power plant. That waste heat will be used to provide heating, cooling and hot water. District energy provides significant carbon reductions and eliminates the need for individual buildings to have expensive HVAC systems. Most new construction will have solar panels and other sustainability-focused construction as well. 
The port will continue working to make sites available for development and ensure quality public amenities. We will also keep working to position sites for job creation and much-needed housing. The port and its partners have spent more than $75.5 million cleaning up the Waterfront District, and there is still much to do.
Design of Phase 2 of the Whatcom Waterway cleanup is underway now with some early construction work to begin in 2023, and there is still a significant cleanup remaining on the south perimeter of the district. It's going to be a great summer at the Waterfront District, and I hope to see you down there.
Michael Shepard is commission president for the Port of Bellingham and is in his second term.