The A-List
A&E calendar: Underground music, tractor pulls, art fairs and outdoor movies
A curated selection of happenings in Whatcom and Skagit counties
June 21, 2023 at 5:00 a.m.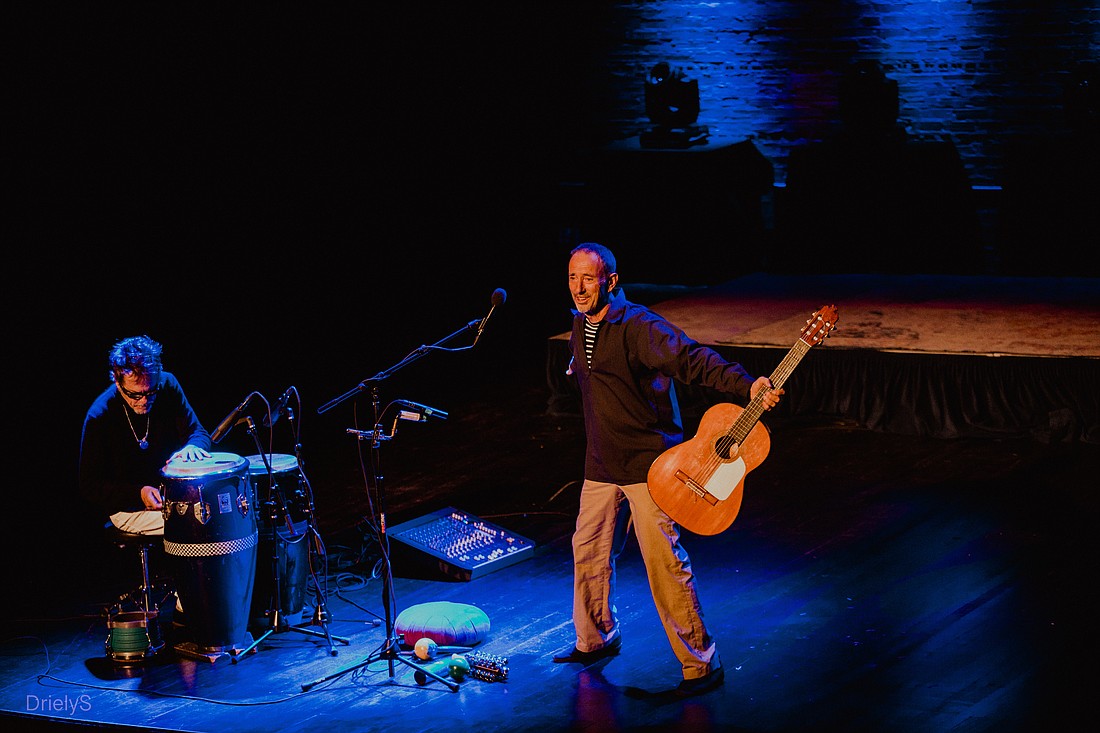 ---
---
Thursday, June 22 
'Lost Cat' Pop-Up Gallery
11 a.m. to 4 p.m., McKenzie Alley, 11th St.
Bellingham-based artist Francis X. Donovan will continue his pop-up exhibition and sale featuring paintings and sculptures Thursdays through Sundays through June, or by appointment. Info: 360-927-8780.
Brie Mueller Band
6–8 p.m., Elizabeth Park, 1000 Walnut St.
Hear Top 40 pop, blues, country and rock when this Bellingham-based ensemble kicks off this free summer concert series, which continues Thursdays through Aug. 24. Info: Facebook.com/elizabethparksummerconcerts.
Paranormal Cirque
7:30 p.m., Skagit County Fairgrounds, Mount Vernon
Fall into a parallel world and end up surrounded by monstrous creatures with hidden talents at showings of this "innovative horror story" by Cirque Italia Thursday through Monday under a big-top tent. Tickets are $25–$60. Info: paranormalcirque.com.
The GBU
7:30 p.m., The Upfront Theatre, 207 Prospect St.
Bellingham's longest-running improv show, "The Good, the Bad, and the Ugly," takes place every Thursday, featuring a rotating performance format and guest players. Tickets are $10–$15. Info: theupfront.com.
'She Loves Me'
7:30 p.m., Bellingham Theatre Guild, 1600 H St.
The musical set in a 1930s European perfumery concludes this weekend with showings Thursday through Sunday. The play follows shop clerks Amalia and Georg, who both respond to a "lonely hearts" advertisement. Tickets are $8–$18. Info: bellinghamtheatreguild.com.
Friday, June 23
'Heroes and Villains'
6:30 p.m., Mount Baker Theatre, 104 N. Commercial St.
The Dance Studio presents its summer production Friday through Sunday, featuring dancers from "tiny tots" to tweens and teens. Expect to see tap, jazz, ballet, contemporary, lyrical, hip-hop, musical theater and more. Tickets are $17. Info: mountbakertheatre.com.  
'The SpongeBob Musical'
7 p.m., Horizon Middle School, 2671 Thornton Road, Ferndale
Ferndale Summer Youth Theatre presents showings of this musical at 7 p.m. Thursday and Friday, and 1 p.m. and 7 p.m. Saturday at the school's auditorium. Tickets will be $10 at the door (cash or check). Info: 360-383-9850.
The Robin Christopher Show
8 p.m., New Prospect Theatre, 207 Prospect St.
Longtime local actors and improvisors Robin Corsberg and Christopher Coombs star in this monthly variety show where the hosts interview members of the audience and special guests join the fun. Tickets are $15. Info: newprospecttheatre.org.
DownTime Comedy Hour
8 p.m., DownTime Taps, 1730 La Bounty Drive, Ferndale
Hosted by Nikki Kilpatrick, this stand-up comedy show will star Ryan Daniel and feature Ann Elise and Damon Lawton. Tickets are $10 per person. Info: eventbrite.com.
Summer Games Showdown
8 p.m., The Upfront Theatre, 207 Prospect St.
Every Friday and Saturday through June, see some of the most comedic battles in history as improvisors face fierce competition and the audience decides who comes out on top. Tickets are $10–$16. Info: theupfront.com.
Flicks in the Park
9 p.m., Pioneer Village, 2004 Cherry St., Ferndale
As part of Ferndale's Summer of Fun events, watch "Top Gun: Maverick" after the sun goes down. Popcorn and soda will be available for attendees, and admission is free. Additional movies include "Puss in Boots: The Last Wish" on June 30 and "Back to the Future" on July 15. Info: cityofferndale.org.
Saturday, June 24
Mower, Tractor and Truck Pull
9 a.m., Berthusen Park, Lynden
Puget Sound Antique Tractor & Machinery Association will host this event Saturday and Sunday, starting with mower pulls at 9 a.m., tractors at 1 p.m., and trucks at 3 p.m. Food vendors will be on site. Admission is $10. Info: psatma.org.
Market by the Sea
10 a.m. to 2 p.m., G Street Plaza, Blaine
Attend this farm-and-craft market overlooking Blaine Harbor every Saturday through October. Info: blainechamber.com.
Bellingham Farmers Market
10 a.m. to 2 p.m., Depot Market Square, 1100 Railroad Ave.
Approximately 90 vendors from Whatcom and Skagit counties are on site at this weekly market, which continues every Saturday through Dec. 16. Info: bellinghamfarmers.org.
Community Clothing Swap
10 a.m. to 2 p.m., IBC, 2000 W. North St.
Bring a bag and take a bag at this free event featuring clothing for all genders, sizes, ages, styles and seasons. No matter how much you bring, you can carry out as much as you need/want. All leftover items will be donated to local nonprofits and shelters. Info: 360-722-0672.
Summer Market
10 a.m. to 4 p.m., Home Farm, 8020 Kickerville Road, Blaine
More than 60 artisans will be on hand for this event, which features local goods, food and activities for the whole family. Tractor train rides, tours, face painting and more will take place throughout the day. Info: homefarm.farm.
Kite Festival
10 a.m. to 4 p.m., Birch Bay State Park, 5195 Helwig Road
Spend your weekend flying kites on the beach! The event taking place Saturday and Sunday will include kite giveaways, prizes, a vendor/craft market, activities for kids, live music and food trucks. Info: birchbaychamber.com.
Garden and Art Fair
10 a.m. to 4 p.m., Edgewater Park, Mount Vernon
Tulip Family Gardeners will host this event featuring carefully curated garden- and art-related vendors and specials, and related activities for children. Entry is free. Info: mvgardenandartfair.org.
Intuitive Arts Fair
11 a.m. to 7 p.m., Maple Hall, La Conner
The event taking place Saturday and Sunday will feature psychics, tarot readers, energy healing sessions, spiritual counseling, and a flash-mob dance by Witches of Skagit. Workshops and presentations take place throughout the weekend. Entry is $5. Info: intuitiveartsfair.com. 
Artist Talk
2 p.m., Whatcom Museum's Old City Hall, 121 Prospect St.
Join artist Susan Murrell in the Rotunda Room to learn about her new installation, "Sift/Shift," opening today at the museum's Lightcatcher Building. After the talk, Murrell will lead a Q&A in the Lightcatcher gallery and provide insight into her artwork. Entry is included with admission. Info: whatcommuseum.org.
Samantha Ferraro
4 p.m., Village Books, 1200 11th St.
This local author and popular food blogger will talk about her second cookbook, "One-Pot Mediterranean," and sign copies. Please register in advance. Info: villagebooks.com.
Fairhaven Outdoor Cinema
6:30 p.m., Fairhaven Village Green
The Brie Mueller Band will kick off this summer film series with danceable music before "Top Gun" screens at sunset. The music and movies will continue Saturday nights through Aug. 26. Entry is $7–$8. Concessions will be available for purchase. Info: enjoyfairhaven.com.
Analog Brass
7 p.m., Buxton's, 1904 Commercial Ave., Anacortes
Hear funky horns from this Bellingham-based band, along with "relentless rock" from Enduro. The event will also include a beer and wine garden. Tickets are $5–$10 (free for youth under 12). Info: anacortesmusicproject.org.
Sunday, June 25
Skagit Valley Farmers Market
10 a.m. to 2 p.m., Christianson's Nursery, Mount Vernon 
Find a full range of fare from community farmers and craft vendors in and around The Vinery (near the nursery). The event continues Sundays through October. Info: christiansonsnursery.com.
Candace Wellman
4 p.m., Village Books, 1200 11th St.
Learn more about Washington Territory Supreme Court Justice Edmund C. Fitzhugh when this Bellingham-based author shares her new biography, "Man of Treacherous Charm." Wellman will also be on hand to talk about the tome at 4:30 p.m. Thursday, June 29, at Seaport Book in La Conner, and 2 p.m. Saturday, July 1, at Village Books in Lynden. Info: villagebooks.com.
Monday, June 26 
Makers Market
5–8 p.m., Farmstrong Brewing, 110 Stewart Road, Mount Vernon
At this monthly market, vendors will be both inside and outside hosting a variety of local artists who will be selling everything from tumblers to soap, jewelry and more. Info: farmstrongbrewing.com.  
Tuesday, June 27
Fairhaven Summer Repertory Theatre
7:30 p.m., FireHouse Arts and Events Center, 1314 Harris Ave.
Bellingham TheatreWorks kicks off its monthlong series of plays tonight with Jane Martin's "Keely and Du." The play will show in repertory through July 23 along with Johnna Adams' "Gidion's Knot" and "What the Constitution Means to Me" by Heidi Schreck. Tickets are $21. Info: bellinghamtheatreworks.org.
Thursday, June 29
Blues, Brews & BBQ
6–9 p.m., Hotel Bellwether, One Bellwether Way
Cascadia Groove opens this outdoor summer concert series on the scenic waterfront terrace at the hotel. The events continue Thursdays through Sept. 7, and at a special Fourth of July event. Tickets are $15 general, $35 with a barbecue dinner. Info: hotelbellwether.com.
Taylor Made
7:30 p.m., Lincoln Theatre, Mount Vernon
Seven of the Northwest's finest musicians will perform classic songs from James Taylor's vast repertoire of studio and live album releases from the 1970s to the present such as "Carolina In My Mind," "Shower the People," "Country Road" and many more. Tickets are $25–$30. Info: lincolntheatre.org.
Menace on the Mic
8:30 p.m., Menace Brewing, 2529 Meridian St.
Want to take a chance at performing stand-up comedy? Show up early to sign up for your spot, then stick around to see the action unfold. The free event takes place every other Thursday. Info: menacebrewing.com.
Friday, June 30
Junior Groove: Jazz for Kids
1:30 p.m., South Whatcom Library, Sudden Valley
Kids in kindergarten through fifth grades can join local jazz drummer Jerry Steinhilber for an interactive program focusing on where jazz comes from and how it works, and try their hand at making music. The free event is part of Whatcom Grooves, a free summer jazz series hosted by Whatcom County Library System. Info: wcls.org.
Risque Renegades
9:30 p.m., The Blue Room, 202 E. Holly St.
"Beers & Bikinis" is the name of performances taking place Friday and Saturday featuring local dancers who will take to the stage for pool-themed variety shows. Tickets are $20–$30; attendance is 18 and older. Info: blueroombham.com.
Saturday, July 1
Dockside Market
10 a.m. to 2 p.m., Squalicum Harbor, Gate 5
Local fisherfolk will be selling their fresh and frozen wares at this twice-monthly market. Visit the dock early to find the best selection of seafood options. Details and participating vendors and products are posted 24 hours ahead of sale days. Info: bellinghamseafeast.org. 
Unsubdued Revue 3
6 p.m., Pioneer Park, 2004 Cherry St., Ferndale
Watch a medley of short plays, spoken word, poetry and dance, all created and performed by local artists, Saturday and Sunday on an outdoor stage. Entry is free; additional shows take place July 8–9. Info: facebook.com/unsubduedtheatre.
Bellingham Festival of Music
7 p.m., Performing Arts Center, WWU
"A Season of Discovery" will be the focus of the 30th year of the Pacific Northwest's premier summer orchestra festival, which kicks off tonight with Ward Stare conducting works by Brahms, Barber and Mahler. Soprano Andriana Churchman will be the featured performer. Concerts continue through July 18. Tickets are $47–$57. Info: bellinghamfestival.org.
Jonathan Richman
8 p.m., Lincoln Theatre, Mount Vernon
Following a weather-related show cancellation in early March, this legend of underground music will finally head onstage. Longtime collaborator Tommy Larkins will join Richman on the drums. Tickets are $25–$39. Info: lincolntheatre.org.
Before heading out to attend in-person happenings, check with individual venues to make sure the event is still taking place as scheduled.
The A-List appears weekly on Wednesdays. To submit an event for consideration, email calendar@cascadiadaily.com.