The A-List
A&E calendar: Spelling Bees, circus acts, exhibit endings and a Pride Parade
A curated selection of happenings in Whatcom and Skagit counties
June 7, 2023 at 5:05 a.m.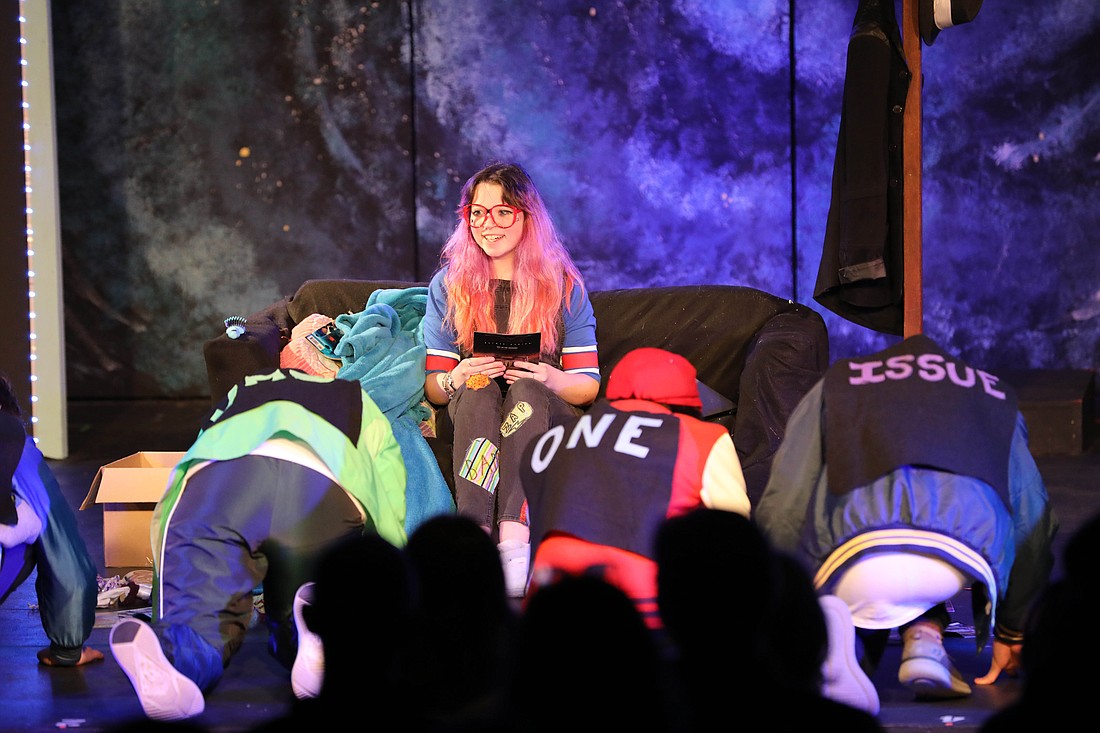 ---
---
Wednesday, June 7
This Is It!
7:30 p.m., McIntyre Hall, Mount Vernon
Join the Skagit Valley College Music Department as it explores the many moods of life as found in music from stages and screens. Tickets are $15. Info: mcintyrehall.org. 
Thursday, June 8
The GBU
7:30 p.m., The Upfront Theatre, 207 Prospect St.
Bellingham's longest-running improv show, "The Good, the Bad, and the Ugly," takes place every Thursday, featuring a rotating performance format and guest players. Tickets are $10–$15. Info: theupfront.com. 
Jazz Concert
7:30 p.m., Heiner Theater, Whatcom Community College
Enjoy performances of jazz repertoires by students of the WCC Jazz Ensemble, directed by Christian Casolary. Entry is free and open to the public. Info: 360-383-3548.
Friday, June 9
'She Loves Me'
7:30 p.m., Bellingham Theatre Guild, 1600 H St.
The musical set in a 1930s European perfumery opens this weekend with showings Friday through Sunday. The play follows sparring shop clerks Amalia and Georg, who both respond to a "lonely hearts" advertisement and become pen pals. Additional showings take place through June 25. Tickets are $8–$18. Info: bellinghamtheatreguild.com. 
'Spelling Bee'
7 p.m., BAAY Theatre, 1059 N. State St.
Bellingham Arts Academy for Youth presents showings of "The 25th Annual Putnam County Spelling Bee" for the final weekend Friday through Sunday. Tickets are $12 to see the Tony Award-winning Broadway musical. Info: baay.org. 
BMC Grand Finale
7:30 p.m., First Congregational Church, 2401 Cornwall Ave.
Bellingham Music Club concludes its season with organist Kirsten Santos Rutschman taking listeners on a tour of Northern Europe by focusing on composers in Vienna (Brahms), Germany (Bach), England and Wales (Vaughn Williams), Norway (Grieg) and Sweden. Entry is free for students; suggested general donation is $20. Info: bellinghammusicclub.org.
Summer Games Showdown
8 p.m., The Upfront Theatre, 207 Prospect St.
Every Friday and Saturday through June, see some of the most comedic battles in history as improvisers face fierce competition and the audience decides who comes out on top. Tickets are $10–$16. Info: theupfront.com. 
Saturday, June 10
Bark in the Park
10 a.m. to 1 p.m. Storvik Park, Anacortes
Friendly, well-behaved dogs on leashes are welcome at this event. Adoptions, a silly dog contest, K-9 demos and vendors will be part of the fun. Donations will be accepted for local animal shelters. Info: anacortes.org. 
Market by the Sea
10 a.m. to 2 p.m., G Street Plaza, Blaine
Attend this farm-and-craft market overlooking Blaine Harbor every Saturday through October. Info: blainechamber.com. 
Bellingham Farmers Market
10 a.m. to 2 p.m., Depot Market Square, 1100 Railroad Ave.
Approximately 90 vendors from Whatcom and Skagit counties are on site at this weekly market, which continues every Saturday through Dec. 16. Info: bellinghamfarmers.org.  
Friendship Book Sale
10 a.m. to 3 p.m., Anacortes Public Library, 1220 10th St.
Stock up on books, CDs and DVDs to keep you entertained all summer long. Bring your own tote bag (no oversized bags allowed) and fill it for $7. Info: library.cityofanacortes.org. 
Author Signing
4–6 p.m., Art and Happiness, 2004 James St.
Bellingham-based author Eduard Schwan will be signing his new book, "My Word! Owls," and offering free owl-related goodies. The educational activity book is for "kids of all ages." Info: schwansongs.com. 
MoNA Art Auction
5–7 p.m., Museum of Northwest Art, La Conner
Attend the in-person faction of this annual event, hosted by auctioneer Ian Lindsay. Individual tickets are $100; funds raised benefit the museum's exhibitions, art collection and education programs. Attendees can also preview the works in advance. Info: monamuseum.org. 
Music in the Park
5:30 p.m., Pioneer Park, 2004 Cherry St. Ferndale
As part of Ferndale's "Summer of Fun" lineup, hear the best hits of the 1990s and 2000s with the cover band Dial-Up. Food booths, activities for kids and a bubble station will be part of the fun. Entry is free. Info: cityofferndale.org. 
Theater on the Terrace
6 p.m., Semiahmoo Resort, 9565 Semiahmoo Parkway, Blaine
Shakespeare Northwest will offer up this free, family-friendly show on the resort's terrace, including Shakespearean-style fairy tales such as "The Ugly Duckling," "Rapunzel" and more. They will also bring the performance to the Concrete Theatre Sunday, June 18. Info: Semiahmoo.com. 
Punishment After Commencement
7 p.m., Fraternal Order of Eagles, 1125 N. Forest St.
Watch live 5CC wrestling at the graduation-themed event. Tickets are $15–$40; new graduates get in for half-price. Info: 5ccwrestling.com.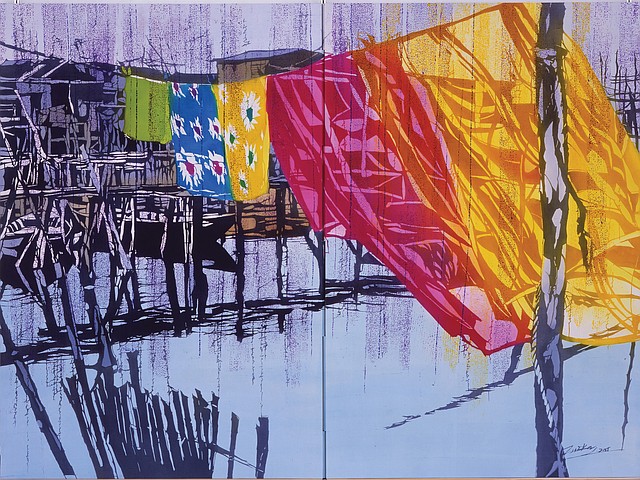 Sunday, June 11
'Katazome Today' Closing
Noon to 5 p.m., Whatcom Museum's Lightcatcher Building, 250 Flora St.
If you haven't yet seen "Katazome Today: Migrations of a Japanese Art," today is the last day to peruse the contemporary and traditional Japanese art techniques used in the featured works. Info: whatcommuseum.org. 
Art Movement
Noon to 7 p.m., Jett Movement Academy, 2227 Queen St.
Support local small businesses and help keep the arts thriving at this indoor arts and crafts market. Attendees will find knitted and crocheted items, paintings, mixed-media art, jewelry, candles and more. Info: starstuffgalleries@gmail.com. 
Baby Cakes
2–5 p.m., Samson Estates Winery, 1861 Van Dyk Road, Everson
Hear American soul, funk and R&B when this popular 10-piece ensemble brings its danceable sounds to town. A food truck will also be on site. Tickets are $10; the event is family-friendly. Info: samsonestates.com. 
Red Wheelbarrow Writers
4 p.m., Village Books, 1200 11th St.
"Spring and All," the fourth anthology released by this group of writers, will have a live launch today. Some of the writers will be on hand to read from their poetry and prose. "Profound change" lies at the heart of each piece. Info: villagebooks.com. 
Spring Showcase
7 p.m., Mount Baker Theatre, 104 N. Commercial St.
OPUS Performing Arts will present this dance show Sunday and Monday, featuring students of varying ages and skill levels performing ballet, tap, contemporary, jazz and lyrical. The showcase is appropriate for all ages. Tickets are $10–$15. Info: mountbakertheatre.com. 
Wednesday, June 14
Marty Stuart
7:30 p.m., Lincoln Theatre, 712 S. First St., Mount Vernon
Stuart, a country music Hall-of-Famer and five-time Grammy winner, will be joined by his Fabulous Superlatives band to showcase his new album, "Altitude." In his 40-plus years as a solo artist, Stuart has released more than 20 major-label albums. Tickets are $46–$200. Info: lincolntheatre.org. 
Thursday, June 15
Summer Strumming
4 p.m., Whatcom Museum's Lightcatcher courtyard, 250 Flora St.
This monthly summer event will feature tunes by the Community Ukulele Players. Drop by and enjoy sweet music, a glass of wine from Bar Cicotti and more. Entry is free. Info: whatcommuseum.org. 
Commercial Street Block Party
6–9 p.m., 1300 block of Commercial St.
"Celebrate Juneteenth" will be the focus of the seasonal event. Spotlights for this month include Black-owned businesses and the Double Dutch Divas for some in-street jump rope fun. Activities include face painting, chalk art, games, food trucks, small-business shopping and more. Info: downtownbellingham.com. 
Vaudevillingham
7 p.m. and 9 p.m., Cirque Lab, 1401 Sixth St.
Bellingham Circus Guild's monthly community open-stage variety show, said to be "uncensored, un-curated and unapologetic," returns with an early family-friendly show and a later, "anything goes" performance. Suggested donation is $10–$20 for the fundraising event, but give as you are able. Info: bellinghamcircusguild.com. 
Menace on the Mic
8:30 p.m., Menace Brewing, 2529 Meridian St.
Want to take a chance at performing standup comedy? Show up early to sign up for your spot, then stick around to see the action unfold. The free event takes place every other Thursday. Info: menacebrewing.com. 
Friday, June 16
Berry Dairy Days
Friday through Sunday, throughout Burlington
A vendor fair, grand parade, smoke and grill competition, Berry Cool Car Show, cornhole tournament, strawberry shortcake booth, beer garden, live music, fireworks show and more will be part of this annual event celebrating Burlington's history, agriculture, farming, traditions and community. Info: berrydairydays.com. 
Dancing for Joy
6:30 p.m., Mount Baker Theatre, 104 N. Commercial St.
Attend "Anniversary Blend" shows Friday through Monday from this local dance company. The performances will include pieces from the past 20 years and share a blend of Dancing for Joy favorites as they look forward to the future. Tickets are $15–$18. Info: mountbakertheatre.com. 
Saturday, June 17
Dockside Market
10 a.m. to 2 p.m., Squalicum Harbor, Gate 5
Local fisherfolk will be selling their fresh and frozen wares at this twice-monthly market. Visit the dock early to find the best selection of seafood options. Details and participating vendors and products are posted 24 hours ahead of sale days. Info: bellinghamseafeast.org. 
Anacortes Pride Parade
11 a.m., along Commercial Avenue
This second annual event held in downtown Anacortes will be immediately followed by a Family Pride Picnic and Talent Showcase at Causland Memorial Park. Info: anacortes.org. 
Lend Us Your Ears
2 p.m., Bellingham Theatre Guild, 1600 H St.
Jones Hope Wooten's "Sweet Delilah Swim Club" will end this reading series directed by Jeff Braswell and featuring local actors. The performance follows the lives of five college swim team friends and the adventurous check-ins they have during their annual reunions. Entry is pay-what-you-will. Info: bellinghamtheatreguild.com. 
Juneteenth Celebration
2–6 p.m., Maritime Heritage Park, 500 W. Holly St.
Bellingham Unity Committee hosts this event honoring and celebrating freedom of all people. Bring food and a blanket to spread on the grass around the amphitheater for this community picnic. Enjoy live funk, soul, R&B, reggae music, dance performances, an art wall, local organizations tabling and more. Info: bellinghamunitycommittee.org. 
Ferndale Uncorked & Uncapped
3–7 p.m., Pioneer Park, 2004 Cherry St.
Ferndale High School Boosters will host this wine-, beer- and cider-tasting festival. Tickets are $45 general, $100 VIP ($10–$25 for designated drivers). Proceeds benefit FHS students. Info: fhs-boosters.com. 
Empty Bowls
5:30–8:30 p.m., Boundary Bay, 1107 Railroad Ave.
Whatcom Artists of Clay and Kiln hosts this benefit event to raise funds for Maple Alley Inn and Bellingham Food Bank. Entry is $20 and includes your choice of a one-of-a-kind handmade bowl and a serving of delicious soup and bread from a local restaurant. Live music and an art auction will be part of the fun. Info: whatcomartistsofclayandkiln.org. 
The Problem
7:30 p.m., Jansen Art Center, 321 Front St., Lynden
Hear this band composed of some of Bellingham's youngest professional jazz musicians playing jazz tunes, originals and 1970s–'90s soul and pop hits. Tickets are $15. Info: jansenartcenter.org. 
Sunday, June 18
Skagit Symphony
3 p.m., McIntyre Hall, Mount Vernon
"Skagit Pops! Cloak and Dagger" will be the theme of this Father's Day concert. Listeners will be "shaken and stirred" with music from "Mission Impossible," "The Pink Panther," "Sherlock Holmes" and numerous James Bond movies. Tickets are $25–$50. Info: mcintyrehall.org. 
Before heading out to attend in-person happenings, check with individual venues to make sure the event is still taking place as scheduled.
The A-List appears weekly on Wednesdays. To submit an event for consideration, email calendar@cascadiadaily.com.