Community
Western celebrates Pride Month with opening ceremony
Students, faculty gather to highlight LGBTQ+ community
June 1, 2023 at 5:00 a.m.
|
Updated June 1, 2023 at 11:50 a.m.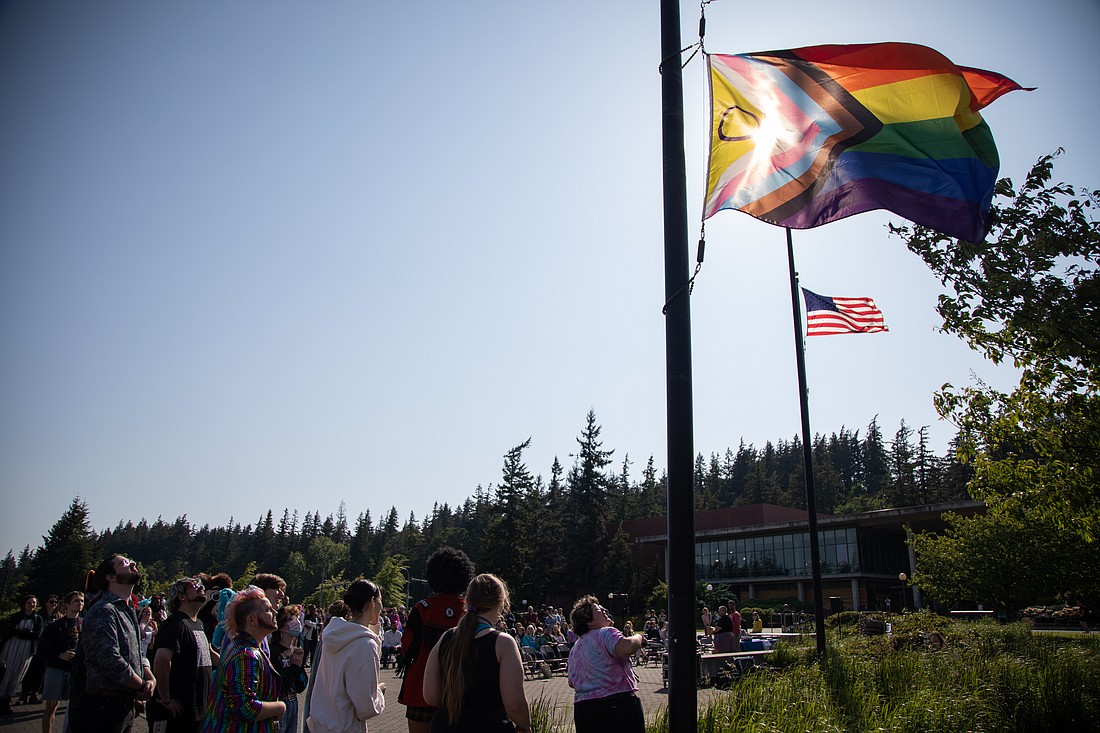 ---
---
Messages of resilience, joy and unwavering pride took center stage on Western Washington University's campus May 31, as LGBTQ+ Western held its annual Pride Month celebration.  
A few hundred students gathered beneath Western's flag poles to hear from students and faculty on the importance of celebrating the university's LGBTQ+ community.  
"So many of us feel like we have to hide part of ourselves throughout the day," said LGBTQ+ Western Director JoeHahn, who uses a single name. "[But] a Pride celebration shows that we don't have to do that — we can show up and be our true selves."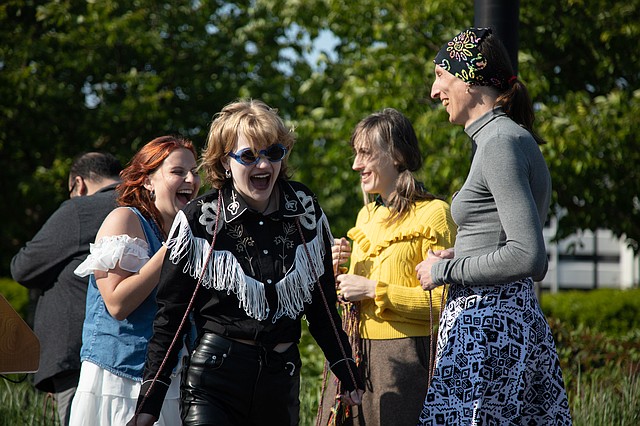 The ceremony concluded by signaling the beginning of Pride Month, which starts in June, by raising the official Pride flag and letting it flap proudly in the wind. Students from across Western's LGBTQ+ community lined up to take a turn in pulling the flag up the pole in a group effort — some dressed in drag, and others adorned with sparkling rainbow eyeshadow.  
"It's cool to have a school that accepts every aspect of you, [and] supports you," said Eva Silverman, a member of Western's Royal Gambit Drag Club. "It makes you feel very welcome." 
Wednesday's Pride event is only the most recent example of LGBTQ+ celebrations on campus. QueerCon, Western's student-organized queer conference and convention, happened in April. April also marked LGBTQ+ Western's "Gaypril," which is the school's official, monthlong celebration of LGBTQ+ identities.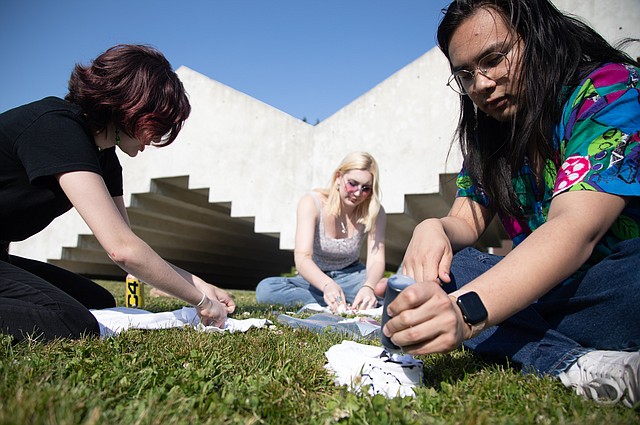 LGBTQ+ Western is the official resource center on campus for LGBTQ+ students and aims to support and advocate for the university's LGBTQ+ community.  
In recent years, the resource center has become more robust. In 2018, it hired its first full-time position in order to expand services; previously, the center was fully run by student employees.  
Now, the center is working more than ever to increase LGBTQ+ visibility and support on campus — a designated LGBTQ+ lounge opened in April, located near LGBTQ+ Western's office in the Viking Union. The lounge is a place for students to hang out, use computers and eat snacks — whatever they please. More than that, JoeHahn said, it's a place for LGBTQ+ students to feel at home and feel a sense of belonging.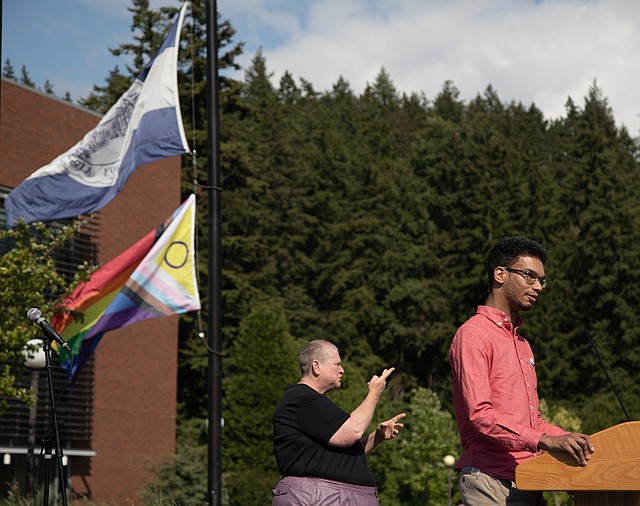 For JoeHahn, Wednesday's Pride celebration was just one piece of continuing to build community for LGBTQ+ students across campus — the center offers a whole slew of other events for students, from garden parties to LGBTQ+-centered swim lessons.  
The center is also working to create change across campus in other ways, too — like advocating for gender-neutral bathrooms in every building across campus, and working to make it easier for students to change their preferred name within Western's administrative system.  
"All of this together is to celebrate who we are, and celebrate community with our allies and say, 'We're going to keep fighting,'" JoeHahn said.  
A previous version of this story misspelled JoeHahn's first name. The story was updated to reflect this change on June 1, 2023 at 11:50 a.m. Cascadia Daily News regrets the error.