Outdoors
Trio of local paddlers gearing up for 70-mile race
'Seventy48' stretches from Tacoma to Port Townsend
June 1, 2023 at 5:00 a.m.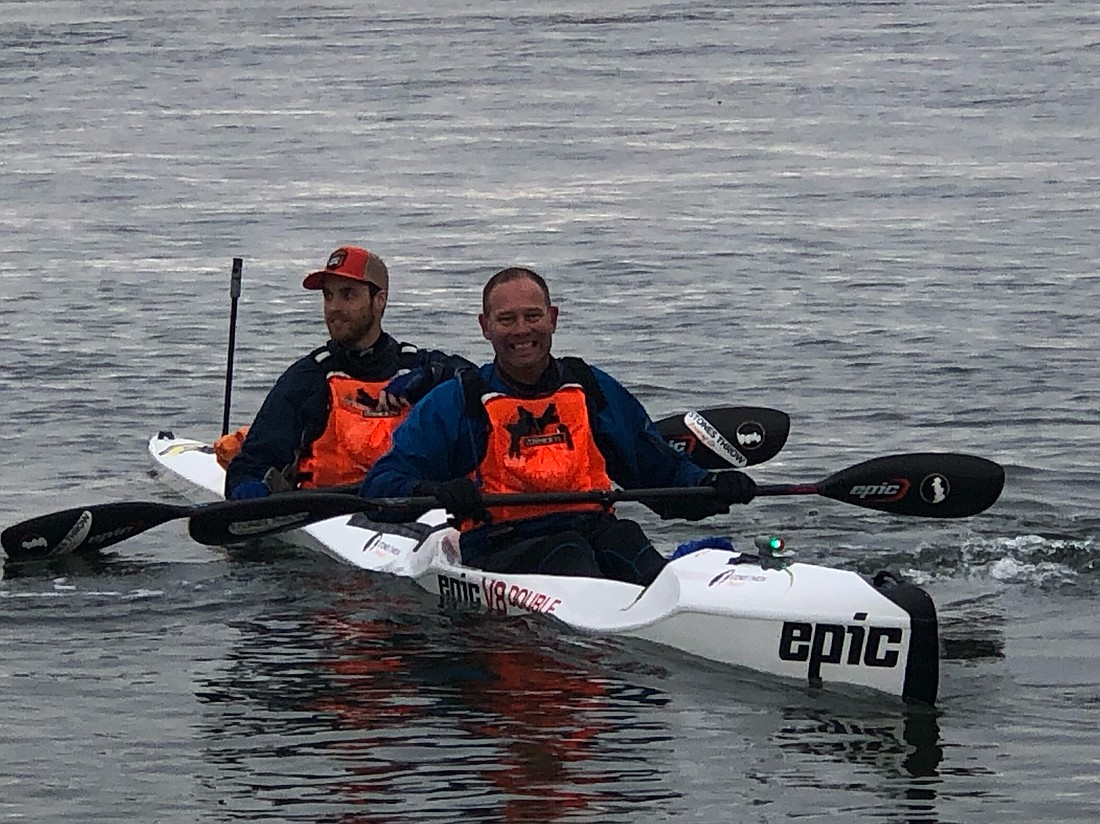 ---
---
Some among us seem hellbent on contriving the most hair-brained follies to test the outer limits of personal capabilities. It's baked into the DNA, I suppose. 
A decade ago, rock climbing star Alex Honnold challenged his mental and physical proficiency in adventures captured in an Amazon Prime video called "Sufferfest."
The phrase gained traction among certain personality types. It surfaced when talking to paddlers Marc Fuhrmeister, Bart Maupin and Ian Sawyer, Bellingham's three entrants in one of the West Coast's most challenging open-water races. 
They are about to embark on the irreverent Seventy48, an event prohibiting motors, support or wind-powered boats. Just pedal, paddle or row up Puget Sound in 48 hours or faster.
On Friday, June 2, 136 teams — 316 participants — are scheduled to launch at the head of Tacoma's Thea Foss Waterway. They hope to end 70 miles later at the Port Townsend City Dock after dealing with tides, weather and hours of muscle-aching strokes.
Fuhrmeister and Maupin completed the race twice and dropped out last year in their Epic V8 Double Surfski.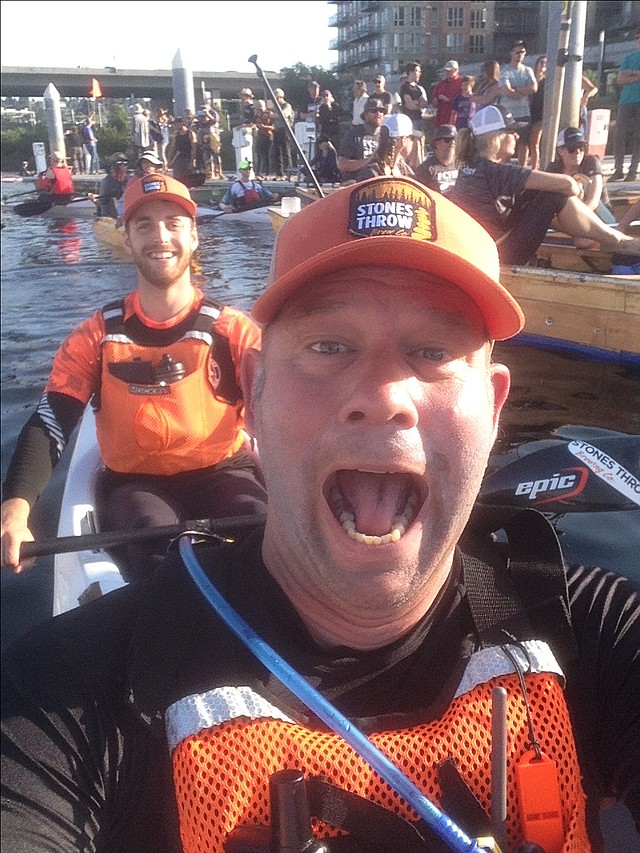 "A good 'sufferfest' is healthy, but there were moments where we found ourselves more survival paddling, where it is not about doing well but getting through to the next headwater," said Fuhrmeister, a one-time Western Washington University distance runner.
Sawyer is making his race debut in a Fenn Elite surf kayak, having gravitated to the sport after a rowing career at the University of Washington.
"With a race like this, it is going to hurt," said Sawyer, a stay-at-home dad, who lives a block from the shores of Lake Whatcom. 
Last year, 89 of the 116 boats finished, with two Bay Area rowers winning in a record time of 9 hours, 35 minutes.
Seventy48 is the appetizer for a week of adventure sailing and paddling centering in Port Townsend. The Race to Alaska (R2AK) — a 750-mile, non-motor boat race scheduled to start on Monday, June 5, from Port Townsend — is the main event. The route follows the Inside Passage to Ketchikan. 
The Northwest Maritime Center in Port Townsend launched R2AK in 2015. It added Seventy48 two years later. The paddling and rowing race primarily features Puget Sound entrants who pay $100 for the privilege.
The endurance tests beg the question: What in God's name are they thinking?
Fuhrmeister, Maupin and Sawyer anticipated the question. They jokingly ask themselves the same.
"We both just want to finish so we don't have to do it again," said Fuhrmeister, a Squalicum High School alum.
That's a defense mechanism speaking. I suspect they will return next year no matter what happens on the Sound in the coming days.  
Fuhrmeister, 32, started crewing for Maupin, 48, a decade ago in local sailing races. They added kayaking to their repertoire to compete in Ski to Sea. Maupin, a Washington state trooper recently assigned to the aviation unit in Olympia, entertained the idea of trying R2AK.
"But 70 miles is a lot better than 750 miles," he said.
Paddling employs many sailing disciplines, such as understanding tides, currents and winds and "not just respecting the water but working with it," Fuhrmeister said. 
The men say they learned from their previous Seventy48 races while competing under the banner Team Stones Throw Brewery Yacht Club. 
They decided to sleep for a few hours at one of the pit stops the first year. They haven't made that mistake again.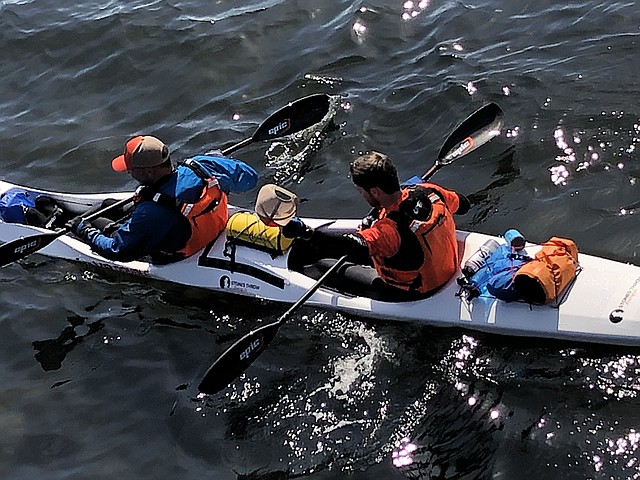 "That was our miserable foray down a quasi-hypothermic bivouac," Fuhrmeister said. 
He said it's better to keep going because once the body cools down, it's tough to revive it. 
The team didn't enter any of the five Puget Sound Rowers early season races this year as preparation for Seventy48.
"We don't expect to win the whole thing," said Maupin, who attended Whatcom Community College. "Nothing more than paddles and ambition."
Sawyer is launching with a similar mindset.
He practically grew up on water having lived on his family's boat for four years. They sailed from New Zealand to San Francisco and back.
Sawyer started out rowing, not paddling, in New Zealand and advanced to the junior national team. He got into kayaking 3.5 years ago in Salt Lake City while his wife, Kara, who now works at PeaceHealth St. Joseph Medical Center, completed a residency at the University of Utah Medical Center.
Sawyer is well-equipped to handle the rigors of open-water paddling. He finished a close second in March to Jonas Ecker, a U.S. national sprint team member, in the Peter Marcus Rough Water Race in Bellingham Bay. 
But these days, the 6-foot-5 paddler pursues such challenges for fun and health, not necessarily to win.
"The things I find fun, other people might not find fun," said Sawyer, who will celebrate his 42nd birthday during the race.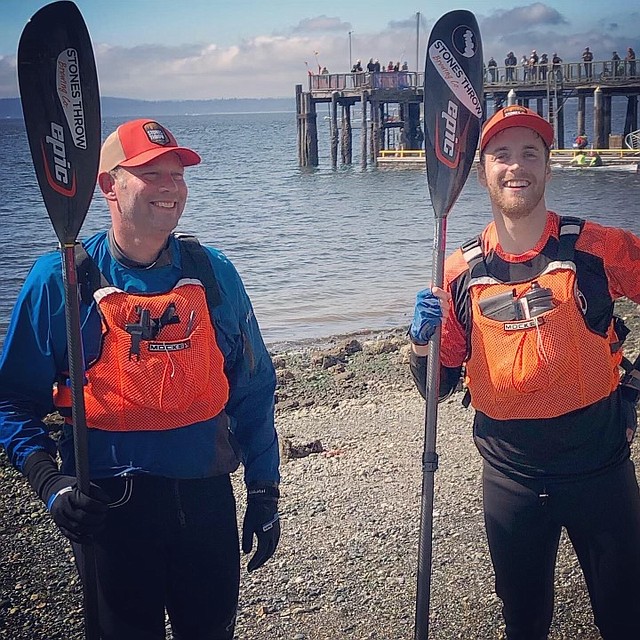 Last month, he set off on an ambitious paddle from Bellingham Bay to Anacortes. Spring headwinds out of the southeast slammed the 21-foot-long boat as he reached the north tip of Samish Island. 
It wasn't safe for a solo paddler. He turned back, cutting a planned 6.5-hour excursion by two hours. The experience proved important in race preparations.
"Seventy48 goes through the night and your decision-making is diminished," Sawyer said. "It's OK that I wanted to achieve something, but I didn't."
Isn't that the essence of endurance sports or any kind of "sufferfest"? Some of the best experiences are the agonizing ones where limits are pushed.
Sawyer, a part-time mindfulness yoga teacher, asks a question worth remembering when pursuing outdoor adventures.
"It becomes clear if you don't enjoy it, why are you doing it?" 
Paddles up.