Community
Birch Bay hosts 40th annual Sand Sculpture Competition
Participants of all ages compete for prizes
July 29, 2023 at 4:40 p.m.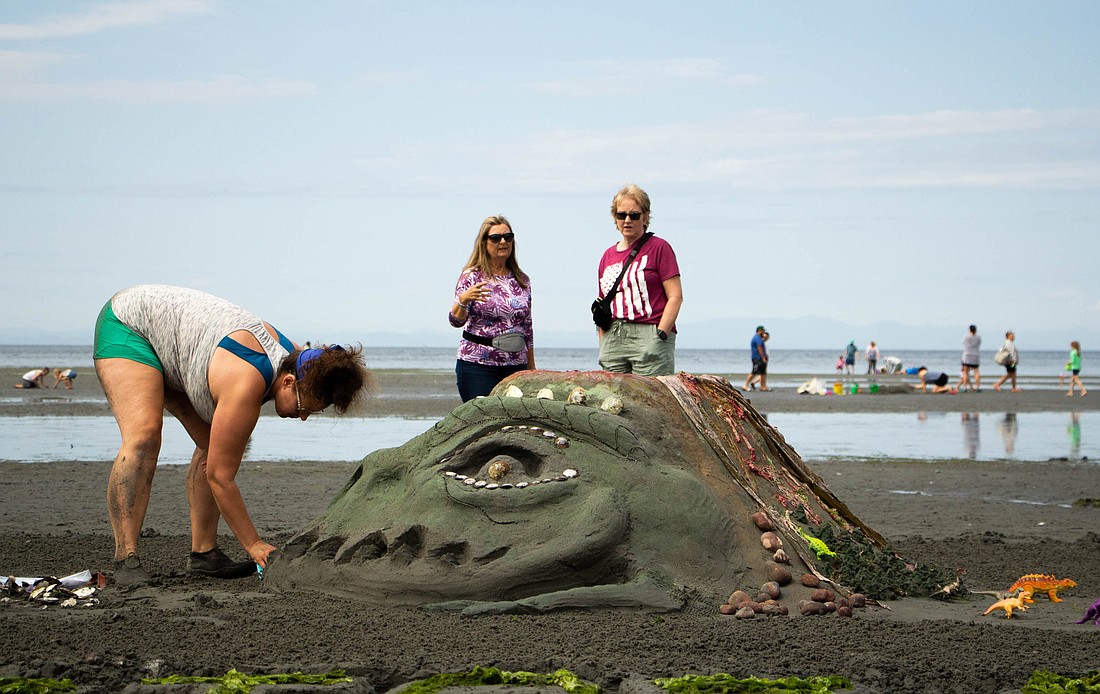 ---
---
Castles, sea turtles, race cars and more lined the beach for Birch Bay's 40th annual Sand Sculpture Competition on Saturday, July 29. From 7 a.m. to 1 p.m., amateur sculptors of all ages gathered to put their creativity to the test. 
Organized by the Birch Bay Chamber of Commerce and other local sponsors, the sculpture competition is part of a larger weekend of community events, including vendors, food, live music and the Rollback Weekend Car show on Sunday, July 30.  
"It's always a big weekend in Birch Bay," said Sacha Sanguinetti, the event coordinator for the Birch Bay Chamber of Commerce.  
Competitors could sign up online before the competition or register in person at the event. It was free to enter and participants had the chance to win numerous prizes, including handmade medals, gift cards to local businesses, water park tickets and more.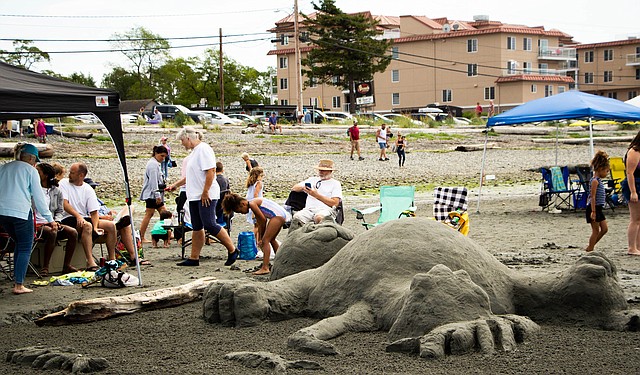 But for most sculptors, it's not about the prize at the end. Tom Smith, who has been making sand sculptures since he was a kid, has participated in the sculpture context for five or six years. 
"I don't have any luck at this contest," Smith said. "I'm always fan favorite, but I've never won." 
One year, Smith and his partners made a moai statue and a Lego figure. 
"Every kid on the beach had his picture taken with the Lego man," Smith said. This year, he and his team recreated a series of moai statues sticking out of the sand at different heights. 
Like Smith, many teams create a whole scene with the sand at their disposal. There aren't very many rules to the competition; each team gets up to 20-by-20-feet to work with, they must mark their sculpture area with a stick received at check-in, they can use nothing but sand for structural support, they must clean up any unnatural materials before leaving and most importantly — have fun.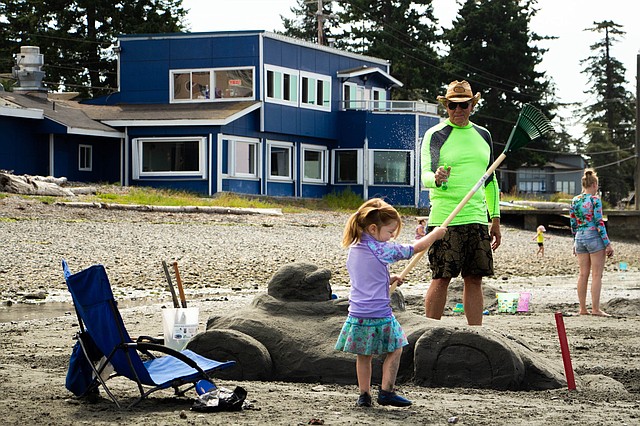 Leo Vulama, 9, used every material available. Vulama and the rest of his family made a giant volcano wiping out a herd of brightly colored plastic dinosaurs. Underneath it, they carved "Raptor Pack" in bold letters.  
"I'm a future paleontologist," Vulama said. "So, I really wanted to make dinosaurs. My parents, we got dye, we got everything to make that happen, and we're ready and we're in it to win it." 
Like Vulama, other children were also participating in the competition. Ivy Meagher, 12, worked with her family to create a shark emerging from the sand. Its teeth were made of seashells and it was surrounded by painted rocks.  
Inspiration for sculptures can come from anywhere, and competitors held back no creativity.  
Sharon Butler and her team took inspiration from a new family cat named Thomas. They all helped to sculpt a giant version of Thomas laying on his back, belly full, with fish bones scattered around.  
"We've done this for what, three, four years now?" Butler said. "The first year we did it we got second place, I think, so that's pretty cool." 
With about 30 teams participating, there was no lack of competition. However, participants and event organizers agree the most challenging aspect of the contest is racing against the tide that will eventually wash away their hard work. By 1 p.m., many sculptures looked like islands barely breaching the water. 
"That's something we have to look at every year," Sanguinetti said. "Next year, we're already looking and the tides that are for this corresponding weekend are not good for this competition, so we're probably going to have to move it next year." 
Competitors like Jim Challenger don't mind that their sculptures will eventually wash away.  
"You know that ahead of time," he said. 
Challenger and his team built a life-size replica of Mario in his car from Mario Kart, the idea coming from one of the children on the team.  
"It's a good community event," Challenger said. "You can see its brought thousands of people down to the beach and down to Birch Bay. Everyone's walking around having a good time." 
Winners will be announced Saturday evening. To view the full list of winners, visit Birch Bay Sand Sculpture Competition's website.