Faces in the Crowd
Michelle Schutte: Owner of HOSA hot sauce
CDN's weekly community profile
July 28, 2023 at 5:00 a.m.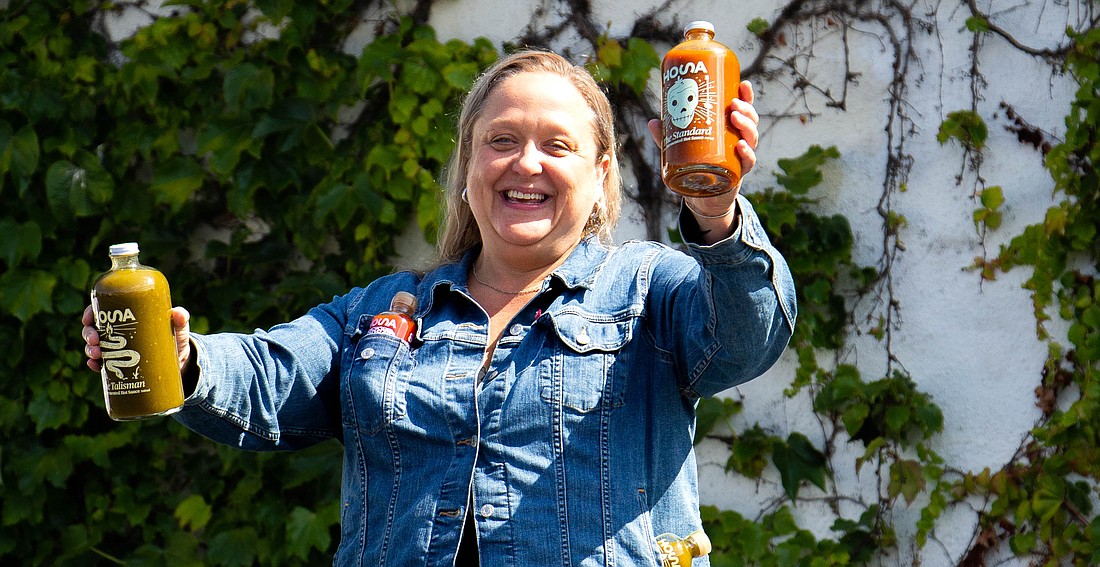 ---
---
Michelle Schutte (she/her)
Age: 50
City: Bellingham
Lived here for: 28 years
Originally from: Gig Harbor
Notable: HOSA hot sauce owner, fine artist 
How did you end up in Bellingham?
I did my associate's degree at the community college in Tacoma, and then wanted to come to Bellingham to finish my degree because my brother lived here already. Then I never left.
What did you study at Western Washington University?
I have a degree in art history and studio art, so I was like, 'I'm either going to make art or I'm going to find a different job.' With a bachelor's degree in either of those things, it's either graduate school or a different career, basically — unless you can get yourself to make artwork without class deadlines. I managed to do that eventually and start making art regularly, but in the meantime, I got out of college and realized the job I had made me better money than a college professor would be making at the same time. I was bartending at the Ranch Room in the 1990s.
Do you have art hanging anywhere right now?
No, but I just moved a bundle of new canvases into my studio, so hopefully soon. The studio is in about half of my apartment. It's got really good light. My geriatric dog and cats are there. I live in the top story of this building [on State Street], and work in the basement for HOSA, so keeping my art here makes sense. My days are literal circles.
How did you get involved with HOSA?
Brent Cole, Jacob Covey and Andy Beer started the company in 2016. Brent left before the pandemic. Andy started going to school (after the pandemic). That left Jacob, who lives in Seattle and doesn't make hot sauce.
Jacob and I hadn't talked face-to-face since we were in our 20s, but he called me up in the middle of the pandemic and said, "Weird question: Do you want to make hot sauce for a living?" I said, "Yeah, why not." I've always loved HOSA and every restaurant or bar I've worked in, I've managed to get it on the menu and have it available for people to use. I love the product. All the branding is Jacob Covey. I love him. I love his artwork. The sauce is really good, but the artwork and the packaging is what sort of pushes it over ... they're beautiful products. They're like little packaged art projects.
Why else do you think you were a good fit to take over HOSA?
It was a natural progression for me. From making food and flavors in bars and restaurants professionally for years, and also making artwork, and then being a fan of Jacob's art, and a fan of the hot sauce — I couldn't say no to that.
What's a perfect day in Bellingham for you?
I spend a lot of time in the water taking my old dog for a swim. Lately, I've been kind of obsessed with fishing — which mostly means casting. Casting a fishing pole, a spinning reel, is one of the more meditative things I've ever done in my life. I could spend hours doing it. Up to my waist in the water in a swimsuit, casting into Lake Whatcom, and my dog will just swim circles around me for hours.
"Faces in the Crowd" is published online and in print Fridays. Have a suggestion for a "Faces in the Crowd" subject? Email us at newstips@cascadiadaily.com.