The A-List
Amy's Picks: Global tunes, Sunnyland Stomp and far beyond
A curated selection of happenings in Whatcom and Skagit counties
July 20, 2023 at 5:00 a.m.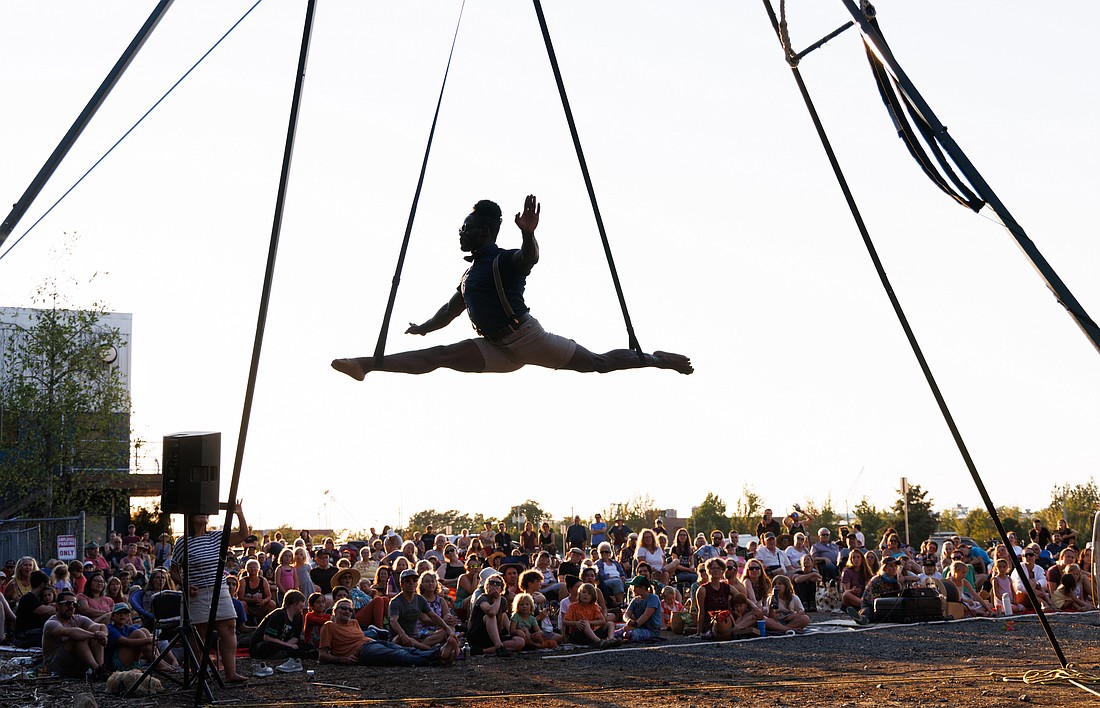 ---
---
AMY'S PICKS
Mission Folk Music Festival
July 21–23, Fraser River Heritage Park, Mission, B.C. 
Much like last week's Vancouver Folk Music Festival, this longtime event also approaches the definition of "folk" music with a broad stroke. 
"Folk is the traditions that people practice in their homes," festival director Michelle Demos Shaevitz explained to me last year in advance of the three-day event. "It's the things around the kitchen table. So when you consider folk is the way people practice and express their histories and their cultures, that gives you the blues, that gives you bluegrass, that gives you every version of global music — which is not global music when you go to those countries."
In that vein, festival-goers can hear everyone from singer-songwriters to Celtic music, Cajun, blues, bluegrass, soul and everything in between. A global food court, camping, workshops, weekend jams, activities for kids and unique programming will fill out the weekend.
Even if you haven't yet sourced tickets or made a plan to stay overnight, it's not too late to make a day trip out of it. Siri tells me it takes about "one hour, four minutes" to get there from Bellingham, so gas up the car and go. Info: missionfolkmusicfestival.ca. 
Sunnyland Stomp
3–8 p.m. Saturday, July 22, throughout the Sunnyland neighborhood 
True story: I once helped judge the chicken races held at Sunnyland's Memorial Park to help kick off this annual neighborhood celebration of creativity. Luckily, no fowl play was detected, and I was able to confidently choose a winner.
Sadly, organizers were unable to reserve the park this year due to policy changes with the City of Bellingham, so you'll have to be content with possible poultry sightings at one of the 47 "Stomp Stops." 
A quick look at the map makes it clear Sunnylanders have a lot to offer — whether it's live music, handcrafted birdhouses, mixed-media art, upcycled fiber creations, glass art, woodworks, contemporary folk art, backyard garden tours, quilts and much more. Sunnyland businesses are getting in on the action, as well, with events happening at breweries, restaurants and even hardware sales. 
I suggest taking a gander at the online map and targeting sites of interest, as there's no way you're going to be able to drop by all 47 stops in five hours, and no telling how much time you'll spend at each stop. It's also worth considering riding your bike to suss out the sights, as parking can be scarce. Info: sunnylandstomp.com. 
Fairhaven Outdoor Cinema
7:30 p.m. Saturday, July 22, Fairhaven Village Green, 1207 10th St.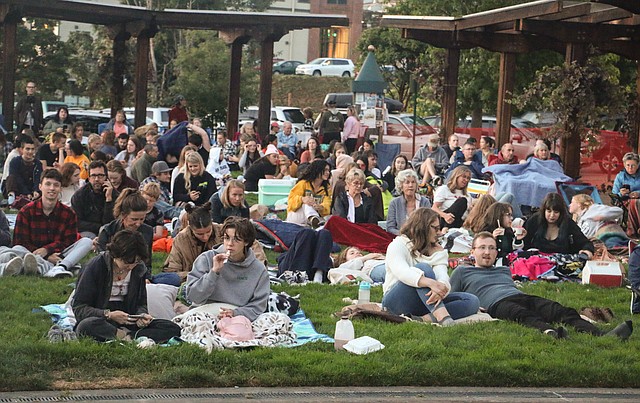 Whether watching "The Sound of Music" on a white sheet affixed to the side of my house, gathering on top of the Bellingham Parkade to watch Rooftop Cinema offerings from the Pickford Film Center, or attending the Fairhaven Outdoor Cinema, I adore viewing movies in the great outdoors. 
Judging by the crowds that gather every Saturday night throughout the summer at the green space outside of Village Books, so do a whole lot of other people. Last year, when I watched the 1978 musical "Grease" shortly after actress Olivia Newton-John (Sandy) passed away, I had to cram myself onto a park bench because I was too late to secure a space on the lawn, and hadn't brought a camp chair (which are only allowed on the periphery of the lawn). 
I still had a great time, but I advise showing up before dusk to enjoy the live music and settle in. Tonight's pre-show entertainment will feature The K-Kats, who will be playing classic ragtime tunes that are likely to draw you to the dance floor. Shortly after dusk, the painted-on screen will light up with "Black Panther."
Movies continue Saturdays through Aug. 26, culminating with another classic movie, "The Princess Bride." Entry is $7–$8. Info: enjoyfairhaven.com. 
Up Up Up Crane Circus
6 p.m. Sunday, July 23, Bellingham Circus Guild, 1401 Sixth St. 
Late last August, Up Up Up Crane Circus had a major hiccup near the end of its summer tour. The flatbed truck with a hand-cranked crane they use as a stage and for their aerial acts broke down on Whidbey Island, and they needed to act fast to ensure the show went on. Within a day, they found a portable aerial rig and a smaller flatbed trailer to borrow, and were able to make their remaining gigs — including one in Bellingham. 
I'm happy to report that when they roll into town for their Sunday show in the parking lot of the Bellingham Circus Guild, they'll be doing so with the crane and 100-year-old baby grand piano intact.
I'm even more thrilled to wholeheartedly recommend this event. If last year's performance is any indication of what you can expect to see from the talented troupe of performers — many of whom are based in Bellingham — you'll laugh a lot, gasp more than a few times, participate in interactive events and be happy to throw in some bills when they pass the hat at the end of the night (no pressure, the show is by donation). One note: Consider bringing a portable chair with you, as there's not much seating. Info: upupupinc.com.  
Children's Craft Fair 
11 a.m. to 1 p.m. Friday, July 28, Bellingham Public Library's Lee Memorial Park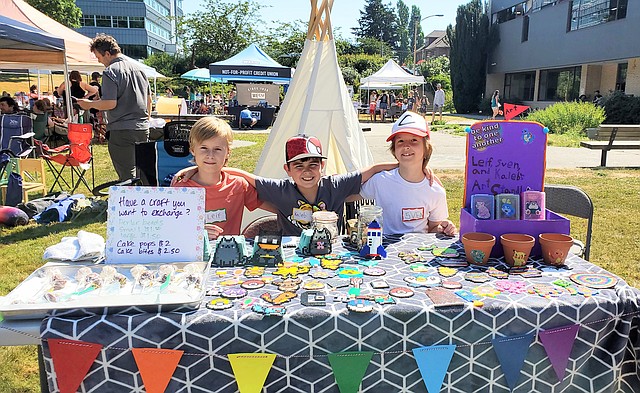 While some local youth are spending their summer vacations swimming a lot or riding bikes, others are using some of their off time making craft items to sell to the public at the July 28 event and again Friday, Aug. 11, inside Bellis Fair mall (where the library has an additional location). 
Burgeoning entrepreneurs such as Damian Carrillo Koller and Gabriel Carrillo Koller, ages 10 and 8, are sewing bookmarks, creating paintings and sculpting clay decorations for potted plants. Other kids are crafting earrings, growing flowers to sell or making plans to supply cookies to the masses.
"We welcome everyone to come and see all of the amazing and creative things kids worked so hard on making all summer long," Children's Services Librarian Bernice Chang said in a recent news release. "Each year, kids surprise us with new, exciting things, from cat toys to jewelry to birdhouses, baked goods and more."
Getting a good deal is my kryptonite, and with all items priced at $5 or less, I won't be able to resist seeing what I can score at the annual event. All sales will be cash only, so keep that in mind when you go. Info: bellinghampubliclibrary.org. 
FULL CALENDAR 
Friday, July 21
'Clytemnestra Has Blood on Her Hands'
7 p.m. Pioneer Park, 2004 Cherry St., Ferndale 
The Unsubdued Theatre Collective presents this original play by Jessica Moreland for tonight's final showing. The production is a retelling of the death of Agamemnon which focuses on Helen, for whom the Trojan War was fought; Cassandra, an unbelieved oracle; and Clytemnestra, the murderer. Entry is free. Info: facebook.com/unsubduedtheatre. 
'The Tempest'
7 p.m., Rexville Blackrock Amphitheatre, 19299 Rexville Grange Road, Mount Vernon 
Shakespeare NW continues its summer season with this timeless comedy by William Shakespeare. The play shows in repertory with another of the Bard's comedies, "The Taming of the Shrew," on various dates through Aug. 12. On Saturday, July 29, attend the annual Iron Man event, which features both plays, plus a showing of "Happily Ever After." Tickets to individual shows are $15–$18. Info: shakesnw.org. 
David Rovics
7 p.m., Ten Mile Chapel, 800 Ten Mile Road, Lynden 
As part of his "Killing the Messenger" world tour, this indie singer and songwriter will bring his talents to town. Expect to hear topical subjects from the musician and activist known to be critical of the United States government's politics. Info: davidrovics.com/tour. 
Steve Earle 
7:30 p.m., Mount Baker Theatre, 104 N. Commercial St. 
This legendary singer-songwriter will bring his solo, acoustic talents to the stage as part of his "Alone Again" tour. In addition to his musical talents, Earle is also an author, producer and actor. He was recently inducted into the Nashville Songwriters Hall of Fame. Tickets are $25–$60 and are close to selling out. Info: mountbakertheatre.com. 
'On Golden Pond' 
7:30 p.m., Anacortes Community Theatre, 918 M Ave. 
Family dynamics will be explored during showings of this drama taking place weekends through July 29. The play is set at the summer home of an elderly couple who are taking care of their daughter's fiancé's teenage son. Tickets are $25. Info: acttheatre.com. 
'Keely and Du'
7:30 p.m., FireHouse Arts and Events Center, 1314 Harris Ave. 
As part of Bellingham TheatreWorks' Fairhaven Summer Repertory Theatre, see this captivating drama for the final time. On Saturday, the last showing of "Gidion's Knot" takes place, and, at 5 p.m. Sunday, "What the Constitution Means to Me" will close out the season. Tickets are $21. Info: bellinghamtheatreworks.org. 
Space Trek
8 p.m., The Upfront Theatre, 207 Prospect St. 
Check out "the final upfrontier" with shows Fridays and Saturdays throughout July. Bard on audience suggestions and familiar tropes, improvisers will take you on a hilarious space adventure. Tickets are $10–$16. Info: theupfront.com. 
Saturday, July 22
Bellingham Farmers Market 
10 a.m. to 2 p.m., Depot Market Square, 1100 Railroad Ave. 
Approximately 90 vendors from Whatcom and Skagit counties are on site at this weekly market, which continues every Saturday through Dec. 16. Info: bellinghamfarmers.org. 
Summer MakersFest
10 a.m. to 4 p.m., Transit Shed Event Center, 100 Commercial Ave., Anacortes 
Creative Avenue NW will host this celebration of homegrown art and all things handmade. Shop more than 50 local vendors with art, photography, jewelry, stained glass, apparel, stickers, fresh-baked desserts and more. Entry is free. Info: creativeavenuenw.com. 
Summer Market 
10 a.m. to 4 p.m, Home Farm, 8020 Kickerville Road, Blaine 
More than 60 local artisans will be selling their wares at this monthly event. The event will also feature free tractor train rides for kids, self-guided farm tours, u-pick blueberries, live music, food trucks, face painting, an inflatable play area and more. Info: homefarm.farm.  
Old Town Art Stroll
Noon to 5 p.m., downtown Bellingham 
Meander through the Old Town district to peruse galleries, studios, pop-up art markets, performances and more. The free, family-friendly event started in June and now takes place on the fourth Saturday of every month. Maps will be available at various locations. To find out how to take part, email Rebecca Meloy. Info: rebecca@rebeccameloy.com. 
Jam on the River 
Noon to 8:30 p.m., Centennial Riverwalk Park, Ferndale 
Live music, carnival games, vendors, food trucks and a beer garden will be part of this free, family-friendly festival taking place along the river. Info: ferndale-chamber.com. 
Semiahmoo Sips
2–4 p.m., Semiahmoo Resort, Blaine
Every Saturday, head to a special wine tasting hosted in the Semiahmoo Wine Cellar, where a sommelier pours samples of four different wines from a rotating menu. Charcuterie and cheeses to pair with the wines are also available for purchase. Entry is $20 per person, and no registration is required. Attendees receive 15% off their cellar bottle of choice. Info: semiahmoo.com. 
Sunday, July 23
Ferndale History Walk
Noon to 2 p.m., Pioneer Pavilion, 2007 Cherry St., Ferndale
Connect Ferndale will host this free event, which will feature a 2-mile walking tour focusing on the city's history related to communities of color. Explore parks and downtown landmarks while learning about the important contributions of Indigenous, Black, Latino and Asian communities. The walk is flat and wheelchair-accessible. Info: ferndalecs.org. 
Summer Concerts Series 
6–8 p.m., Riverfront Park, Sedro-Woolley 
The Naughty Blokes continue this seasonal event. In addition to music, find food and art vendors, games, hula hoops, a beer garden, face-painting and a charity raffle. Entry is free. Additional July 30 (Lazy Acres), and Aug. 6 (Fortress of the Bear). Info: kriss@rothenbuhlereng.com. 
Tuesday, July 25
History Sunset Cruise 
6–8 p.m., Bellingham Cruise Terminal, 355 Harris Ave. 
Join the Whatcom Museum every Tuesday through Sept. 12 for this popular summer cruise, which takes locals and visitors aboard the 100-foot Victoria Star tour boat. Participants get close-up views of parks, businesses, industry and neighborhoods from Bellingham Bay, with historian Brian Griffin serving as the tour guide. Tickets are $35–$40. Info: whatcommuseum.org. 
Wednesday, July 26
Night Market by the Sea 
5–9 p.m., G Street Plaza, Blaine 
Peruse an eclectic mix of local produce, handmade crafts, jazzy accessories and baked goods at this open-air event taking place the second and fourth Wednesday of the month through August. Info: blainechamber.com. 
Blues Dance 
7 p.m., Hotel Leo, 1224 Cornwall Ave. 
Bellingham Blues will host this monthly event in the Crystal Ballroom, beginning with a "How to Dance Blues" class with instructor Lila Faria. From 8–11 p.m., dance along to music by guest DJs. Entry is $10. The next event takes place Aug. 30. Info: bellinghamblues.com. 
Thursday, July 27
Barkley Market
11 a.m. to 2 p.m., Barkley Village Green, 2215 Rimland Drive
Local vendors will be on-site for this weekly market, which continues Thursdays through Aug. 31. Additionally, there will be live music and food truck options for lunch, so bring the family along for a picnic. Info: barkleyvillage.com. 
Riverwalk Summer Concert Series
6–8 p.m., Riverwalk Plaza, Mount Vernon 
Levi Ware will perform tonight as part of this free, all-ages series, which takes place every Thursday through August and features a mix of family-friendly local and regional artists. Info: mountvernonchamber.com. 
Mark Rubin
7 p.m., Congregation Beth Israel, 751 San Juan Blvd. 
Expect to hear everything from country to western swing, bluegrass, Cajun, tex-mix, polka, klezmer, Roma and more when this self-described "southern jew" brings music and storytelling to Bellingham. Tickets are $18. Info: bethisraelbellingham.org.
The GBU
7:30 p.m., The Upfront Theatre, 207 Prospect St. 
Bellingham's longest-running improv show, "The Good, the Bad, and the Ugly," takes place every Thursday, featuring a rotating performance format and guest players. Tickets are $10–$15. Info: theupfront.com. 
Friday, July 28
Afterglow Comedy Hour 
9 p.m., Stemma Brewing Company, 2039 Moore St. 
Nikki Kilpatrick hosts this monthly stand-up comedy show, which tonight will star Juno Men. Additional comics include Rohini Jayanthi, Rachel Shaw, Dartanion London and Joel O'Connor. Tickets are $10. Advance purchase is recommended, as these events regularly sell out. Info: stemmabrewing.com. 
Saturday, July 29
Birch Bay Sand Sculpture Competition 
7 a.m. to 1 p.m., 7948 Birch Bay Drive
Think beyond the traditional sand castle at this annual event. The competition will feature prizes for little kids, teens, big kids (16–110) and families. Entry is free. The event is part of a Rollback Weekend celebration including a car show, poker run, pancake breakfast, vendor market, live music and more on Sunday. Info: birchbaychamber.com. 
Samish Island Arts Festival
10 a.m. to 4 p.m., Samish Island Community Center, 11292 Blue Heron Road
More than 40 artist vendors will be on-site at this annual event selling handcrafted woodworking, jewelry, food, glass, baskets, soaps, clothing, pet items, photography and more. Cicchitti's food truck will be selling pizza, and there will be a beer and cider garden. Live entertainment and a kids craft table will be part of the fun. Info: samishisland.net. 
A Poetry Salon 
4–6 p.m., Van Zandt Community Hall, 4106 Valley Highway, Deming
The Center for Responsible Forestry will host this fundraiser and awareness raiser featuring renowned forest activist, naturalist and poet Tim McNulty alongside several beloved local poets reading from their respective works. Food and beverages will be provided by a generous CRF ally. Suggested donation is $30–$100, but nobody will be turned away for lack of funds. Info: c4rf.org. 
Sunday, July 30 
Docent Tour
1 p.m., Whatcom Museum's Lightcatcher Building, 250 Flora St. 
Take a docent-led tour of "Coastal Views: California and the Pacific Northwest" to learn more about the similarities and differences in style of the artworks from artists ranging from Northern California to Washington. Tours begin in the lobby. Entry to the museum is $5–$10. Info: whatcommuseum.org.
Before heading out to attend in-person happenings, check with individual venues to make sure the event is still taking place as scheduled.
The A-List appears weekly. To submit an event for consideration, email calendar@cascadiadaily.com.