Faces in the Crowd
Robert Matson: Owner of Matson Fine Dry Cleaning and Laundry
CDN's weekly community profile
July 14, 2023 at 5:00 a.m.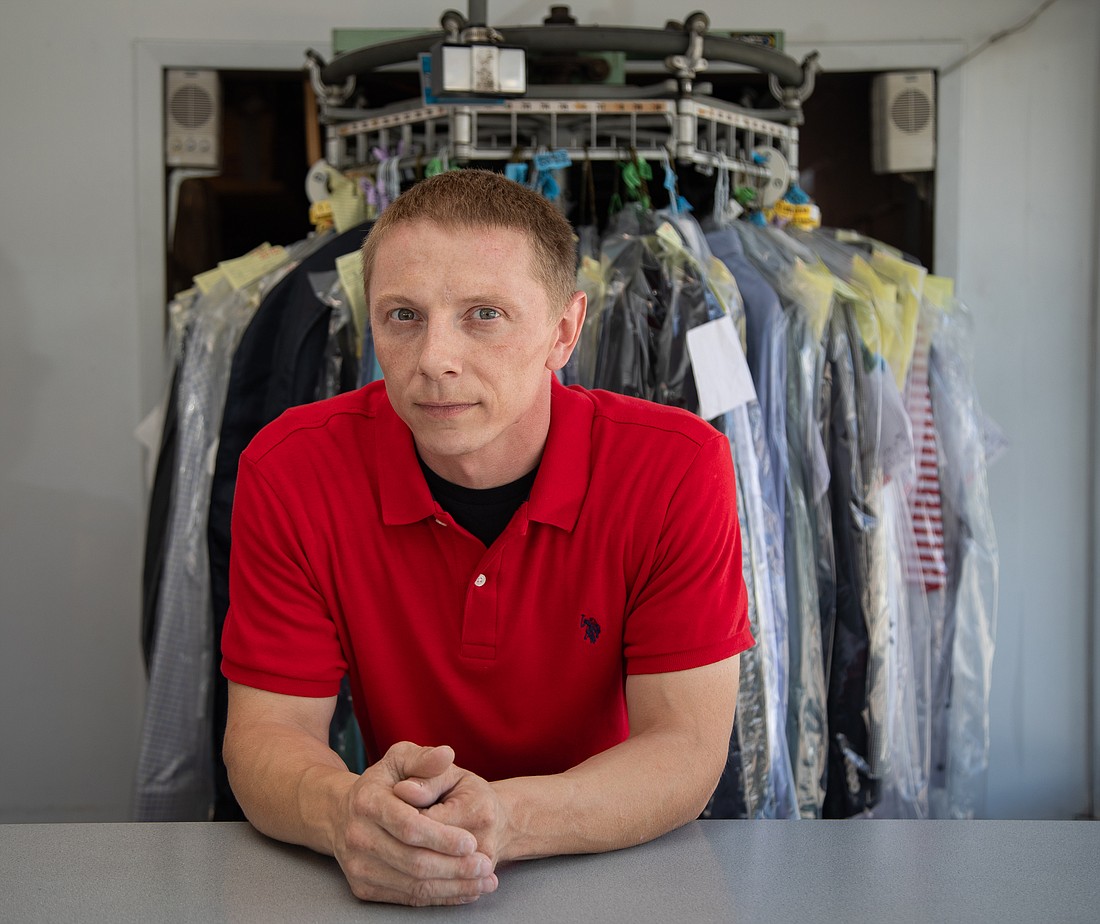 ---
---
Robert Matson (he/him)
Age: 35
City: Bellingham
Lived here for: 35 years
Originally from: Bellingham
Notable: Owner of Matson Fine Dry Cleaning and Laundry, father, husband
Tell me about how you first started your business.
Back in June of 2019, I came in here. A local guy cleans rugs and he told me that [the owners] wanted to retire. So I came in here, after working up the courage — it took a couple of weeks — and asked them and they were ready.
It took a while to get the ball rolling. I worked at another cleaner for 14 years, and my mom worked there for 43. And I was going to school for automotive. But cars aren't cars anymore — they're computers. And so I was like, 'What do I do?' I love it. If it was just a job, I don't think I'd be able to do it because of the hours that I put in here. When I first started, I couldn't let it go, like when I'd leave, I'd still be thinking about it, but I'm getting better about that.
What do you like about working in the service industry?
Customers are great. This town is awesome. I love to help people. It's kind of funny that we're still a business that is needed — it feels like a lot of businesses died since COVID. But we're still chugging along.
Is your business family-run? 
My wife, she helps. She worked for PeaceHealth and she quit to work full time here a little over a year ago. And then my mom, who comes in the mornings, helps out. We have an employee, Andrew. That I think is the hardest part of owning the business — the employee part. I can do stuff, but to relay that to somebody and train them, it's just something I never thought would be a hurdle.
Tell me about your biggest dry cleaning job.
Our biggest job I think right now would be Anthony's … we go there sometimes three or four times a week. Then we also do the high school band uniforms — we have Blaine in here right now. And then we also do the Skagit Casino Resort. Cory's — when they closed because of COVID — we took over their commercial accounts. It's nice having some consistency. 
When you're not working, what do you enjoy doing?
My daughter and I are getting into crossbows, archery. Just finding the time to do it has been difficult, but it's something that's been kind of connecting us, and I've been enjoying that.
Describe your perfect day off. 
The perfect day off would probably be coming in and working for just a few hours in the morning. And then maybe going for a walk [along] the river or something, maybe up to the mountains, somewhere outside. Yeah, a day off wouldn't be a day off … I just wouldn't feel right. It's weird, if I take a day off, that next morning, I get anxiety. 
"Faces in the Crowd" is published online and in print Fridays. Have a suggestion for a "Faces in the Crowd" subject? Email us at newstips@cascadiadaily.com.