Business Matters
Birch Bay's Station 49 still in same family, seven decades later
Family amusement center enters summer season with expanded options
July 14, 2023 at 4:50 a.m.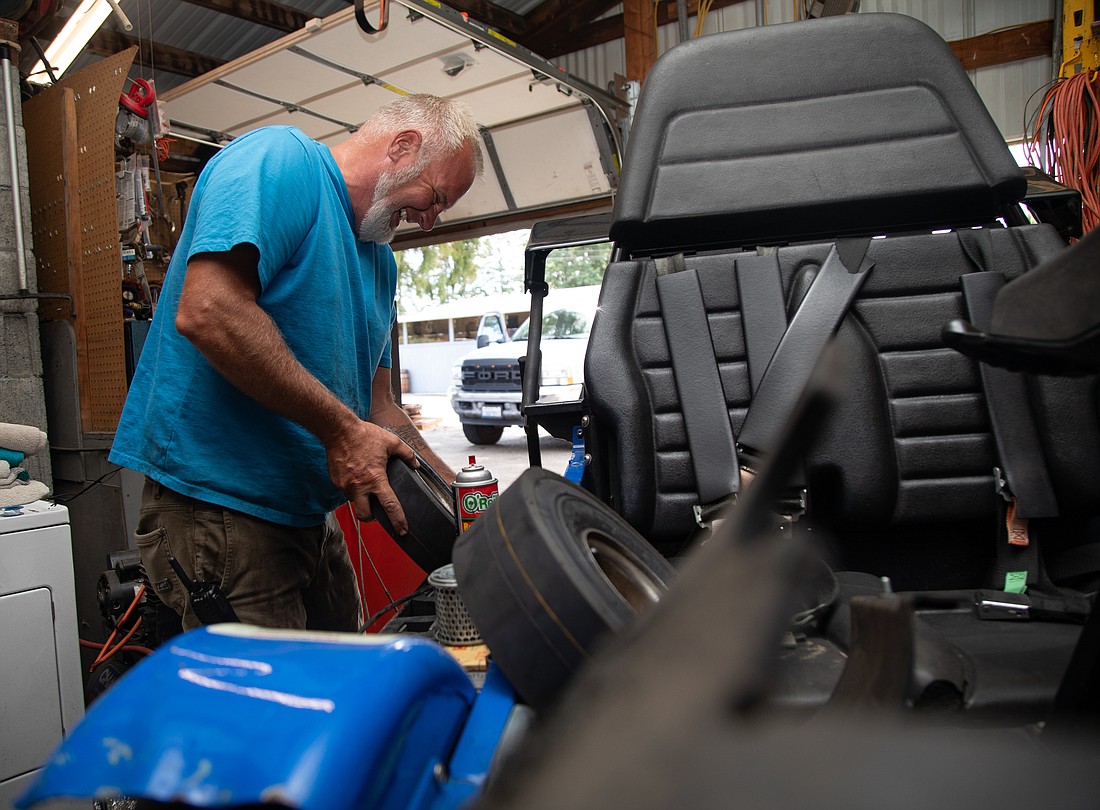 ---
---
Corporate events, too. On Birch Bay Lynden Road, about two miles northeast of the heart of Birch Bay and less than a mile from the water sits a shed full of go-karts. Not just the one suspended on a lift that Dale and Brayden Giffen are working on — go-karts are stuffed into sturdy shelves and a bare frame model sits atop an interior wall.
That tubular metal go-kart, Dale mentions, is from the 1962 World's Fair in Seattle, broadly known as the Century 21 Exposition.
The ongoing maintenance  — and history — are hallmarks of Station 49, a small business with an outsized impact on seasonal fun in the area. The 10 acres at 4620 Birch Bay Lynden Road are home to a go-kart track, woodsy miniature train ride, challenging 18-hole miniature golf course, arcade, and the newest attraction, a 25,000-square-foot family bar and entertainment area. 
All of it has been owned and operated for nearly seven decades by the Giffen family. Dale Giffen said he bought the business, founded in the 1950s, from his father "a few years ago" after his father had owned it for more than 30 years. His father, in turn, had earlier purchased it from what Dale recalled was his great-uncle. 
Now the amusement center is run by Dale, his son Brayden and their respective spouses Sheila and Kimberlee Giffen. 
"We all enjoy working the business and doing it," Dale said. "So we just kind of keep going with it."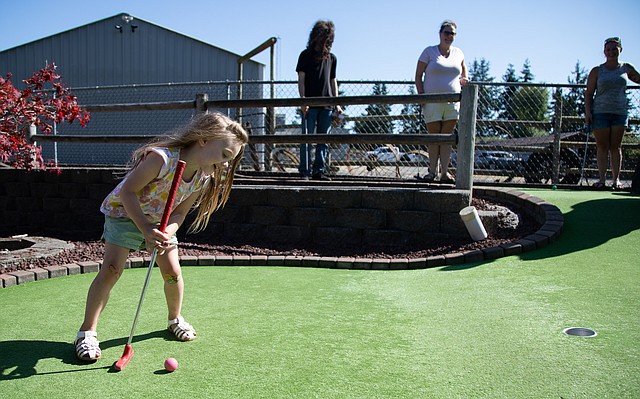 As an outdoor amusement park, Station 49 operates seasonally. This year, it opened in May on weekends only, then daily as of June 24. After Labor Day, the park is expected to return to weekend-only hours before it closes for the year.
"We try to make it through Halloween if we can," Dale said. "But it depends on the weather because if the weather turns a little bit on the poor side here, everything basically shuts down. Birch Bay as a whole shuts down."
Station 49 hasn't always been known by that name. Family members said it began as Birch Bay Kartway, became Miniature World Family Fun Center when mini-golf was added in 1998, and finally changed to Station 49 after the large performance area with its family-oriented "saloon" and snack bar was added in 2020. 
And for those wondering: "Station" is for the miniature train with its 1.5 miles of track and "49" is for the latitude, the 49th parallel north. 
The relatively new performance area with its stage has allowed Station 49 to add ticketed evening events on the weekends in addition to daytime live music. Acts range from Arizona-based country musician Bobby Joe Bell to "psychic comedian" Peter Antoniou.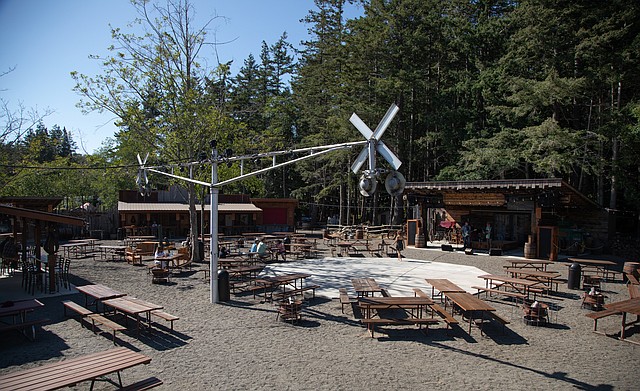 "I think over the last few years we've definitely been testing what works," said Brayden, who helps find talent that would fit well with the Western-themed, family-friendly atmosphere. "I wouldn't say that every show has gone exactly how we've wanted it to, but for the most part we've been pretty happy with the performers that we have out here."
Other additions include bigger corporate events, thanks to the extra space provided by the saloon/performance area. To date, Dale said, they've had a few with 20 to 30 guests each, but they're preparing for their first large-scale function for a construction company that plans to bring about 150 people. 
The Giffens aren't the only staff that keeps Station 49 on track. Dale and Brayden estimate that, including family members, about a dozen or more people work at the center throughout the season. But the Giffens take responsibility for what may be the biggest underappreciated chore: maintenance. 
The go-kart shed with a 3-foot-tall stack of tiny tires and a lift suspending a kart with an exposed engine is just one example. 
"You can see it's an older place. A lot of the buildings are original so it's maintaining them," said Dale. He cited the continuing need to keep train tracks level, remove tree branches that fall on structures and restore mini-golf greens, six of which have already been replaced this year.
"We're hoping to replace three more, and we'll come here about three o'clock in the morning and do that so obviously the glue's dry by the time they (visitors) arrive," Dale said.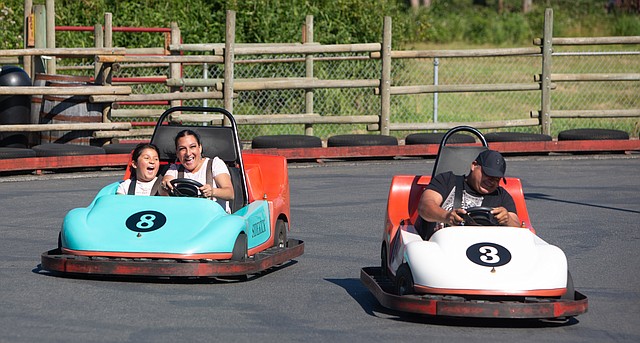 A sign of success may be when the maintenance is invisible to guests. They simply expect to see the set of clean, well-functioning attractions, even if the work to keep them that way appears to be a bigger business challenge than competition from nearby Birch Bay Waterslides (it's complementary, according to Dale) and more distant or can-you-top-this major theme parks. 
Of continued importance to the family is drawing visitors, including area residents, to this Whatcom County destination.
"We still get people, maybe not quite every day anymore, but that say, 'I've lived here for 20, 30 years in this county and never heard of you guys,'" Brayden said. 
Those other, out-of-town parks? The family members said they'd consider traveling to some of them again — if they weren't small business owners running their own park every day. 
Places & Things
Bison Bookbinding & Letterpress is opening a second location on Bellingham's waterfront. A Saturday pop-up stationery shop began July 1 on the bayside patio at the Granary at 1211 Granary Ave., with the full location "coming fall 2023" according to a window sign. Bison's main location at 112 Grand Ave. is open seven days a week. The company bills itself as "a letterpress print shop, bindery and stationery store" that also features music and events.
(For the latest Places & Things, check here throughout the week.)
Frank Catalano's column is published online and in print Fridays. Email: frankcatalano@cascadiadaily.com; Twitter @FrankCatalano.