Profiles
From a torn ACL, two herniated discs to winning the Padden Triathlon
Chris Hughes: father, husband, analyst and triathlete
July 13, 2023 at 11:24 a.m.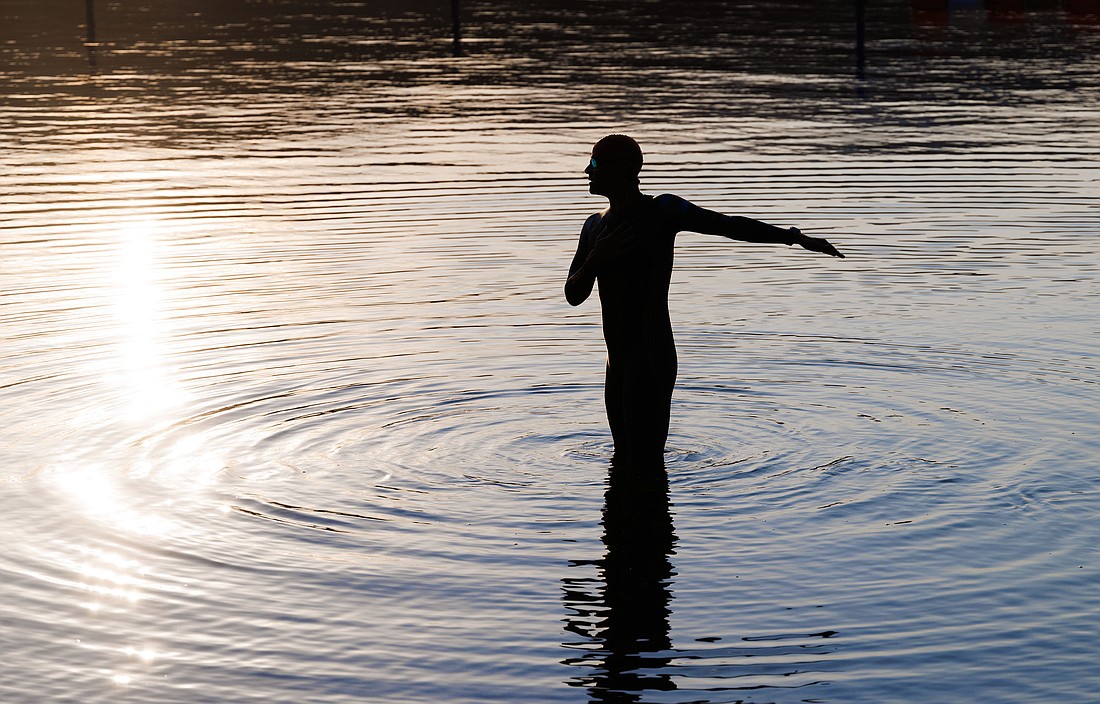 ---
---
Bellingham resident Chris Hughes is evidence athletes aren't born, they're made. 
In the last 15 years, Hughes has pushed through two devastating injuries and arduous rehabilitation periods to become a formidable competitor — and winner of the 2023 Padden Triathlon.
But he didn't grow up athletically inclined, nor was he interested in sports. When he began training for his first triathlon in 2010, Hughes wasn't sure he could even run a mile (unless forced to in a high school PE class).    
Growing up in Silverdale, Kitsap County, he loved playing The Legend of Zelda and was a self-proclaimed nerd. Hughes, 42, graduated from Western Washington University in 2003 with a computer science degree.
Once he started working, he decided it would be a good idea to get into some sort of sport, and chose snowboarding. 
While riding in 2008, Hughes felt a pop in his knee and sat down. He was sledded down the mountain and an MRI later revealed he had torn his ACL. 
Following surgery, Hughes said he didn't care about the injury. Since he wasn't doing much physical activity before the tear, he was content sitting around. But the knee wasn't improving, and Hughes started to put on weight. His doctor suggested he try swimming to rehabilitate his knee and get in better shape.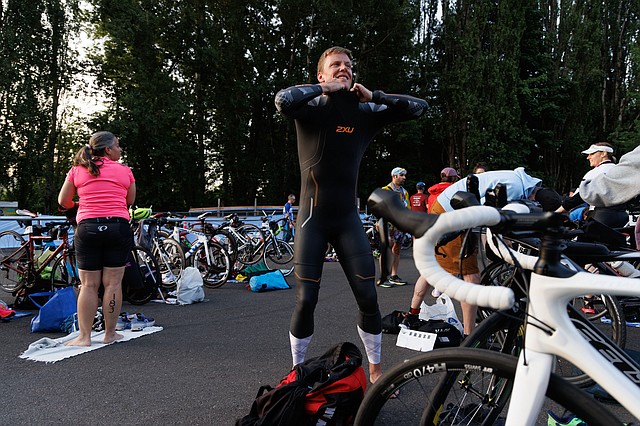 He went swimming with co-workers and began doing it more consistently. Hughes' doctor recommended he start biking as well. He bought a cheap bike and began another hobby. 
"I suddenly had this weird realization that I was swimming and biking three or four times a week. Someone made a joke like, 'Oh, are you going to become one of those triathletes?' And at the time I didn't even know what that was or what a triathlon was," Hughes said. "So, I Googled it and thought, 'Well that would be interesting.'" 
At that time, the 2010 Padden Triathlon was three months away. Hughes biked to Lake Padden to see if he could even run a mile. He could — so he started training, losing nearly 50 pounds in the process.
Hughes finished his first triathlon with a time of 2:03:08, placing 59th out of 245 competitors. 
"I remember just being in love with it," Hughes said. "I immediately went and registered for all the races I could find in Washington. I didn't even know what distances they were, I was just registering for them."  
After that summer, Hughes ditched the cheap bike and got himself a triathlon bike. 
Five years later, Hughes was on a relaxing ride just a few days after completing an Ironman race — 2.4 miles of swimming, 112 miles of biking and 26.2 miles of running. While biking across a crosswalk, he was struck by a car. Hughes was devastated. 
The accident herniated two discs in his back, the L4 and L5, and Hughes thought his career as an athlete was over.
"I had this very fortuitous moment where I was dropping off my sponsored kit and the owner of one of the local physio clinics was standing there and she came up and asked, 'Why do you look so sad?' And I was like, 'Well, I used to be an athlete, and I'm not anymore,'" Hughes said. "She was kind enough to take me on as this project and really fix me."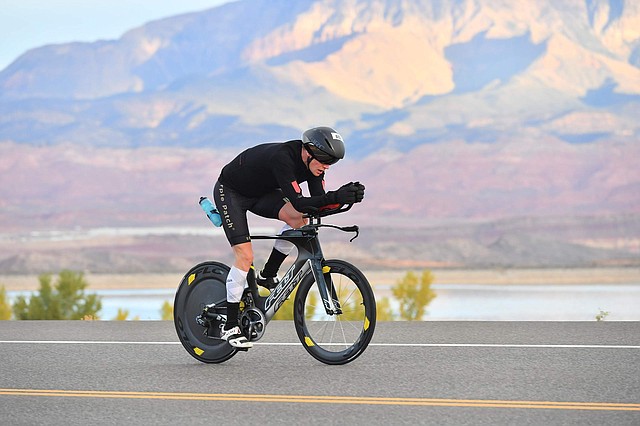 Elizabeth Hampton, owner of CorePhysio, was the physical therapist Hughes worked with. 
"I was really done," Hughes recalled. "I had my bike for sale and she kind of convinced me not to do that. It was a good long year of rehab, but I have to say, I came back just fine."
Hampton didn't come in with a mindset that she could fix Hughes, but wanted to approach the situation with curiosity to see if she could understand what was going on. 
"When you're a runner who can't run, there is just a sadness and a frustration and an anger and grief that is really unique to that athlete," Hampton said. "It's like a golden retriever who can't play with their tennis ball, and that's all they want." 
While Hughes was able to get back to training, he said he still suffers from some lingering back issues and trauma that he doesn't expect to ever go away. 
Since returning to the sport, Hughes has had to learn to train as efficiently as possible, doing so through the help of his coaches at Purple Patch Fitness and his best friend, Brent Detta. 
All that work came together when Hughes won the 2023 Padden Triathlon, finishing more than 10 minutes before any other competitor.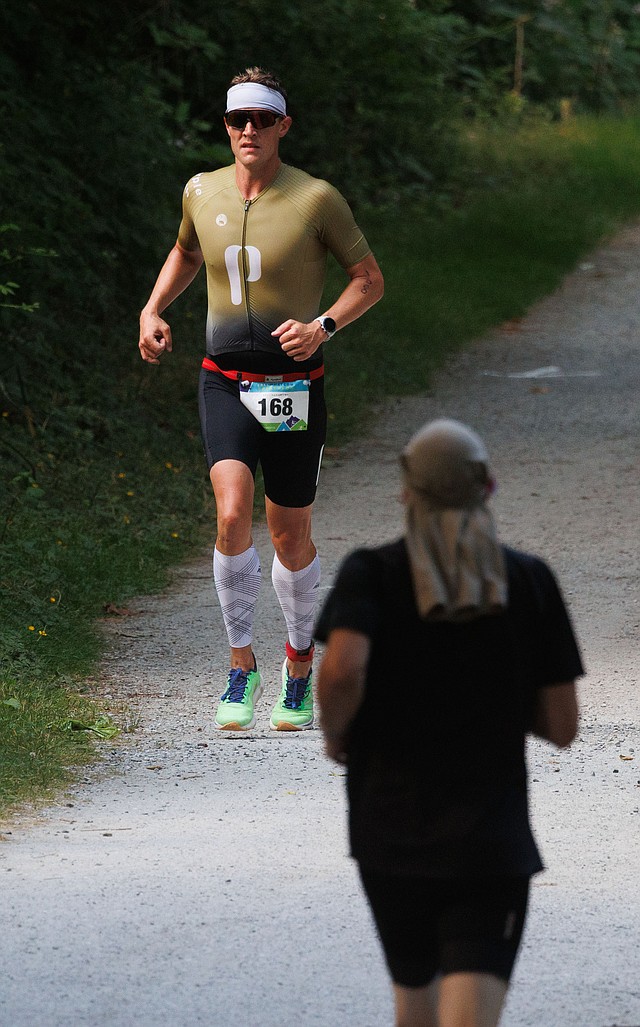 As much as Hughes doesn't like to play up his accomplishments, he said this one was special. Since completing his first triathlon at Lake Padden in 2010, it was his goal to win. He completed the 2023 race in 1:37:22 — 25 minutes and 46 seconds faster than his original time. This was Hughes' first top finish in any triathlon. 
The victory was exciting for Hughes' family, and his 8-year-old daughter, Daphne, said she needs to stop bragging about it, telling her friends that her "dad's the fastest now in all of Bellingham." 
"I'm certainly not the fastest triathlete in town," Hughes responded. "I won that by the margin I did because faster people didn't show up. But I've been trying to win that race since the first time I did it and in some way, it has been the belle of my improvement in the sport." 
Most importantly, Hughes' wife, Jessica, their 12-year-old son, Henry, and daughter Daphne have all played a key role throughout his 13-year transformation. They're at almost every single race and are proud to cheer him on. 
"It's been pretty amazing to see how he's grown and developed as an athlete. But I think he's a tremendous role model for the kids in terms of hard work and dedication and it's something he's passionate about, so I'm just thrilled for him," Jessica Hughes said. 
"I couldn't do this without my wife. Like, there's just no way," Chris Hughes said. "She's kind of the hidden hero behind all that. I don't want to miss my kids' lives for training — that was also one of my goals. And so, we work around that sort of schedule so that I'm always present."