The A-List
Amy's Picks: Blondes, berries, grooves and art
A curated selection of happenings in Whatcom and Skagit counties
July 13, 2023 at 5:00 a.m.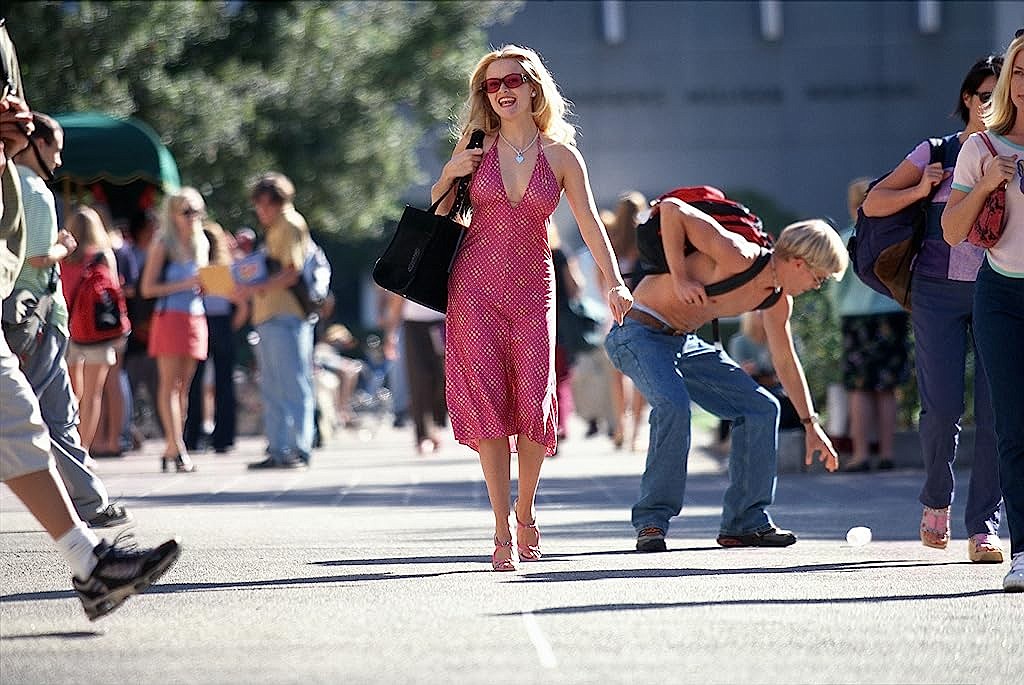 ---
---
AMY'S PICKS 
Rooftop Cinema
7 p.m. Friday, July 14, Bellingham Parkade, 1300 Commercial St.
Last July, the Pickford Film Center drew attention to the late actor Patrick Swayze by screening three of his movies on the roof of Bellingham's biggest parking garage. They dubbed it "Summer of Swayze," and it was a big success. 
This year, "Hot Girl Summer" will be the theme of the trio of movies. But don't go thinking you'll be showing up to watch scantily-clad women showing off more skin than brains. Instead, Pickford Marketing Manager Gray Gordon said they'll be featuring three complex women in the lead roles of their respective films — an idea I can strongly get behind. 
Reese Witherspoon kicks off the feisty fun tonight with "Legally Blonde"; Frances McDormand continues the series July 28 with a screening of "Fargo"; and Charlize Theron commands the screen Aug. 11 with "Mad Max: Fury Road." Show up early for food, fun and games, then settle in at dusk for the free screening, which happens to take place in a surprisingly scenic locale.
"It's the best 360-degree view of Bellingham Bay's sunset between the mountain and the sea," Gordon said. "People are driving up to watch sunsets at the Parkade all the time." Info: pickfordfilmcenter.org. 
The Northwest Raspberry Festival 
July 14–15, throughout Lynden
I sampled the first red raspberries of the season from our backyard patch recently, and I'm here to tell you the taste of the fresh fruit is something that can't be replicated. Sweet but not cloying, the flavor is unmatched and the berries are delicious in everything from pies to cocktails, smoothies, on top of ice cream or cereal, or simply shoveled straight into your mouth.
If you don't grow your own, no problem. Simply head to Lynden this weekend to attend the festival celebrating Whatcom County's longstanding raspberry industry. Live music on two stages, a 3-on-3 basketball tournament, a kids zone, a car show, a street market, and a scavenger hunt will be part of this annual event, but if you're in it for the food and drink, they've also got you covered. 
Among fruit-focused flavors you'll find are raspberries and ice cream for a mere $2; raspberry wine and spirits tastings (two tastes for $1); a Razz "Beery" Time-out Garden featuring raspberry beer, specialty cocktails and more; a barbecue salmon dinner; and on Saturday morning, a raspberry pancake breakfast at the Lynden Community Center. Community celebrations have never tasted so good. Info: lynden.org. 
Vancouver Folk Music Festival 
July 14–16, Jericho Beach Park, Vancouver, British Columbia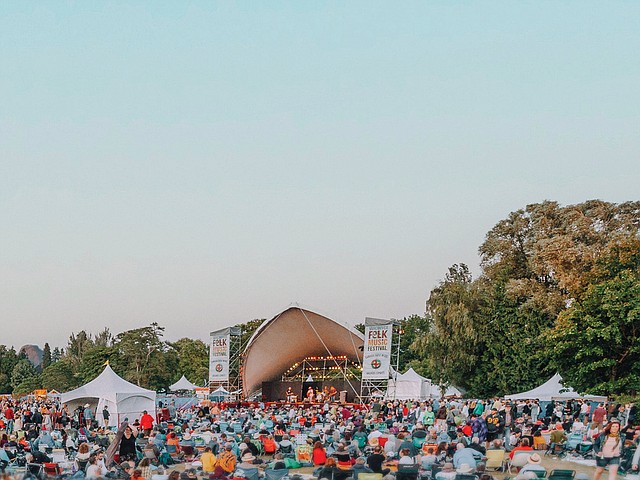 In late January, I received an email from Gwen Kallio of Sisu Productions with the subject line "A call to save the Vancouver Folk Music Festival." The abrupt decision to dissolve the Vancouver Folk Music Festival Society would have put an end to 45 years of music-making at the lovely locale located just an hour or so away from Bellingham. 
Luckily, public outcry from supporters, partners and other festivals changed minds, and the three-day event is now going on as planned. You can help ensure its continuation by procuring tickets and making your way over the border to attend the music festival known for redefining the meaning of "folk." With 40-plus acts with roots in more than 12 countries, 10 states and eight provinces, the inspired lineup will feature tunes for every ear. 
On-site food, beverages, and arts and crafts will also be part of the 46th annual festival, as will workshops, a Little Folks Village and much more. While there, it wouldn't hurt to take a moment to tell organizers you appreciate their hard work. After all, without support, they wouldn't have been able to continue doing what they do. Info: thefestival.bc.ca. 
Whatcom Grooves
2 p.m. Saturday, July 15, Glenhaven Lakes Clubhouse, 2997 Glenhaven Drive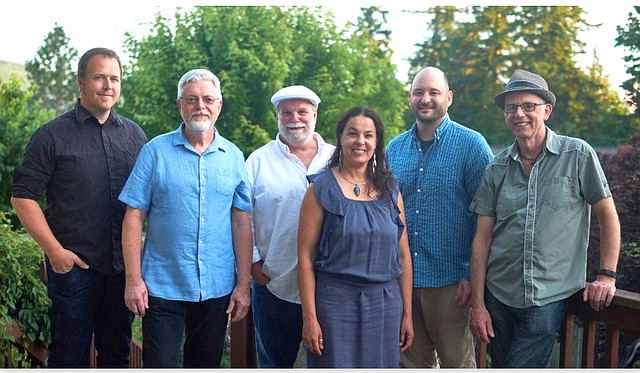 In 2010, jazz aficionado K.C. Sulkin debuted the Sudden Valley Jazz Series as a way to support the South Whatcom Library. Along with the Friends of South Whatcom Library, volunteers from other libraries got on board to bring jazz music to residents throughout Whatcom County.
Whatcom Grooves, a new summer jazz series organized by the Whatcom County Library System, is also aimed at showcasing talented local jazz musicians and celebrating libraries, hearkening back to Sulkin's original idea to share the joy of music. 
Saturday's concert kicks off the trio of shows with Bilongo, a seven-piece Latin jazz group featuring vocalist Sabrina Gomez. At 7 p.m. Saturday, Aug. 5, The Jerry Steinhilber Trio will be at the Ferndale Library for the second show. The Jazz Explosion will have its turn in the spotlight at 7 p.m. Saturday, Aug. 19, at the Blaine Performing Arts Center. 
The free concerts will be complemented by a couple of youth-centered events, Junior Groove: Jazz for Kids. The sessions happen Friday, Aug. 4, at the Ferndale Library and Friday, Aug. 18, at the Blaine Library. Steinhilber will lead youth in grades K–5 in interactive programs to learn about jazz and to try their hand at making some music of their own. Info: wcls.org/jazz. 
NW Art Beat Studio Tour
July 15-16, throughout Skagit County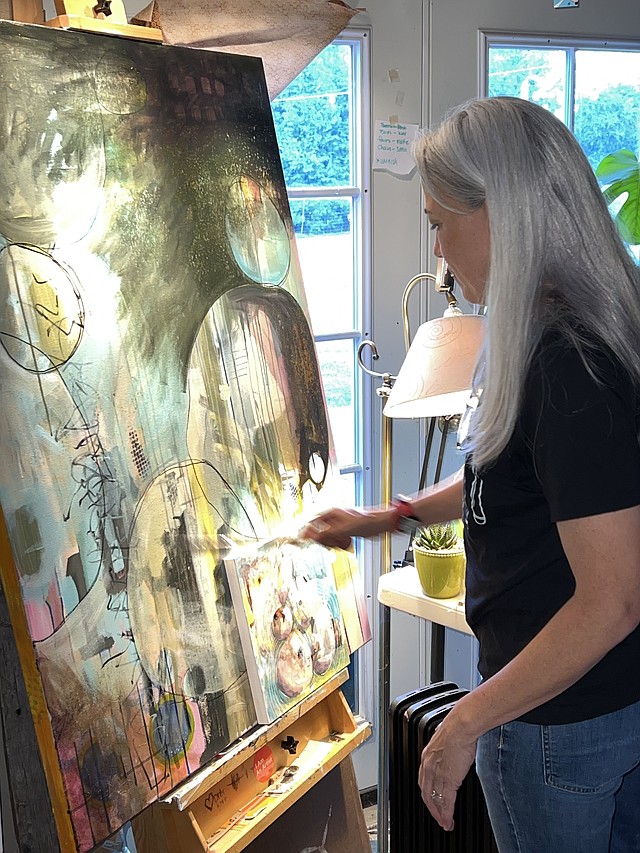 I'm always looking for excuses to spend time in Skagit County, and this 19th annual event helmed by Skagit Artists — an organization with a mission to promote the visual arts in the area — provides multiple reasons. 
First off, the free, self-guided tour focuses its lens on active art studios featuring juried artists from Skagit, Island, San Juan, Snohomish and Whatcom counties. Art must be shown in a working studio in Skagit County, so visitors are likely to encounter many shared spaces during the two-day event. This gives them an opportunity to discover an artist they may not have been aware of, and opens the door to further creative discussion. 
Another plus about this particular tour is that it gives people an excuse to wander a bit. The 14 studios are located everywhere from Anacortes to La Conner, Mount Vernon, Clear Lake, Conway and Sedro-Woolley, as well as points in between. My advice? Find three or four studios of interest to visit, but don't try to see everything in one day. Spend enough time to talk to the participating artists and get a behind-the-scenes look at what they're up to and, if you like what they're doing, consider purchasing one of their works. Info: nwartbeat.com.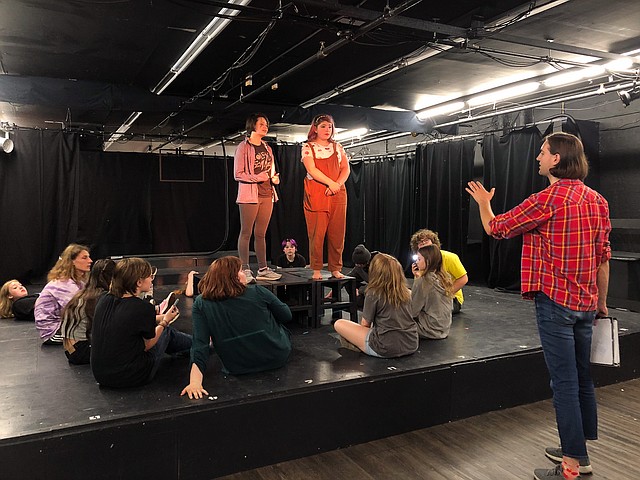 ---
FULL CALENDAR 
Friday, July 14
Quilt Show
10 a.m. to 5 p.m., Cascade Middle School, Sedro-Woolley
"Journeys" will be the theme of this three-day show taking place through Sunday. In addition to exhibiting 300-plus quilts and fiber art pieces, the Woolley Fiber Quilters event will also feature quilt supply vendors, a member boutique, demos, a scavenger hunt for kids, a raffle quilt and more. Entry is $5. Info: woolleyfiberquilters.blogspot.com. 
Waterfront Makers Market 
2–8 p.m., Bellingham waterfront, 1145 Granary Ave. 
As part of the NW Tune-Up festival, nearly 50 local artists will be showing and selling their wares through Sunday — from soaps to sustainable decor, fine art to food, clothing to candles, jewelry and everything in between. The market is free to enter, even if you're not attending the festival. Info: bellinghammakersmarket.com. 
Up Up Up Crane Circus 
6 p.m., San Juan County Fairgrounds, San Juan Island
As part of its summer tour, this collective — whose outdoor stage is a flatbed truck — will bring its one-hour all-ages shows to the area, including gigs July 15 on Orcas Island, July 16 on Guemes Island, July 20 on Whidbey Island, and July 23 at the Bellingham Circus Guild. Entry is by donation. Info: upupupinc.com. 
Birchwood International Market 
6–8 p.m., Park Manor lot, 1638 Birchwood Ave. 
Celebrate the rich cultural diversity of the Birchwood neighborhood at this monthly event featuring arts and crafts vendors, live music, dance performances, food choices and more. Info: birchwoodneighborhood.org. 
Peter Antoniou 
7 p.m., Station 49, 4620 Birch Bay Lynden Road 
This "America's Got Talent" semifinalist returns to Birch Bay for shows on Friday and Saturday nights. Tickets are $25 to see "psychic comedian." Info: station49.fun. 
'Hush: An Interview With America'
7 p.m., BAAY Theatre, 1059 N. State St. 
Bellingham Arts Academy for Youth students ages 13–17 will perform this play about "the wild ride of growing up, about struggles of fathers and daughters, and about inner vision and personal voice," through Saturday. Admission is by donation at the door. Info: baay.org. 
'The Taming of the Shrew'
7 p.m., Rexville Blackrock Amphitheatre, 19299 Rexville Grange Road, Mount Vernon 
Shakespeare NW kicks off its summer season with this timeless comedy by William Shakespeare. The play shows in repertory with another of the Bard's comedies, "The Tempest," at various dates through Aug. 12. Tickets are $15–$18. Info: shakesnw.org. 
'On Golden Pond' 
7:30 p.m., Anacortes Community Theatre, 918 M Ave. 
Family dynamics will be explored during showings of this drama taking place weekends through July 29. The play is set at the summer home of an elderly couple who are taking care of their daughter's fiancé's teenage son. Tickets are $25. Info: acttheatre.com. 
'Legally Blonde!' 
7:30 p.m., Squalicum High School, 3773 E. McLeod Road 
High school students who are part of the summertime Squalicum Musical Theatre Institute will present this musical through Sunday at the school's Forum space. The musical follows the transformation of Elle Woods as she tackles stereotypes and scandal in pursuit of her dreams. Tickets are $15. Info: squalicummusicaltheatre.org. 
'Gidion's Knot'
7:30 p.m., FireHouse Arts and Events Center, 1314 Harris Ave. 
As part of Bellingham TheatreWorks' Fairhaven Summer Repertory Theatre, see this captivating drama tonight and on various dates through July 23. The other two plays on the roster are "Keely and Du" and "What the Constitution Means to Me." Tickets are $21. Info: bellinghamtheatreworks.org. 
Space Trek
8 p.m., The Upfront Theatre, 207 Prospect St. 
Check out "the final upfrontier" with shows Fridays and Saturdays throughout July. Bard on audience suggestions and familiar tropes, improvisers will take you on a hilarious space adventure. Tickets are $10–$16. Info: theupfront.com. 
Saturday, July 15
Shipwreck Day 
8 a.m. to 4 p.m., downtown Anacortes 
More than 200 vendors will be taking part in this annual community garage sale (including flea market and antique vendors). Each booth brings something new, and you are sure to find something that you can't live without. There will also be food stands selling a variety of different cuisines. Entry is free. Info: shipwreckfest.com. 
Bellingham Farmers Market 
10 a.m. to 2 p.m., Depot Market Square, 1100 Railroad Ave. 
Approximately 90 vendors from Whatcom and Skagit counties are on site at this weekly market, which continues every Saturday through Dec. 16. Info: bellinghamfarmers.org. 
Dockside Market
10 a.m. to 2 p.m., Squalicum Harbor, Gate 5
Local fisherfolk will be selling their fresh and frozen wares at this twice-monthly market. Visit the dock early to find the best selection of seafood options. Details and participating vendors and products are posted 24 hours ahead of sale days. Info: bellinghamseafeast.org. 
Art-2-Jazz Street Fair 
10 a.m. to 4 p.m, H and G street plazas
As the culmination of the Blaine Harbor Music Festival, this event will include jazz performances by faculty and students, arts and crafts and local cuisine. For this week only, Blaine's Market by the Sea will also take place in this local. Entry is free. Info: blaineharbormusicfestival.org. 
Orcas Island Cider and Mead Festival 
11 a.m. to 4 p.m., Eastsound Village Green 
Sale craft beverages from 11 regional producers at this one-day event, which will also include live music, a farmers market and the chance to learn more about these ancient libations. Proceeds benefit the Orcas Senior Center. Tickets are $40 in advance, more at the door. Info: orcasislandciderfest.org. 
Closing Art Reception 
2–4 p.m., Gallery Syre, 465 W. Stuart Road 
View David Syre's "Drawings from Greece" and "Images of Cascadia: Through the Lens of Cascadia Daily News photojournalists Andy Bronson and Hailey Hoffman" for the last day. The artists will be on hand at the closing event. Info: gallerysyre.com. 
'Clytemnestra Has Blood on Her Hands'
2 p.m. and 7 p.m. Pioneer Park, 2004 Cherry St., Ferndale 
The Unsubdued Theatre Collective presents this original play by Jessica Moreland today and again July 20–21. The production is a retelling of the death of Agamemnon which focuses on Helen, for whom the Trojan War was fought; Cassandra, an unbelieved oracle; and Clytemnestra, the murderer. Entry is free. Info: Facebook.com/unsubduedtheatre. 
Artist Talk 
5:30 p.m., I.E. Gallery, 5800 Cains Court, Edison 
Josh Ryan McDonald will talk about his first solo exhibit, "Terrebonne," which is on display through July. He works in geometric form using oil and cold wax to build his paintings. Entry is free. Info: ieedison.com. 
Fairhaven Outdoor Cinema
6:30 p.m., Fairhaven Village Green
Quickdraw String Band will perform at this summer film series before "Mamma Mia!" screens at sunset. The music and movies continue Saturday nights through Aug. 26. Entry is $7–$8. Concessions will be available for purchase. Info: enjoyfairhaven.com. 
Flicks in the Park 
9 p.m., Pioneer Village, 2004 Cherry St., Ferndale
As part of Ferndale's Summer of Fun events, watch "Back to the Future" after the sun goes down. Admission is free. Info: cityofferndale.org. 
Sunday, July 16
Skagit City School Picnic 
1–4 p.m., Skagit City School, 17508 Moore Road, Mount Vernon
Skagit County Historical Museum presents this annual event featuring games, food, plus a Skagit-focused trivia contest and live music with Wayne Hayton. Info: skagitcounty.net/museum. 
Carol McMillan 
4 p.m., Village Books, 1200 11th St.
Hear McMillan read from "Scriptless: A Memoir," which recounts her life in her early 20s in San Francisco during the unrest and upheaval of the late 1960s. The tome follows the journey of a sheltered suburban white girl who ventures out to try marijuana and dance to Janis Joplin during the Summer of Love in the Bay Area. Entry is $5–$22. Info: villagebooks.com. 
Summer Concerts Series 
6–8 p.m., Riverfront Park, Sedro-Woolley 
The Brittany Collins Band kicks off this seasonal event. In addition to music, find food and art vendors, games, hula hoops, a beer garden, face-painting and a charity raffle. Entry is free. Additional events take place July 23 (The Naughty Blokes), July 30 (Lazy Acres), and Aug. 6 (Fortress of the Bear). Info: kriss@rothenbuhlereng.com. 
Tuesday, July 18
Bellingham Festival of Music Finale
7 p.m., Performing Arts Center, Western Washington University
Conner Gray Covington will conduct the final concert of this year's classical music series. Covington's program will feature Anna Clyne's "This Midnight Hour," Florence Price's Piano Concerto in One Movement with pianist Michelle Cann, Mendelssohn's Overture to "A Midsummer Night's Dream," and Ravel's "Mother Goose" (complete ballet). Tickets are $47–$57. Info: bellinghamfestival.org. 
Thursday, July 20
Barkley Market
11 a.m. to 2 p.m., Barkley Village Green, 2215 Rimland Drive
Local vendors will be on-site for this weekly market, which continues Thursdays through Aug. 31. Additionally, there will be live music and food truck options for lunch, so bring the family along for a picnic. Info: barkleyvillage.com. 
Riverwalk Summer Concert Series
6–8 p.m., Riverwalk Plaza, Mount Vernon
The Enthusiasts will perform tonight as part of this free, all-ages series, which takes place every Thursday through August and features a mix of family-friendly local and regional artists. Info: mountvernonchamber.com. 
Commercial Street Block Party
6–9 p.m., 1300 block of Commercial Street 
"Pride Continues" will be the theme of this monthly summer event. Spotlights will include queer-owned businesses and drag performances, as well as face painting, chalk art, games, flow arts, food trucks, small business shopping and more. Info: downtownbellingham.com. 
The GBU
7:30 p.m., The Upfront Theatre, 207 Prospect St.
Bellingham's longest-running improv show, "The Good, the Bad, and the Ugly," takes place every Thursday, featuring a rotating performance format and guest players. Tickets are $10–$15. Info: theupfront.com. 
Menace on the Mic
8:30 p.m., Menace Brewing, 2529 Meridian St.
Want to take a chance at performing stand-up comedy? Show up early to sign up for your spot, then stick around to see the action unfold. The free event takes place every other Thursday. Info: menacebrewing.com. 
Saturday, July 22
Summer MakersFest
10 a.m. to 4 p.m., Transit Shed Event Center, 100 Commercial Ave., Anacortes
Creative Avenue NW will host this celebration of homegrown art and all things handmade. Shop more than 50 local vendors with art, photography, jewelry, stained glass, apparel, stickers, fresh-baked desserts and more. Entry is free. Info: creativeavenuenw.com. 
Summer Market
10 a.m. to 4 p.m, Home Farm, 8020 Kickerville Road, Blaine
More than 60 local artisans will be selling their wares at this monthly event. The event will also feature free tractor train rides for kids, self-guided farm tours, u-pick blueberries, live music, food trucks, face painting, an inflatable play area and more. Info: homefarm.farm. 
Old Town Art Stroll
Noon to 5 p.m., downtown Bellingham
Meander through the Old Town district to peruse galleries, studios, pop-up art markets, performances and more. The free, family-friendly event takes started in June and now takes place on the fourth Saturday of every month. To find out how to take part, email Rebecca Meloy. Info: rebeccameloy.com. 
Jam on the River
Noon to 8:30 p.m., Centennial Riverwalk Park, Ferndale
Live music, carnival games, vendors, food trucks and a beer garden will be part of this free, family-friendly festival taking place along the river. Info: Ferndale-chamber.com. 
Semiahmoo Sips
2–4 p.m., Semiahmoo Resort, Blaine
Every Saturday, head to a special wine tasting hosted in the Semiahmoo Wine Cellar, where a sommelier pours samples of four different wines from a rotating menu. Charcuterie and cheeses to pair with the wines are also available for purchase. Entry is $20 per person, and no registration is required. Attendees receive 15% off their cellar bottle of choice. Info: semiahmoo.com. 
Before heading out to attend in-person happenings, check with individual venues to make sure the event is still taking place as scheduled.
The A-List appears weekly. To submit an event for consideration, email calendar@cascadiadaily.com.